Disclosure:
Just to be open and honest the buttons and links you click on in the website will in most cases take you to another website where you can purchase the products I am reviewing. As an Amazon Associate I earn from qualifying purchases.
October 16, 2012
Henry Gilbey Ultimate Fishing Adventures
100 Extraordinary Fishing Experiences From Around the World
Henry Gilbey fishing adventurer, self-confessed fishaholic has been a TV presenter on shows like "Fishing with Henry" and DVD's like "Bass Fishing". He also is an accomplished photographer and writer for many fishing magazines like Catch Magazine and Sea Angler. Henry is now also a published author and his latest work Ultimate Fishing Adventures has recently hit the shelves.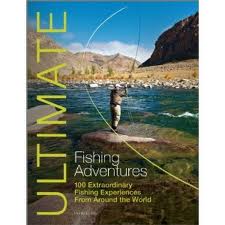 I received my copy a couple of weeks ago and have spent many an evening since reading through the pages and looking at the lively action photos. This book really catches the imagination of any angler be it from sea to freshwater from fly fishing to lure or bait fishing the book has something for everyone.
As you flick through the pages and read about far off destinations you can imagine yourself standing in that fishery hooking into the fish that are described. My only problem is getting the time and money to go and fish these marvelous destinations.  We can all dream though can't we.
As the title states the book is divided into 100 destinations with two pages for each one which are arranged with text and photos. On the left page there is a small map and some information on the best times to go, fishing methods, getting there and tips and tricks.
The book covers many countries including Canada, the USA, South America's, Iceland, Europe, Africa, Asia, and Australia. There are some areas covered in great detail while others are only mentioned but alas the world is a big place and to cover all the exciting fishing venues in it would have called for a much bigger book.
I for one am a fan of the book and feel the quality of the photographs along with the excellent copy make for an exciting read through the winter months while you decide on which fishing adventure you would like to visit next.
Pros:
Large action photos
Clear concise text
Useful tips and tricks
Cons:
Some destinations only mentioned