Disclosure:
Just to be open and honest the buttons and links you click on in the website will in most cases take you to another website where you can purchase the products I am reviewing. As an Amazon Associate I earn from qualifying purchases.
October 20, 2019
Orvis Ultralight Convertible Fly Fishing Waders for Women Review
Sometimes, good is never cheap. Not to put you off but there are a few options you can take when you need to go fish hunting. The Orvis Ultralight Convertible Waders for Women falls in the highest price range. Well, we agree that the price matches its fine features and exemplary performance.
Some anglers rent such waders when need be. You can too. But how long will you keep doing this when you can set aside a mason jar towards this investment? Straight to it, it is an all-weather wader. Something you can walk out in anytime you carry your combo to your favorite hole. It endures all seasons' worth of abuse.
Innumerable anglers have put them to test over the course of summer, spring, and autumn, and the response is impressive. At this point, price isn't a denominator again. You pay more for even more!
Until now, Orvis has sold an impressive number of these waders and there are no major flaws. We are talking about an award winner here. The Ultralight Convertible Women's Waders scooped the Best of Show title in the Women Waders Category at the IFTD Show in 2017.
If you have been a party to these events, you can confirm that it is truly a big deal. Many female guides and testers approve of pairing these waders with the best-selling Orvis Ultralight Wading Boots. The waders as the centrepiece of the stunning Ultralight System, there is nothing less than and lasting impression.
The Orvis Ultralight Convertible Waders for Men are also an option for your partner.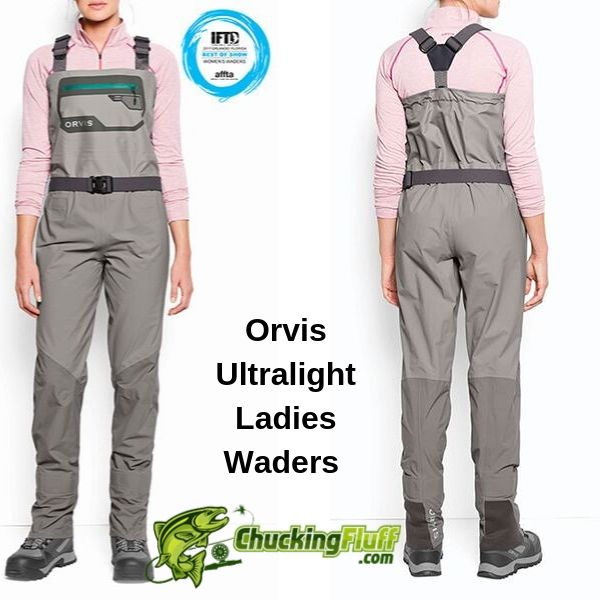 ---
---
Why the buzz about the Orvis Ultralight Convertible Women's Waders?
First, its weight. Like in its name, the waders are ultra-light. There is no need to throw them on a scale since upon wearing, you can deduce this. While the Men's regular comes in about 35 oz., the ladies' is a feathery 31 oz. There is more that revolves around the light nature than the weight alone.
More considerations are breathability, philosophy of use, and packability. Al these have an attachment to it's the wader's minimal heft. This is an expedient aspect, especially if you are a moving angler. If you love to hike, fly, or drive to your fishing point, we are addressing you. In fact, you will appreciate Orvis's thoughtful design.
Are there instances of sagging in the butt?
Orvis takes a step higher in modernity. The wader has an archetypal cut that gives it an athletic fit. Orvis Ultralight Convertible Wader conforms to the body in every right place. It still provides layering space where you need to. The sizes fit perfectly as long as you identify what is right for you.
Do this by comparing your measurements to those on the sizing chart. Even if you are vertically challenged, there is something that fits you right. The Ultralight Convertible Wader sports slimmer legs. You will notice that the wader has a form-fitting cut, especially in the crotch, hips, knees, and bust. You don't need a baggy design to feel comfortable when leaning, bending, squatting, and making other movements.
The exterior fabric is like what Orvis uses in the Sonic Waders. Neither are the waders noisy nor stiff. They maintain their lightness, comfort, and durability on and off the water. According to the manufacturer, the improved laminate makes these waders almost twice as breathable and comfy as the Sonic Waders.
You will appreciate how well these women's waders regulate perspiration and body heat. Let us dive deeper into its construction and features. Does it deserve all the acclaim and honours?
---
Key Features of the Orvis Ultralight Convertible Waders for Women
Material – The outer shell is from pure nylon for high waterproofing functions without compromising breathability. Its membrane is from high-grade polyurethane membrane and comes with a microporous coating. It is responsible for moisture-wicking properties while barring the entry of moisture from outside. The liner is from 100% nylon tricot. What more do you need in an all-season four-layer wader?
Fit – While greatly cutting on bulk and weight, the wader still retains its athletic fit. It conforms to your body's shape. To get a form-fitting wader, ensure your measurements match those on the manufacturer's website. The specifications here are tall, regular, and petite which come at the same price point.
Application – There is not much to say and anything to hide here. Despite the four-layer fabric construction and minimal weight, the wader is superb for any kind of weather. You simply have to experiment with your underneath layers respective of the season. For winter, add some more while tone down in summer.
Sizes – Depending on the three categories of fits, you can find these waders in extra-small, small, medium, large, extra-large, and double extra-large. Unfortunately, Orvis doesn't offer any customization options for this wader.
Attachment Points – First, what strikes many first is the inner pocket that has a patch for attaching your waterproof pocket. What Orvis recommends is their 8G3H Aquapac which is a separate purchase. However, if you find something else that is compatible, it still can serve you well. The frontal pocket has a fly patch and tool dock to ensure that your tackle gear and equipment is closer enough and reachable.
Seams – The manufacturer takes on a new way of seam construction. In the high wear and burst areas, there is more reinforcement to ensure that you achieve function and durability. The seams in these areas are low-profile to counter any chances of irritations and hindrance of mobility.
Zippers – YKK Aquaguard zippers do it all for your pockets. Like in the name, the zippers prevent the entry of moisture that damages the pocket contents. Their construction from non-metallic material makes the wader usable in saline environs. They are rust and corrosion-resistant.
Belt – Its wading belt is 1.5 inches like what is in most ladies' waders. It has a slight stretch mechanism to ensure that it can serve you when you get fleshy or lose a few pounds. It passes through low-profile loops and the fastener at the front is for easy removal.
Suspender System – Not common so we can agree that Orvis is making greater advancements in wader production. The FIDLOCK SNAP fasteners boast magnetism properties that allow for wader conversions at will.
Weight – When Orvis means its words, it surely does. The Orvis Ultralight Convertible Waders for Women is extremely light, unlike the traditionally bulky waders. The regular small size, the wader weighs 31 oz.
Pocket – Its zippered external pocket is spacious to accommodate your basic tackle. Regardless of how deep you wader, you don't need to worry about content damage. The zipper is water-resistant. The inner pocket has a mesh construction. This is for your personals. It comes with a patch that you can attach the Orvis waterproof pocket.
Gravel Guards – Water drag and sand collection in the waders can be more irritating than lice in the hair. They end up damaging your waders and boots like they are on payroll. Neoprene gravel guards are in place to solve these problems.
Booties – Taking a stockingfoot design, these waders have high-quality booties. Orvis, in the description, says that they are an improved version. They are anatomical and still perform like you'd want them to.
---
Customer Thoughts on the Orvis Ultralight Convertible Waders
Of course, you won't look ridiculous in these waders since they are cut and made for women. Whether curvy or slender, you will find a pair that suits you.
Booties fit perfectly. Unlike others that come slightly larger, Orvis tried on this one. They have no bad odor when you fish in them longer.
Magnetic clips are such a bonus to the waders. The speed at which you can convert the chest-high waders into pants is unimaginable. Simple and with one hand, you can get this done.
No extra cost on baggage if flying to your fishing hole. These waders are the real deal. More so, they don't take up too much space. Packability isn't a problem. Something for travel waders to get as fast as possible.
The ease of getting in and out of these waders makes it, even more, a choice for any woman who hates to fumble with suspenders and stockingfeet.
From our assessment, there is a concern about the stockingfeet. A few critics on the size especially for petite ladies with larger feet. If Orvis is to release an upgrade, this is a consideration to take up. At least, have the booties stretchy enough to fit larger feet.
---
---
Pros

– Things that shine on the Orvis Ultralight Convertible Ladies' Waders​
Extremely lightweight
Four-layer construction
All-weather waders
Two storage pockets-one with attachment patch
Magnetic fasteners for wader conversions
Integrated attachment points
Stretchable wading belt
Neoprene gravel guards
Low-profile seams
Cons

– Things that are not so cool!
No handwarmer pockets for tasting icy hands
A slight problem with how the booties fit in some waders
---
FAQ's – Questions about the Orvis Ultralight Convertible Waders for Women
Q) Are the waders packable enough?
A) Sure. These are very packable and pretty lightweight
Q) Do the gravel guards come with hooks?
A) The guards have neoprene gussets which allow them to easily stretch over your boots and laces.
Q) What are the chest pockets like?
A) Besides having a water-resistant YKK Aquaguard zipper, it is very streamlined to reduce bulk around the bust area.
Q) Are seams welded?
A) Seams are well-stitched and reinforced in high-wear areas.
Q) How is the weaving on the fabric like?
A) Talking of the nylon fabric, it is light though densely-woven to toughen the waders without adding weight.
Q) Are there knee caps on the inner side?
A) No, there are no visible caps only articulation using three well-made darts to counter fabric bulk and allow for easy and confident climbing and kneeling.
---
Final Verdict on the Ladies Orvis Ultralight Chest Waders
Whether you have several stamps on your passport, an odometer with about six digits, more miles to take on, or want to remain cooler in the midday heat, these waders are the real deal. Again, if you are looking to pack heavy for a fishing trip away from home, it is the right choice.
It is one of the most versatile and lightest waders that covers different circumstances and suits different users. Orvis played its cards tactfully to ensure that besides achieving a catchy look and well-fitting waders, it maintained its fine wader features and performance.
There are lovable features that make the waders worth their tag. In fact, for a wader that comes with an attachment point for an Aquapac, it is huge. The pocket is touch-screen compatible. No frying your phones. However, you will have to spend slightly more.
This dry pocket is sold separately at about $12 but is a thoughtful feature than losing a $700 phone. I bet you see some logic here. If you are realistic enough, these waders are worth beating your expectations. Their versatility is unspeakable and is ideal for female anglers whose main aims are packability and weight.
From hiking to your fishing hole to packing the tree stands into those public swaps, it does well. Mobility is a guarantee since you can move anywhere anyhow in search of fresh action. Even as the circumstances and conditions change, the waders allow for it.
Don't you see enough reasons to get yourself a pair? Those who'd love to try out other products can sample the Simms Women's G3 Guide Waders, Redington Sonic Pro Women's Waders, Simms Freestone Women's Waders, and Patagonia Spring River Regular Waders for Women. There is no doubt that the Orvis Ultralight Convertible Waders for Women is both a 'loyal' and royal investment.
---
---