Disclosure:
Just to be open and honest the buttons and links you click on in the website will in most cases take you to another website where you can purchase the products I am reviewing. As an Amazon Associate I earn from qualifying purchases.
January 18, 2019
Scott Radian R 905/4 Fly Rod Review – Fast and Feel come together!
45 years of craftsmanship and ambition to perfect designs and performance of fly rods, Scott Fly Rods has marked a difference in the fly fishing industry. A true and beautiful combination can be depicted from the mix of feel and fast action taper in the Scott Radian R 905/4 Fly Rod.  Technological advancements during manufacture are responsible for the exemplary performance through increased recovery speed by highly reducing wobbling and creating fast action resulting in a great presentation.
Having a flexible rod is the beginning of winning on the water. You can make delicate casts with some of the finest leaders. It mends extremely well and the tip is very flexible. The rod will change your impression towards Scott Fly rod. As a well-rounded rod and a Jack of all trades. For all distances, whether long or short it traps every angler to liking it. It is smooth and fun to cast and if you find more interest in casting for distance, you will love it.
As you use the rod, you will notice that every corner is intact no short-changes. The aesthetics are on point and at the first sight, having such a striking rod may make one skeptical of its performance. Un-sanded graphite with subtle orange wraps is undeniably epic. The feel is crisp and for in close fishing, it is the perfect rod. Especially with nymphs and dry flies. It is solid at mid-distance with high accuracy levels. As it approaches a longer distance it maintains its track well and generally the reserve power is great.
Any angler buying a fly rod has trust and hope that it supersedes their expectation. This one wins a shout out here. While you will need to get used to the Wells grip, this is not your standard grip or cigar grip. At the thumb where the grip sits will be a little steep for new users. The advantage is a reduction in fatigue after lots of hours of throwing at a longer distance. However, if you are used to Full Wells corks, it fits very well in the hand. You might find blame in the inch marks which aren't as high as expected but if you are an angler who catches small and medium-size ones, it shouldn't be a bother. The backbone at greater lengths is excellent and performance remains consistent throughout.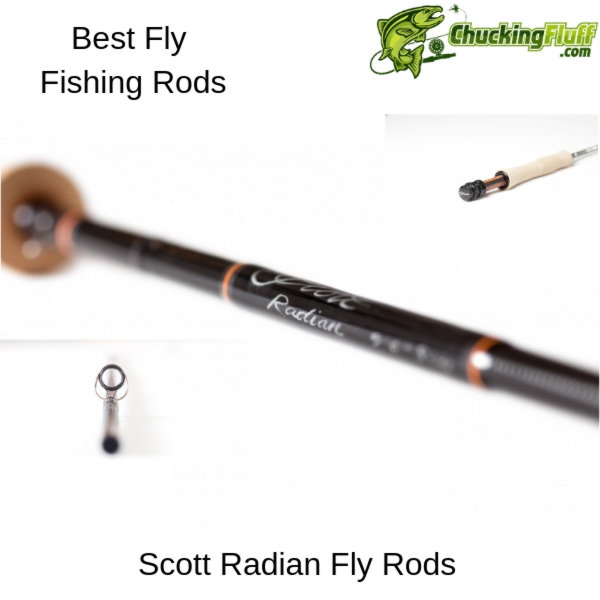 [button link="https://amzn.to/2Hrhvnl" type="big" color="green"] Radian Amazon Reviews and Price[/button]

---
Main Features of the Radian Fly Rod
Rod Specifications – This review covers the 9 feet 5 weight fly rod and weighs 2.8 oz. There are so many models of the same rod with the difference in line weight and rod length. In terms of line weight, this fly rod ranges from 3 weight to 8 weight and rod lengths ranging from 7 feet 6 inches and 10 feet.
Rod Action – As a fast action rod, it bends well, allows for the powerful setting of the hook and is great for most species of fish. The sensitivity is high and flex is more than the extra-fast action rods. Its tip is more flexible and the fish fighting capability is unbeatable.  The blank holds more pressure on the fly line.
Material – Scott rods are un-sanded and the graphite maintains its natural look. This makes the graphite doesn't allow for flat spots. The finish remains intact no matter the intensity of abuse it is exposed to. You can count on it for durability.
Guides – The Fuji SIC stripping guides have a durable titanium frame. Titanium makes the guides lighter by over 50% compared to those made from stainless steel. Their strength is immense and safe for use in saltwater environs. The guides have inserts made from silicon carbide and polished with diamond to reduce the amount of drag and greatly improve casting.  Universal guides are of the American snake brand which has radius feet and agrees to the blank. It is corrosion and rust resistant. To shoot the line to a longer distance, it has a self-lubricating finish.
Sections – The rod has four sections hence the 4-piece name. This attribute is beneficial when it comes to the storage and transportation of the fly rod to your fishing station. Being in four pieces allows the rod to fully fit in the rod tube and inside a backpack in case you are a traveling fly fisher.
Handle – The cork handle is the modified Full Wells that is durable, unlike the standard handle. As it sits on the thumb area on whichever hand you are using- whether left or right, it gets a little steep. The steepness reduces the occurrence of fatigue. Newbies will need time to get used to this grip.  Higher line weights have a Portuguese cork.
Reel Seat – An anodized aluminum reel seat is durable. It is safe for use in saltwater because it is highly resistant to rust and corrosion. Its insert is made from wood box elder with a single up-locking to fit in its compatible reel with ease.
Tube – Scott gives an ultra-double aluminum tube for the rod. It does its protective and storage function exceptionally well. The double construction allows it to handle any physical abuse in the course of travel or in areas of storage.
Line – Line selection is from a reputable brand are compatible with this fly rod. You can choose from the Rio Perception fly line, Rio Gold fly line and the Scientific Anglers GPX Taper fly line.
Technology – Scott uses a few technologies to ensure that this rod is the current master that it is. The REACT technology combines with eth X-CORE to increase the rod's recovery speed. The X-CORE on its own gives the rod a great feel, stability and improves its performance. ARC increases the rod's strength.
Warranty – There is a lifetime warranty on the fly rod to the original owner. You can check with the Scott website for more on terms and conditions, the duration it takes for repair and any chargers that accompany repairs.
---
Customer Thoughts on the Radian Fly Fishing Rod
The fast action is right for an advanced or intermediate angler. Flexibility in the tip cannot be compared to other rods.
It is top when it comes to aesthetics. The un-sanded rod adds to its durability and it goes well with the Rio and Scientific Anglers fly line. The mix of colors on the wraps too is stunning.
Half wells handles on these rods are stylish and the swell well at the forward of the middle section of the handle is epic. It feels great in the hand.
The reel seat is very attractive and durable in all circumstances. Anti-corrosion and rust features are excellent for survival in saltwater. The wood insert isn't a letdown.
Inch measuring marks were a nice feature to add on the rod but for an angler who loves fishing large species, a 24 mark would have been better.
Casts well at both short and long distances. It throws nice tight loops with excellent accuracy.
The consistency all over the board is great. Generally, its performance is commendable with a good backbone which supplies power to cast for longer distance while maintaining the right accuracy levels.
It doesn't matter the distance, the rod's tracking is on point. Experienced anglers will find it very useful.
Well-designed full wells cork grips that are comfortable to the hands even when casting further once you get used to it.
---
Pros

– Things that shine on the Scott Radian Fly Rod
Fast action fly rod
Top in aesthetics
Durable construction
Anodized reel seat with wooden insert
Full wells high-grade cork grip
Lifetime warranty
90 feet fly rod
Compatible with many fly lines
Comes with an ultra-double aluminum rod tube
Durable guides
Cons

– Things that are not cool!
Might not be easy to use by starters who aren't used to fast action fly rods
The un-sanded look on the blank can be a turn off to anglers who prioritize sanded ones
---
FAQ's – Questions about the Radian Fly Rod
Q) How is the 3weight fly rod like in terms of length?
A) The 3wt rod measures 7 feet 6 inches. This is slightly lower than the standard rod length.
Q) Can a novice who has never fly fished use this rod?
A) It would depend on their skill even if new to it. Some can handle fast action rods quite well while others will need to start with slow action rods first.
Q) Is it Half Wells, Full Wells or AAA handles for this rod?
A) This rod has Half Wells cork grip for the lower line weights while the higher line weights have Portuguese cork grip.
Q) Does the 5 weight 90 feet fly rod have a butt and can it be used without it?
A) The 5wt 9ft rod doesn't have a fighting butt meaning it can be used without it. The 6 to 8 weight has a fighting butt.
Q) Can the rod be used for fishing in saltwater environs?
A) It is best for all water use and nymphing.
Q) What is the weight of the 8 weight fly rod?
A) The 8 weight comes in three models. The 9 feet rod weighs 3.6 oz., the 9 feet 6 inch weighs 3.8 oz. while the 10 feet weighs 4.0 oz.
Q) Does Scott give a rod cloth for storage?
A) No, the manufacturer only provides a rod tube made from ultra-double aluminum.
---
Final Verdict on the Radian Fly Rod
With the first hold of the Scott Radian Fly Rod, you will notice that it stands out on the looks. Handcrafting makes it even more attractive. Looks aren't everything is a fly rod but performance is. You will love how well you can feel rod as it does its thing in every step. The sub-surfaces can easily be felt. Accuracy and strike sensitivity is among its great aspects. The Radian grip has a good feeling especially if you have larger hands. You can fish longer hours with guaranteed comfort.
The transfer of accuracy from the cast to the presentation is upbeat. At short range, pinpoint placement is excellent while from mid to long range, it is exceptional. It is effortless to make tight loops and even the best casters will find this rod a gold mine. Blowing casts is easy and the fly lands gently at the targeted spot without spooking the fish. For reach cast and roll cast it scores highly. As powerful as it is, it does well in the wind and in large rivers.
Radian rods are pretty light and reel matching doesn't have to give you a migraine. When it is time to match reels, a light fly reel is highly recommended. The 5wt 9 ft. is a fast action rod and you can fish standard weight-forward lines on the rod and its performance is great. Anglers who would like a delicate touch can pair it with the Scientific Anglers GPX Taper line. Some will love an ultra-soft presentation and the Rio Gold will do this as it does.
Not so often do you walk in a store and get this rod. Such a gem is high on demand and most of the time stores run out of stock a few days after restocking that is why pre-ordering is the best option. If you don't find this rod, the G Loomis NRX Trout Fly Fishing Rods, G Loomis IMX-PRO FW Fly Rod, Hardy Fly Fishing Demon Single Hand Fly Rod, Sage Bolt Series Fly Fishing Rod, Hardy Zephrus FWS Fly Rod and the Orvis Helios 2 Series Fly Fishing Rod are good alternatives to the Scott Radian R905/4 Fly Rod. You don't have to cancel your fly fishing trip.
[button link="https://amzn.to/2Hrhvnl" type="big" color="green"] Radian Amazon Reviews and Price[/button]