Disclosure:
Just to be open and honest the buttons and links you click on in the website will in most cases take you to another website where you can purchase the products I am reviewing. As an Amazon Associate I earn from qualifying purchases.
April 7, 2014
Sonik SK4 Large Arbor Fly Fishing Reel Review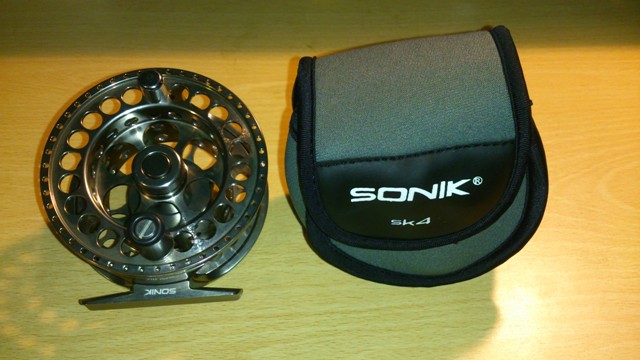 The SK4 large Arbor fly reel is a great quality product from Sonik Sports who test their equipment to breaking point. Lite, Strong and Precision made!
PRODUCT REVIEW: Sonik SK4 Large Arbor Fly Reel
MANUFACTURER: SONIK SPORTS
WHO WOULD BUY THIS: Anyone who is looking to upgrade their fishing reel to a mid-price ranged reel.
SCORE: 4 out of 5
INTRODUCTION:
The Sonik SK4 large arbor fly fishing reel is precision engineered from anodized light high-grade aluminum and comes with its own neoprene case.
PROS
The spool is released with the push button in the center and comes out nicely. You can purchase extra spools so changing lines can be easily done.

The tension control is on the back of the reel and easily adjusted to tighten and lose the tension when controlling a fish. When tightening the knob to full I was able to still pull line from the reel however as the reel was a 7-8 weight it would be able to control any target species up to 20kg I would suspect.

Large arbor spool for easy line retrieves, slow start-up inertia and low line coil memory!

Quick change over from left-hand wind to right-hand wind NB. remember to re-spool the line after doing so!
CONS
I did find it difficult to put the reel back in the case and close the clasp when putting it away again, however. You have to make sure and put the reel handle to the bottom of the case and stretch the case over the reel. Could have done with a bit more room however only a minor problem.
WARRANTY:
Sonik does not hold a warranty on their fly reels reserving that honor to their fly rods only. However having contacted customer support was told,
"Regarding the reels, we try to help the customer as much as possible, supplying spare parts, refurbishing the reel and mending or sorting out any problems you may be experiencing",
so this means you are not left high and dry with a faulty reel as customer support will do their best to fix the problem.
FINAL OPINION:
The Sonik SK4 large arbor fly reel is a nicely put-together fly fishing reel. I would recommend it for anyone moving up from a budget reel and has moved on to intermediate standard. However if budget allows I would also recommend it for a beginner as some reels have been well reduced of late due to new reels being released by Sonik Sports.
VALUE FOR THE MONEY? This quality reel is strong well made and will put up with a lot of abuse. Well worth the money when it was £110 now that it's down to £75 it's a bargain!