Disclosure:
Just to be open and honest the buttons and links you click on in the website will in most cases take you to another website where you can purchase the products I am reviewing. As an Amazon Associate I earn from qualifying purchases.
December 31, 2012
Dennis Moss has many years of experience in the tackle trade when he co-founded Wychwood Tackle with Bruce Vaughan. He is also a well-established writer for Trout and Salmon magazine and brings forth many years of experience onto the page. Dennis decided to write a book after many discussions with his fishing buddy Vaughan Lewis who goaded him into putting pen to paper and we are grateful to Vaughan for that. So to find out more please continue to read this trout from a boat review.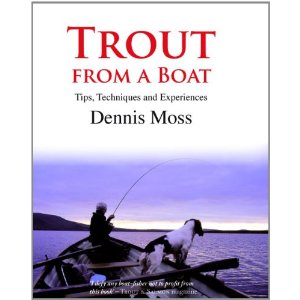 Trout from a boat
is divided into four parts;
The Practicalities of Boat fishing
Reservoir Trout Fishing
Wild Fishing
Outstanding Days Boat Fishing
Part one describes the basics of boating including types of boat and how to handle them, how to drift correctly, using the anchor, using the drogue and boat safety. Also included in this part is information on fly lines and leaders, using the correct hooks and choosing the right fly for the job which is all good advice for any angler never mind a beginner.
Part two goes into the reservoirs and here Dennis talks about the English stocked lakes that he grew up on fishing. He tells us how attitudes have changed over the years and bag limits are now replaced by-catches of overwintered prized trout it's now quality, not quantity that is important. He shows us how to fish reservoir lakes on subjects like inducing takes, gauging the depth, watching the subsurface and cold weather tactics.
Dennis goes on to inform us of the different seasons fishing the reservoir lakes and what tactics seem to work best during these seasons. He gives invaluable advice on more boat fishing tactics for instance how to keep in contact with your flies while drifting.
Part three then moves on into wild fishing and unlike stocked reservoirs, wild lough fishing is a completely different adventure. He goes on to tell us of fishing for salmon and sea trout in lakes and loughs and describes some wonderful days fishing he has had over the years in Ireland and Scotland.  After the memoirs, he goes on to discuss tactics for salmon and sea trout from the boat including lifting the bob fly and fishing times of the day including dusk fishing for sea trout.
Next, Dennis goes on to discuss brown trout boat fishing in all its glory. The different types of trout available including Ferox, Sonaghen and Gillaroo. The differences in Irish loughs and how to fish them. Boat techniques for wild brown trout including short line fishing for keeping control of the cast and not spooking trout. Other tactics discussed in this chapter include the effects of weather, subsurface takes, dry fly leaders, fishing blind, the lift and indicators to name a few.
He also goes on to discuss the flies and natural food on the lakes and how to best imitate them. Then Dennis gives us good information on mayfly fishing and the do's and don'ts to produce more takes.
Part four sees Dennis take us again down memory lane and he narrates to us some of his most prized fishing days. Do not mistake this for just a tale or two of fish that getaway as they are loaded full of tips and advice on how he changed tactics to produce fish on otherwise difficult days. These stories are a gold mine of information when reading through and processed.
I have to say that I really like this book. There is so much information in these pages that every angler even the experienced will gain knowledge from it. The pages are neatly put together with great photography and diagrams to explain techniques. It is written in a clear and concise manner that every angler be it beginner to advanced should find appealing.