My name is Mark Thompson and love trout and salmon fishing. I am married to Ruth and have two Labrador bitches. Between working and walking the dogs I like to go trout and salmon fishing. Here in the north of Ireland we are blessed with some great venues and I have permits for most of my local rivers. The closest to me is the Faughan which runs along a twenty mile course and used to have a great run of sea trout where it was when I started this hobby at a young age of 10 years old.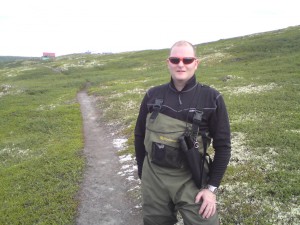 I still remember catching my first ever trout in the "Pullen Hole" and couldn't wait to take it home to show my mum. Alas the river doesn't have the same run of sea trout it used to so I have had to turn my attention to other rivers and lake to satisfy my needs. There is something tranquil about sitting in a boat and casting a fly to a rising trout. Sitting waiting for the take watching as the fly disappears in a swirl and waiting before setting the hook. That feeling never leaves you and is as exciting now as it was when I hooked my first all them years ago.
I decided to set up this site to share my hobby with other anglers out there as I'm sure you are aware not every day is a fishing day!
It is my wish that we all learn something hopefully you will find something of interest here and I'm sure I will learn from you.