Disclosure:
Just to be open and honest the buttons and links you click on in the website will in most cases take you to another website where you can purchase the products I am reviewing. As an Amazon Associate I earn from qualifying purchases.
October 5, 2019
Best Ladies Breathable Stockingfoot Waders – Finesse
Introduction to Best Breathable Chest Waders For Fly Fishing
Could we term it as malice or gender bias? It might sound quite harsh but still remains a fact. In the outdoor world, manufacturers prioritize men's wear and for this, give out their best in cuts, designs, choice of material, and assembly. What of women? Maybe they are lucky in water sports like swimming because of the plethora of costumes available in all manner of styles.
Catchy for that matter. Well, it has been a long time since women had ill-fitting gear in angling. It used to be so because initially, only men's waders were common. Currently, there is a good collection of Ladies' Breathable Stockingfoot Waders and this shouldn't stop any rod and reel lover from looking good and feeling comfy while stepping out.
We bid goodbye to poor cuts and sack-like waders that are a hindrance to movement. Remember that women's waders despite sharing a few features with men's waders, come in their form and style. Previously, manufacturers used a shortcut in creation. They designed men's waders and later had them in a slimmer fit and termed them as women's waders. WRONG!
The good news is that they are now available in plenty. However, the bad is most don't cost little. These breathable waders for women are on a high-performing edge. So, if you are on the hunt for very cheap ladies' waders, especially with a budget of an entry-level, you will have few options to select from. We are considering all major factors without compromising performance.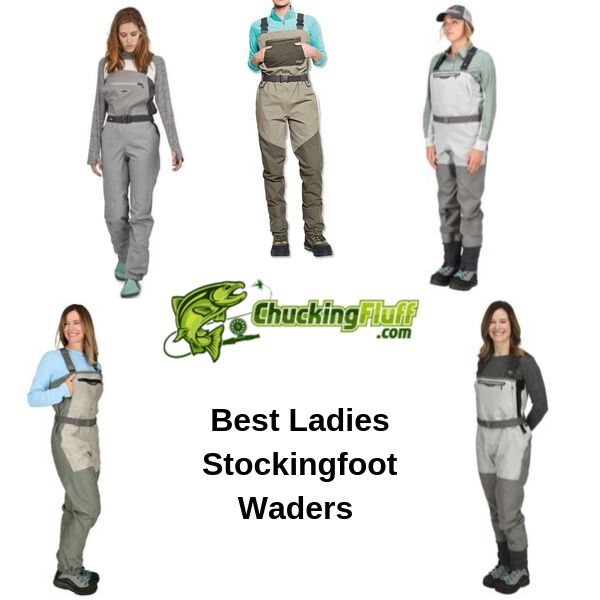 As the angling department takes a leap forward especially in age and gender consideration, there is more to smile about. We are seeing more kids, pre-teens, teens, and women on the water than what was many years back. This is revolutionary since the traditional mentality of fly fishing as a male-dominated sport has faded out completely.
Nowadays, ladies don't wear things that look like trash bags. There has been huge development in ladies breathable waders. Simms, Caddis, Orvis, Patagonia, Redington, Compass, among other reputable manufacturers are designing waders specifically for women. The feminine sizing is different from men's. Neoprene booties are usually scaled for ladies' feet which are slimmer and slightly shorter than men's.
You can't be unsightly in these gender-specific waders because the seams are thoughtfully placed to flatter women's thighs and hips. The construction in the chest area is smart and tact to accommodate their breasts without causing any discomfort. Some come with gussets on the chest area that are easy to adjust.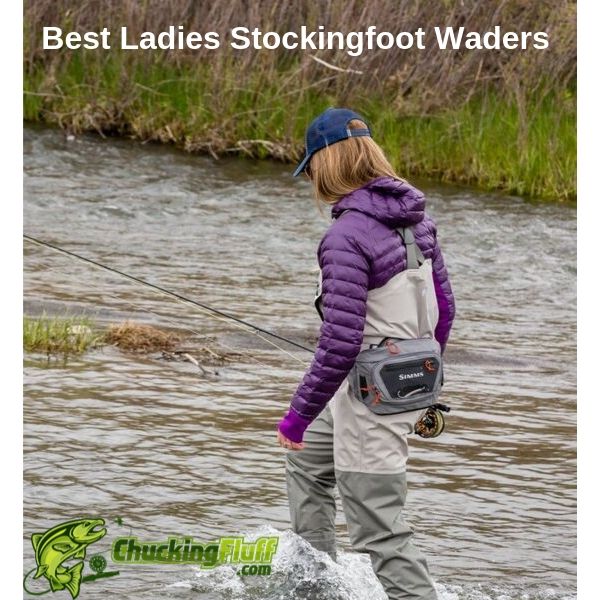 Unlike men with broader shoulders, women's are naturally narrower. A good solution to comfort and free mobility is two-strap design or an X-back type to ensure that the straps remain on the shoulders and don't limit your freedom of movement.
We have done in-depth research and put together 12 Ladies' Breathable Stockingfoot Waders of different prices. They pass the functionality and durability test. If you are looking to get a sharp look, maintain comfort, and have your fly in a fish's mouth, stick around for brief descriptions and links to full wader reviews for the money.
What to expect from breathable stockingfoot waders is a topic we covered in this post so check it out if you need more advise on what your needs are.
"Check out some of our other Buying Guides"
Caddis Systems Attractive Teal Deluxe Waders for Women – Best Budget Pair
An obvious question that many will ask is –why spend $600 on a pair of waders while one less than $150 can still do the job? Remember, to each their own. Some spend more because their finances allow.
If yours are tight at the moment, breathe in and select the Attractive Teal Deluxe from Caddis Systems. It might not be as classy as you expect it. But for its price tag, it is pretty fine. It boasts a few features in high-end waders like the Sonic Pro.
Why should you love it even more? It has many adult sizes compared to any other wader in the Caddis Systems line. Regardless of your size, you will find a pair that is of your cut and fits well. Caddis doesn't do a shoddy job. Not even for the fact that the Teal Deluxe is lowly priced.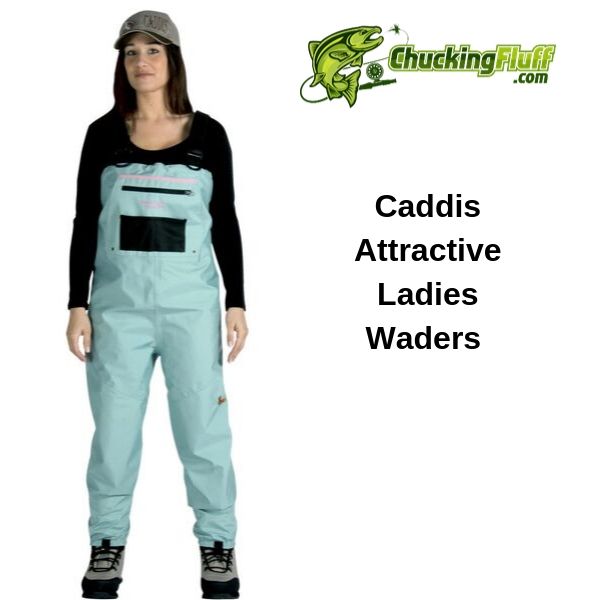 If you have seen the feet of these waders you will confirm that it does a great job. Double tapping, gluing, and stitching the feet is generous enough to keep the feet warm. This is a feature that you won't spot in most high-end waders.
Other manufacturers bank on polyester fabric for breathability. It isn't a letdown though never fully dependable. What Caddis does here is incorporating its CaddisDry technology in these waders which behind the reliable breathability feature of the pair. As the technology ensures that moisture-wicking is on point, it doesn't come in the way of wader waterproofness.
The construction allows for the waders to be used in all seasons. Whether the clouds are gloomy or the sun's rays decide to pierce to your heart's core, it doesn't offer less. For all these top and exemplary features, what would make you not buy these waders for less than $160?
Check Caddis Attractive Price on Amazon
Redington Sonic Pro Women's Waders – Best Advanced Pair
If you are a lass with hips like Kim Kardashian, it will excite you that these waders will be a sure bet. Something that perfectly wraps around your lady lumps leaving you with enough space below to squat, make jumps, and move with ease, the Sonic Pro remains the pro here.
The side paneling has a hint of stretch. This is among the advancements we are talking about. Doesn't it need applause? The innovation of most recent times for comfort doesn't come for cheap.
There is an elastic drawstring around the top section of the wader to counter any situations of gaping out. Part of the reason and secret why the waders still maintain body warmth is because of the four-layer fabric build. Each layer is sturdy. That is what differentiates it from the rest.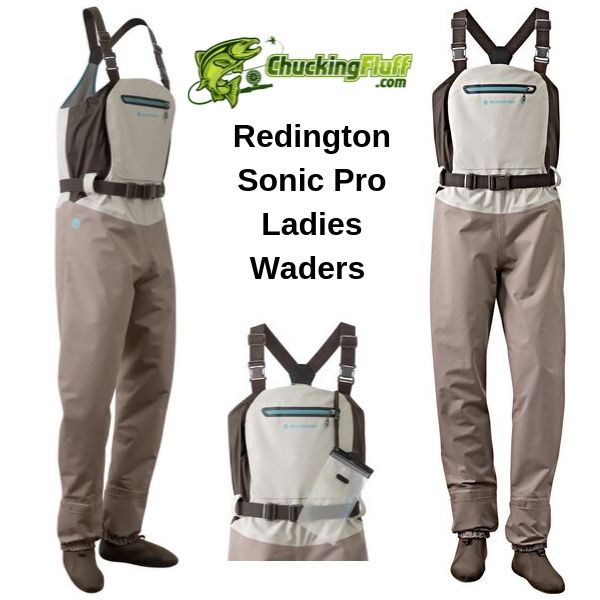 It boasts high levels of breathability and waterproofness despite the heavy construction. As you can see four-sturdy layers is a big deal and for its price, it is worth it. The extra layer could be the reason for the higher cost than their Redington Willow River Waders for Women.
They keep you totally dry as Redington doesn't believe in leaving you a bit dry. For this, the waders are leak-free with proper care and maintenance. Booties are very thick. They are 4mm neoprene instead of the usual 3mm. the results are warmer and dry feet.
Both sides of the handwarmers are lined with high-quality fleece. The internal mesh pocket takes a bucket style and it is easy to drop in things or remove what you need. Redington secures it with Velcro for convenience and ease of use. You can carry your fishing license and store it in the pocket. For lovers of other colors other than pink for outdoor gear, Redington has you covered.
Check Sonic Pro Waders Price on Amazon
Orvis Encounter Wader for Women – Best Intermediate Pair
Orvis Encounter Women's Wader takes the Intermediate title in our guide. It covers all the basics minus tacking on any whistles and bells. For its features, it matches its price pretty well. Boasting a four-layer fabric construction with nylon as the main material, there is not much to worry about abrasion and exposure to abuse.
A pointer that makes these waders stand out is the elastic shoulder straps that double as a functional wading belt. You will love the ease of conversions from chest waders to waist-high waders.
Rounding it up, it has a sturdy construction and is lightweight. However, you can't compare it to the Ultralight Convertible Waders when it comes to weight. The fit on female anglers of medium size is superb. This is a regular fit but the wader is still available in tall and petite.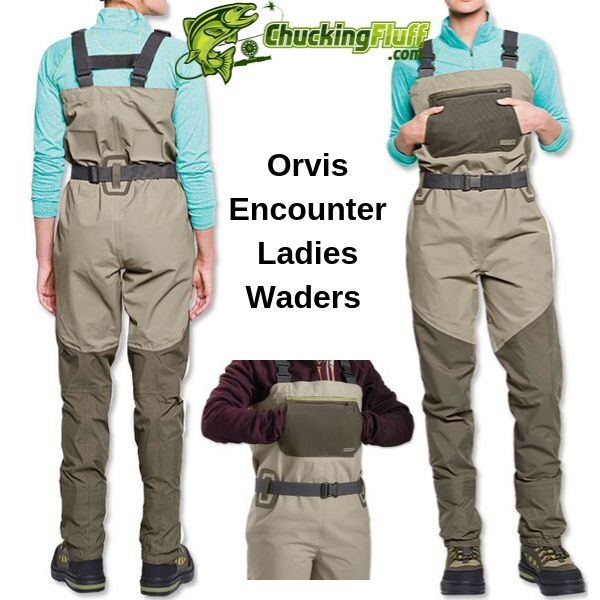 Pockets are simple and easily reachable for gear storage. As a woman, you will need several personals to carry along on the water. Orvis minds your needs. Inner pockets for your phone and other valuables will come in handy when you don't want an extra cost of servicing devices damaged by water. You can carry safe waterproof Aquapacs for this purpose if you are skeptical of the nylon inner pocket performing at its best.
Orvis in this wader confirms that an excellent and fully functional wader doesn't have to cost exorbitantly. In warmer conditions, lighter shorts will serve you well as an underneath layer. There are no sweating issues. In the cold, long pants keep your lower area well-protected as you toss mouse patterns.
Trudge through mud, countless rivers, and brush the bushes, it will impress you with its rigidity. While incorporating its wader-building knowledge that is unparalleled and maintaining a fit like what you'll find in the Sonic Pro, there is no doubt that spending averagely on it isn't regrettable.
Check Check Encounter Ladies Web Price
Best Breathable Stockingfoot Waders for Women on a Budget
We are proud that there are manufacturers who avail women's breathable waders at a low price. Especially when your budget is on the edge but still need to do what you love, you can choose from what we have in this section. Waders here are simple and have the basic features that you will find necessary for functionality.
Attractive Teal Deluxe Waders for Women by Caddis
Caddis and angling outerwear are inseparable. We are glad that it has a few waders for women. If you haven't been keen, then Caddis Systems stands for quality anytime, every time. The Teal Deluxe proves this as it is tested in the waters in all seasons and beats many in its category.
There are minimal to no chances that it will disappoint a lady angler. For a more interesting and pleasant experience, the waders fit the female body pretty well.
You will love it in any weather and in any season. Caddis chooses polyester as the main fabric for its insulation features. It has a special property of doing away with bad odor which is exemplary especially in very hot weather when your body decides to let out a few cups of water through perspiration.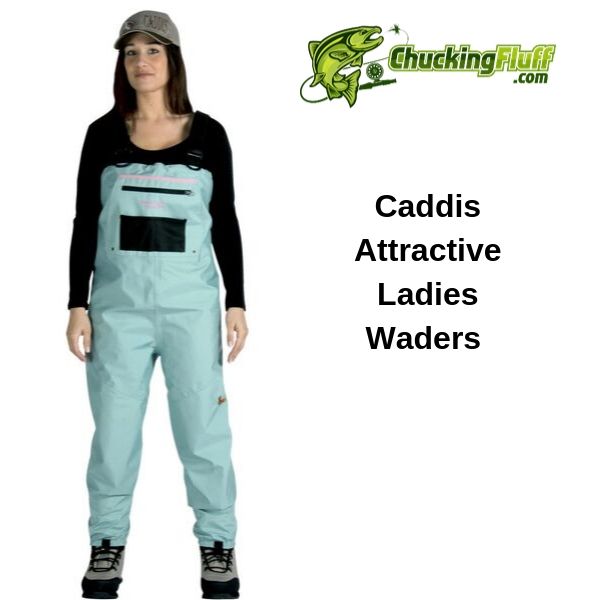 Neoprene booties are double glued. They boast firm stitching for durability and to ensure that the feet remain as warm as you need them. No matter the time you spend in mud, you will remain dry throughout.
The good news for Caddis lovers is that these waders are available in various sizes. Your task should be having your measurements at hand and finding the perfect match by comparing the sizes on the chart to your own.
Most anglers love these waders for their applicability in all seasons. The breathable technology comes in handy to counter condensation.
By this, it seals out water and retains all warmth inside the water. It boasts plenty of pockets in their rightful places. Your girly stuff and tackle will be closer than you can imagine. If you are familiar with the stress of having to wade out of the water to pick a lure or another line, you will appreciate this wader.
Knees are well-reinforced for instances when you want to go on one knee like a proposing gentleman to release a fish or assemble your combo. There is no lie if we say that for now, it doesn't lack in any area.
Check Caddis Attractive Price on Amazon
Redington Willow River Waders for Women
There are female anglers who are more fervent. They are up before cockcrow and will spend the better part of the day on the water. One of their major aspects in a wader is comfort and durability. This one gets a thumbs up for this. It withstands non-stop abuse and for any remote fishing spots, it will surprise you of how much it can take.
The three-layer nylon fabric in its purest form is a good material for a wader like this to ensure that it maintains very high water repellency levels. Thanks to the repellent finish, you have less to worry about. It handles rainy and windy conditions efficiently and comfortably.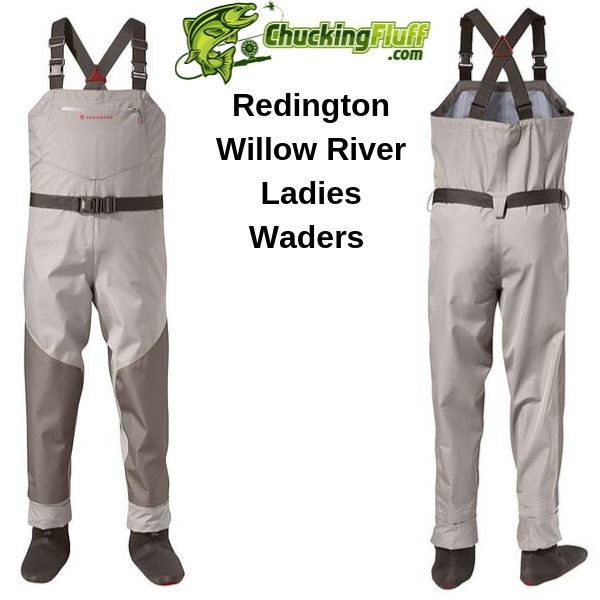 Boasting double-layered knees, these waders sensitize on skin protection enough than many waders. Booties are made from high-density neoprene to adapt to high use and at the same time resist wear and tear. Inbuilt suspenders offer more comfort and ensure that the waders fit pretty well. They feature quick-release buckles which are extremely durable.
The wearer can easily revert and snap them together to make a belt. This is so creative making it unique. The nifty addition allows for conversions and securing the wader at the waist when you want the bib and suspenders off. This will come in handy especially for various water depths.
Hand warmers are lined with fleece to warm your freezing fingers. Its chest pocket comes with drain holes which keep your pocket contents away from the risk of destruction. More storage space is in the flip-out pocket. Since they are cut for women, the waders don't feel loose in certain areas like what is in men's products.
The finish is soft to touch and will be comfortable for prolonged wearing. It is easy to clean and maintain after it has done its job of aiding you in exploring your fishing holes.
Check Willow River Price on Amazon
Compass 360 Ledges Wader for Women
Compass cuts out these waders exceptionally to fit the feminine physique perfectly without wasting any fabric. You know how much women get irritated by small aspects-even a spill of water on their clothes. Well, anglers are lovers of water but Compass makes these waders waterproof though breathable.
You remain dry and cool inside when wet on the outside. Sweating signifies that you are fully involving yourself in throwing casts. No worries about getting clammy since moisture-wicking has been well taken care of. Purple neoprene booties are stylish and do their job as they should.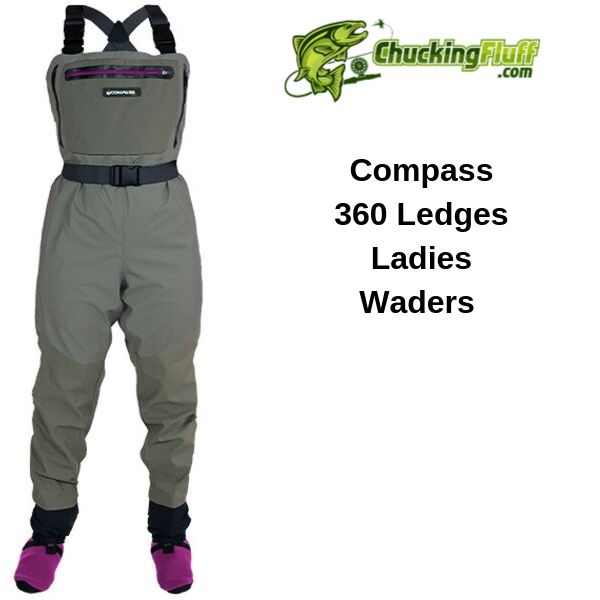 In fact, if you don't love them, your expectations of a good pair of Ladies' Breathable Stockingfoot Waders are way ambiguous. Pure chloroprene is very soft to feel and ensures that your feet are comfortable. Boasting high-grade quality, the fabric counters instances of bunching.
Quite a description: 3 in 1 big ass pocket! The name isn't a major concern. What it does it the consideration here. The chest pocket has a durable purple zipper for easy content access. The number of pockets is great and for a female angler who hates to deviate their focus, you will find them superb for your tackle accessibility.
Its chest drawcord is adjustable and allows the wearer to adjust their bust area accordingly to avoid any bagginess around this point. Built with an adjustable wading belt, the wader allows for conversions into waist lengths for those times that you need to sneak out to the bush to get relief from the effects of coffee or a cold beer. Thanks to the quick-release buckles, everything happens in a snap.
Backed with a one-year consumer warranty, you will love how well, the service within this period is. Catering for defects in material and artistry or any other repairs from prolonged use, Compass is dependable in terms of service delivery.
Check Compass 360 Price on Amazon
Lone Cone Deluxe Breathable Women's Waders
If you are looking for a very stylish, fully-functional, and high-performing wader with breathable properties, the Lone Cone Deluxe is a sure bet. It is high-quality and the designers did their crafting with comfort as the first crucial aspect in mind. Next was the curvy and bold women bodies.
Don't get it wrong since there isn't a pun intended here. It is to ensure that they give a super fit to accommodate various sizes and body shapes.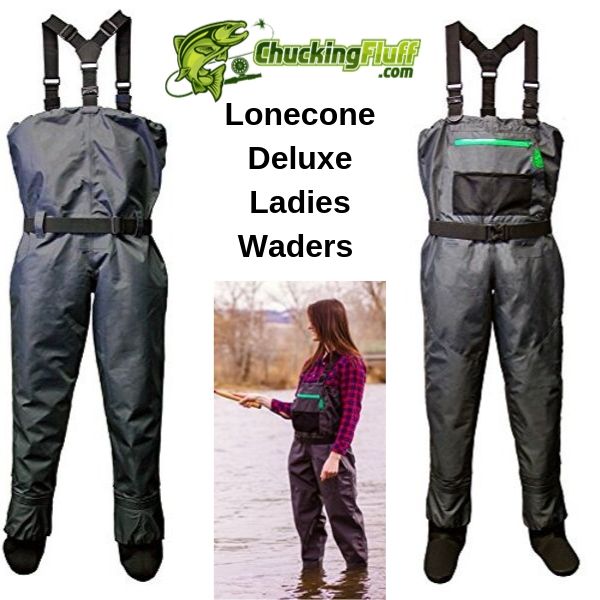 The effective polyester material is what the manufacturer uses in manufacturing these waders. The fabric keeps the wearer very dry while ensuring that it wicks away moisture from the body to the exterior surface of the fabric. These waders are cool in hot weather and give enough space for underneath layering when you need to step out in cold seasons.
Knee and leg areas are reinforced with three layers of fabric to boost your confidence as you get on your knees to accomplish the basics of angling. As you move about in thick vegetation, there should be no fear of wader tear or puncturing.
As a promise of customer satisfaction and rewards program, Lone Cone has a warranty for these waders but doesn't specify its duration as other manufacturers do. The company insists on their site they will attend to any issue. Seams are well stitched and sealed to prevent any irritations and counter instances of leakages.
It features superior features like kangaroo handwarmers lined with fleece, durable neoprene booties to easily fit in your boots, and water-resistant pouches accessed via non-corrosive zippers, and a functioning suspender system.
Check Lonecone Deluxe Price on Amazon
Best Medium Budget Breathable Stockingfoot Waders for Women
For the female angler with something more to spend, these choices will not let you down. We see slight advancements in choice of material, technologies, and combinations in waders under this category as compared to what we have in the low-budget section. The additions and improvements are for more comfort, improved performance, and durability. The service delivery by these waders isn't a doubt.
Orvis Women's Encounter Regular Waders
The Encounter line of products from Orvis is full of various gear and equipment. Until now, you must have read our reviews on the Encounter Men's Waders, Encounter Reel, Encounter Rod, Encounter Fly Line, and Encounter Wading Jacket. If not, head over to our blog under the buyer's guide section.
We keep encountering more trials in the angling field but for women, the Encounter waders makes them tougher and resilient to deal with whichever situation that Mother Nature brings forth.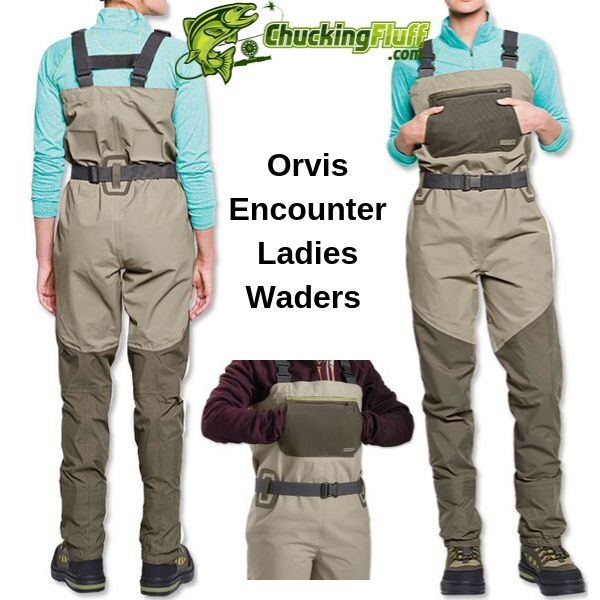 Breathability and durability are well taken care of by the four-layer polyester fabric. According to Orvis, the Encounter has been upgraded to match its Silver Sonic wader which is an award-winning product.
By women for women, there is nothing that the manufacturer leaves out when it comes to the basic features of fly fishing breathable waders. Orvis is generous enough to include features that add to performance. The handwarmers in a kangaroo style are ideal for cold mornings, evenings, and freezing seasons.
Storage pockets are zippered and easy to access. Women are too cautious and on the water, the level of anxiety can build especially if not well prepared. By this, we mean having aquapacs or the 8G3H waterproof pocket from Orvis.
It is a separate purchase but not too costly. Attach it to the fly patch that is on the interior pocket. Snugness is every female angler's wish in a good pair of ladies breathable waders. This one passes the test and for more assurance, the inbuilt belt loops and wading belt are present.
The neoprene booties are anatomically designed to be true to size and fit any wading boot of your choice. The regular sizes are available in small, medium, large, and extra-large. It is possible to hand wash these waders when they get too dirty for your liking.
Check Encounter Amazon Availability
Simms Soul River Waders – Best for Rugged Use
If you have been searching for a great pair of waders that can stand up to ruggedness and meet the standards of Alaska fishing or something similar, this is it. They might not be high end but boy, these waders will get you out and into the water anytime at an affordable price.
The Soul River has a great fit, epic features, top on aesthetics, and sure on performance. There is a story behind its name-another day's story. Mobility obstruction is a turn off to any angler whether male or female. This one has an exemplary cut that fits well ensuring it doesn't come in the way of comfort.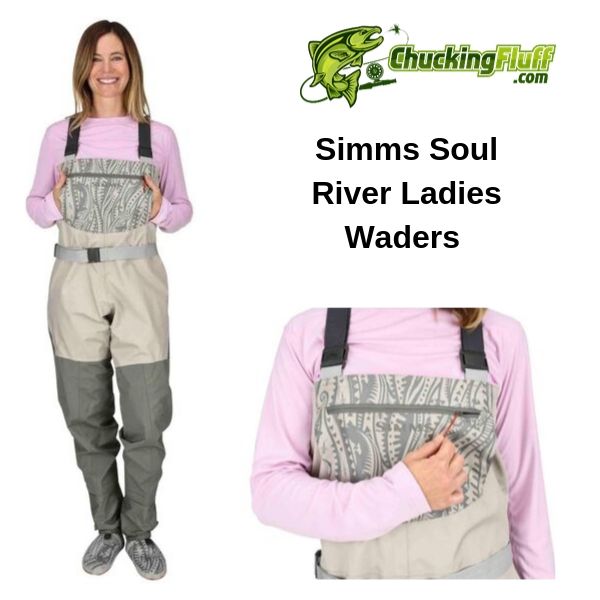 Uppers have a three-layer polyester construction which is waterproof yet very breathable. It might sound impossible but at this point, technology is undoubtable. The lower region features a four-layer construction with the same features. You will love how well it brings out your physique while still doing what it is meant to do.
Handwarmers with fleece lining are easy to reach through when it is getting colder. A top stash pocket is for your tackle or personals. Neoprene stocking feet are anatomically engineered and have an anti-microbial finish to ensure that your feet remain healthy. The booties fit into your wading boots of preference well. A 38mm waist belt with belt loops allows you to change designs at your convenience.
Inbuilt gravel guards save you the time and energy of having to take out your boots to remove sand or stones that get into your waders or boots. They are preventive features that prolong the life of your waders. The Soul River pattern on the chest pocket, stocking feet, and suspender straps help in identifying your waders.
Check Check Soul River Web Price
Simms Tributary Waders for Women
Technology is the base of excellent creations and this wader for women is a definition of this aspect. The Tributary features the QuadraLam technology in fabric construction for high breathability, abrasion resistance, and waterproofness.
YKK on the zippers is for lockout any moisture and keeping the pocket contents safe and free from damage. The center seam construction together with the articulate pattern prioritizes the fit of every angler to ensure that it counters bagginess and maximizes on comfort.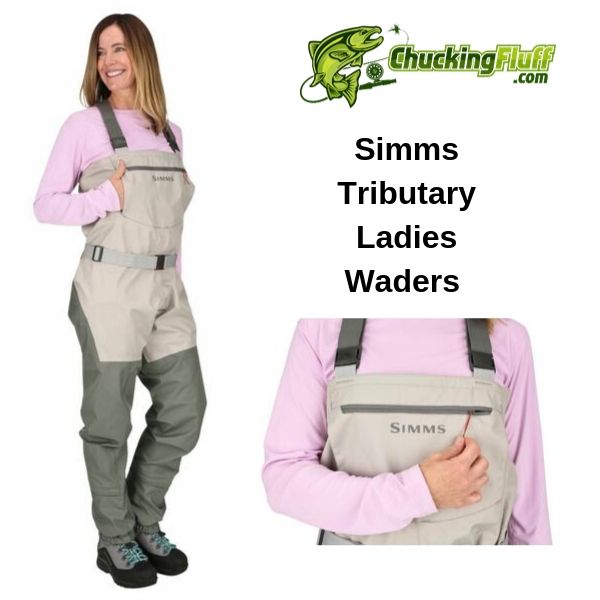 Common praise in users, reviewers, and guides is about the excellent fit. It has an above-average fit. What makes us pride in Simms when it comes to these waders is the accuracy and reliability of the sizing chart. It doesn't take long before you identify the right size.
The wader shares features with the Soul River and Freestone. However, there are a few major aspects to brush through. QuadraLam is breathable and for women whose perspiration rates are higher, there is no worry. Since moisture-wicking properties are on point. Sweat expulsion is an easy process leaving you cool and dry in the inside regardless of the intensity of temperatures.
Women and organization are inseparable. The wader doesn't have plenty of pockets since storage isn't among its main tasks. However, the chest pocket can serve as space for your tackle or personals. Drop in a sunscreen tube, hanky, lip balm, and essentials that you will need for a long day on the water.
A fly box can fit in too. Handwarmers are a sure bet when you have no gloves. They are lined high-grade fleece that traps cold air and warms it. If you need the handwarmer pocket for more storage space, why not? It still works well.
Check Check Tributary Wader Web Price
"Check out some of our other Buying Guides"
Best Breathable Stockingfoot Waders for Women – Top Budget
When you need an expensive pair because you are sure that what you are getting is premium, stop at this point. Simms, Orvis, Patagonia, and Redington are the manufacturers taking over the superior waders this time. We are sure of the results because being in the industry for many years, incomparable expertise, and a dedicated team of female guides and reviewers, we can trust the waders. The product quality, performance, style, fit, feel, and build are on a different level. If you feel like you have a few bucks to spare, add to your initial wader budget and choose what you think will work for you.
Patagonia Spring River Regular Waders for Women
Here is another development by women for fellow women. We must say that for it to feature in our best list, it deserves it. Form, fit, and function all are specific to lady anglers. It is superb for the river test as the spring conditions vary from sunny, cold, 60-F bliss, to blowing snow.
Taller fisherwomen will always have more concern about gear fitting well. This isn't different for shorter ladies. The regular size is for the 'Medium' to put it in simple terms. Any woman will appreciate the feminine cut that gives a streamlined fit and more room for underneath layering. They have a sharp and striking look as well.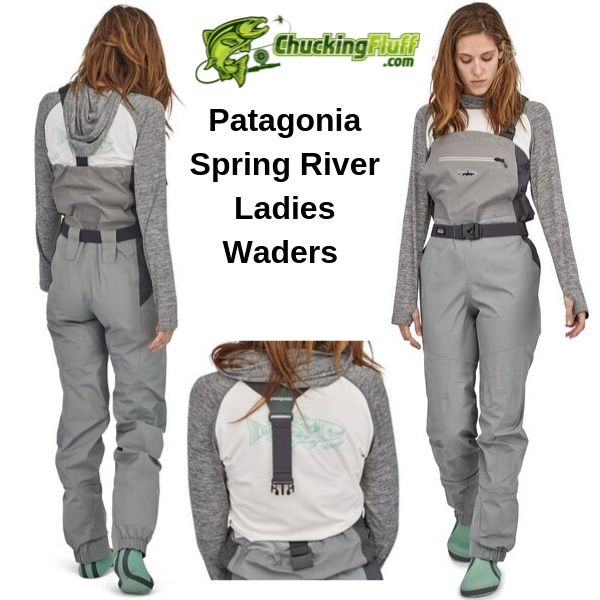 Featuring a four-layer fabric construction, these waders boasts high abrasion resistance. I bet you know how tough it can be to maneuver in the bushes, thickets, rocks, and mountains before reaching your fishing hole. The inhabitants of Nature can decide to give a greeting in the harshest way.
It doesn't bow to this. Quite a plus when it comes to skin protection. Thus, it is very functional and durable. Breathability is on point allowing for expulsion of sweat from the inside to the outer layer while holding in warm air. You remain fresh, cool, and dry each time temperatures shoot.
As Patagonia strives to ensure that the wader serves you for years, it does more during construction. For instance, the leg areas feature single seams which lay flat all the time to prevent irritations and reduce the chances of bursting.
More confirmation that the waders were truly meant for women is the quick-release suspender system which is fully functional and ensures easy wearing and taking off. It is a breeze to unbuckle the bib at the back when your body decides that it needs some emptying. Warmer days shouldn't cut your plans of wading. With the help of the two frontal straps, you can convert the chest waders into waist-high waders.
The material combination is upbeat with the top shell being from H2No. The upper fabric has a 4-layer construction from high-quality polyester microfiber with specifications from high-density taffeta.
The lower fabric has a similar construction to the upper but features double weave taffeta. Bot layers are highly waterproof and breathable. They have the Durable Water Repellent finish for longevity and performance. 
Check Check Patagonia Spring River Waders Web Price
Simms Freestone Women's Waders
The Freestone lets you free yourself from the oppressions that come with ill-fitting gear. Suffice to say, they fit pretty well. Holding a stamp of approval from chuckingfluff.com, Simms, and most top guides and reviewers, they warrant a standing ovation for their cuts which were specific with women in mind.
There is no need to keep trying men's waders to get one that you could probably fit. The waders allow women to wade at ease and in confidence without worrying of getting wet.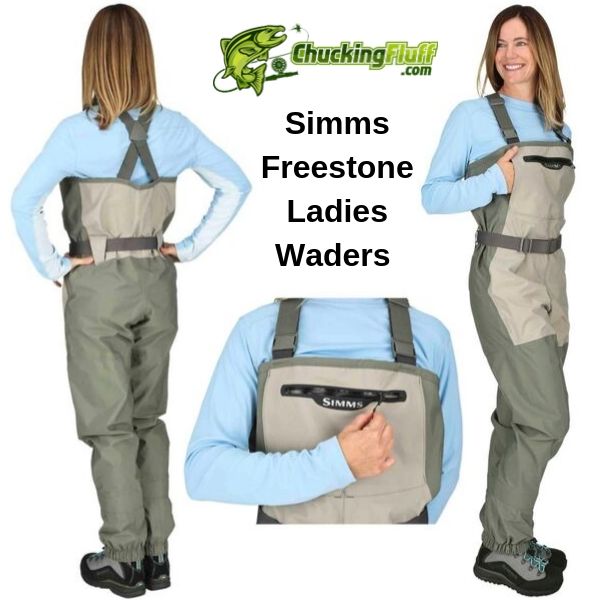 It features Toray QuadraLam technology and four-layer fabric construction. What more shall we say? The material and technology selection strike a balance between durability and performance. It serves its purpose of keeping you warm, protection from brutality from the aspects of Mother Nature and acting as a minor storage gear.
If you haven't been keen, then these waders have an articulate pattern. The seam construction in the center of the leg ensures that you achieve a good fit without compromising comfort.
Suspender buckles are reversible and allow for easy wader conversions from chest to waist-high when the weather gets warmer. The internal zipper line allows for the attachment of a tippet tender pocket or an aqua pouch. However, the two are separate purchase and go for cheap.
The handwarmer pockets are lined with high-quality fleece lining for defrosting your fingers for the purpose of dexterity. They double as storage spaces for a few tackle items.
31 oz. for a wader like this one is reasonable. Though it comes slightly heavier than the Soul River Wader, it still performs its tasks very well. With proper care and maintenance, the waders will last longer than you expect. Care instructions are on Simms's website.
Check Check Freestone Ladies Waders Web Price
Redington Sonic Pro Women's Waders – Best Daylong Choice
In a bid to solve the problem of crappy and baggy women's waders, Redington designed the Sonic Pro. And if you know what it means to be a pro, you have no doubts in the Sonic Waders for women. It remains the best solution for daylong wear without sacrificing comfort.
The sides of the wader's bib have stretch panels to allow the wearer to easily pull the wader over their hips and breasts. Panels adapt to several chest sizes which is exemplary. For those who love body-hugging waders with less of floppiness and not gappy, the streamlined bib will do. They have an expansion ability to take in larger boob sizes.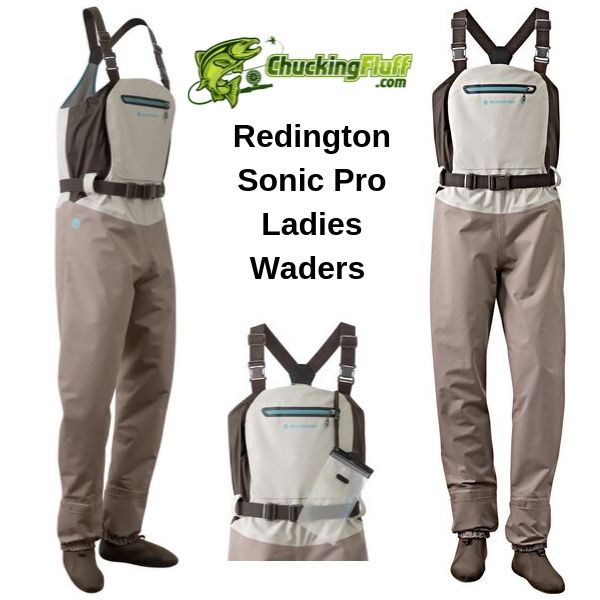 The cut in the legs is slightly body-hugging and you will love it as it fits like your all-time jeans. You can't compare this to the balloon style of waders that first hit the market. Made from a nylon twill-face material, it is soft to the touch and feels like a good denim material and not plastic. It doesn't make noise as you walk and you will appreciate its comfy aspect as you lazy around taking a break. They are lightweight and mightn't need to yank them off once you step out of the water.
Breathability isn't a gamble since it feels very comfortable, cool, and dry in hot weather. They perform incredibly in keeping perspirations to tolerable levels. The four-layer fabric construction is an emphasis on durability rather than airiness. Booties fit perfectly.
The anatomic curves for each foot look nice too. Unlike the sonic pro for men, women's have thicker neoprene for more warmth. Experts recommend the use of thicker neoprene on ladies' stocking feet because their circulatory systems function slightly differently than that of the male anglers. We have no doubts that it will bring out your stature and do the job like it is supposed to.
Check Sonic Pro Waders Price on Amazon
Simms Women's G3 Guide Waders – Perfect for Daily Abuse
Men's waders are really cool and especially with them flaunting premium features, any female angler would die for them. Well, don't die, live for this G3 Guide upgrade for women. You will love the easy to access inbuilt ports that any lady angler will find more functional tool storage.
The bib area has a flip-out pocket sewn onto it to hold your tippets, spools, a split shot bag, retractors for your leashing your hemostats. The pocket ensures that most of your stuff is at your fingertips. Other gear and equipment can go in the hip or sling pack behind you.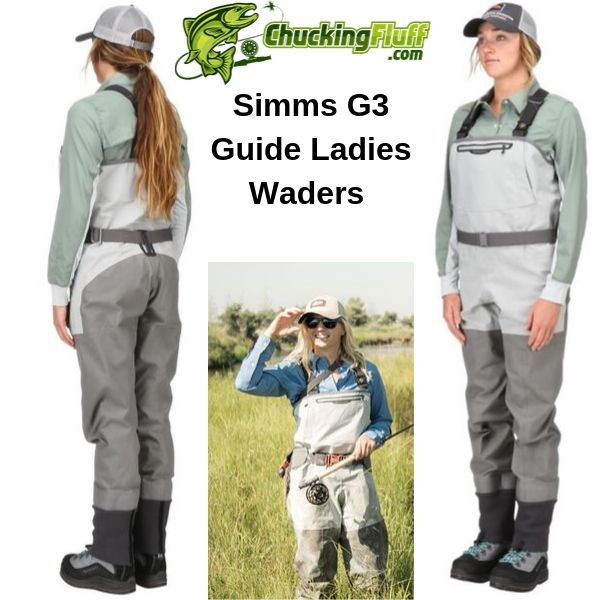 Simms took time to make more improvements on the fit of these waders. Though it was pretty good initially, the upgrade is worth every bit. The previous design had thigh seams that could bind across the legs and hinder maximum freedom of movement. Simms's new design has these waders fitting like they've been customized.
Frazier, a Simms team member says that their intention was to have these waders fitting more like a tailored women's suit or a dress. With a scallop top opening, it has a higher fit at the chest area and the lower back. Other wader features like handwarmers, YKK Aquaguard zippers are well in place for functionality.
The design and sewing are done in USA. So far, it is among the heavy-duty Ladies' Breathable Stockingfoot Waders. It is made from a four-layer fabric construction which includes sandwiching and includes a Gore-Tex Pro Shell layer for longevity.
More benefits are reliable waterproofing properties, greater performance, and the waders can tolerate hard use. If you are going out for lighter duties and fishing sessions, it feels overbuilt. The cost is on the highest end and most dabblers mightn't spend this much on waders. However, if you are a diehard angler or guide, it is an exemplary match.
Check Simms G3 Ladies Waders Web Price
Orvis Ultralight Convertible Waders for Women – Best All-weather Option
A few months before the release of the Ultralight Convertible waders for ladies, Orvis made public its ambition to boost the participation of women in angling and close the gender gap by the end of 2020. The evidence of this commitment is the award-winning Ultralight that scooped the Best of Show Award in the 2017 ICAST contest under the category of Women's Waders.
In these particular ones, the manufacturer trims the fit to ensure it isn't baggy but more flattering to the feminine physique. They in return are highly durable. Why? Usually, excess fabric bunches up in unsightly creases which weaken the material increasing the chances of leaking.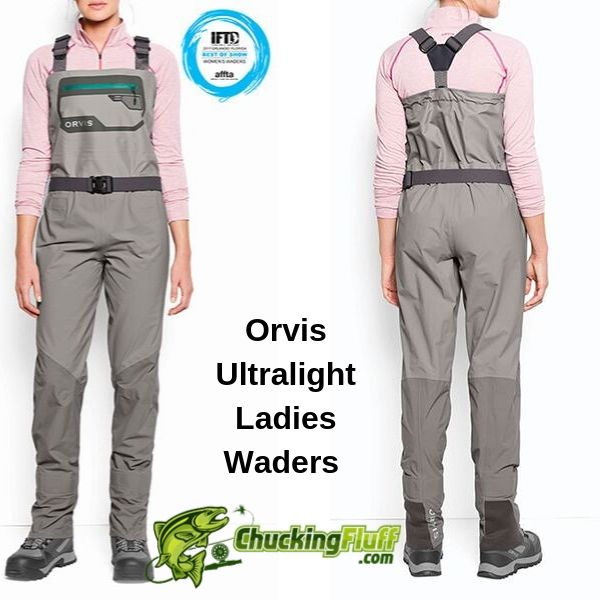 What all anglers should know is that fit isn't specific on vanity alone. The longevity aspect is also crucial. You will appreciate the suspender's design that allows the wearer to drop the wader's bib with ease and make the conversion from a chest wader to pants. Well, the convenience of use is unspeakable.
The Ultralight will not need much futzing unlike most of the waders with a certain type of contrivance. For this reason, the waders are ideal for hot days. The four layers of fabric are extremely light just like in the wader's name. The oppression in high temperatures is nothing to worry about. If walking out in winter, more insulation and layers will do you good.
The bib has streamlined tool features which are smart. Suspenders have a patch to clip your hemostat onto it. The chest pocket has a tool port and a small fly patch for you tackle items. Neoprene booties conform to the wearer's feet and fit into any boots of your choice.
Orvis has been on the forefront when it comes to offering waders that are comfortable to have on. The Ultralight is available in 14 sizes and in three lengths. You won't miss your fit.
Check Check Orvis Ultralight Web Price
Final Verdict on the Best Breathable Chest Waders for Women
With many manufacturers having more concern for female anglers, we are seeing greater changes in the production department. What most ladies are looking for is superior fit and good performance at matching prices. Most choices are flattering and worth it in terms of durability and features.
Over the past few years brands like Simms, Redington, Orvis, Compass 360, Patagonia, and Caddis Systems have been improving women's waders steadily. We have put together this guide with the best offerings for now. You can share with us your options that aren't on the list and feel like they take a beating.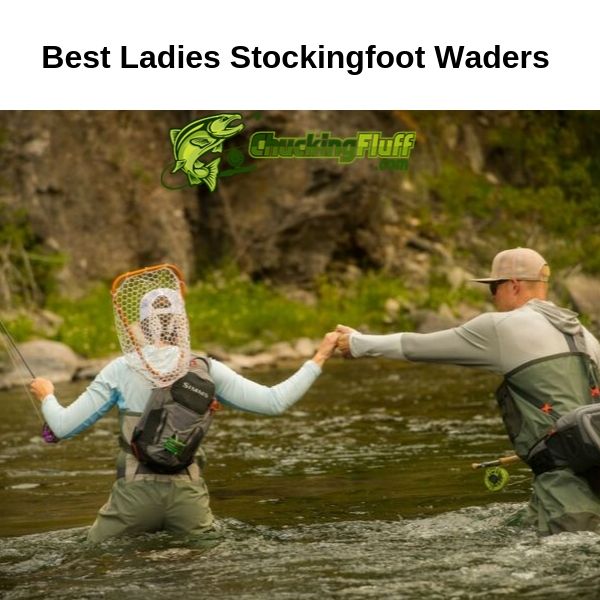 The models here many outstanding cuts, fits, and construction that are ideal for women who are die hard anglers. We already bid goodbye to swaddling anglers in many yards of baggy material. What we have now are tapered cuts through the hips and legs to ensure that they fit well while still leaving space for underneath layering.
The choice of seam construction I most of these waders is epic to ensure that they aren't irritating as you cast, lay flat and don't burst despite agility when things get tougher in the process. They feel like the Arc'teryx pants or jackets that have been translated to fishing garments.
While a few can feel stifling for fishing in the heat because of ultra-ruggedness, there are many that strike an ideal balance between breathability and protection. Remember, these two features remain crucial as you select your waders. However, the season you intend to fish in will be the denominator.
Most waders are tolerable in the high-heated afternoons and will remain warm enough in the cold seasons. Thick neoprene booties on each wader are functional. Others are 3mm thick while others are thicker by 1mm. They still offer better insulation than waders without stockingfeet. Most are warm where they need to be and cool where fisherwomen appreciate high ventilation.
There haven't been nitpicks with the gravel guards on waders that come with them. They fit snugly over the boots and you will not have to wrestle them over your laces. They invariably stay in place as you wade. Most of the waders with good care don't put you on the stress of dealing with leaks and scuffs.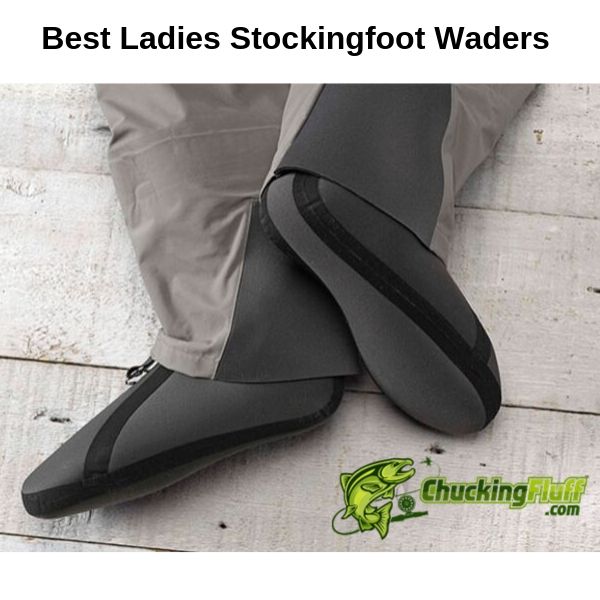 You remain leak-free for a very long time unless you want to take a swim, there will be no explanation. Even after a year, some nylon and polyester waders look brand new. Construction and layers of fabric differ from wader to wader with others sharing the type of material and design. The bottom line remains that each for its relevant season. If it is lighter, layer it properly. If it isn't, grab your combo and do your thing.
Remember that as you add more layers for guarding against leaks and punctures, you reduce the chances of sweat to escape. It is the reason we advocate for breathable waders. Why? Despite the number of under layers that you have, they still breathe like a single-layer of fabric.
Soaking from the inside and clamminess isn't a good feeling especially when you still have more hours to throw your flies. All waders in this guide are breathable so do your usual readying and worry less.
Price is a big determinant of which wader to select. The three categories have several waders under each for you all to choose from. We have covered all budget ranges: entry-level, mid-range, and high-end. Until now, we doubt if there is anything that will hinder you from assembling your tackle for a fun session in the heat or cold.
Share with us in the comment section your questions, contributions, and experiences if you have or haven't had your hands on any of the ladies' breathable stockingfoot waders in the guide. We will appreciate knowing which more you have used.