Have you ever thought about learning how to fly fish?  It may be you have watched a fly fishing angler casting a trout rod across a river or lake and wondered could you do that. Well I can tell you that fly fishing is no harder to perform than lure fishing when you correctly buy well balanced equipment and take a few lessons. You could get to grips with it without the lessons but if you are a complete novice I would advise you get some lessons as it will save you time and effort in the long run.
To begin with what is fly fishing?
Fly fishing is the sport where someone uses a fly rod to cast a fly line with flies across a river or lake and retrieves them in a number of manners to try and entice the target fish into taking. Flies are hooks tied up with feathers and materials to either look like natural insects or colored in such a way to make an aggressive reaction from the fish.
These flies are tied to the fly line with a leader material usually mono-filament or fluorocarbon and are cast using the rod and line. The basic fly cast is called the overhead cast and consists of the fly line being pulled through the air in front and behind the caster. The line is kept in the air in that it doesn't touch the water or bank during the cast. The rod is loaded by the line to put energy into the cast so it can be accelerated and cast great distances in front on the fly fishing angler. With a bit of practice casts of 30 yards and more can be reached and are usually enough to target most species of sport and game fish.
When optimum cast length is achieved the fly is allowed to land on the water and then retrieved in different manners to try and entice the trout or fish to grab the fly. At this point the hook is set and the fight begins. There are a vast array of permutations for fly fishing including rod length, fly line density, fly line weight, casting technique, leader length and pattern of flies to name the most common.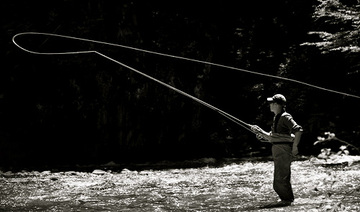 (more…)