Disclosure:
Just to be open and honest the buttons and links you click on in the website will in most cases take you to another website where you can purchase the products I am reviewing. As an Amazon Associate I earn from qualifying purchases.
June 25, 2019
Best Vests Packs for Fly Fishing – Buyers Guide and Comparison
Introduction to Best Vest Packs For Fly Fishing
Let's not sugar-coat things here. Every angler knows that fly vests aren't more popular today than two decades back. You know, with all the heavy wading jackets and heavy-duty waders, the wearer feels complete but they really aren't. Some of the best fly fishing vests have been in the market for a long time now.
Their design is still the same. Many think that they look like what our grandpas wore back then. Something like what Walker Texas Ranger had on often. A few look like what Tom Cruise had in the Mission Impossible.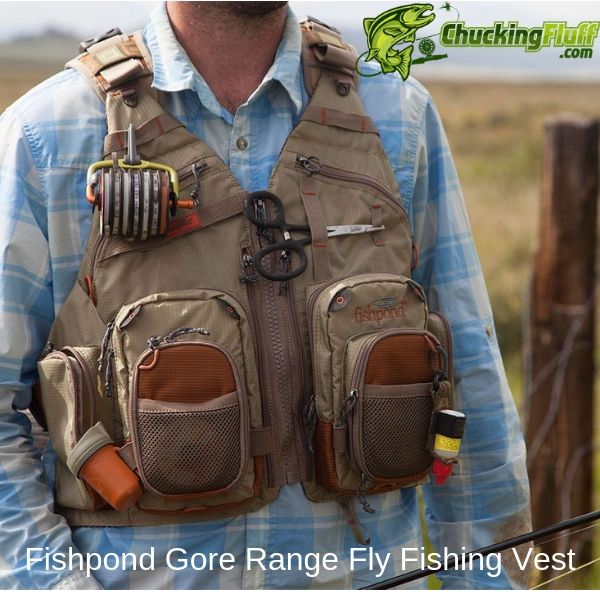 If you don't have one, you might think it is a minor gear, not so important. This is not the case. You are missing a lot if you are angling without a fly vest. Its decency is in the vest's storage system. It is crucial to have enough space for your tools and gear to avoid losing them or breaking the delicate ones.
Novices will give excess thought to other equipment and gear like fly rods, reels, wading jackets, polarized sunglasses, and lures. They then fall prey of counterfeit vests from black markets or a cheap Chinese manufacturer unaware of the nitty-gritty of fly fishing. How then do you expect time on the water to be seamless and fun?
High-quality fly fishing vests are for equipment storage, safety, and offer a slight layer of protection from the cold and winds. All your tackle remains right on your body saving you the time you'd spend off water to pick a fly or lure. Did I mention how easy it is to focus on getting more catches? Disorientation on the water is annoying than any other thing.
No wading out of the lake or river to pick anything. As you go window shopping for a good piece, make it solid and pick a functional vest. Our buyer's guide is here to give a very vantage point. It will be to your surprise that you will be having a smooth rhythm from now onwards in the river. Forget about flipping and flopping in your bogus industrial vest bought at a thrift store.
I bet the organization yields productivity. These fly vests keep your eyes on angling more. Getting an uplifting fishing experience isn't rocket science. Stick around our website for insights like this. While some newbies and amateurs might find these vests boring and overlook them often. Just like your fly is important, so is this vest.
Whether you are angling for food or to pass the weekend, you will sulk at spending minutes looking for small things. The reason could be disorganization. Our guide has some of the selected top rated fly vests for the money.
Often, most cheap and crappy fly vests wear out with the first season. If not totally breaking down, threads begin to unravel and there is nothing you can do about it. Stay woke for some of the best options in the market.
---
Best Budget Fly Vest – Autumn Ridge Traders Fly Vest
Autumn Ridge is one of the top companies that designs and produces the best fly fishing vests. This is evident in the outdoor fly fishing vests which has 16 pockets.
Most effective and durable fly fishing vests cost an arm and a leg. You might have to go outside your budget to get something with performance and longevity.
This manufacturer has anglers with a limited budget in mind hence launching this budget fly fishing vest. It is a solid choice because it has all the basic features that a good one should have. A good number of cheap fly vests lack certain features like zingers, breathable mesh, and enough storage space.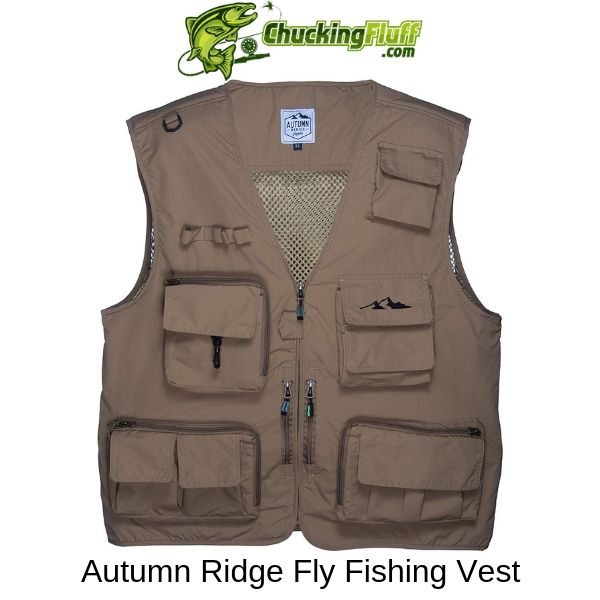 This model is available in a wide range of sizes to allow anglers choose one that fits them well. This is a tactical vest and its versatility allows the owner to use it for most sports outdoors.
Not all budget fly vests are these versatile. The fit is comfortable and doesn't hinder mobility and maneuverability. This is a very important feature when fly fishing.
The fabric construction is dependable with the high-quality polyester being exemplary in terms of breathability, quick drying time, and lightweight.
Breathability is also enhanced by the mesh fabric. The outer shell is water resistant and will keep your items protected for a short period. You might need waterproof pouches for your valuables.
16 pockets are enough for storing all your gear and you can be sure to have one or two pockets empty. It will be sad to discover that you forgot your fly box on the bench in the garage. The design is catchy and stylish. You don't have to scare away fish with a boring and dull look.
Check Autumn Ridge Amazon Price
Best Traditional Fly Vest – Redington Blackfoot Fly Vest
As you get to this point you must have read our factor list to consider when choosing a fly fishing vest. If you haven't please do. Most of the fly vests in this buyers' guide are mesh fly vests.
Some are a blend between the mesh and non-mesh vest while a few are traditional. Our best choice for the traditional vest is the Redington Blackfoot River Fishing Vest.
From the outlook, it is larger in size and offers more body coverage and enough storage space for your gear. This one isn't 100% traditional. It has an upgrade from the ancient standards but not change in totality.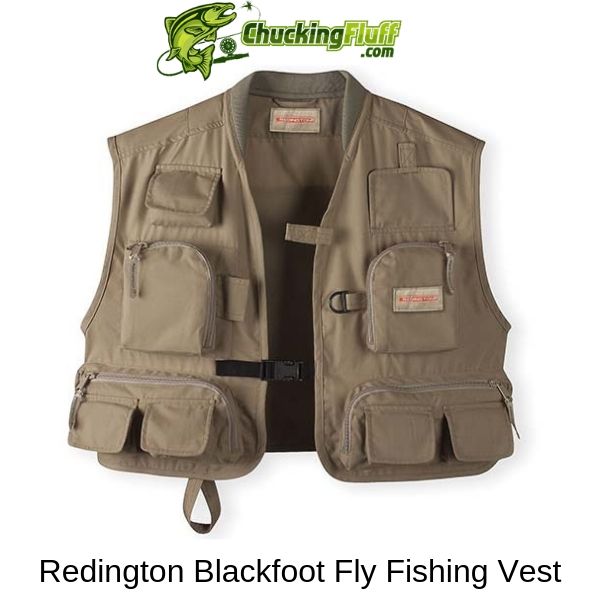 There is no doubt that cotton and canvas become very heavy when exposed to water. This one has a blend of cotton and polyester to retain the traditional feeling of how heavy the fly vests were but it doesn't get to the 40-50 oz. that some weighed when empty.
Adding polyester makes the fly vest lighter, and gives it a reasonable drying time. The collar is well-padded just like what our old men had to ensure it gives enough comfort and prevent making your neck and shoulders sore when fully loaded.
Storage wasn't much of a big deal then and still isn't now. This fly vest has very many pockets in various sizes to allow you to stash in more than what you need.
Though it remains functional considering its ancient look, you will not have it with modern features like hydration packs, foam floatant, and so many attachment points like the modern mesh fly vests.
One of the best full fingered fly fishing cold weather gloves on our list, the Berkley are affordable and high performing. Not everyone loves the fingerless design. Some love to have at least a pair of both-fingered and fingerless design.
Quite a good idea to make them convertible. You can easily access your thumb and index finger if you really have to. Otherwise, leave them closed for more warmth and protection. If this seems like too much to pack for a trip, getting convertible gloves is a good idea. 
Best Personal Floatation Vest – NRS Chinook Fly PFD
Getting out to catch Mackerel, trout, and other fish species is absolute fun. However, you need to be near or on the water often. Some prefer kayaks for boats for mid lake or river fishing.
Moving around becomes more fun. It is important to remember that there is a high risk of drowning that you need to eliminate. Having a good floatation vest is the best thing you can do towards your safety. The NRS Chinook Fly Vest PFD is our choice.
The Chinook is a right pick that works as a storage system too. It keeps you comfortable, organized, and of course safe whether you are kayak fishing, fly fishing, on the dock or floating in a tube. Chinook Fishing PFD has semi-soft floatation pads made from high-quality foam which molds to the wearer's body contours.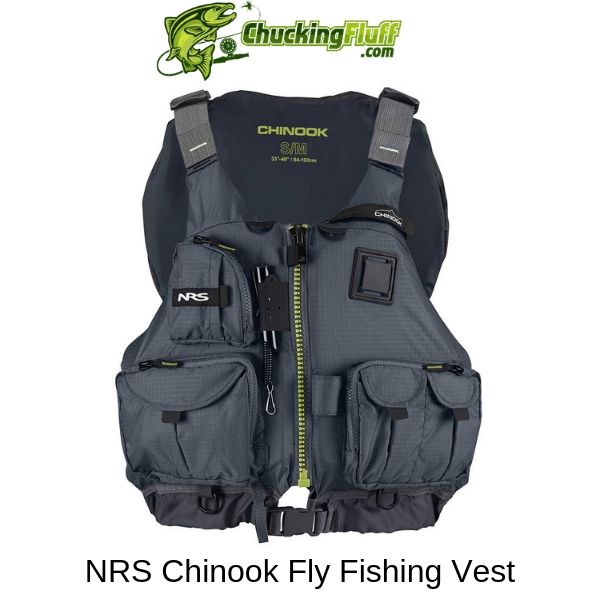 It gives regular motions for an almost custom fit. The foam panel at the back sits very high on the shoulder blades to prevent blocking kayak seats.
The lower back area has mesh for support and breathability. There is a D—ring right above the foam panel just in the traditional fly vests to clip nets to the PFD.
One of the downsides discovered by users is beside its effectiveness, it can get warmer in summer so you should avoid too much layering to remain cool and dry.
Since it couples as a storage system, the vest has seven pockets for a variety of tackle gear you can stash your fly boxes, waterproof cameras, tippets, and fly floatant without trouble.
The fit is great with the fly vest featuring adjustable waist and shoulder straps. Once you dial in, it slips on easily and off via the front closure.
Check NRS Chinook Amazon Price
Best Fly Fishing Vests on a Budget
Are you looking for cheap fly vests that will do the job just like you want? This category is the lowest in our guide and has fly fishing vests from various reputable manufacturers.
All of them serve their storage purpose well and come with more features for comfort like padding and breathable mesh. They aren't sophisticated and don't have special features hence their lower price tag.
Piscifun Adjustable Size Fishing Vest Backpack
17 pockets in total – both interior and exterior, this one is super for the price tag. The pockets give enough storage space for all your accessories. Once packed, they remain safe and well organized. This one is a fully practical vest with a water bladder to ensure you remain hydrated whilst fishing. Your focus should only be on fishing. You need not worry much about the fit especially if you are shopping online. The straps at the waist stretch up to 18'' and the shoulder straps expand to 7.8''. It wraps around your body and fits you very well.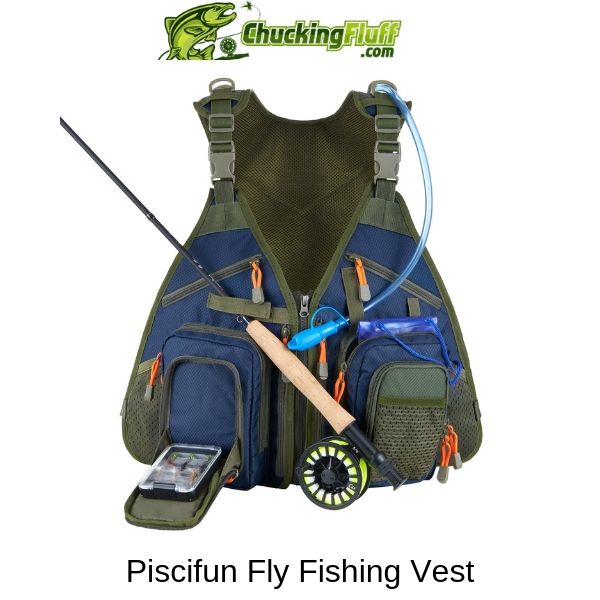 Made from high-quality and durable 210D nylon, it weighs 25.7 oz. when unpacked. Great for wearing all day even when packed. Craftsmanship is on another level. This is evident in the sturdy buckles that are scratch resistant and can easily hold larger bellies. The vest features SBS zippers that are pressure resistant and remain intact even when you overstuff pockets. Expandable storage is a good idea and you have no stress carrying heavy and bulky accessories. Even your biggest lunchbox can fit in the big pockets- you must be too hungry though!
The Piscifun jacket is among the best so far in the market. One major downside is the lack of a warranty. Might not really be an issue to some people but may be a concern to a few. Its convenience and efficiency are unspeakable. It dries pretty fast and you won't have to bear the consequences of carrying a soggy or wet vest. In addition, it has a durable phone case that protects your phone from any damage, from high humidity and water. The texture of the fabric is awesome and there are no irritations even when you begin to sweat. These are a few features of this jacket that you will find interesting.
Check Piscifun Vest Amazon Price
Bassdash Strap Unisex Fishing Vest
Unlike fly vests like the Piscifun that have more back coverage, this one takes the suspension design with durable and adjustable waist and shoulder straps. You are sure of an excellent fit once you buy this vest. A few of its specifications are an adjustable waist of 95 to 175cms, a chest size of 110-135cms, adjustable length of 52 to 72cms, and shoulder strap width of 9cms.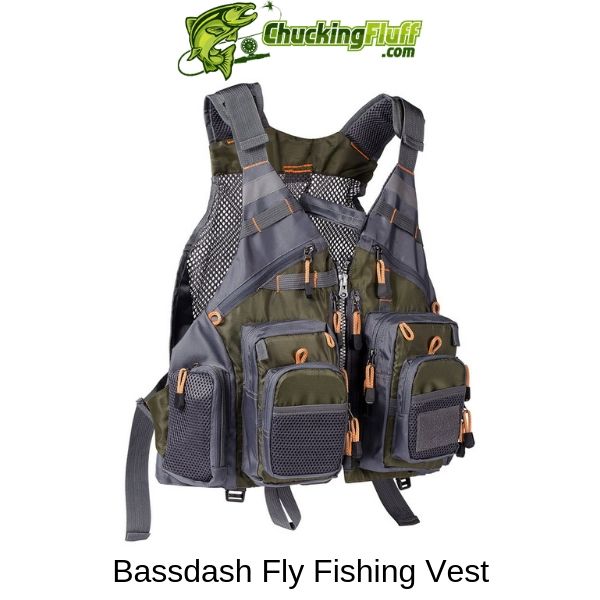 Nothing beats premium polyester in quality and durability. You will love how excellent the fabric construction is. Lightweight and weighing about 550g, it is wearable for prolonged hours without feeling fatigued and is fast to dry. More so, the vest's breathability rate is on point and allows for good interior air flow.
You know how heavy a fully packed vest can put a toll on your shoulders. This one has cushioned shoulder straps for maximum comfort and allows you to retain body stability throughout. Another super storage item is here. 18 pockets are quite a deal even if you have plenty to pack. 14 pockets have durable smooth conceal zippers. Their interiors are well designed for organization and you are sure to place everything rightfully for easier access.
Attachment points are a bonus to the best fly fishing vests. This one has a good D-ring at the rear to attach your nets, a few tools, and a midnight torch to use when it gets misty or darker. It has a rod loop suspended at the bottom, accessory loops on the rib side, and others around the torso area.
The fact that it has a unique unisex design makes it interesting to have on. Quite a deal if you own one and your family loves to fish in shifts. A great saver it is. Available in a variety of colors, you can choose from the Army green, red, blue, blue or grey.
Check Bassdash Vest Amazon Price
Autumn Ridge Traders Versatile Fly Fishing Vest – Best Classic Choice
Fully depicting style and class, it will be your favorite if these two fall on your factor list. Autumn Ridge Traders gave this fly vest an awesome look and typically it provides enough storage space just like it should. A lot of anglers appreciate the fly vest's simplicity and is the reason we give it the classic choice.
The manufacturer knew that you need ample space for your essential accessories and gear without having the front side cluttered. The inner side has a large mesh pocket for additional storage space for larger items. Accessibility to the inner pockets is easy.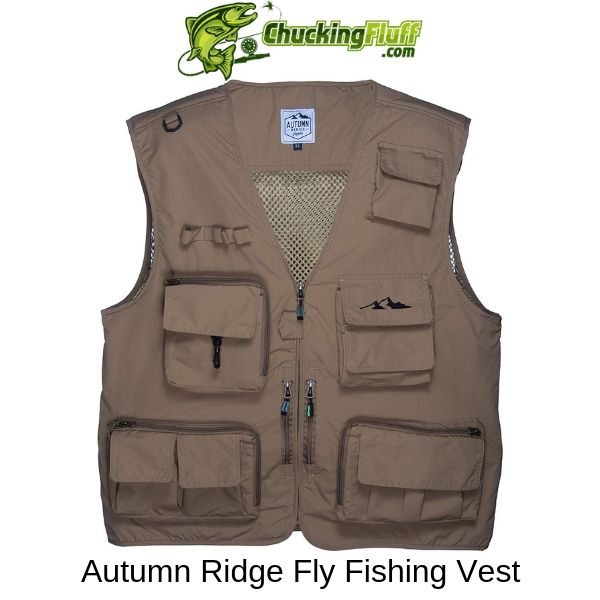 Featuring 16 pockets in total, it is easy to get balance even when all of them are full. The shoulder area is well-padded to distribute weight evenly across your chest, shoulders, and back. This one isn't adjustable but you can find the sizing chart on the manufacturer's website to crosscheck with your measurements in order to get a comfortable fit.
If you always layer clothes underneath the fly vest, you might consider getting a larger size than your usual one. It is generally lightweight and will not slow you down as you head to the shores. Definitely, something you can wear for longer sessions.
Hotter days need adequate ventilation. Autumn Ridge designed this fly vest with the back of this vest zipping down exposing the mesh interior. Fabric construction is on point with the polyester fabric being water resistant. It also dries pretty fast so you shouldn't worry when it gets wet.
One concern is having your valuables in waterproof pouches for safety from damage. Available in a variety of tough looking colors, you can find this fly vest in tan, gray, green, navy, and khaki. This one is special too since it comes in different sizes from medium to 4X-Large.
Check Autumn Ridge Amazon Price
Lixada Safety Life Jacket and Fly Fishing Vest- Best All-round fly vest
Are you the extra-extra type of angler? You have something to take home today. This Lixada polyester vest pack is a mix of functionality, durability, cost, and value. This is where those who love glamor and color get something superb. You can rock classy in grey or go bold with the blue, red, green or camouflage.
The manufacturer was tactful enough to make this a safety life jacket at the same time a vest pack. Blending polyester with EPE foam was a great idea. Though there are similar jackets without foam. The former weigh heavier at 1.65lbs and the latter weighs 1.24lbs.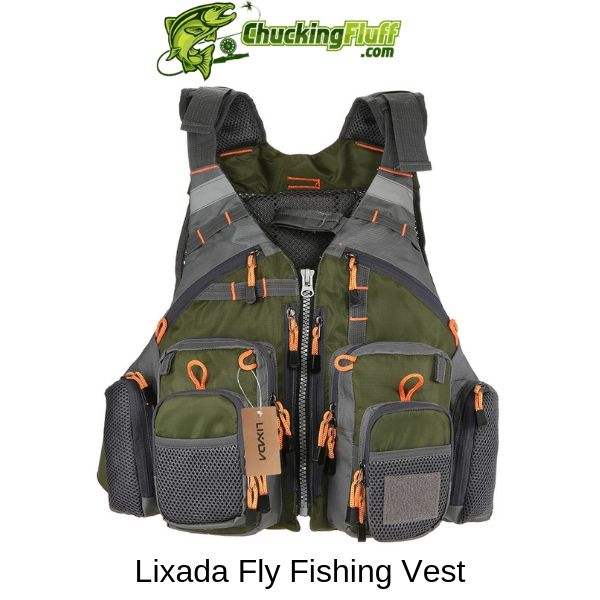 Be sure to pack up a lot. This jacket is currently the bomb when it comes to packing capacity and accommodative weight. The maximum bearing is 209.4lbs. Straps have buckles for adjustment making the design perfect like it should be. Adjust at the waist and shoulder to fit you. It is ideal for both genders. The breathable mesh design allows for free air circulation making you stay cool and dry throughout.
Ripstop polyester confirms that the jacket's craftsmanship is top-notch. The inner EPE foam (to those that come with it) is replaceable to allow for buoyancy and durability. Its construction is unique with open sides to make paddling and casting easier. If you are keen enough you will discover a blend of both the traditional vest and the mesh vest in this piece. What a design!
The jacket has 11 zippered pockets for your storage needs. Accessory loops are in good number to ensure your tools and light equipment are easy to access. There are multi attachment ladders on the front area. The back pocket is generous and there is nothing with regards to fly fishing that you can't carry in except a kayak or others in that category. The shoulder area and rear have wide reflectors to ensure you are visible when it gets dark.
Check Lixada Vest Amazon Price
Lowpricenice Adjustable Mesh Fishing Vest – Best Lightweight Choice
Every angler is different-their perspectives, their mentalities, even their choices. While others love to go the super lightweight direction, others love the heavyweight and bulky options. This is a light carrier from Lowpricenice that will surprise you regardless of whether or not you are a heavy packer. The resultant weight of the vest still doesn't make it heavy. Certainly one of the best fly fishing vests that any age or gender will love. The weight distribution is even across your chest and shoulders.
Having multiple pouches and pockets is superb. All in good sizes to ensure all your accessories for the day fit in. The inner and rear sides have very large and spacious pockets for bulkier gear. They are good options to store your gadgets and valuables. The front pockets can easily be buckled together. In addition, a special compartment for your fly rod is available.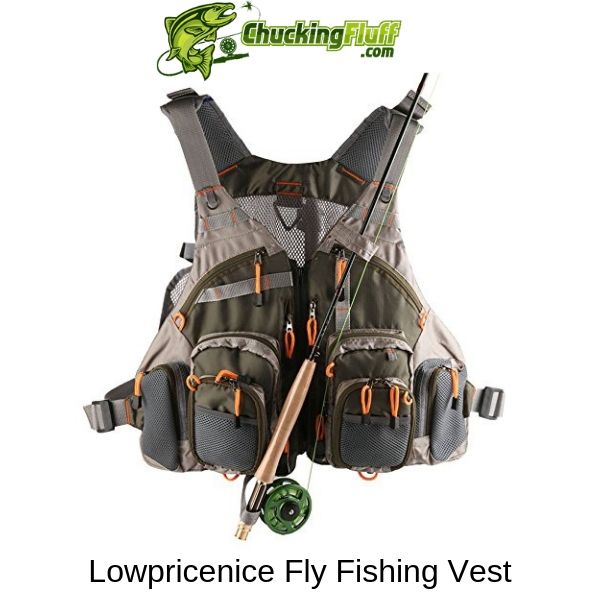 The mesh fabric is breathable and you can be sure to stay dry and cool throughout the afternoon. It is a one-size-fits-most type of fly fishing vest and can fit a wearer with a larger belly. Thanks to the adjustable straps. If you put on a few pounds, it really shouldn't worry you.
It might not be fancy like other high-end fly vests but is something you will find pride in. The design is useful and the pockets big enough. The only problem might come about if you overstuff the pockets. The zippers will not withstand high pressure. Also, keep your fly lines far from the small size zipped pockets to avoid them getting tangled and caught.
Despite the few downsides, the fly vest's light weight comes as a greater advantage making this vest pack ideal for individuals with larger upper bodies and young anglers. It will be a big mistake if you get tired from the load before you get on the water.
Check LowPriceNice Amazon Price
Redington Blackfoot River Fly Fishing Vest
The Blackfoot is a pretty nice fly vest that has a traditional look though with modern features. The storage purpose is well taken care of with a total of 11 pockets for convenience. The back area has two really nice pockets.
One is a large zippered pocket that goes down way far and the other is a pass through pocket that covers almost the entire back area and you can use to store your jacket or lunch box. Basically, any heavy or bulky gear will fit in that space.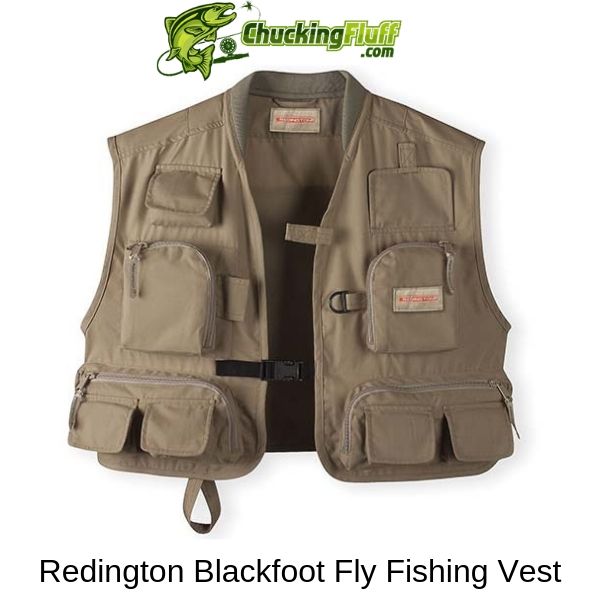 There is room for quite some more. The rear pocket has a high-grade D-ring that you can use to attach your net or whatever tools you need to carry along.
The collar area is well padded and stretches out nicely to make it comfortable.
This is one feature of some of the best fly fishing vests. There is a traditional clasp that will go in the center that you can use as an attachment tab. The fly vest has a little fold down fly patch that is equally nice and you can cover it up so that it doesn't get blown by the wind to distract you.
Velcro patches are durable and convenient for more storage compared to the nylon or polyester ones. There are more traditional pockets on the front and there are a few smaller Velcro pockets.
There is a rod holder to hold your rod in place. You might have to hold it with your hand if you are moving at really high speed. Sizes are available from small to XXX-Large. Available colors are tan and river tan. If you are looking to have class and function in one piece, this is certainly what you should buy.
"Check out some of our other Buying Guides"
Best Fly Fishing Vests Medium Budget
Neither will you break an arm nor a leg if you shop from this mid category. The selection is superb and has some of the fly vests with more features. Their versatility, performance, durability, and construction is on another level. More in this category have hydration packs, waterproof pouches, floatant, and interesting features that add to convenience, safety, and comfort while on water. More features means a higher price.
Kylebooker Multifunctional Fly Fishing Vest
You must have heard of the traditional and mesh vest. This one is a good example of the modern mesh vest. Its construction is light yet durable. The fabric is thin enough to allow for breathability without compromising on functionality.
The mesh fabric too adds to the ventilation properties especially when summer or spring sets in. Earlier in the guide we mentioned mesh vests having shorter drying times that their sister type. This one works in a similar way and makes it ideal for hotter and warmer seasons.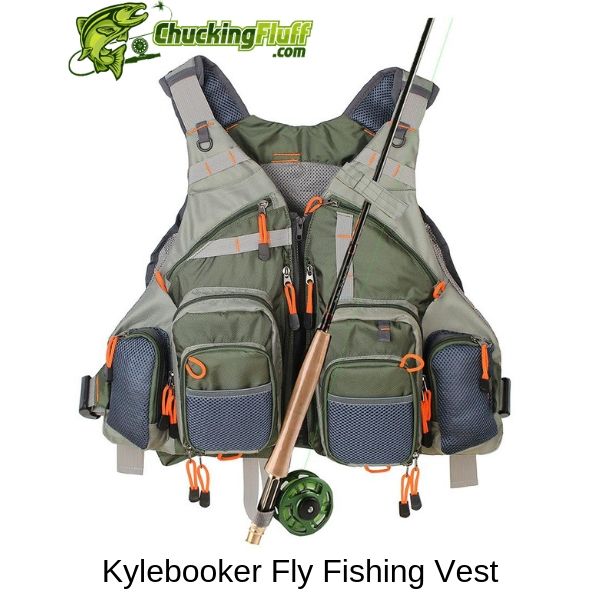 Unlike wading jackets that come in varied sizes, this one comes in one size that fits most individuals. Built with adjustable waist and shoulder straps, you are sure that it fits right and can be able to get the best out of it.
Another Unisex one like the Bassdash, women too can wear it and hit the shores like their lives depend on it. The suspension design allows for distribution of the weight when the vest is fully packed. This allows the wearer to feel comfortable and have it on for a long time without exhaustion.
You can fit an 18 by 9 cm fly box in the second pocket and feel fry to use your favorite when catching a fish. The large size rear pocket is spacious enough to accommodate a few lunch tins and larger gear. There are quite a number of D-rings and other attachment points for your fly fishing tools and holdable equipment.
You can place your rod on the suspended rod holder and have it across your chest and the mid area secured with a strap that is on the left-hand side slightly below your shoulder. Zippers for pocket access are durable and corrosion resistant making it usable in saline environments. If you take part in other outdoor activities like hiking, camping, and hunting alongside fishing, you will love this versatile fly fishing vest.
Check Kylebooker Vest Amazon Price
Redington First Run Fishing Vest
Redington, the USA-based company is one to check out when it comes to outdoor gear and apparel. The First Run is one of the best fly fishing vests in the market. Most anglers love it for its great performance and consideration when it comes to hydration. As fish love water, so must you.
Redington cares for your health and has a 1L hydration pack designed in the fly vest. The vest is great and comes with a high-quality knit collar to give a comfortable fit when you wear it. The collar has a soft feel around the neck area and works to prevent strains as you tilt to aim at fish. The inner side of the collar has a loop that you can use to attach your fly nets though it will force the collar to bend. Not a good idea though.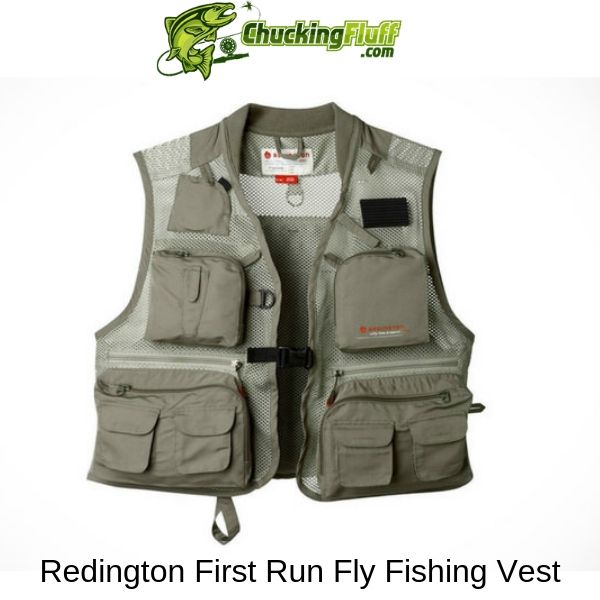 There is a variety of sizes to choose from. The fly vest is available in small, medium, large, extra-large, double extra-large, and triple extra-large. The fabric construction is superb. The internal mesh lining wicks away all moisture allowing your skin to dry very fast leaving you feeling dry and cool. The vest itself dries pretty fast when it gets wet. You won't have to take hours waiting for it to drip water.
It has a quick release buckle that allows the wearer to access all the pocket contents very fast. The fly vest has an inbuilt loop for holding your fly rod across your chest. Quite a good deal if you don't have a Cordura tube. There are not so many attachment points, tabs, and loops.
You might need the detachable ones in case you are packing up more staffs. There is no horizontal zipper like in most fly vests. The zippers that access the pockets are high-quality and durable. They are rust resistant and can work well in all environments.
MAXIMUMCATCH Maxcatch Fly Vest Pack
We are going right to it- a fully functional and featured fly vest with all you need in a great one. Storing enough gear shouldn't be a problem with this vest pack. You can pack as much as you want and will never be worried about the resultant weight.
This is one of the best fly fishing vests with a mixture of pocket sizes. A few medium and others are large in size to fit your accessories and gear. Secure storage is crucial for items that can easily be damaged by water or moisture. The pack comes with two cases with large shells.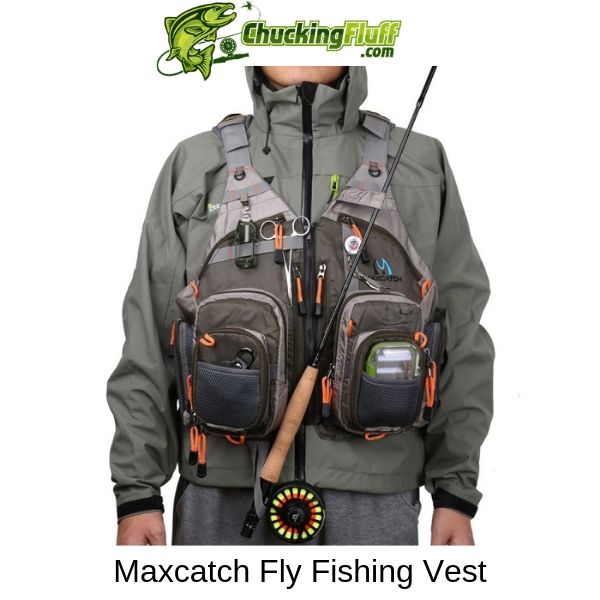 The rear has a large pouch that you can use to carry larger gear. To top it up, you can carry your fly rod with you at the front and have your fishing nets at the back. Your tippets and spools will have enough storage space. You can now confirm that you will not need any other carrier if you have this vest on.
Generally, the fly vest is light and it takes too much luggage to make you feel the load. The back area has a mesh lining to allow you to stay very cool as you fish. Good enough, the manufacturer issues a 12 months warranty on the vest and a guarantee in case of dissatisfaction. One size will fit many because of the adjustable straps and the suspension structure. From the reviews of customers who have used or own the vest, it fits 100%.
Its fabric construction is superb and the fabric is breathable to ensure that you remain very dry and comfortable in summer and spring. Considering its weight, 24.5 oz. is light enough to allow the wearer pack items in the pockets and still not be weighed down by the additional weight. The suspension design to allow for weight distribution to ensure you feel lighter and stable enough to take any posture as you fish. 
NRS Chinook Fishing PFD
The Chinook is not only a safety aid but also a storage system. With all these sizeable pockets for all your tools, attachment points for a few of your tackle, and holders for your rods, there is nothing more you need than lighter feet to head to your fly fishing spot. Its effectiveness on the water is beyond speech.
A kayaker will confirm that this is one of the best fly fishing vests that is a safety aid, has the greatest utility, and comfort. Designed by anglers for anglers, it has seven pockets on the front for everything from tippets to tackle boxes. The lower back has mesh for ventilation when it gets warmer. It also gives the vest a good fit on the high-back seats.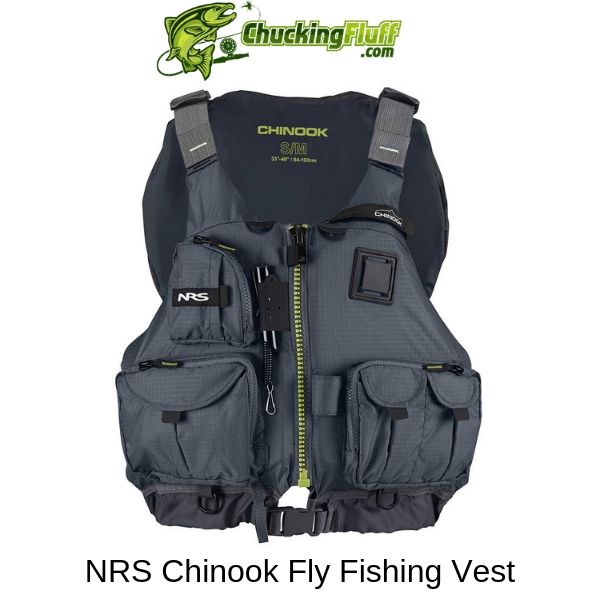 Its front entry design is spacious and has 8 adjustment points to allow the wearer to get their right fit for security and comfort. It isn't a one-size-fits-all though. Sizes are available from small to XXX-Large. Designed with the soft plushFIT foam, the fly vest conforms to the body when worn for unsurpassed comfort.
There is a coil tool retractor which will allow you to clip on the line snips, pliers, and forceps. A D-ring is on the back area for net attachment. There is a strobe holder loop for use when it begins to get dark or in low light conditions.
More features are the durable rod holder for your magic stick, more D-rings in different locations, a knife lash tab, and more attachment loops. The fly vest is made from 200 denier, urethane-coated Ripstop nylon that is durable and easily washable. It adds to how light the fly vest is. At 16.5 lbs., you can wear it even when full without feeling exhausted. These are a few features of the Chinook that you will love.
Check  NRS Chinook Amazon Price
NorthStar Sports Sandy Point Mesh Deluxe Fly Fishing Vest
This fly vest features an adjustable waist and shoulder straps to give a great fit. The shoulder straps are well padded and have a piece of light mesh fabric to distribute the vest's weight evenly around the torso area and give comfort throughout.
There is a light mesh fabric for the fly vest to dry quickly when it gets wet. Besides, it is durable and allows for breathability when the temperatures rise. As long as you take care of the vest properly, it is tear-proof. The zippers are of very high quality and are pressure resistant. This greatly improves the fly vest's durability.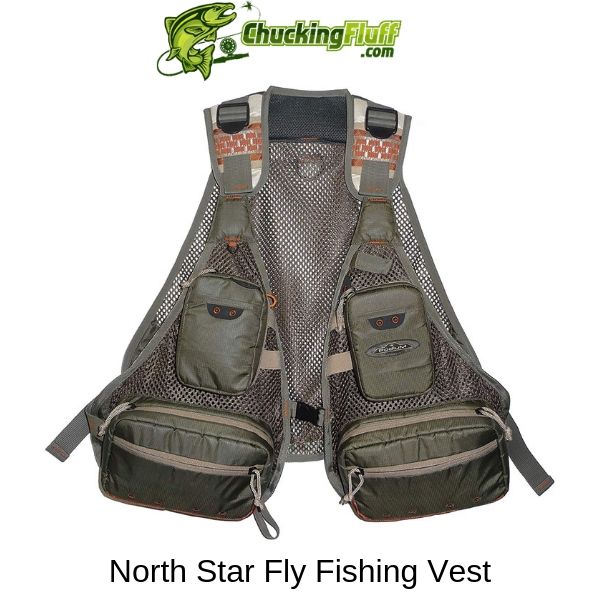 Multiple pockets are great. This is one of the best fly fishing vests in our list. The six front pockets are spacious and accessed via zippers. You can drop your fly boxes in either of the two chest pouches. There are two more pockets in the inside for you to keep your phone, keys, and wallet.
A zip down fly bench is easily accessible. The pocket layout and depth are things that will marvel you because you can carry a lot of gear. There are gear attachment tabs, a D-ring for net attachment, cord loops, Velcro, and chest rod holders to bring all accessories and equipment closer to you. The fabric construction is awesome since it combines features like waterproofness and breathability.
There is a spacious back pouch for additional gear and bulky stuff like rain or wading jackets. If you fill up all your inner and front pockets, this one will save the day. This fly vest is light and easy to wear. You can travel in t for a long time and will not weigh you down. It is made from 100% polyester and is easy to launder when you need to. Observe the manufacturers care instructions to prolong its lifespan.
Check Snowbee Soft Amazon Price
Anglatech Unisex Fly Fishing Vest Pack
As you fish you need to look your best. The Anglatech fly vest pack is very classic and attractive and are available in either sand or forest color. The colors are good especially if you aren't ready to wash your vest after a session. They don't make dirt obvious.
You need a lot of preparation and organization if you are an outfitted fisherman. This means you need a supreme storage system. This unisex piece is a good choice especially if you need something exquisite but doesn't exhibit gender parity.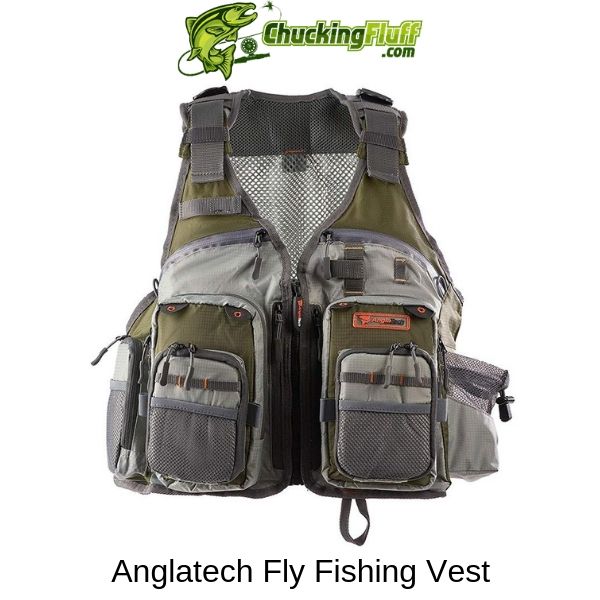 The storage is expandable and just what an angler needs. With a mixture of large and small pockets, others with mesh and a few with water resistant capabilities, you can carry as many accessories as you need.
Breathability is key, especially in summer and spring. Geared towards bringing comfort and functionality in one piece, this vest has a mesh construction to allow you to remain cool throughout. The fit and size shouldn't bother you. Adjustable waist and shoulder straps work well for all people. You have no doubt ordering a few pieces online. Water is not only for fish. You need to stay hydrated hence the drink holder on the vest. How convenient!
The back pockets were a good idea to add storage options for larger. To supplement on comfort, the manufacturer made the jacket with high-quality and lightweight fabric to ensure everything remains convenient without interfering with your comfort.
One of the features of the best fly fishing vests is being able to evenly spread weight towards the shoulders and chest while still allowing maneuverability. There are a few holders that you can use to attach your D-ring or rod holder. Quite a good way to carry everything without needing any side carrier or backpack. A few areas are made from ripstop nylon for durability. It definitely should serve you well if you care for it as well.
Check Anglatech Vest Amazon Price
Elkton Outdoors Fly Fishing Vest
It will be sad to reach the river bank and discover that you left behind your lures, flies, and other accessories. What is more interesting about this Elton fly vest is that it can carry everything you need for a day out on the water. It comes with a unique design and saves you from carrying more storage items.
You will have to leave your fly boxes home because you can throw your flies in the two hard shell pockets. 13 pockets in and out is epic and reliable even if going out for two or three days. Quite a snatch!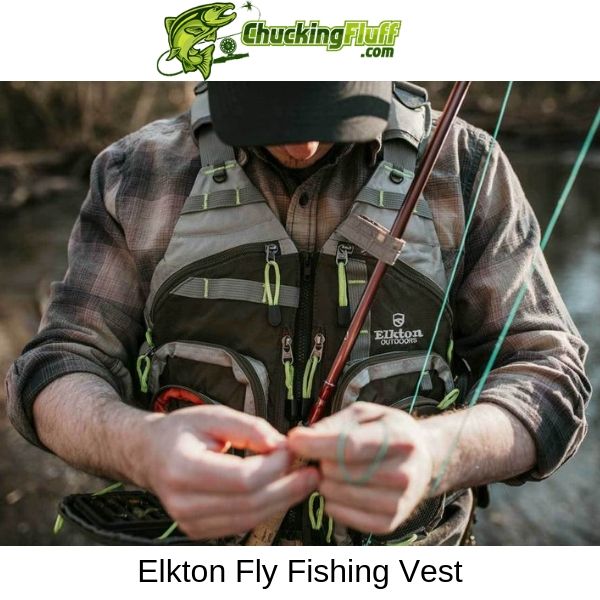 The vest has an expandable backpack that you can tote around however you want for your fly fishing trip. You will need your important items within reach even when on water. The front compartments have you sorted.
There are many attachment points on the exterior and loops too to ensure you carry your master stick and a few tools you will need. What you will never lack is storage capacity. The vest might look compact from afar but you should never underestimate its carrying capacity.
Almost a bonus but not really dependable, this fly fishing vest has great water resistance and will be able to keep your belonging dry and safe for a period of time. You might consider getting waterproof pouches or packs for more valuable items.
If you love other types of fishing too, you can have it to make your sessions fun and productive. Comfort is not a big deal since the fly fishing vest is well-padded and has adjustable straps to ensure that it fits most anglers. The mesh fabric is highly breathable and you can be sure that high perspiration in hot weather won't be a hindrance to casting. The zippers are durable and fully functional. They can withstand very high pressure.
Check Elkton Vest Amazon Price
Fishpond Flint Hills Vest
The recent awards won by Fishpond were in the 2018 IFTDA. This is just to let you know of which brand you are dealing with. The Flint Hills Vest is one of its own kind. Do not despise it for its ancient look. It does more than it is supposed to do.
It is designed with modern features which offer convenience and functionality. You will love how well it fits. This one just like most of the best fly fishing vests is a one-size-fits-most design. The fly vest has adjustable shoulder and waist straps to ensure that you can fit in well even if you slightly add weight.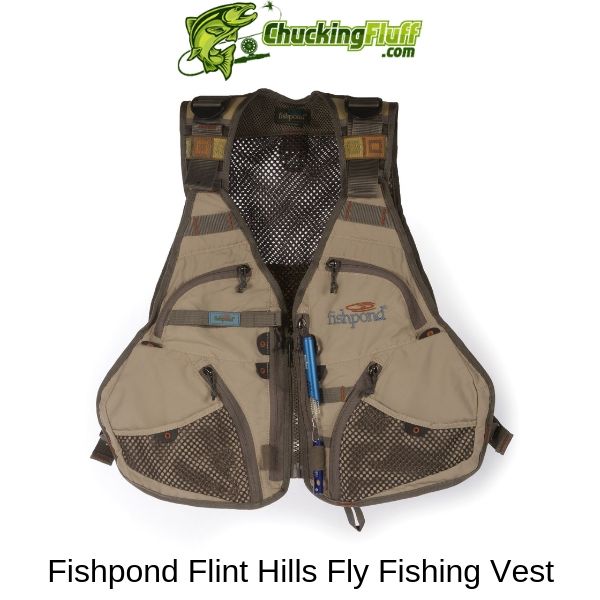 Comfort is everything when fly fishing. You wouldn't want a fly vest that will deprive you of maneuverability and flexibility. The fly vest is light enough and even when full, the design allows for even weight distribution across your torso area to ensure you have great balance and comfort.
The fabric construction is something you will find interest in. First, the mesh fabric is of high quality and allows for breathability whether it is hot or the temperatures are dropping. It still remains odorless even after moisture wicking the entire day. The fly vest is lightweight. At 1.3 pounds, you can have it on for a long time.
Storage as its core purpose, this fly fishing vest has 6 front pockets accessed via durable easy closure zippers. You know how important good closure is to protect your pocket content and for quick and smooth operation.
The back pouch is easy to access, very spacious and you can throw in the large gear you need to carry to the shores. As we talk of storage, gear attachment tabs come in handy for your small detachable tools. Have more items hand on the cord loops and the D-ring and you are ready to go.
Check Fishpond Flint Amazon Price
Orvis Clearwater Vest
The Clearwater fly reel, Clearwater fly rod, Clearwater wading jacket, and now the Clearwater fly fishing vest. Orvis is purposeful to ensuring it gives the best of the best to all outdoor lovers. This Clearwater vest is an upgrade of its predecessor, the classic Clearwater fly vest.
If you have seen the two vests, the major difference is in the rear pocket which is larger with a horizontal zipper in the new version. The fabric construction is special. Orvis blends cotton and polyester to ensure the feel and comfort the fly vest gives is incomparable.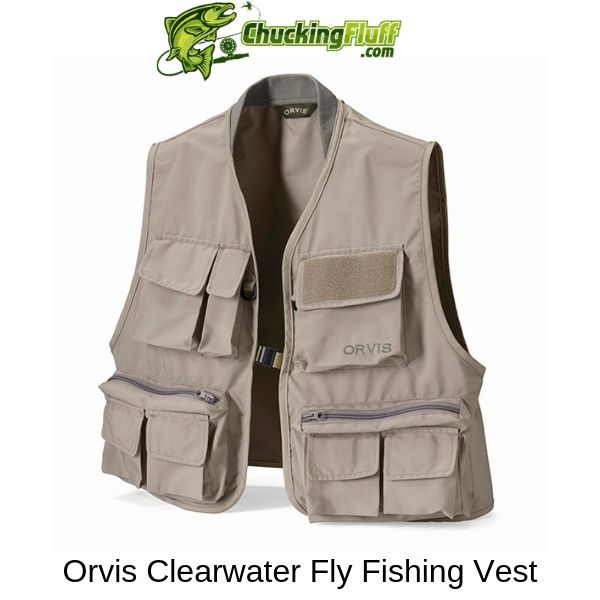 The vest has ample storage space and is evident in the 12 pockets. The rear cargo pocket will leave you speechless. It can accommodate your large gear without looking stuffed or feeling heavier. The fly vest holds everything including your lunch boxes and water bottles.
There is something you will love about this fly vest. It is available for juniors to older anglers. Something you wouldn't find in the stretchable and adjustable collection. Sizes range from small to XX-Large.
You can check the sizing on the manufacturer's website to be sure of the size that fits you. If you love to layer often, finding a larger or twice larger size than your usual one will be perfect. The front area of the vest has a nylon buckle closure for convenience.
Attaching accessories is easy with the mini D-rings and a Tri-ring net at the rear. You might consider more attachment tools if you are a heavy packer. For fly drying and accessing your flies, the fly patch is nearer and easy to reach.
Check Orvis Clearwater Amazon Price
Best Fly Fishing Vests – Top Budget
High-end fly fishing vests are the talk amongst most anglers. Many will desire them but the tag could be higher. The fly vests are durable and with regards to functionality, you have nothing to worry about. The fabric construction though blended turns to be the best of the best. In terms of storage and weight, these ones have five star ratings.
Fishpond Gore Range Tech Fly Pack
When you compare the Fishpond Gore Range pack with other packs and vests in the Fishpond line, this one is the lightest and versatile. It was named a pack but actually is a vest. Serious anglers value superior storage just like a high-end well-machined fly reel and a sturdy good length graphite rod.
All the pockets on the fly vest totaling to 17, it one big deal. You might not be able to fill all of them completely. The excitement after its launch was real. With it in a good earth color to avoid making dirt prominent when you don't want it to hit the washing machine, it is a good situation saver. Avid anglers will know how exhausted one can get after a long day out.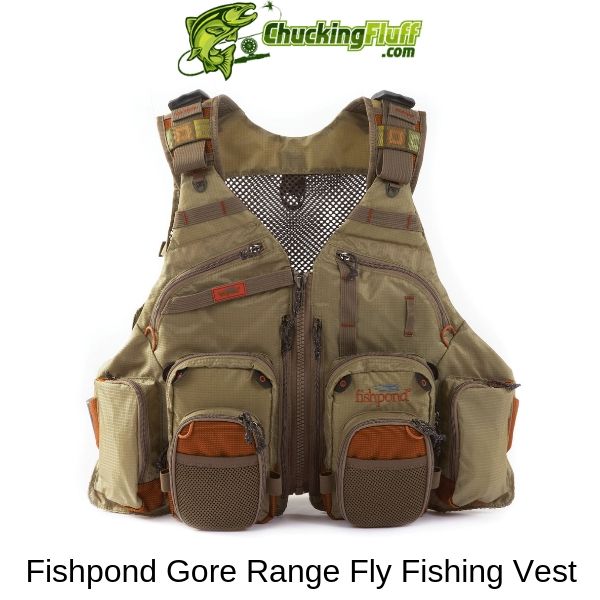 Most of the best fly fishing vests can accommodate fly boxes in different sizes. This one is one of them. Access to the go-to patterns is easy through either of the zip down fly benches. The large mesh rear pocket has an additional horizontal pocket with a zipper to store more gear.
This is that one piece you can go out in any weather. We have seen quite a number of fly vests for summer and spring but not one that can serve you in cold weather. Another one-size-fits-all, the fly vest is adjustable at the waist and shoulders using the high-quality and durable straps. Despite having a mesh fabric construction for breathability, the fly vest is waterproof.
Gear attachment tabs are things you must look out for in a good fly fishing vest. This one has a handful more cord loops, a D-ring net lash for convenience, and a hemostat. The Fishpond logo is well embroidered on the left chest pocket. Your friends should see that you are rocking a big label.
Check Fishpond Gore Amazon Price
Orvis Ultralight Vest
Quite impressive for Orvis to release new gear year after year. The ease of access that a vest has doesn't match that of a sling pack or hip pack. The design of the jacket is slim and very comfortable. Orvis tackles the problem of bulkiness and overcrowded pockets.
The front and bottom pockets are deep and wide. Something unique about it. You can drop in your fly boxes. The vest's profile is very low and you will never face the problem of overstuffing pockets. You can actually throw in your tippet spools, boxes, stomach pumps, spare nippers, flasks and any other paraphernalia in an organized manner.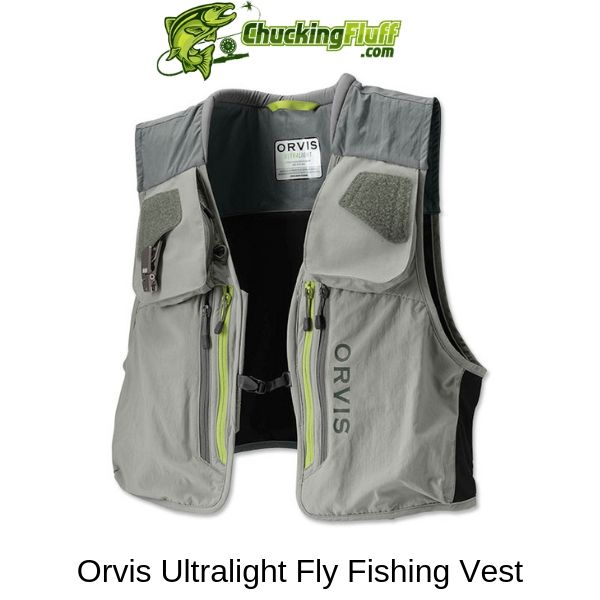 Smaller pockets have inbuilt mesh dividers to ensure fly boxes are in place. The pockets can be paired with the dual fly patches on the shoulder. There are hideaway ports which you can use to attach zingers and hemostat.
Orvis went vertical with this one. The all-vertical zipper is durable- in fact, all zippers are vertically designed except that of the back pocket. This makes gear accessibility very easy and the ergonomic motion is very noticeable.
The wise teach men how to fish after giving them fish to feed for a day. An avid angler will never leave their vest pack home. Normally, the more space you have, the more you tend to carry. This helluva sales strategy never works for an angler. That is why Orvis balances the storage space in this Ultralight Vest. There are 11 pockets-2 expandable mesh pockets and 9 zippered pockets.
Very light like its name, this vest weighs 14.1 oz. This means a lot to an angler who treks to their fishing spot. It unquestionably feels thinner and lighter than most of the best fly fishing vests. Can you imagine its resultant weight when you pack your stuff? Simply light! Sizes are available from small to XX-Large.
Check Orvis Ultralight Vest Amazon Price
Orvis Pro Vest
Anything PRO is just PRO. There's no debate about this. The way you look in it the way it feels, the way it serves you is definitely superb. The general fabric construction is nothing to gamble with. Made from high-quality light nylon with a DWR coating, it translates to good abrasion resistance.
This is an uncommon feature but something you need if you intend to have a vest that lasts for decades. The design is awesome and conforms to your body. Not baggy and not adjustable like most with the suspended structure. Spandex and nylon are used to make the lofted spacer mesh in the shoulder area.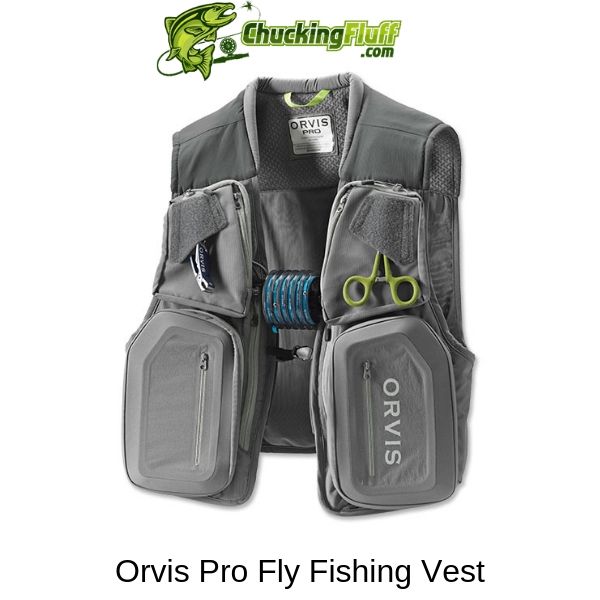 Let's take it to the storage functions. The fly vest has a total of 18 pockets and is among the vests with the largest number of pockets in our guide. The exterior has 10 in the interior and 2 rear pockets. While organization is key, accessibility and maneuverability shouldn't be compromised.
The two main pockets on the lower side have a compression-molded construction to enhance rigidity. The upper pockets are of medium size and have a hideaway tool port for convenience. The back pockets have a unique design with mesh dividers for organization and breathability. Weighing 17.5 oz., this fly vest is light enough and can be worn for longer sessions.
This one has different attachment points that you will love. Elastic loops for your tippet bars, daisy chain gear loops, an internal webbing hanging loop, and a tri-ring net holder at the center of the rear yoke. The collar is well padded to give enough comfort around the neck. The fly vest's closure is adjustable and slides vertically to ensure it fits the wearer well. Sizes are available from small to XX-Large. The fly vest is easy to wash and dries pretty fast- this is one of the features that you will love.
Check Orvis Pro Vest Amazon Price
Simms Freestone Fishing Vest
''I've put on this jacket for over three weeks now on the water just to test how it performs. Flawless!'' This is a review from one of the users of the Freestone fly vest. Usually, the best fly fishing vests get many positive reviews to justify that they are worth their price tag.
This one is no different. Taking on a streamlined design, the fly vest is definitely packable if you intend to go fishing for a few days. The fabric construction will amaze you because it has a self-binding tape that adds to the durability. This is quite new in the industry. The collar has soft padding to ensure you are comfortable and prevents neck strain. It doesn't wear out when you wash the vest.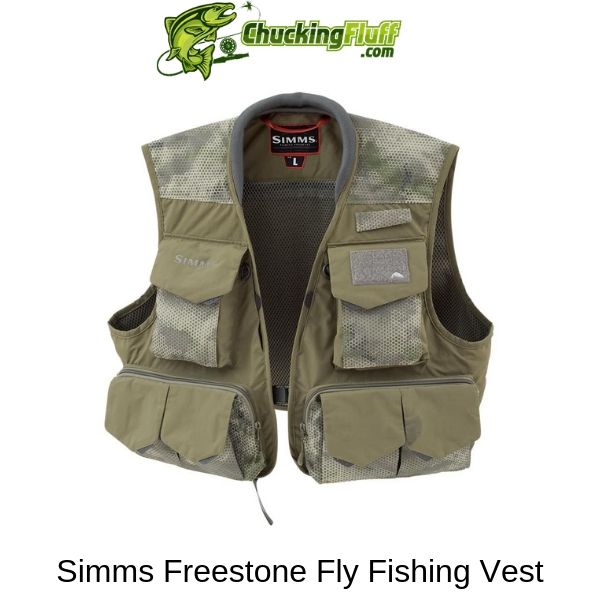 There are 19 spacious pockets that you can throw in everything you need. Simms is among the leading in the number of pockets a fly vest could have in our list. The chest area has 4 pockets that you can use to carry your fly boxes.
The two front vertical pockets with side entries are large for bulky items and the 4 waist pockets supplement the storage system at the front area. The two horizontal waist pockets are accessed via YKK zippers that are corrosion and rust resistant.
On the inner side, the 4 pockets are spacious to store your valuables and gadgets. Still, on the internal side are two large pockets at the waist. The horizontal rear pocket was a good idea by Simms for storing bulkier gear. You can put in your rain jacket, hat, and other items. 100% nylon and 100% polyester mesh is ideal for fly vests for use in warm and hot weather. The breathability and comfort from the fabric construction are reliable and you remain dry and cool for the longest time.
Check Simms Freestone Web Price
Simms Guide Fishing Vest – Best superior storage choice
It doesn't matter if you are hiking into the backcountry lake or fishing local trout, you need plenty of storage space for all your gear. Imagine having to carry everything you need in your hands to your spot. Hectic!
The Guide vest is your super go when it comes to storage. Another one with many pockets to fit all your tackle and have others empty. There are 2 zippered chest pockets with stretch mesh to allow you stack in your items well.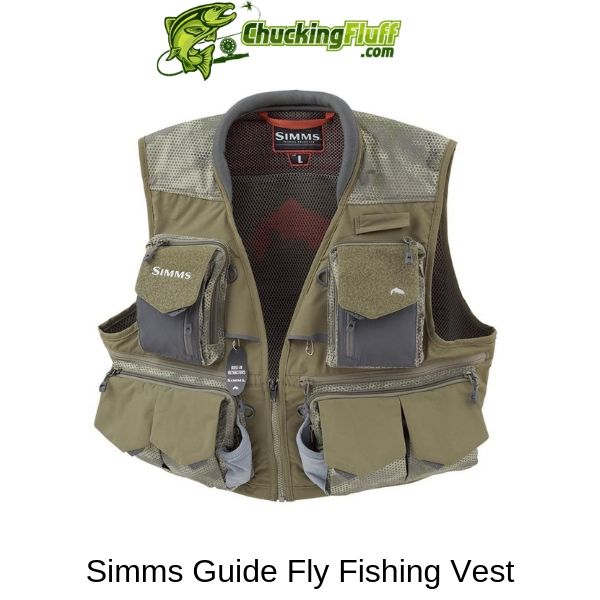 Cargo pockets on the chest and 4 more at the waist are great for tools and gear you use often. There are four horizontal pockets on the waist accessed via a zipper. 2 floatant pockets make all storage points on the exterior. Four interior pockets and 2 large horizontal and two vertical pockets still on the inside are accessed via zippers.
You can store your water bottle in the horizontal water bottle pocket. The rear has one large horizontal pocket for more gear and equipment. There is a total of 4 D-rings for tool attachment.
All zippers on this fly vest and all others from Simms are YKK meaning they are rust and corrosion resistant. Quite a plus to the durability of the vest. The collar is well padded and the mesh lining ensures breathability when the temperatures begin to rise.
Its moisture wicking properties are top notch and you will remain dry and cool throughout. Your items can be same for a period of time if the fly vest gets in contact with water thanks to the 100% Cordura ripstop nylon fabric that has a Teflon water resistant finish. This one is light at 19.0 oz. though not like others in its category.
Check Simms Guide Vest Web Price
Simms G3 Guide Fishing Vest
Looks like Simms sensitizes the storage function more than any other company. 24 pockets are a great deal especially if you are a heavy packer. You will want to keep organized to avoid losing your equipment and gear. Terminal tackle, tools, and flies aren't cheap and there isn't any bitter feeling like discovering that you dropped your forceps or pliers on your way to the shore.
The vest's storage capacity is epic and only a few can rival this one. The fly vest remains very comfortable even when you load a ton of gear and other accessories. You can carry everything from your lunch to your rain gear.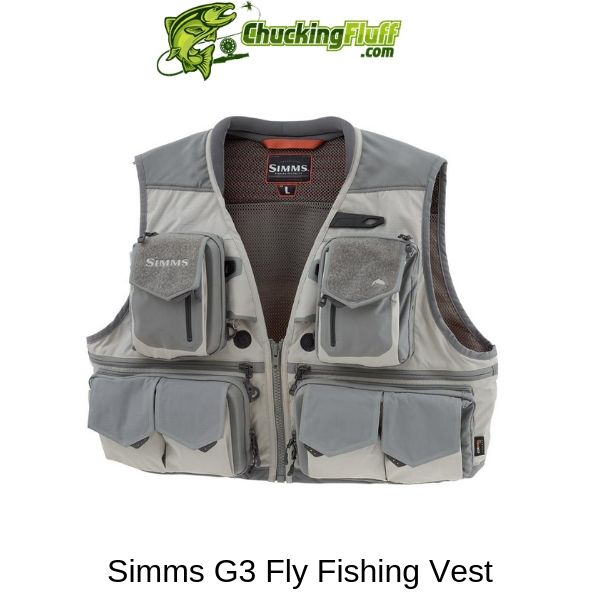 Simms gives the wearer convenient access to all the pockets including the rear one. All necessities are close to the hand. Of all the pockets, two are molded with foam to ensure smooth zipper operation even with a single hand. These two are excellent for medium or small size fly boxes, strike indicators, and weights.
There are inbuilt tool retractors that have magnetic docking stations for your nippers and pliers. All sliders and zippers are 100% YKK to minimize rusting and corrosion and enhance performance and durability. A good feature too for saltwater fishing.
The best fly fishing vests ensure comfort and functionality at the same time the fabric construction is almost similar to the Guide fly vest but this one has woven fabric with a DuPont Teflon finish. For breathability and superior dryness, the inner layer is made from 100% polyester mesh lining.
You are sure to feel cool and fresh even in the blazing sun. This one is heavier than most of the fly vests from Simms but its weight is reasonable. 25 oz. is not so much. There are size options from small to XX-Large. In order to be sure of the size to get, compare your measurements with those on the sizing table found on the manufacturer's website.
FishPond Wasatch Tech Pack Fly Vest
Ample pockets are a must have in a good fly fishing vest. This one is a good choice for any angler who is looking to minimize the number of bags or packs they carry for a session. This one is a vest together with an inbuilt backpack.
You will be surprised at how light it is. It makes fly fishing a delight now that you are not weighed by the weight of the pocket contents. You will love how good and convenient the fly bench pockets are. They can accommodate your hopper-dropper, a few nymphing rigs and a good hydration pack to keep you rejuvenated on the water. The water bladder is great. It can hold up to 100 oz. this is enough for you for a session.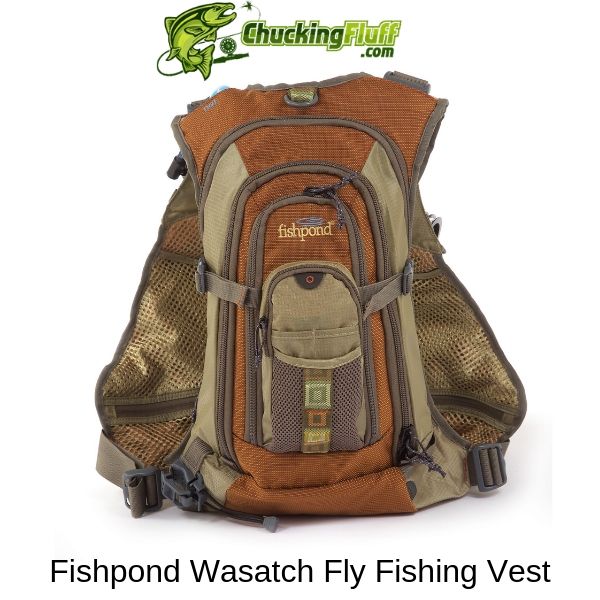 The backpack is expandable and has broken new ground in the vest design. More brands will want to copy this. This is a one-size fits all type of vest with adjustable waist and shoulder straps. No worries if you puff up a little.
For added comfort, the shoulder straps are well-contoured for stability and carrying control. The internal pockets are convenient for storing your valuables and gadgets. The two zip down fly benches-one on each side have replaceable foam and comes in a patented molded design.
There are more cord loops, attachment tabs, a hemostat keeper and a D-ring for attaching your net. The fabric construction is right with the jacket being lightweight for wearing all day. The mesh fabric allows for breathability and the outer shell is waterproof.
You can be sure to have your items safe from water damage. If you really want to be on the safer side, you can have waterproof pouches for your wallet, phones, and camera. It might get intense on the water and water gets to the inner side. Quite off, right?
Check Fishpond Wasatch Vest Web Price
Fishpond Sagebrush Mesh Fly Vest, Driftwood
Most anglers love the FishPond Sagebrush vest for use when it is humid. Hot weather requires you to dress light. The manufacturer makes this fly vest from a cool mesh fabric to ensure it is lightweight to be wearable all day and for comfort. Mesh fabric is breathable.
This is a necessary feature in all outdoor apparel for hot weather. Its moisture-wicking properties are undebatable. There are 1o frontal pockets accessed via durable zippers, a large and spacious back pocket, and four inner pockets to store your valuables.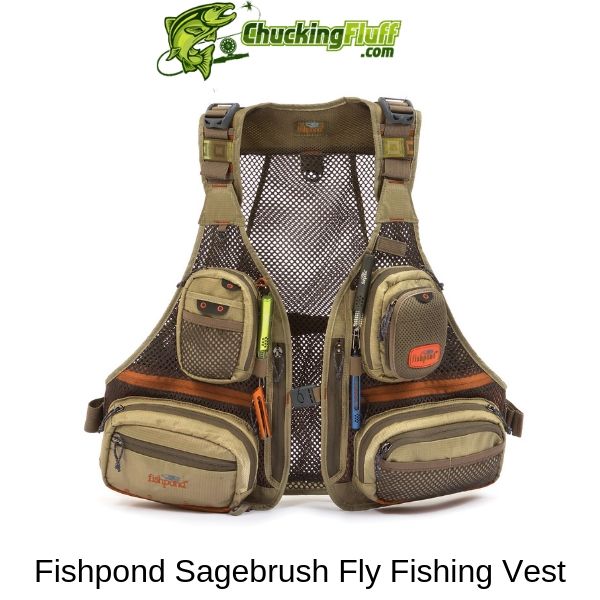 Fishpond is a brand this is conscious of the environment and ensures all its products are eco-friendly. This one doesn't go contrary to this policy. The Sagebrush s created from the Cyclepond fabric which is obtained from recycled fishing nets. Available in one color, Driftwood, this fly vest comes as a one-size-fits-all. It has adjustable shoulder and waist straps to ensure you get a good fit and can use it even after losing or gaining weight.
There is a durable buckle at the center to allow you to snap it and access your equipment and gear with ease. The back pouch is spacious to ensure that you have additional storage space for your bulky gear. It can accommodate as much as a small tote bag can. Imagine how much you can put in.
The signature zip-down fly bench is patented and can be used with replaceable foam. This is a good idea to ensure that the fly jacket remains fully functional and in good shape. There is a tippet dispenser pocket that is integrated into the fly vest to ensure quick and easy tippet storage and access.
Care and maintenance are easy and you can wash this fly vest but ensure that you leave it to drip dry. This is to ensure you keep it away from too much heat that can damage the fabric affecting performance.
Check Fishpond Sagebrush Vest Web Price
Factors to Consider when choosing the Best Vest for Fly Fishing
Number of Pockets
Basically, the fly vests serve a major purpose which is storage. This means that a good vest should have over 10 pockets with different sizes. Fly fishing vests hold almost everything you need for angling from small tools to mid-size equipment.
Your expectations of a good vest will depend on your preference but what most anglers consider is the number of pockets. This makes organization easier and you can master what each pocket holds.
While a reasonable number of pockets is important, having them in excess is irritating and makes the vest bulky. A heavy jacket makes it difficult to cast and throw good loops. What then would you be doing on water?
When a vest has too many pockets, you take more time trying to get the small-size equipment like clippers, forceps, and line cleaners. Psychologically, the more pockets you have on a vest, the more things you tend to pack and carry. This is a bad habit among women but men too are falling in this heavy-packer trap.
---
Size of Pockets
Having in mind the size of pockets is vital if you want a piece that will serve you well. If all pockets are tiny, the vest's functionality loses meaning. You won't carry enough things. Or you will have to supplement storage with a chest pack or a sling pack.
Overly large pockets will be annoying especially if you fill all of them. The weight of the vest becomes unbearable. Ensure you choose a fly vest with both small, medium, and large pockets.
---
Material
Material and quality go hand in hand. From the plethora of materials from which manufacturers make the fly vests, you might get overwhelmed when making a selection.
However, prioritizing quality will save you from picking garbage. Your vest shouldn't itch all day either or leave you damp with sweat. Fly vests come in two types:
---
Traditional or non-Mesh Vests:
These can be termed as heavy-duty fly vests. They are made from very heavy material making durability a bonus. In terms of weight, these traditional or non-mesh vests are heavier. If you intend to go out in winter, this one will be the best option. Summer and spring will need the mesh vests.
---
Mesh Vests:
Mesh vests are made from perforated fabric making them breathable and well ventilated. From the construction, they are lighter than traditional vests. Their durability is a gamble though.
That is one major drawback of these vests. Leave them home in winter because they won't keep you warm. Humid weather will go well with these meshes.
---
Comfort
If you are an avid angler, you'll definitely be having the vest on longer. It is necessary that the vest is comfortable. With respect to weight, you will have to put in mind the season and weather conditions. You don't want to be weighed down.
Once you pack your vest, the weight becomes significant and if you aren't careful you will strain yourself. Cushioned shoulder and neck pads come in handy. The adjustable types are even better to keep the vests in place and allow you to take the right position as you fish.
It also depends on where you are fishing from. If you will be constantly at the river bank or shores, you don't need all that freedom than you would when on a kayak where you need to paddle. So remember it isn't just a matter of filling the vest and having it on.  
---
Design and Color
Gucci or Versace? None like that here since these vests aren't made as style classic as you think. Well, though the functionality is key, others who value aesthetics will have this feature on their list. There are some fly vests that look better than the others.
The style is the same across all manufacturers for pocket accessibility. The need for buoyancy is what makes these jackets different. Some are buoyant while others aren't.
This also depends on whether you will be in or on water. Most of these fly vests come in camouflaging colors to avoid scaring away fish.
---
Water Resistance
You wouldn't like to get wet unplanned. Water resistance might not be a major factor but it is necessary especially if you are carrying items and gadgets that might be damaged by water. You will need a water resistant fly vest or select one that has a few waterproof pockets.
If you have a jacket that has no waterproof pockets, buying a waterproof casing will still save a bad day. Most manufacturers have material coated with DWR to ensure that the contents of the pocket remain dry.
Some models have flaps over the pockets to prevent any chances of water getting into the pockets in case you leave the zipper open.
---
Attachment Points
You must have seen the humble D-rings on your wading jackets or waders. Such as accessory clips are what we generalize as attachment points. This ring is harmless yet useful. You can attach your clippers, forceps, and other tools. You can get the detachable D-rings if you need more.
They are great for convenience. Some jackets have rod holders for your sticks. Other attachment points are bottle holders and retractable zinger holders.
For the bottle holders, you need to be cautious and have a small or medium-size bottle. Having a large water bottle like 2L means that your fly vest gets heavier by about 2 kgs. Something you wouldn't want.
---
Size
Most if not all fly vests are designed as one-sizing that fits most individuals. Size and fit will go hand in hand. Manufacturers have added more features to help with size.
Some have adjustable waist straps and shoulder straps. Others take a suspension design and such features allow you to transition from a heavy jacket on chilly mornings to a slightly light one when it gets warm in the afternoon.
It only takes a few adjustments and you are good to go. Such epic features are common in the best fly fishing vests.
---
Fit
Serious anglers know how important a fly vest is. Therefore getting the right one is key. You might have to wear the vest for more hours and you will be casting, standing, bending to catch a fish, and often in different postures.
A good fit makes you comfortable. While getting the right fit, you need to pay more attention to your body type. Get to know the size you need and wear a few to test if they fit right. There are more considerations before you finally settle on a good fit.
The climate you fish in and how many layers you will have under the vest are a few questions to answer yourself. Some models have side straps so that the wearer can fit in snugly. You will choose whichever design that fits and is convenient.
---
Zippers
Not so many anglers know about this but there are silent zippers for fly vests. You will love them because like their name, they don't startle fish nearby as you open your pockets.
Most of these zippers are made of corrosion and rust resistant material making them safe for use in salt water. Others are YKK Aquaguard zippers with a special technology that enhances durability and maintains functionality.
---
Construction – shoulder pads, layers, conditions, and extra features
Traditional vests have more layers than mesh vests making the former more insulated than the latter. Here, you know what to wear in which condition.
Many people wish they'd get a jacket with an inbuilt hydration pack or a Camelback. Unfortunately, the best fly fishing vests category that has a few of this is the highest priced.
Most fly vests come with shoulder pads for comfort and to ensure the weight of the vest when fully packed doesn't put a toll on your shoulder. Who loves the sight of darker shoulders anyway? I guess you don't.
---
Breathability and Interior Ventilation
Fishing isn't a difficult task but it can get to that point. Having the right clothing is key for comfort and safety. A fly vest with breathable fabric ensures that you remain dry.
Overheating and sweating is normal both in cold and hot weather. You will want a vest that allows airflow and has moisture wicking properties.
---
Durability
Fly vests are designed for more difficult situations, unlike your usual vests. As a result, they need to be well and specially made. Quality will add to durability. There are a few companies that focus on building high-quality vests that last long despite the brutality they are exposed to.
How do you know if a fly vest is durable? The best fly fishing vests are high on demand and have so many positive reviews online with regards to workmanship, construction, and lifespan. Some companies have warranties and guarantees on these vests.
In case of any defects, as long as the terms and conditions aren't breached, you will get a refund. Over the course of the vest's life, it will endure hardship and a lot of punishment so it has to be on point.
"Check out some of our other Buying Guides"
Final Verdict on the Best Fly Fishing Vest.
So which fly vest is the best of them all? That will depend on your taste and preference. They are all great fly fishing vests that any angler would want to have. In the end, it comes down to the twenty-four that made a run for our votes.
The buyer's guide was keenly researched and written out to ensure we bring to you fully functional and durable fly vests. There are price categories and you can choose a fly vest depending on your budget. As other features come in, how much you are willing to spend is very important. You can start off with a low budget fly vest or wait to save for a high-end option.
The vital aspect is that all these fly vests have everything in mind for anglers. Even though some have more pockets than the others, it is upon you to know if you are a heavy or light packer. The pockets on each fly vest have great layouts and manufacturers design them to carry specific gear.
This has made organization a good thing for any fly fisherman or woman. Other additional features are your choice. You can have a fly vest with or without them.
Good luck fly fishing!