Disclosure:
Just to be open and honest the buttons and links you click on in the website will in most cases take you to another website where you can purchase the products I am reviewing. As an Amazon Associate I earn from qualifying purchases.
May 10, 2019
Best Cold Weather Gloves for Fly Fishing – Keep Warm and Protected
Introduction to Fly Fishing Cold Weather Gloves
''I can't find the best fly fishing cold weather gloves for warmth, strong grip and rod control,'' complained Frank severally.
There are a plethora of such gloves that Frank is looking to land his hands on. The same way he urgently needs them, so do most anglers who suffer from pangs of cold in silence. The Best Fly Fishing Gloves for cold weather guarantee a new level of safety, comfort, and versatility.
They are a popular accessory but what most anglers use are either biking gloves or the usual woven gloves bought at thrift stores and there is no doubt, these gloves aren't long-lasting.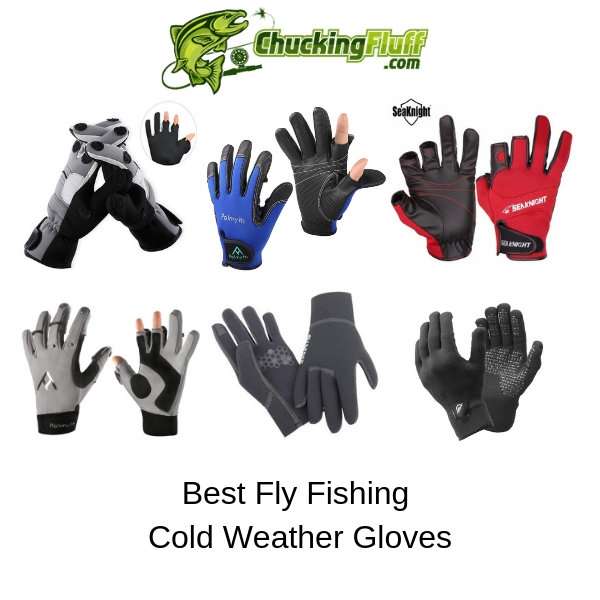 Most people sulk during the winter season and prefer to coil on the couch with a fleece blanket and un-matching socks staring at a boring screen. If you are an angler then you would love to be winter fly fishing. It is a good time to rush outdoors and get active while others hibernate.
The problem starts when you need to use your hands yet they are freezing solid before the first hour of angling. Once they turn numb, it becomes very difficult to control your line.
Well, trying a quick fix will not see you spending longer than an hour on the water. Before the invention of cold weather gloves for anglers, most fly fishers often dried their hands, used mittens, or moved their fingers or fidgeted to ensure blood flow.
If you try this today, you will pack for home a few minutes after you had started fishing.
Here's the SUREST solution; high-quality gloves for cold weather fly fishing.
Cold temperatures shouldn't stop you from angling. It is crucial that you carry along the right equipment and a few pairs of angling gloves. If you have tied a knot when fingers are completely numb previously, you understand the importance of going through this guide.
A good pair of gloves keep your fingers and palms warm. With a little practice, it will be smooth and fast to tie knots with them on. It mightn't feel natural for the first few days and you might want to remove them. Patience friend! Patience and practice!
Moving forward, you need to know how to select these gloves so that you are sure of getting value for money without compromising quality, comfort, and durability.
---
Factors to Consider when Choosing Cold Weather Gloves for Fly Fishing
You just can't settle on any pair of gloves when fishing in cold weather. Protecting your hands is vital.
Warmth and dryness are key…
Still, at that, you need utmost comfort and plenty of movement. This section makes you aware of what to look for before buying the right pair.
---
Material
Construction material is the first thing to check. Designers are beginning to incorporate different fabric materials in gloves. Not an issue but getting the best is what is important. Most angling gloves for cold weather are made from latex or neoprene material.
These materials have been tested and proven to protect your hands from excess cold, fin and scale cuts, and cuts from sharp teeth. Some anglers filet their catch just after taking the fish out of water. They do this with neoprene angling gloves because of the greater dexterity they offer. Other manufacturers have fly fishing cold weather gloves made from fleece or wool.
---
Insulation
Fly fishing cold weather gloves are supposed to offer enough warmth. Insulation is important to keep you away from frost bites. It doesn't matter the material used to make the gloves. They should be well-insulated for more comfort and warmth in cold temperatures.
---
Finger Design
Some gloves cover your whole hand and might or might not have finger slits. Finger slits are good because you can poke a finger through and have plenty of movement. Remember, it is a learning process for anglers new to gloves.
The finger slit gloves allow for knot tying making it easy for you to spend more time on the water. Keep them on each time and you will not have to take them off when tying a knot or fly.
---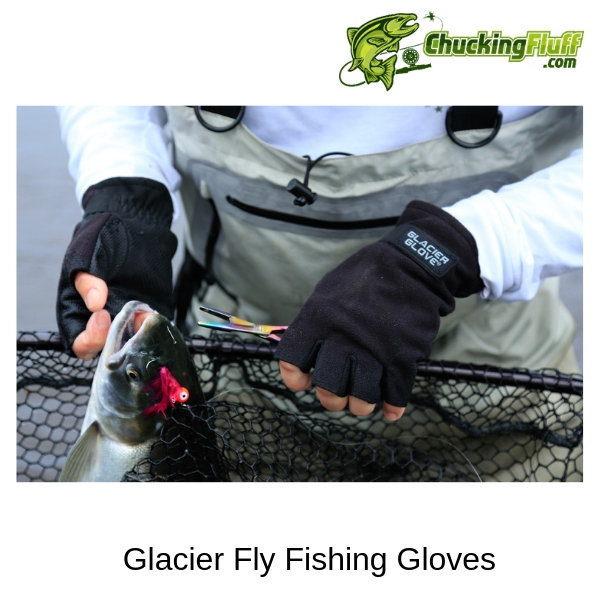 ---
Good Grip
One of the key features of angling gloves for cold weather is a good grip on the fingers and palm area. The skin usually provides great grip when holding your rod or line. You definitely don't want this to change when you have gloves on.
Different manufacturers have come up with different ways to enhance grip on the gloves. Some mix different types of leather, others incorporate rubber or patterns. You will choose whichever you find appropriate for your grip needs.
---
Durability
You should have in mind that a durable pair of gloves saves you money. You might not need any repairs in a very long time. Choose a long-lasting pair of gloves. Models that are made of very sturdy material with rip resistance are the best. Such gloves have reinforcement at stress points and will definitely work at all times.
---
Waterproofness
You can't touch cold water with bare hands and expect to feel warm. Hands exposed to water lose warmth. A good pair of gloves should have waterproofing features to ensure that your hands and fingers remain warm and dry when you slowly release fish in water and your fingers need to sink. Have gloves with tight collars and long sleeves that go under the wading jacket. This prevents water from slipping through any spaces.
---
Mobility
Dexterity is very important when fly fishing. Different manufacturers have gloves in different designs. Some have gloves with pre-bent fingers. If you are looking to cast effortlessly, you should choose gloves that are specially designed for finger movement. Their material shouldn't be too thick. If they are, it will be very difficult to bend your fingers properly.
---
Affordability
Do not neglect affordability. Of course, your budget comes at this point. Our buyer's guide has gloves priced in categories. The price ranges begin from the lowest to the mid-priced and high-end gloves.
These gloves aren't very cheap like your usual mittens. If you need to go window shopping for a pair of fly fishing cold weather gloves, have a budget first and you will get a reliable pair within your price range.
Are you a lover of bargains? Not all stores have gloves and hand gear on bargains throughout the year. You can find a few pairs up for sale once in a while.
You might end up landing a very expensive and high-quality pair for less their initial amount. Check on reviews or customer thoughts on the products you want before paying for it.
"Check out some of our other Buying Guides"
Best Finger Cut Design Glove – SeaKnight Neoprene 3 Cut Finger Design Fishing Gloves
Fingerless and finger cut fly fishing gloves for cold weather are increasing in popularity because of their convenience. You can tie knots, set and use your camera, swipe your smartphone, and do the basics of fly fishing that need finger dexterity.
While they keep you warm, these Neoprene gloves allow you to be in full control of your fly fishing equipment.
The SeaKnight Neoprene gloves have a cut finger design where the thumb, middle and index fingers are cut to protect half the finger length. While you can still touch, grip and maneuver things, these gloves provide warmth.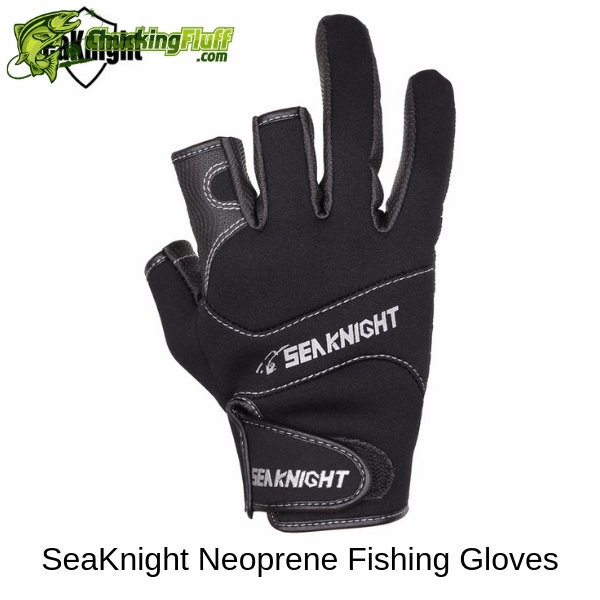 Usually, when the cold season sets in, the first areas to get cold are the fingers and hands. Now that you will be outdoors, the situation is worse than when indoors. Despite the gloves covering other parts and leaving out a few fingers, you will be better off with them than without.
There are different designs of fingerless and finger cut gloves. Some are convertible. The Neoprene gloves have a high breathability rate leaving you warm and dry. They absorb perspiration and allow you to hold, control, and maneuver things.
As you exert a lot of energy on the line or rod handle, your hands perspire even in the cold. There is no battling with control, especially when holding your fly rod. As you perform your activities, you are sure of protection.
Even if not fully guaranteed because of the fingerless sections, they are reliable fly fishing cold weather gloves for less injurious tasks. You can hold your fish tightly without the gills or fins pricking you.
Filleting might be a problem not unless you have done this severally and are cautious enough. As they complement your fishing outerwear, their aesthetics are on another level. If you are a fan of rings, you can show off how gorgeous they look.
Check Seaknight 3 Cut Amazon Price
Best Fingered Gloves – Berkley Fishing Gloves
Berkley gloves are good looking and get right down on the checklist of what any angler will look for in a good pair. While aesthetics and style come last in most instances, these gloves have everything you need from warmth, comfort, to dexterity and protection.
Every angler hopes to make a few catches if not many any time they are on the water. These gloves offer very solid grip even with the slick species of fish. Regardless of whether the exterior of the gloves are wet or not, they don't slip away.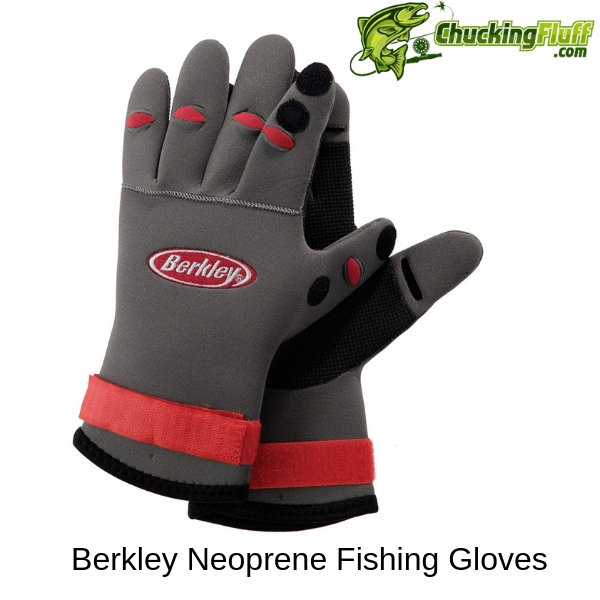 One of the best full fingered fly fishing cold weather gloves on our list, the Berkley are affordable and high performing. Not everyone loves the fingerless design. Some love to have at least a pair of both-fingered and fingerless design.
Quite a good idea to make them convertible. You can easily access your thumb and index finger if you really have to. Otherwise, leave them closed for more warmth and protection. If this seems like too much to pack for a trip, getting convertible gloves is a good idea.
The Berkley fishing gloves are heavy duty from the cuffs to the finger caps. Despite their industrial design, they are flexible and offer a full range of finger dexterity and motion that any angler needs when reeling, casting, and doing the basics of fly fishing.
Built to enhance your angling experience, the gloves have a textured grip that makes it very easy to grab any fish preventing slippage which might be a challenge of the normal day fishing. Considering their fully closed design they keep you very warm.
You don't need under layers of thin gloves or heat packs. This is one of the reasons that anglers love them so much. They are very durable and last longer than most pairs of gloves. Berkley has their logo on the back side of the palm.
Best UV Gloves for Cold Weather – Palmyth Flexible Fishing Gloves for Men and Women
Getting a pair of cold weather gloves with UV protection isn't very easy. They don't cost less but are way dependable and useful than you think. The Palmyth Flexible unisex gloves have been built through high clinical testing studies and give enough UV protection and safety unlike most of the rest in our review and more in the market.
Most gloves only shield the palms from the usual sunburns, skin toughening, and sunspots minimizing the chances of having melanomas.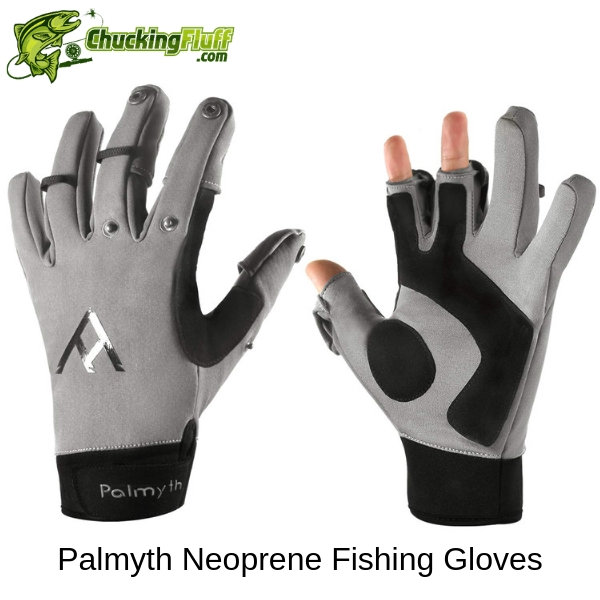 Especially for individuals with sensitive fingers but love to sport outdoors, wearing these gloves makes fingers and back palms loo youthful than before. They help shield towards skin cancer, developing pores, and aging earlier.
We need to wear gloves with UPF capabilities in both hot and cold weather. It might be freezing or chilly but UV radiations will still affect you. It has a high and one of the best feasible UPF scores. The UV radiation blockage is above 95% which is a good rate.
Being convertible makes them very stylish. You might need to remove the finger caps for the first few days as you learn how to cast and tie with gloves on. Once you have perfected your skills, learn to always have the finger caps returned to get maximum protection from the UV radiation.
They have a good length and you can be sure that a larger part of your hands until the wrist area is fully covered. If you are fishing with a wading jacket on, ensure the cuffs of the jacket cover the cuff area of the gloves.
Proper care and maintenance are important if you want these gloves to serve their protection purpose very well and for a prolonged lifespan. Palmyth has clear instructions on the do's and don'ts when laundering these gloves. Always follow them to the latter.
Check Palmyth Flexible Amazon Price
Best Fly Fishing Cold Weather Gloves Budget Category
This section has good quality fly fishing gloves for the cold season that are at the lowest price. Some might term them as cheap. They are cheap price-wise.
If you are looking to get something to start off with, this section will interest you. The gloves here are not of the highest quality but will serve you for a while as you shop for something that you can fully trust.
This category has gloves with the simplest design and features. They might not serve you in winter but will do well in mild weather. Stick here to choose which one to start with. You don't really have to break the bank to protect yourself from the cold.
"Check out some of our other Buying Guides"
Palmyth Neoprene 2 Cut Finger Design Fishing Gloves
Palmyth has witnessed so many sales of this unisex gloves. This could be driven by their versatility and durability. There are a couple of things you will like about these gloves. Specifically, they are easily convertible and are versatile for almost all outdoor sports and activities you do in the cold.
Palmyth gloves are cheaper compared to most gloves in the market. This doesn't mean they are of bad quality though.
The fabric construction is awesome giving you a highly windproof and waterproof pair. Just what anyone would love in cold weather gloves.
This ensures that your hands remain warm and dry. For purposes of dexterity, the manufacturer has a 2-cut finger design.
The index, thumb and middle fingers have removable tips to allow you to operate your phone, camera or tie knots and flies.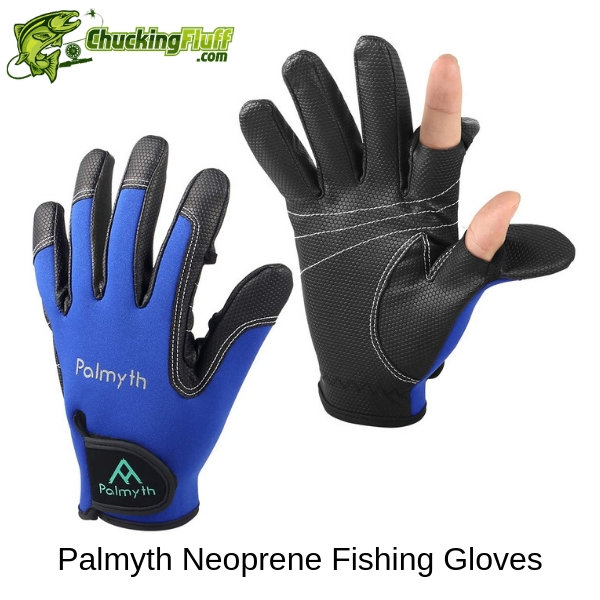 The finger caps of the gloves perfectly attach to the back side with the metallic buttons. No worries, the buttons have an excellent finish making them durable and rust resistant.
Thermal insulation is one factor to consider when selecting cold weather fishing gloves. Palmyth has a plush fleece backing for this.
The heat and warmth retention is on point. The fabric used is stretchable to allow a good fit when worn. About the fit and size, these gloves are available in medium, large and extra-large.
They are unisex gloves so anyone can rock them. The wrist area has an adjustable Velcro strap to secure the gloves to your hands. The elastic cuffs give a snug fit and lock out water and cold even if you submerge your gloved hands in water.
Palm areas are reinforced with artificial leather to ensure good grip and for durability. The pair is water repellent but might not serve you well in extremely cold winters or in heavy snow or rain. There is a fitting guide on the manufacturer's website for these fly fishing cold weather gloves to guide you and ensure you are getting the right fit.
Check Palmyth Cut 2 Amazon Price
Check Full Palmyth Cut 2 Review
SeaKnight Neoprene Outdoor Sport, 3 Cut Fingers Anti-Slip Fishing Gloves
SeaKnight combines style and function in this pair of gloves. It has all the features you need to keep you comfortable and enjoying your time on the water.
The neoprene material together with PU makes it breathable to wick away moisture from the inside leaving you dry. With non-slip thermal insulation that is waterproof, there is a guarantee that you will remain dry and warm. Elasticity, though not much, allows you to fit in well.
You need something light for functionality and convenience. This is it with this pair of gloves. A 3-cut finger design is epic if you'd like a few fingers partially exposed.
The Velcro wrist strap is adjustable to give a good fit and secure it to your wrist. As you protect yourself from the cold, you can carry them along in summer to protect you from the sun.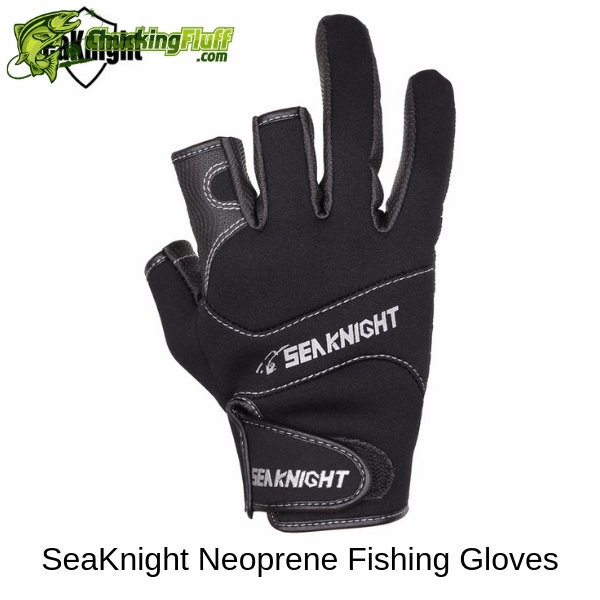 You can easily tie knots or flies with the three fingers. More protection from teeth, spines, gill plates, hooks, and fillet knives is something you are sure of.
The fabric is soft to touch both on the outside and inside. This means you can wear it for long while still feeling comfortable.
If you are a biker or love outdoor sports including fly fishing and have these SeaKnight Neoprene gloves, you can do almost anything without worry.
Its versatility, especially at this price, makes it one of the best and functional cheaply priced fly fishing gloves for cold weather. To blend fashion in the design, the SeaKnight logo is on the strap and back side of the palm.
They all need to know that you rock big brands. These gloves are available in Large, Extra-Large and XX-Large. Care and maintenance is a breeze. However, you need to adhere to the manufacturer's instructions. You can machine or hand wash and leave to drip dry. Do not tumble dry or iron.
Check Seaknight 3 Cut Amazon Price
Alaska River Series Fingerless Gloves
While protection from the sun is important, doing the same in the cold is more important. Glacier Gloves has taken things a notch higher this time. The manufacturer designed and manufactured the fingerless gloves targeting anglers and outdoor sportsmen and women in Alaska. How thoughtful! There is no doubt that the design and construction are on another level. Coming to you as a fingerless pair, the user can easily tie their knots and unhook a catch without the gloves being a hindrance.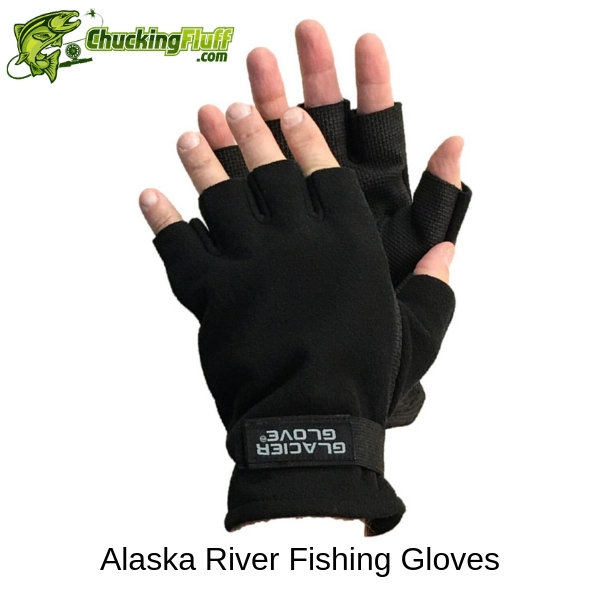 A mixture of fleece and neoprene is what is used to give you maximum comfort and protection from the wind, cold, and snow. The wrist area has durable Velcro straps for you to get a tension of your choice, put them in place, and prevent slipping off even when you are in an agile phase. They are not so bulky in the palm area and on the back of your hand. You might need a little time to get used to these fly fishing cold weather gloves but they turn out to be the best among many.
Trust neoprene to be water repellent leaving the covered areas dry and warm. As it works in unpredictable weather especially in the frigid times, be sure it will serve you well. For extra grip, the palm area is made with fleece and the back side is windproof. This keeps the wind off your hands. Those anglers who might find it hard to adjust to full gloves can choose this fingerless design from Glacier. It gives your fingers the dexterity to work well as you would without gloves on.
Sizes are available from the small, medium, large, extra-large and XX-Large. From customer reviews, the gloves have an 82% guaranteed fit. You can be sure it fits if you are purchasing them online without fitting to test. You can easily accomplish complex tasks with them on. The price increases from the smallest to the biggest size.
Check Alaska River Amazon Price
Goture Men's Anti-Slip Fishing Gloves
We might not have written so much about Goture in our buyers guide section, we are at it here. Goture is a well-known brand that manufactures lines, reels, rods, accessories, and lures. Among these accessories is the Men's Anti-Slip Fishing Gloves. The three-finger cut design allows your hands to breathe. For fly fishing in cold weather, you are sure of protection, especially below normal temperatures.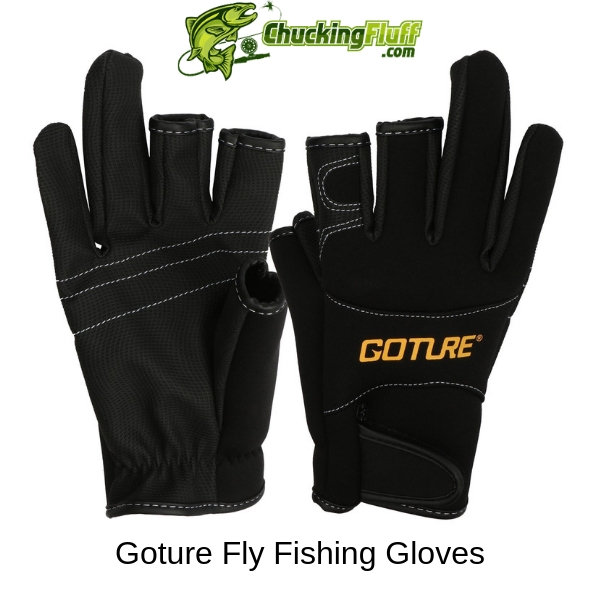 It does what it should do. Considering its lightweight nature, you can easily carry it anywhere you go. Rubber fibers have been used in manufacture to reduce friction on the palm area giving you full control of whatever you hold. Whether fish or their tools, no worries of slipping away. The gloves are great for amateurs and professionals. The gloves are made from a material that easily molds to your hands. They are true to size but you can adjust the size at the wrist area to tighten or loosen them.
You can use the three fingers at will. The thumb to cast and the other two to handle fish. It is easier to feel the line with the finger cut design than when having full fingered gloves. You can put more or less pressure on the line using your thumb. The fabric construction is epic, and the material is very tough and durable. The gloves protect you from cuts, bites, teeth, spines, hooks, fillet knives, and gill plates. A mix of style and function, these gloves are your partner outdoors.
Specifically for men, they are great fly fishing gloves for those who fear getting cut or keep on getting cut. If you need to cast your rods frequently and need full control of your rods, this model is just what you need. There might be a problem handling large fish species with sharp fins because of the cut design. However, mastering the art of moving fingers swiftly will come in handy.
Check Goture Mens Amazon Price
Berkley Fishing Gloves
Berkley is a trademark in the fishing tackle sector. This is a manufacturer with a motive of fuelling passion in every angler or sportsman. There is a wide selection of the fly fishing cold weather gloves offered by the company.
All of them are innovative and we chose on their Berkley fishing gloves today. Something specific for women and men to feel proud of. Their motive was to help female and male anglers to catch more fish while feeling comfortable and confident.
The gloves give the wearer a good grip. You can handle a wide range of fish species without fear regardless of their slippery surfaces. They might look heavy duty.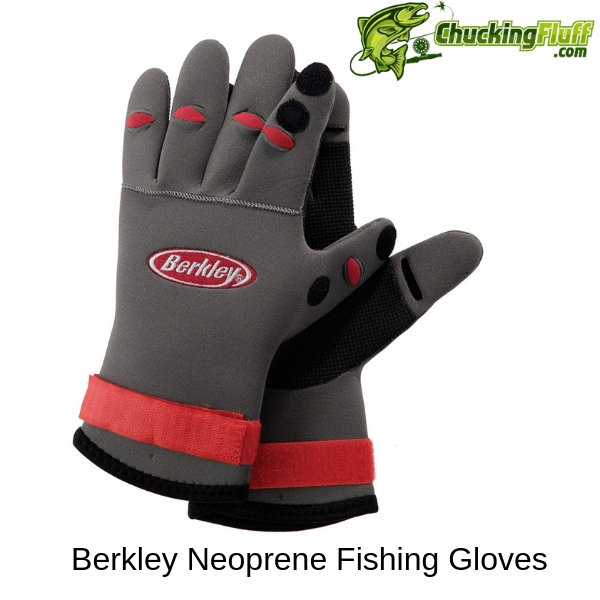 Yes, they are. However, they allow for excellent and unimaginable grip and you can move fingers with ease. What excites most users is despite their thickness, you can pull your lines safely.
The cut protection is top-notch. In fact, you can't compare it to most of the other gloves. If you aren't cautious when handling gear and equipment and need to have time without worrying about cuts and bruises, these Berkley gloves are for you.
For pulling lines and filleting your fish, you will find them helpful. Be sure nothing can pierce through them. The gloves are lined with rubber to ensure they don't get slippery when you expose them to a lot of water.
Texturing the palms was a good idea. It enhances the grip and allows you to handle different tools and other small types of fish.
I don't think I should place it under the cons. These gloves come in one size only. The good thing about it is that it molds after the hand.
If you love going fly fishing and are capable of handling several things at the same time, you will find this pair useful. Combining functionality, safety, and style, the Berkley gloves are long-lasting especially when well taken care of.
Drasry Neoprene Cold Weather Gloves
Drasry Neoprene gloves stand out because they take a unique design. Construction is from very solid materials. The manufacturer blends neoprene and other materials in order to maintain flexibility and give the gloves the waterproofness level it needs to ensure it is ideal for cold weather use including ice fishing.
The design is punchy and if you are looking to bring style to the shores, this one will never disappoint. Drasry 3- finger cut design allows you to remove and return the top section of the three fingers. This will give you flexibility and a solid grip at the same time.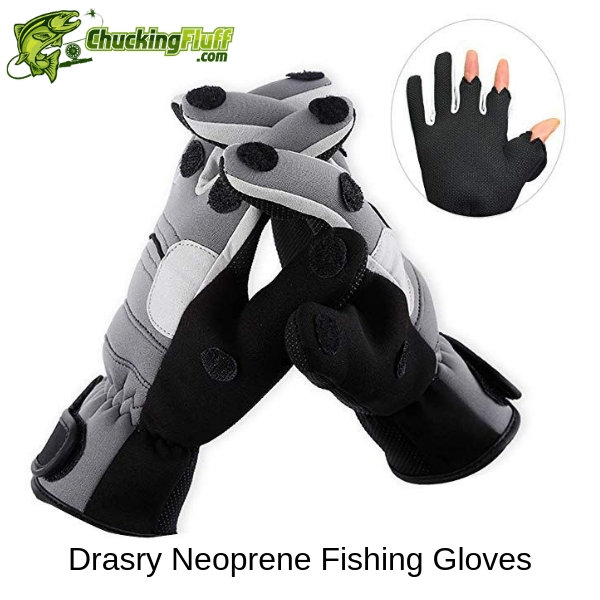 Whichever fish you catch, none will slip off the gloves or return in the water. If you are new to using fishing gloves, you will discover that knot tying becomes a problem. Worry less because this design has you sorted. They have touchscreen sensitivity and you don't have to remove them to operate your smartphone or digital camera. Quite a plus for an outdoor trip.
The gloves do an excellent job of keeping your hands dry, safe and warm. If you are looking for a rock-solid choice, look no further. Looking at the design, they are meant to give enough flexibility with regards to the fit at the same time offering you all that you need when it comes to grip and warmth.
With great protection and functionality, they will get the job done. Isn't that what you need in fly fishing cold weather gloves? There is plenty enough to make them a solid choice for cold weather fishing even though there mightn't be anything spectacular that will shoot them above or beyond the competition.
Its fabric is comfortable guaranteeing you durability and breathability. The back side has neoprene material for scratch resistance and wind proofing. Its Velcro wrist straps are adjustable to secure the gloves to your hands while effectively performing its protective function.
Check Drasry Amazon Price
Snowbee Lightweight Neoprene Gloves
Snowbee is an innovative company that strives to remain on top of the list especially in the sea and fly fishing sector. You can see their dedication in the lightweight neoprene fishing gloves which feature new techniques in design and manufacturing.
If you have a keen eye for detail, you will notice that the seams on these gloves are welded together using new technology. The designers finalize by applying an ultra-thin and highly elastic tape to ensure the gloves perform their protective and safety function well.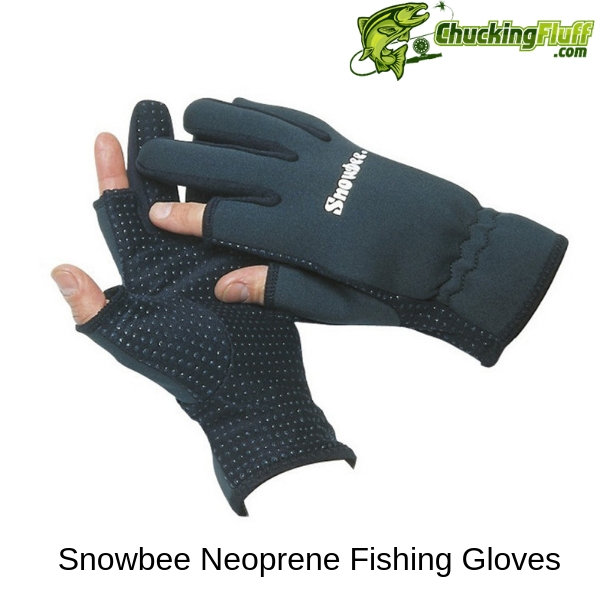 The 2-cut finger design is epic. If you'd like to comfortably tie and untie knots, it becomes seamless. Newbies will find this pair very reliable. Not like other gloves where the cut goes down near the palm.
The Snowbee label is visible on the back of the palm. Just where everyone can see that you are rocking a big label. Lightweight like indicated in the product name, it indeed is. You don't want something bulky that will prevent you from folding your fingers and casting.
Built using 100% CR neoprene that is 1mm thick, the gloves have a high stretch capability to allow for a good hand and finger movement. This is one feature that the manufacturer chose to give the gloves a uniqueness of its own kind.
It is warm enough to ensure your fingers don't freeze when you are about to reel in a fish. Made from neoprene, the water resistance is dependable. The nylon Jersey knit palm has dots made of rubber to create a beautiful pattern.
Besides the aesthetic function of the dots, they help to provide extra grip and allows the gloves to remain secure on your hands as you go about fly fishing.  The finger panels and palms of the gloves have been screen printed with silicon ink to give them a striking look. There is a variety of sizes to choose from.
Check Snowbee Lightweight Amazon Price
Best Fly Fishing Cold Weather Gloves – Medium Budget
If you are looking for high-quality gloves that are functional and durable but will not cost you an arm and a leg, this category is what you should go through. Quite better than the first category above, the gloves here are epic and stylish. There is a greater improvement in technology, construction, and performance. The construction is from very sturdy material assuring you of durability regardless of how you handle them. Anything from striking designs to multi-functional gloves, you will find them from our selection below.
Orvis Soft Shell Fingerless Design Gloves
When you are outside fly fishing, you need the right type of gear and accessories that will help you in carrying out your activities on the water safely and maintaining comfort at the same time. Fishing gloves are among what you shouldn't miss in your chest pack. You might still be weighing the options available. If the Orvis Soft Shell is among them, why not?
The Orvis Fingerless gloves provide you with enough comfort during your trip and time on the water. These gloves are very breathable and comfortable making all your operations convenient. Like an armor, the gloves save you from cuts on your fingers and hands.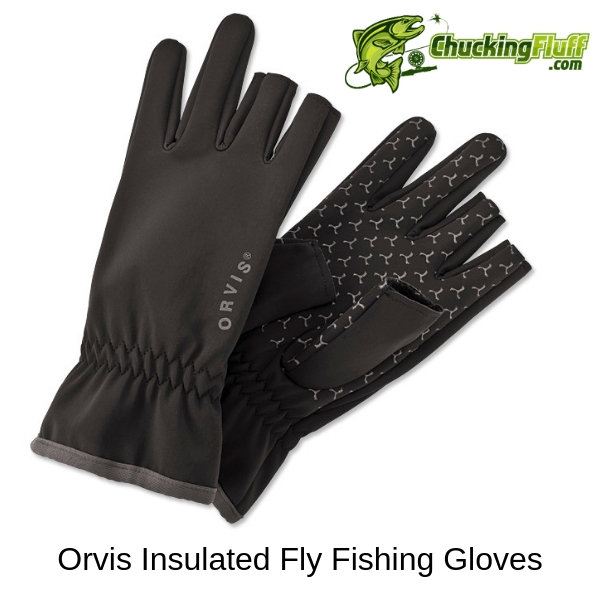 You will need gloves that can handle the weather and all species of fish. They aren't subject to tear and maintain heat in your fingers. The nylon and Lycra fabrics are high-grade. They have been tested to ensure that they hold up in the wild and can face several if not all factors.
On the palm area is a silicon printed pattern for added grip and durability. These gloves can handle any massive fish you come across. You can snatch them easily. There is more confidence when you hold your rods or fly reels with the patterned gloves.
The fingerless design gives it a plus. Amateurs need time to learn how to use gloves. Whether they are fingered or fingerless. Being fingerless allows you three fingers to allow you to do the basics of fly fishing without any difficulty.
You can use this fly fishing cold weather gloves for different sports outdoors. They are excellent for great shading to keep you away from sunburns. They are lightweight and don't weigh too heavy.
If you have a pair of gloves that do not preserve up, no doubt that you will keep spending more cash looking for a new pair. Durability should be a priority just like comfort. It will definitely save you money and you will have first-rate gloves that will last for years.
Check Orvis Soft Shell Amazon Price
Glacier Glove's Pro Angler Gloves
If you have done in-depth research on the highest quality of fabric for water, you will discover that Neoprene takes the crown. It has high water repulsion and trapping capabilities. More so, it keeps you warm the longest. The Pro Angler gloves from Glacier Gloves are everything you need.
With a finger cut design, the pair still looks good while performing highly. Its seams can look clunky and bulky but they really aren't. Put them to test if you doubt this one.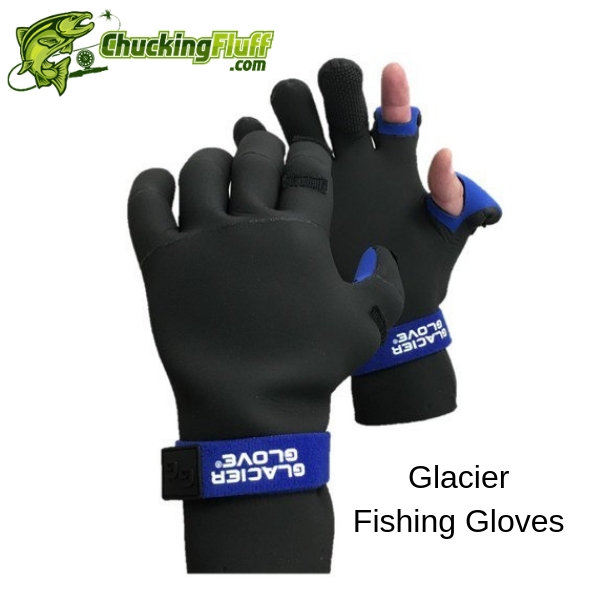 The wrist area has Velcro straps for keeping your gloves in place. Finger liberation is important for learners. In this case, the thumb and index finger have a cut design for picture taking, knot tying and a few finger things here and there.
The finger flaps are secured with small patches of Velcro when they are out of the way. A textured patch on the middle finger allows for traction. The entire glove excluding the thumb and index finger is waterproof. All seams on the gloves are well stitched and welded to ensure they are strong and waterproof. So far, this pair of gloves has been true to function.
A huge plus for the Pro Angler gloves is the amount of warmth it retains. They are warmer than most neoprene gloves. One of the best feature for functionality and convenience is the slits to allow you take out fingers and cover them back. Coming in a pre-curved design, the gloves allow your fingers to fully fit in your gloves well and give you enough comfort.
In order to tie flies and make knots, pull backward the tips of the fingers and do your thing. It was good of the manufacturer to have a pre-bent design on this one. This makes the neoprene gloves very comfortable to have on for a long time.
Check Glacier Pro Amazon Price
Palmyth Flexible Fishing Gloves for Men and Women
Anglers love gloves from Palmyth because of their versatility and functionality. As long as you step outdoors and are feeling sporty, grab them for protection. This pair is tremendous and can be used for fly, ice, and regular fishing.
Its design and construction are upbeat and you can always flip back your thumb, index or the middle finger caps when you need to use your fingers. The metal button frees and encloses the finger caps. The slit design of this fly fishing cold weather gloves is basically for convenience.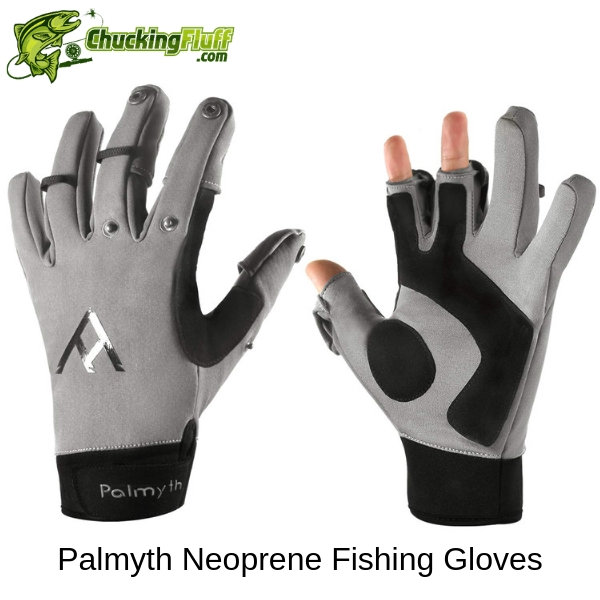 The fabric quality is very comfortable. The front area is made from PU material which is famous for its comfort and breathability. The rear side of the fishing gloves is made from high-grade neoprene material which is UV resistant and scratch proof.
Quite a good consideration to include UV protection in gloves. It doesn't matter whether the weather is bright or dull, you need it.  On the front section is a skid-proof coating to ensure great grip while holding any fish species. If they escape, you must have let them go out of pity.
What's the purpose of having loosely fitting gloves in cold weather? When it comes to fit, the Flexible gloves have inbuilt invisible elastic bands in the wrist area. More so, they are adjustable and are made of Velcro. Definitely high-quality and durable.
The gloves stay put not unless you want to take them off. There is a size selection for this pair. If it fits well, grab them. Taking on a unique design, they look good on both men and women anglers.
Thermal insulation was well taken care of with the plush fleece material and a palm section with artificial leather. Reinforcing the palm allows for better grip when the area gets wet. The manufacturer is kind enough to give care and maintenance instructions. You can hand or machine wash but don't iron, use bleaches or fabric softeners.
Check Palmyth Flexible Amazon Price
Sealskinz Ultra Grip Fishing Gloves
You must have had of the Sealskinz socks. They are now stocking high-quality hand gloves for various uses. The Ultra Grip Fishing gloves are made of high-quality neoprene-like material on the exterior and have a merino wool lining in the interior parts.
The palm area is made from rubber material and extends to the fingers for good grip. We have seen most finger cut designs in this review. This one comes fully fingered. Thanks for the neoprene material, the thermal insulation it offers is superb.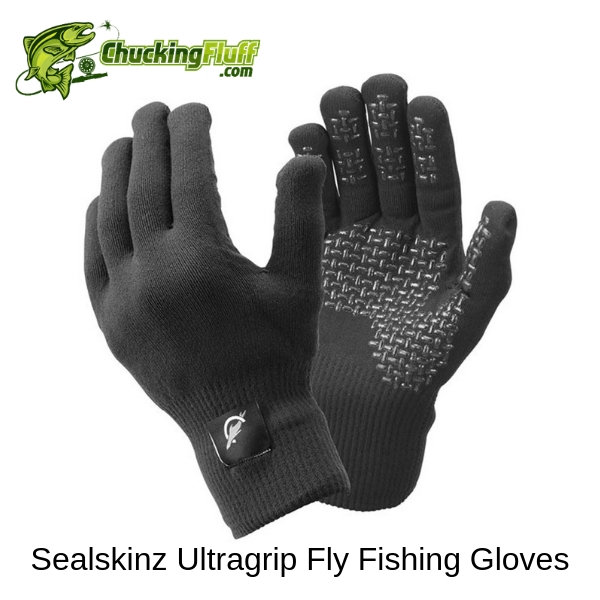 Giving you a guarantee of warmth and dryness, the manufacturer designs these gloves to be 100% breathable and waterproof. Awesome in the cold weather. You aren't limited to using them in the cold weather. The moisture wicking properties make it good for summer and spring too.
We can see advancement in technology in the three-layer fabric construction. The inner layer is specifically for moisture wicking from the skin to the outer side of the gloves. This leaves you dry, warm and comfortable. No blisters, no odor. The inner material is merino wool or Coolmax.
The middle layer is waterproof and breathable and is inserted skilfully to allow for perspiration to escape but inhibits entry of moisture. With a breathability rate of 65% WVP, there is nothing to worry about. The outer layer is for abrasion resistance and translates to durability.
It has a good stretch and is weatherproof. As the glove gives a good fit when worn, it offers a lot of finger dexterity to allow you to do the necessary tying. Grip dots on the palm areas allow for good gripping power. The sizes available for these gloves are large and extra-large.
Drop them in the washing machine up to 40 degrees Celsius. Confirm on the tag or pack if you can tumble dry. Proper care and maintenance prolong the lifespan of your gloves.
Snowbee Soft Neoprene Gloves
A glance at these gloves will leave you thinking of placing an order. It is striking and aesthetic wise, it earns a 10. Before technology began improving as the years go by, the seams on most gloves were butt-glued and blind stitched to ensure they are waterproof and durable. Forget about that.
Everything changed and Snowbee now welds seams on this Neoprene gloves together and uses an ultra-thin elastic tape to seal the seams. You are sure that however long you submerge the gloves in water, your hands remain dry and warm. Being seamless adds to its style.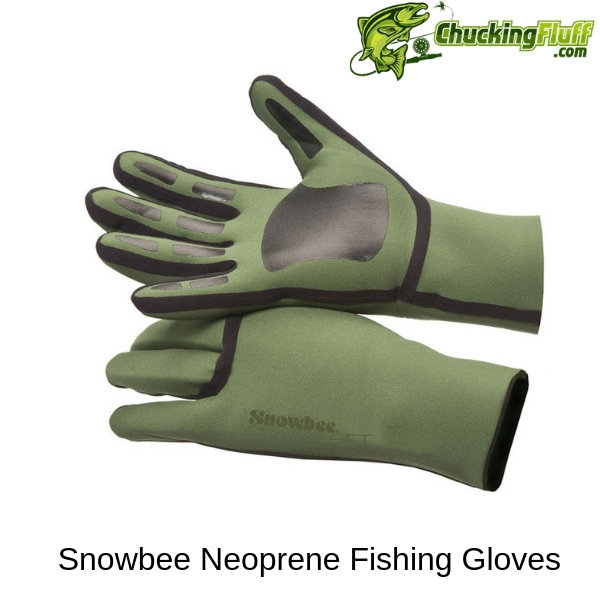 There are different types of heavy-duty fishing gloves for cold weather. The problem is that they either don't allow for finger dexterity or are too bulky to do the simple hand jobs. Neoprene on this pair has a 4-way high stretch capability to ensure that it fits properly without leaving any spaces but isn't too tight to be uncomfortable.
100% CR neoprene 1mm thick makes the gloves ultra-thin allowing you to fish in them longer. Snowbee screen prints the palm and finger panel areas of the gloves using silicone ink. It makes the surface very flat. At first, you might be skeptical thinking that it doesn't offer any grip. No, the grip and feel are awesome!
Available in one color-dark green, this fly fishing cold weather gloves come in small, medium, large, and extra-large sizes. All at the same price point. Another fingered glove that deals well with tangles, this is an accessory you need to consider if you find it on the shelves.
The fabric is completely waterproof and you should exercise a lot of care when working with knives and hooks. They could puncture the fabric. Prolonged wearing doesn't leave your hands sweaty after removing the gloves. You can agree that the construction is on point.
Check Snowbee Soft Amazon Price
Guideline Fir-Skin CGX Fingerless Gloves
When you compare this fingerless gloves to others in this line, this one from Guideline seems to have been designed to offer plenty of safety and protection against the challenges of exposure to cold weather. Whether you enjoy fly fishing or hunting, these gloves are an excellent choice and get so many praises from customers and reviewers.
When you hold your fly rod over the water, wary fish upon seeing your hands can consider you a threat that is why dark colors like these ones are advised for water lovers.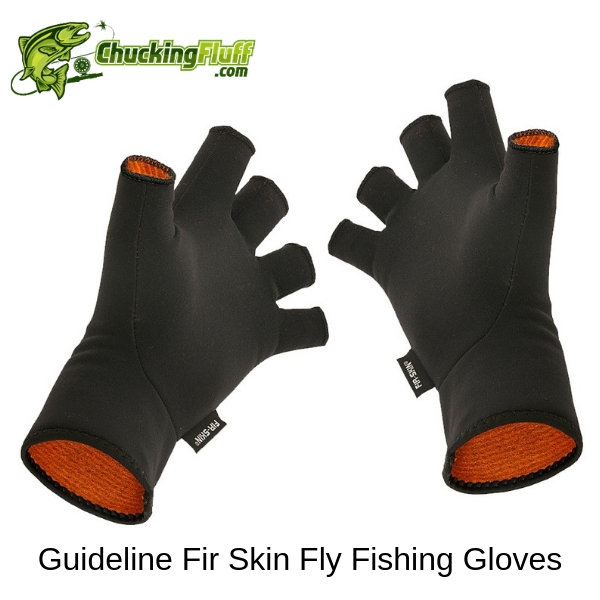 What gives it a higher rating is the inner side that is made from knitted polyester. This makes these gloves have a higher thermal insulation rate and moisture wicking properties. Cold weather fly fishing gloves must provide enough warmth to the wearer. Hence the inner material properties.
At the same time, it should be very breathable to wick away moisture from the skin leaving you completely dry. From its construction or image analysis, it looks like a heavy duty pair of gloves. It is and you need some getting used to before you can confidently cast and fish in them.
You might not have seen gloves made from more than three different materials. This one will leave you asking more questions. A larger part is made of Polyester. Spandex, Graphite, Ceramic, and TPU take a smaller percentage. The fingerless design enables you to enjoy mobility.
Manipulating anything on water is easier. Once worn, you will not lose that feeling of whatever you are doing with your fingers and hands. This factor is considered by most anglers to be one of the most vital aspects of cold weather gloves.
Despite protecting you from sunburns even though not UV protective, they are excellent for protecting your palm area from small cuts and blisters that occur when you are pulling the fly line or paddling your kayak.
Check Guideline Fir-Skin Price
Best Fly Fishing Cold Weather Gloves – Top Budget
There are so many good fly fishing gloves in the market. However, we selected the best for each price section to ensure every angler, even those on tight budgets can have a pair or two. Cold weather fishing gloves aren't cheap. Those in this category are costly because of the kinds of fabric and the multiple layers among other awesome features. While it is rare to spend above $50 on one pair of gloves, there are those who look for one that they can fully depend on. Gloves here are made with very special features making them cost you an arm and a leg.
Simms Outdry Shell Fishing Glove
Designed to keep fishermen on the water longer, cold weather is never a bother. Simms has put a lot of thought into this Shell design. These gloves are built mainly for fly fishing. Whether you are going stripper fishing, steel-heading or feel like plying a Colorado tailwater for trophy rainbows early in the year, it is a piece of performance.
Water resistance and warmth are key factors in cold weather fly fishing gloves. If you haven't fished in the winter, wet hands and cold end all winter fly fishing sessions faster than anything else.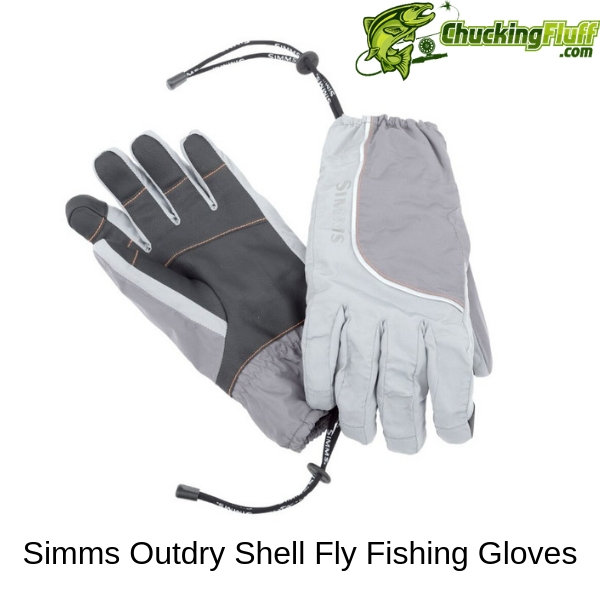 The reason for fully waterproofing these gloves is to keep your hands dry and allow them to retain body heat keeping you warm. In the event that your pores begin to let out excess moisture, the gloves are designed to be highly breathable to wick away moisture from the body to the exterior surface but prevent entry of water.
You can have liner gloves under the Outdry Shell gloves. Its patterned design allows for this. It doesn't mean you they aren't reliable. Some like to be warmer than you can think while others like to have something just to cover their fingers.
Finger dexterity is important while fly fishing. You cannot do anything if movement is obstructed. The gloves have an excellent fit. Not tight but allows for flexibility. Thanks to the pre-curved design of these fly fishing cold weather gloves.
You can bend fingers to hold your line or tie knots without any hindrance. No straps or caps on this one. The wrist area has a glove leash that is adjustable.
You can pull it back and forth to ensure that you get the right tension that is comfortable but doesn't leave any spaces for water or cold to pass through. Still, on the wrist section, the heat pack pocket works effectively for optimal warmth. You don't want to feel cold or too warm to do basic tasks.
Simms Outdry Insulated Glove
Another one from Simms, you know that these guys never disappoint. This is a sister pair to the Outdry Shell gloves. Giving it a field test, the insulated gloves are available in small, medium, large, and extra-large sizes. Regardless of the size, they aren't bulky and offer very good dexterity.
Designed to have a pre-curved fit, the fingers look slightly curved. They give a nice feel and allow for easy hand and finger movement. With them on, you can grasp an oar handle with ease and feel it in your palm. Just what every angler would love to feel.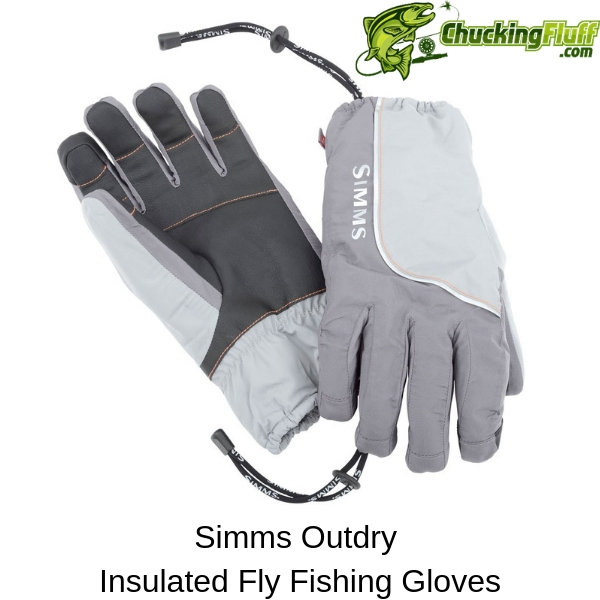 The thin inner lining is effective and keeps your hands very warm especially when temps are very low. When you get to more freezing temperatures your hands become a little cold but not close to freezing.
This happens because the Insulated gloves are made with 100% waterproof laminate membrane. On the inside, they have a PrimaLoft Insulation in some areas. If you feel like you need more warmth, you can add a heat pack in the heat pocket that is near the wrist area of the gloves.
Built with insulated protection, you still retain freshness because the fabric is breathable. This allows for moisture wicking from the hands to the exterior of the fishing gloves. Another bonus is the presence of a draw cord that enables the wearer to quickly remove them and get them back on without needing help.
You will use it to adjust to a comfortable tension. PrimaLoft gloves need special care to ensure that you don't compromise performance and durability. There are clear laundering instructions on the manufacturer's website and on the package that comes with the gloves.  Failure to adhere to them, you affect the quality of the PrimaLoft making it useless. They become as good as garbage.
Check Simms Outdry Insulated Price
Simms ProDry Glove with Liner
Many fishermen regard the ProDry gloves as the stuff for legends. I bet you know how big this is. Designed to keep all anglers dry and warm regardless of a deluge, it is the choice of anglers and fishing enthusiasts who value hand and finger protection. The design is oversized and has an outer and inner liner.
They are superb and can be worn as the liner alone, the Gore-Tex gloves only or the gloves with the liners. The outer glove is made from breathable Gore-Tex fabric making it waterproof but insulating to your fingers during cold weather.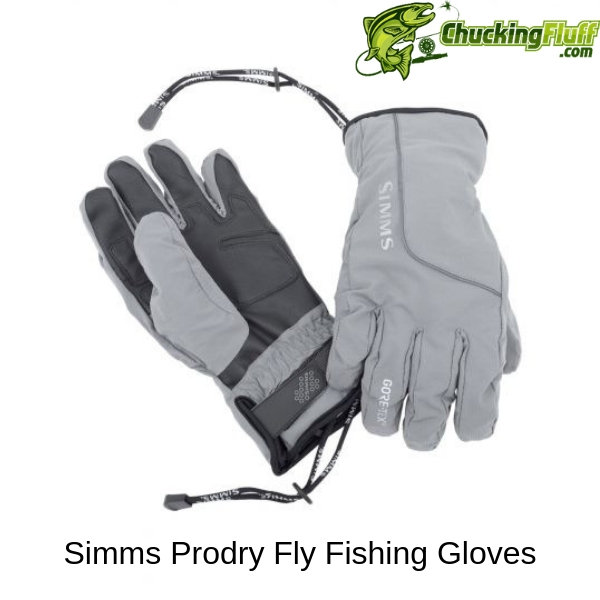 These gloves come on and off with ease. A Velcro adjustment is used to secure the gloves onto your hands. Designed with a neoprene cuff that is paneled, it keeps water off and doesn't allow even a drop to come in and swamp it.
The outer gloves are oversized and you can easily cast in them without losing sensitivity. The palm is made from reinforced goat leather to give the gloves unimaginable durability and offer greater grip. The grip is excellent in ice and in water.
Its outer glove isn't touchscreen sensitive and that is the only bummer so far about it. However, the inner glove has several half fingers that allow you to operate your smartphone. At about 4.oz. these gloves are lightweight and you can fish in them all day.
Available in different sizes. You can choose from the small to the extra-large depending on your size. They fall in the premium glove section priced affordably to make them accessible to all anglers.
Taking on a pre-cut design, these gloves allow you to have a great grip on your line, rod or reel handle. Nothing beats a pair of gloves that offers convenience like this one from Simms. The glove leash on the wrist area is for adjustment and the heat pack slot allow for optimum warmth and fly changeovers.
Simms Guide Windbloc Flex Glove
All anglers will agree that there is no worse thing out on the water than having cold and numb fingers. You can't do anything. If you can't make a simple knot because of the cold, it is difficult to fish and nothing is as boring as that.
You can avoid this and spend longer than before on the shores if you choose the right pair of fly fishing cold weather gloves. The Windbloc Flex gloves are special. They look like the usual gloves but the more you get used to them the more you discover their uniqueness.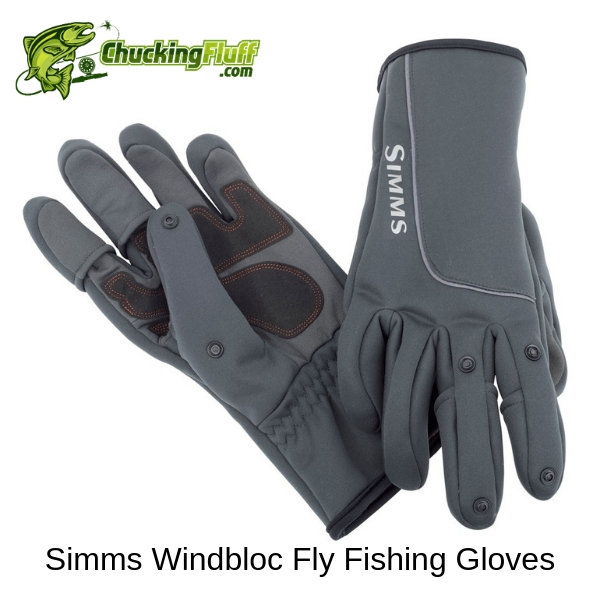 The thumb, middle and index fingers have openings making this pair exclusively practical and functional at all times. Don't worry too much. The gloves offer complete finger and hand protection and still allows you to perform delicate tasks on water. 100% windproof, you are guaranteed warmth.
Simms is generous enough to make these gloves from a 4-way stretch to give you excellent wearing comfort. The technologies that the manufacturer uses never fail. Polartec Windbloc provides the wearer with utmost protection from adverse weather elements.
Breathability is taken care of by the microporous laminate that is placed between the loft inner fingers, and the tough outer layer. You remain dry and warm at the same time. A pair of gloves that is abrasion resistant will last longer despite the brutality it is exposed to.
The pre-curved shape ensures you enjoy dexterity and finger movement without coming in the way of your comfort. If you don't want an inner layer of gloves but need more warmth, you can use a heat pack in the heat pocket around the wrist area.
Grip areas are reinforced with suede overlays to enhance durability. Caring for Polartec material is easy. Simply follow the manufacturer's instructions to the latter to prolong the lifespan of your gloves.
Simms Warming Hut Glove
You might confuse them for boxing gloves if you look at them from a distance. They are highly functional and specifically designed to protect you from cold weather. It is very difficult for anglers to get their fingers and hands to function in cold weather especially when fishing with bare hands. The Pertex fabric is wind and water resistant. It was a good idea for Simms to combine this material with PrimaLoft Insulation technology. The marriage has seen many anglers buying more pairs of the same and giving great reviews of performance and durability.
Pertex material is finished with an ultra-thin coating that is air permeable. This makes the gloves breathable to ensure your hands remain dry even when the warmth levels are beyond normal. The permeable membrane has warmth retention capabilities and is the same material used in the DownStream sweaters and jackets by Simms. You need a pair of gloves that doesn't change how it feels when fishing plainly without them. While you might not have used them before, they aren't bulky and can be worn for long hours without any discomfort.
We have seen most gloves made by Simms having glove leashes and not Velcro straps. The leash on this pair is durable and makes the gloves easy to wear and remove. You can pull the leash to adjust the tension on your wrist. This ensures you remain comfortable and protected from cold or water entry. The fabric construction is dependable and you might not need more under layering for more warmth. However, if you need to feel warmer and are avoiding layering, you can fill the heat pack pockets with heat packs for optimal warmth. Locate these pockets in the wrist area.
Ensure your laundering style is the recommended one by Simms. Contrary to this, you will interfere with the performance and durability of these fly fishing cold weather gloves.
Simms Kispiox Glove
Simms Kispiox Glove replaced the Skeena gloves which still had a good reception after its release for sale. The Kispiox is fully waterproof and one of the key features you need to consider when selecting fly fishing gloves for cold weather. If you love going steel-heading, you mustn't ignore it if you find it in the stores.
Not limiting though. Even pike and sea trout are species with one thing in common- it is very challenging to specifically fish them in cold weather. You need to maintain focus in the cold by having these gloves to prevent your fingers from going numb.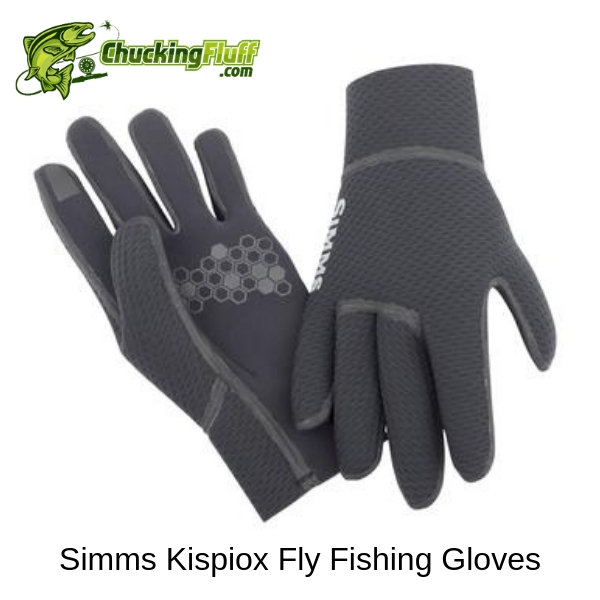 Made from high-grade neoprene, the gloves are designed for very demanding winter seasons. It has a unique design that gives your hand maximum warmth without affecting crucial sensitivity in the palm and fingers. This feature is vital for successful controlled casting, line handling, and bite detection.
I bet you know how cold it can get in other parts like Siberia. With these gloves, you are a ninja. Being 100% waterproof, you are sure of your hands remaining dry and warm. They are of an excellent length and go under your wading jacket's wrist area. No space is left for water and wind to pass through.
An ergonomic finger design gives the gloves an ideal fit. You can bend fingers with ease when tying knots or flies. You will want sensitivity to be on point. To ensure you enjoy this, Simms designed the palm area to have high stretch capability.
The back of the hand is lined with fleece to provide your hand with enough warmth to keep you fishing regardless of the cold. Not heavy like you thin. At 91g you can have these gloves on as you head to your fishing spot. The available sizes are small, medium, large, and extra-large.
Patagonia R1 Gloves
Patagonia R1 gloves are made from high-quality neoprene with the inside lined with a plush polypropylene lining which is soft and velvet-ish and adds warmth to it. They have an industrial look but are excellent for fly fishing.
No doubt about their durability because they are designed the same way as gloves for surfers. The 1.5mm thick neoprene is very slim line meaning you can feel your lines better compared to most heavy-duty gloves.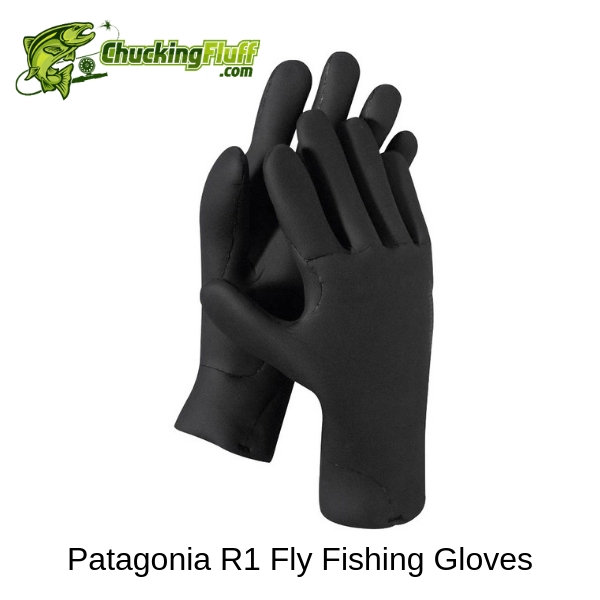 Technically, these fly fishing cold weather gloves aren't waterproof but are water resistant. They keep water out well and they don't have any leaks and you will remain dry as long as the cuffs are secure and water doesn't trickle inside them.
It is easy to pick up fish and submerge your hands and they remain dry as long as the cuffs remain on top of the water. The cuffs are longer and you can tuck them under your wading jacket cuffs to minimize the chances of water getting inside.
The gloves keep your hands warmer than when without but they don't get toasty. The rubber material blocks wind leaving you dry. Just like most neoprene gloves do, you can't freeze even if the little amount of water gets in.
You might lose a little bit of feeling but they are very comfortable to fish in. It will be difficult to get them back on if you have wet hands because they are elastic and springy and cling to your skin. They don't get slippery like most neoprene gloves. The rough textured finish gives them enough grip so you can confidently hold your rod handle even with soaking wet gloves.
Their quality is incomparable. You can fish in them in more than five seasons and they'll still look brand new. The seams are durable and rarely puncture. There are very few gloves that come closer to this all-round fishing gloves.
Check Patagonia R1 Amazon Price
Final Verdict
Choosing the right pair of fishing gloves is complex if you don't know what to look for. Figuring out the correct size of your hand is important because not all gloves are stretchy. The rest is totally up to you. Some people are very concerned about color and design so you can choose according to your taste and preference.
Before settling on any pair, first research and read about the product and more reviews from customers who have used them. You can then make up your mind on whether or not to take it.
The using process of most of these gloves is very simple. Some come with glove leashes, others with metallic press buttons or Velcro straps. You need to know the right way to open them, wear them properly and secure your gloves to the hands by whatever means it is designed with. Ensure you do it tight but comfortably so that you gain enough grip.
It is an ideal decision to read the product manual or packaging for more information. Protecting your hands and gloves is important. Ensure you open them carefully.
Different manufacturers have their own choice of materials to use while manufacturing these gloves. Some use one material while others can combine up to seven materials. Whether cotton, rubber, polyethylene, neoprene, nylon, or leather, you have to choose according to your cold weather needs.
Wearing fly fishing gloves doesn't only depict how fashionable you are but is beneficial in numerous ways as discussed in the reviews above. Here is a short list to glance at and see what you are missing when going bare hands to the shores in fall or winter:
UV blockage
Protection from sunburn and scorches
Protection from cold and wind
Protection from cuts, bites, stings, and blisters
Enhanced grip
If you can be able to afford a versatile pair of fly fishing gloves, the better. Those that offer versatility, protection, functionality, and durability are the best if you'd like to spend once and save yourself from bulk and storage space. Fly fishing cold weather gloves are beneficial in countless situations.
Some of these gloves have awesome designs and you might not want to remove them when doing tasks which require deft fingers. Some manufacturers design fly fishing gloves for specific tasks which aren't bad. We call them specialty gloves.
For instance, fillet gloves are designed for wearing when cleaning fish only while there are other specific gloves for handling fish. Such can be worn when you need to remove a hook or release fish back into the water.
I bet you can reason with me that it is better to embrace a versatile pair. Frost bites are common when fishing in cold weather. This happens when your hands are exposed to water. Sometimes if the temperatures dangerously drop, it makes angling a sedentary thing to do.
It leads to very poor circulation. Cold weather fly fishing gloves are life-saving in all manner of ways. Nothing pleases an angler like enjoying the experience more.
The demands of fly fishing aren't outrageous that is why there are specialized gloves for angling in cold weather when many think it isn't the right time to step out. There are some design elements anglers need for more safety and protection. Good gloves are made from puncture and abrasion resistant fabric.
This is very important because as you get into the wild and the shores, there are very many dangerous items including the fish you are looking to catch that can tear gloves rendering them useless. You need gloves that cause no frustration. So don't use gloves that have been designed for other uses.
So many big brands out here that understand the needs of anglers especially in adverse conditions. Glacier Glove, Palmyth, Berkley, Simms, Patagonia, Lindy, Rapala, and many more. In fact, one brand could have a series of gloves for cold weather that fishermen need. This isn't the issue.
The big problem is where you buy these gloves. Each manufacturer knows how to brand its products to ensure buyers easily identify if they are original.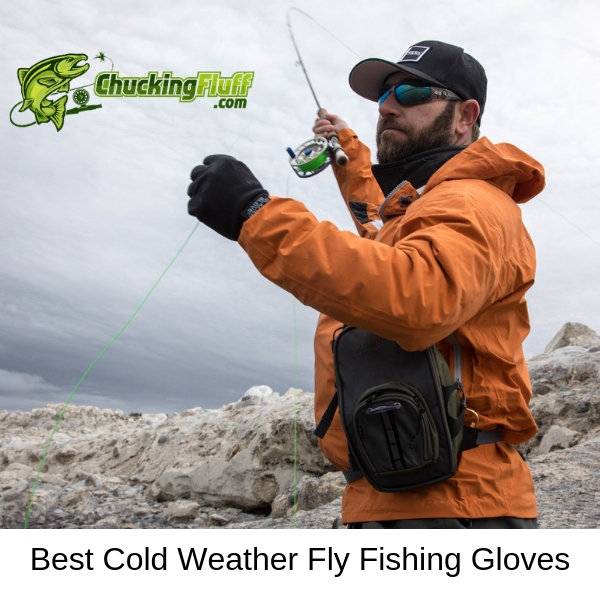 There are very many malicious business persons and brokers who are out hunting for your bucks. Before you realize you have been swindled, there will be nothing you can do except live with crap.
Counterfeits and imitations of these gloves have flooded the market and it takes a buyer with a keen eye for detail to identify the gold from the dust. Always do your due diligence before paying for a product. You can scan product codes for authenticity.
Must you spend $90 on one pair of fly fishing cold weather gloves? Maybe, maybe not. You can cash out even more than this for several pairs if you are sure that you are getting a pair that is worth every buck and you can afford it too. You might as well not need to spend that much.
Some of the best fly fishing gloves for use in cold weather go for less than $50. There are other designs that cost more than others. Most basic gloves are cheap but fly fishing gloves with more features and layers cost more.
Our buyer's guide has three price categories that cover the anglers of all financial levels. For instance, Simms gloves are costly because of the advanced technologies and features incorporated during manufacture.
How do you clean and maintain fly fishing gloves for cold weather? We don't have specific directions for all of them. Every manufacturer gives specific directions on how to launder and care for each glove.
First, you need to confirm if the gloves are washable. Some are not. Wash as per the instructions on the user manual or package. Be very careful about using bleaches and fabric softeners. Your choice of detergent also matters a lot. If the manufacturer forbids the use of certain cleaning agents, DO NOT use them.
This will ensure that you prolong the lifespan of your gloves and have them in a perfect condition for more sessions. Check which method is recommended for drying and storage. About Ironing, to be on the safe side, don't use an iron box on your gloves.
In ancient times when fly fishing was not a thing for many, anglers only had their lines, rods, baits, and hooks. They still went fly fishing in fall and winter. Though covering other body parts fully, most fished with bare hands. A few had simple light gloves or mittens on.
Nowadays, fishing gloves for winter are a necessity. They make fishing in the cold more fun and increase your success rate. Any angler fishing with gloves in such seasons will confirm this.
Cold weather is here with us to stay.  Whether you are in the Northern or Southern Hemisphere and are an avid angler, you will still get out to the waters. Some anglers trim back a bit on cold weather fishing.
There is no reason for this to happen or even completely giving up. As long as your protective gear is complete with a durable pair of cold weather gloves for fly fishing, winter is fantastic. Go out and coax winter trout or swing for steel. The most important thing with your hands is moisture management, layering, and using high-quality gloves that have made smart use of construction material.
Gloves are the best of both worlds. Whether in the sun or the rain, you need them. If you spend a lot of time braving harsh weather elements out on water, you can confirm that there is a very good reason in having highly warm and protective fly fishing cold weather gloves.
Going without gloves helps with feel but in the cold, even the hardiest angler will not last more than half an hour barehanded. There are gloves that allow for dexterity which is vital in angling. Some with wind-blocking capabilities are advised for specific areas but there are no limitations to whoever should own them. If you choose wisely, you'll have yourself to thank for making a real investment.