Disclosure:
Just to be open and honest the buttons and links you click on in the website will in most cases take you to another website where you can purchase the products I am reviewing. As an Amazon Associate I earn from qualifying purchases.
August 19, 2019
Best Breathable Chest Waders for Fly Fishing – Buyers Guide
Introduction to Best Breathable Chest Waders For Fly Fishing
As an angler you are unbounded. It is inevitable to stay off the water while you have to cast your favorite fly well, reach for fish, and have seamless fun. That isn't all yet. You need the best breathable waders. Remember, you need to get into the water without any hesitation.
If you don't have one, you might think it is a minor gear, not so important. This is not the case. You are missing a lot if you are angling without a fly vest. Its decency is in the vest's storage system. It is crucial to have enough space for your tools and gear to avoid losing them or breaking the delicate ones.
''Can't I just fish in my usual pants? Anyway, these waders aren't worth the money and having them is adding clutter in my closet.'' Ignorance is bliss. In a bid to save on resources, your well-being, and health situation should be a priority.
Technology has seen the angling industry grow tremendously. Well, decades ago, breathable waders were difficult to come by. The few that were there weren't breathable and having them in summer or spring left the wearer dehydrated in the inside and stinky, wet, and smelly on the outside.
Do you know why?
Those waders were made from low-quality rubber.
Times have changed.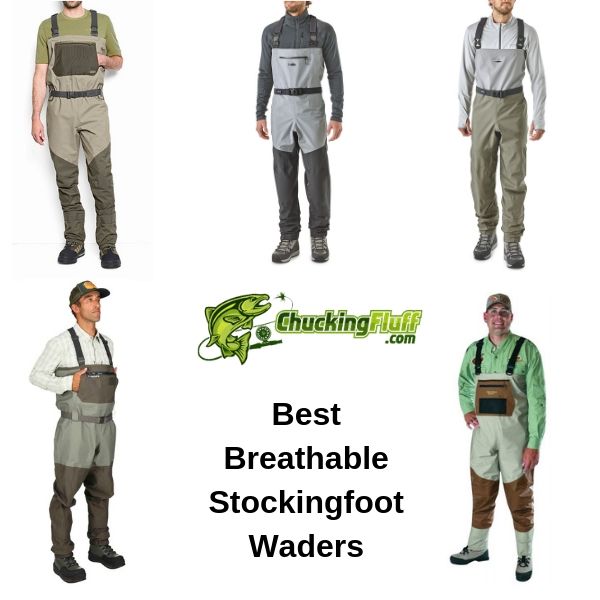 Innovations have saved many anglers from this torture. Imagine your body wrapped in some sort of latex material and the sun decides to shine its rays on you alone. Nowadays, slipping into fly fishing waders is often more comfortable than before.
Despite the revolution in fly fishing to enhance safety, comfort, and performance, there are still novices and amateurs who will fall prey to crap nylon or rubber waders.
Many beginners will think of breathable waders as a luxury hence getting their hands on the wrong type. A high-grade breathable fly fishing wader is a necessity just like your favorite fly.
We are conscious of all anglers' safety, health, and skill development. It is the reason we did in-depth research for this breathable chest waders buyer's guide.
Are breathable waders really a necessity?
Almost all anglers need waders with a breathability mechanism. Very few might get away with this though. You must be really afraid of trying new fishing styles and techniques if you fall in the last category.
Shelving the idea of buying waders is limiting in some areas where warm and hot days are fleeting and water is frigid cold. Some rivers during summer are usually aching cold because their inlets are mountain lakes and snowmelts.
---
Types of Breathable Waders
Flexibility is a consideration if you are looking to feel unrestricted anytime you are on the water and in waders.
There are different types of breathable waders for fly fishing that you can choose from. The selection isn't comprehensive though. See below to see a type that best suits you.
---
Hip Waders

Hip waders are meant for wading in shallow and slower moving waters. Some come with attached booties and others without. The booties cover the foot to the upper leg. If you often fly fish in sedate rivers, these hip waders are perfect for you.
You are sure of more comfort than most of the other breathable waders. Moreover, they are simple to wear and remove. Their construction is simple with elastic straps around the belt area. It is easier to explore new fishing spots when you are on a trip in the wild.
---
Wading Pants

These ones don't differ so much from the hip waders. Wading pants fit more like pants than waders would. Their construction and areas of use are similar to that of hip waders.
They are extremely light and more comfortable and are a perfect choice for anglers who will stay away from deep water.
---
Stockingfoot Waders

You will require separate wading boots to use with the Stockingfoot waders. The reason it is called a stockingfoot is that it has a waterproof sock that can slide in any wading boot you choose.
Their major upside is giving the wearer a customization ability to their convenience. Its packability is spot on because of the stocking and makes it an ideal choice for traveling anglers.
---
Bootfoot Waders

Bootfoot waders run from the angler's foot up to the chest area. The boots are permanently attached to the waders and save you the stress of separately shopping for wading boots.
Their downside is their heavier weight because of the boot attachment. Boots are bulky and make these waders difficult to wear than all the other waders.
You cannot separately use the boots or the waders. That's another limitation. These waders are usable in all fishing environments and come with suspender straps that allow for secure use and adjustment.
They have waterproof pockets to store your accessories.
---
Chest Waders

Chest waders are the commonest breathable waders in fly fishing. Like their name, they go all the way to the chest. Enabling you to fish in very deep water.
Be sure to stay cool, dry, and comfortable throughout only if you choose the best material. They are adjustable using suspender straps.
Some come with boots hence their name bootfoot waders while others come without. Read more on chest waders here on our site.
---
The Construction of Breathable Waders

Different manufacturers use different compounds to make breathable waders. Technologies like Gore-Tex are used to make the fabric highly waterproof making the wearer dry, cool, and comfortable by dissipating heat and expelling sweat to the outer layer.
The type of material of a breathable wader will have an impact on the price. Some are good quality yet fall in the mid-price range while others fall in the high-end category. Gore-Tex waders are costlier than other waterproof and breathable materials like Dri-plus.
Factors to consider when choosing the best breathable waders for fly fishing
---
Material

Breathability is a wider aspect. Unlike in fly vests where breathability is evident in the mesh fabric construction, this one is different.
As usual, different manufacturers will use different materials and technologies to ensure breathability in wader construction is achieved. The materials vary from breathable polyester, Gore-Tex, N2No to breathable nylon and Valour Tec with a high-quality waterproof membrane.
Gore-Tex is the most popular material used in wader manufacture. So far, it is the oldest waterproof yet breathable material built with a breathable and waterproof PTFE membrane laminate that allows sweat to penetrate to the outer shell while preventing the entry of water.
These materials have moisture-wicking abilities allowing perspirations to evaporate leaving the skin dry, cool, and comfortable when it gets warmer.
---
Fit

The right fit is a major factor to consider before paying for breathable waders. You need comfort, maneuverability, and flexibility.
Tight waders lead to abrasions, rashes, and irritations which are annoying and uncomfortable. It gets trickier to get a proper fit, especially when buying boot foot waders.
You need to have all your measurements at hand and compare them with the manufacturer's sizing chart to get a fitting pair. Confirming how your desired pair fits from previous user reviews is important to avoid assumptions.
Anglers who reside in extremely cold areas will have it fine to get a slightly larger wader to allow for under layering and thermal insulation to protect them from the cold.
---
Location for Use

On the luckier side, chest waders are usable in almost all environments. However, they might not serve you well in extremely hot seasons. Comfort is crucial and if you value it, you might have to buy an extra pair to get through all seasons.
Insulated breathable waders are ideal for winter and autumn though, in warmer waters, spring, and summer, a lightweight breathable choice is recommended. If you'll need to wader deeper, rule out hip waders.
Zipper
More often anglers plunge into rivers and lakes and go home with a bit of it. You need a wader with high-quality zippers that are waterproof to reduce the chances of soaking wet when it goes beyond the expected.
Renowned manufacturers like Simms use the YKK Aquaguard technology on wader zippers while Redington uses the waterproof TIZIP zipper. Despite the number of belly dips and falls, you will remain dry throughout.
---
Wader Style
Style goes hand in hand with the wader types. This covers the design and construction. The commonest wader style is the chest waders because of their versatility.
You can use them in any environment and water depth. Other designs are also great deals of thoughts and considerations because different anglers have different tastes and preferences.
---
Extra Features
Here, your taste and preference are crucial. These additions enhance functionality and safety while on water.
You might find a breathable wader with a few of these extra features or be lucky to find one with all of them. See below the additions you can benefit from:
---
1. Cinch Belt
If you intend to wade deep into the waters, finding a breathable wader with an in-built cinch belt is advisable for safety measures.
It prevents water from getting into the waders and filling them adding to their weight. You will discover that it becomes difficult to get to the shore with soggy waders.
---
2. Buckles and Straps
A buckle system and shoulder straps are vital parts of angling waders. The buckles should be high-quality for easy operation and to promote safety on the water.
Weak buckles don't maintain your shoulders in an upright position. This means that you will not be having the right fit if adjustability is such a problem.
---
3. Pockets
Some waders come with pockets while others have none. Those with integrated storage systems are good options whether you are a heavy packer or not.
You need enough storage space for your angling gear and accessories. By this, you greatly cut the hassle of wading out of the water each time to pick equipment.
A few have inner pockets ad flip-out pockets for your valuables while others D-rings for accessory attachment for easy reach. You will be lucky to find a pair of fly fishing waders with handwarmer pockets to rescue your hands from the cold.
---
4. Gravel Guards
In-built gravel cuffs cover the top area of your wading boots to keep off sand, grit, and gravel as you wade in the water or walk by the banks or shores.
If you are an avid angler, you know how irritating and annoying sand particles stuck in the boots are. With time, they create holes damaging them.
---
5. Knee Caps
The knee area receives the worst abuse all the time. You keep kneeling to dis-attach a fish from a hook, mend your lines, or prep your combo.
Having waders with protected knee areas reduces the risks of puncturing, wears, and tears. In the end, you achieve durability and performance.
---
Note:
You must be wondering if comfort and durability are among the factors to look into when buying the best breathable waders. Yes. However, after the factors discussed above are all put in place, you will discover that in the end, you achieve comfort, flexibility, and durability.
These three terms are diverse and the ultimatums of a perfect pair of breathable waders.
Let us dive into the list of best breathable waders to buy if you are looking to access the areas of water that are unreachable with standard boots, this section will interest you more.
Best Beginner Wader – Frogg Toggs Hellbender Breathable Stockingfoot Waders
Novices are always skeptical about sending excessively considering that angling isn't a cheap outdoor sport. It gets more expensive when they fall into the trap of lowly priced waders that don't serve after the first casting session.
Well, Frogg Toggs has the needs of all anglers in mind especially those who are just starting off. The Hellbender is a great piece to adventure in. with regards to quality, affordability, and performance, any beginner will find more to appreciate.
Discerning customers deserve value-based products and this is what this brand has done by setting itself apart from the competition with other big boys in the angling supremacy.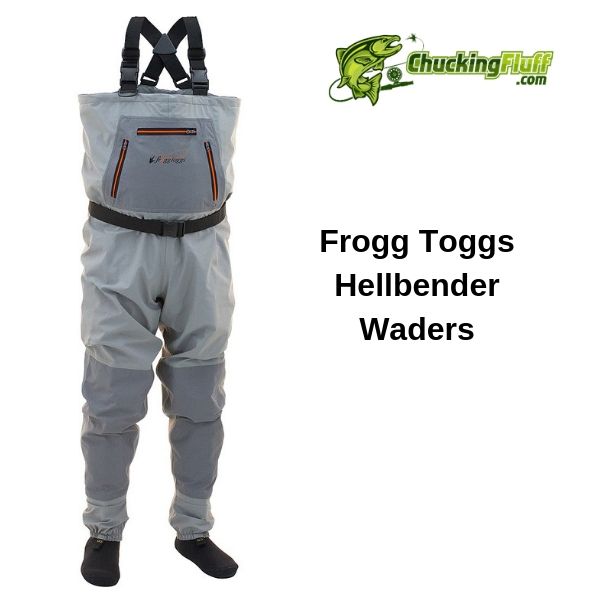 The design is very simple and extremely light to ensure that beginners remain active and learn to cast in these waders. Product features are promising and their impression, when put to test, is pretty good.
Their flexibility is something to recommend because they don't limit movement at all. Thanks to their slim fit, you won't feel much current when worn. As you hike to your fishing spot, you are likely to expose the waders to more abuse and challenges.
The abrasion resistance is reliable and appreciable. There have been a few reports of leakages but to counter this, you can have an anti-leak area for areas you discover with this problem.
It shouldn't be something to really worry about because as a newbie in angling, you will be in the shallow waters. Until you can wade deeper, then this is likely to occur. All comfort features are dependable as long as you purchase the right fit that can allow you to layer when it gets colder.
Storage systems are in check and you can give life to your freezing fingers by using the chest handwarmer pockets. If you are starting on an angling journey, the Hellbenders are the perfect choice for you.
Check Frogg Toggs Hellbender Amazon Price
"Check out some of our other Buying Guides"
Best Fly Enthusiast Breathable Waders – Patagonia Rio Gallegos Regular Waders
Patagonia revamped its Rio Gallegos to look exceptionally and load it with pro-angler-friendly features. They are quite a bunch from high-quality waist-mounted suspenders and the 4mm durable neoprene booties.
The Patagonia wader line has these features cutting across all the waders. The company is attentive to detail and culminate their work to give one of the highest quality and feature-rich waders.
The outer side of the gravel guards has elastic and a stainless lace hook is lower to prevent catching the line. Making it half allows for faster draining and for eliminating wear and abrasion.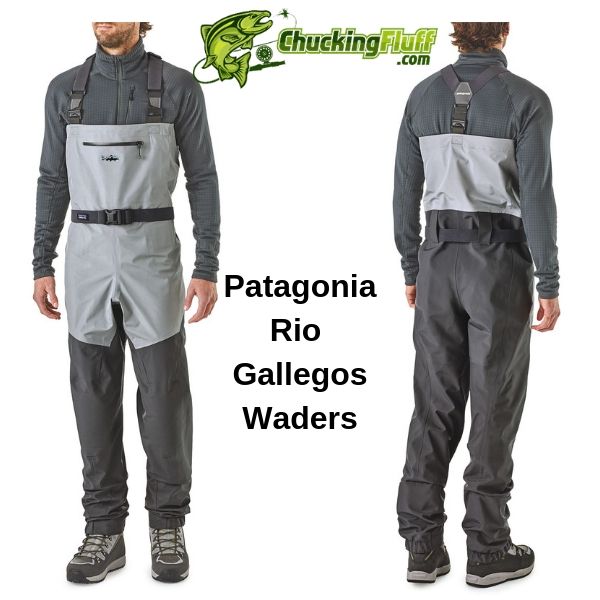 Experienced anglers are almost unbeatable in the game and can do with or without some features. For instance, the removable knee pads are superb and are a personal choice.
For beginners, who already own this pair, removing them isn't a good idea. Learn the ropes before you can take risks. The beltline allows for an avid angler to hook on more tools, gear, and accessories to prevent wading off water often to get a thing or two.
The additional weight isn't a bother to pro anglers as they have mastered the art of stability and acquiring balance.
Overall, the aesthetics and performance are very impressive since the manufacturer is attentive to detail and ensures that an angler achieves proper functionality, comfort, and durability.
There is a greater improvement in the fit so far and it matches the Simms brand and the debate over it has been put to an end after the upgrade. With all the attachment points and other comfort and accessibility features, there is nothing to lose if you intend to invest in these breathable waders.
Check Patagonia Rio Gallegos Web Price
Best Intermediate Stockingfoot Waders – Simms Freestone Waders
Amateur anglers are in pursuit of the professional or experienced title. Quite some progress there. However, is it achievable without advancement in wading gear and angling equipment?
Maybe and maybe not. Our choice of intermediate stockingfoot breathable waders is the Simms Freestone.
When you pair it with the Simms Freestone StreamTread wading boots, you have a perfect combination and can access deep water with ease giving you more broadcasting room regardless of whether you are fishing a river, lake or reservoir.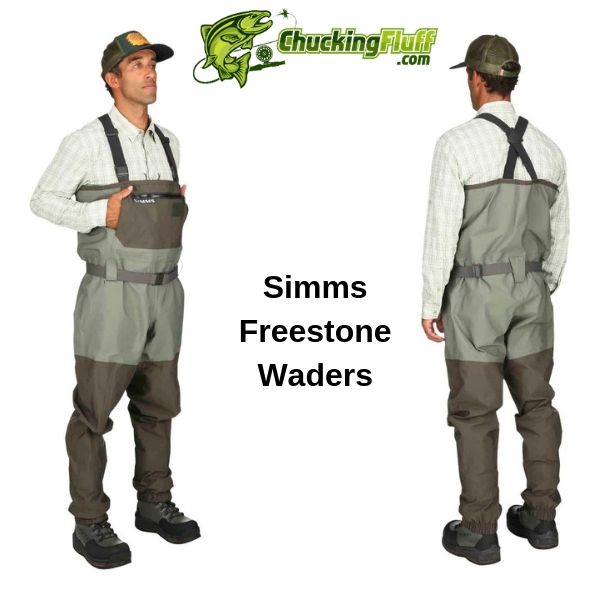 The construction is sturdy and durable. If you compare with reviews on the same from online sites, you will discover that so far, so good. Waterproofing and breathability are well on point.
As you pace to your fishing hole, try hard enough to avoid paths with thorns. Watch where you sit and walk.
The chest pocket is spacious to accommodate large fly boxes but if you have to throw in your gadgets, wrap them in aquapacs or waterproof bags to keep them dry and safe as you wade in case you plunge in the river.
French nymphing is a great fly fishing technique to try out. The handwarmer pockets come in handy to have in your spare arm. If you often go deeper and water finds a way into the hand warmers, they get water.
This is one downside that Simms needs to consider in the next upgrade of the Freestone.
Intermediate waders have had some angling experience though not experts at it yet, they know how to move about to their fishing points and how to wade in the water and rise from a fall in water without causing an alarm.
Having waders on will sensitize safety, offer functionality and improve the overall angling experience. There is a great similarity with the Freestone Z waders and whichever will interest you will diligently be of service as long as you take good care of the waders. 
Check Simms Freestone Waders Web Price
Best Fly Fishing Chest Waders on a Budget
Less costly breathable waders that are of good quality are easy to come by. This category contains products from bigger brands who value the needs of anglers who are looking to spend less on waders yet still want to achieve functionality.
Here, waders have a basic design that is simple and easy to use. Comfort and storage features are not sophisticated because of the price tag. However, they still do what they have to do.
Compass 360 Deadfall STFT Chest Waders
Why do you get to the shores with a fly combo? You must be in pursuit of a big catch. Several for that matter. You might have to go farther from the shores or river banks to be successful.
The Compass 360 Deadfall offers ample storage without putting durability and comfort in the line. It features high-quality waterproof frontal pockets with functional zippers for your personal belongings.
There are fleece-lined handwarmers on the front to protect your hands from the adverse effects of weather elements.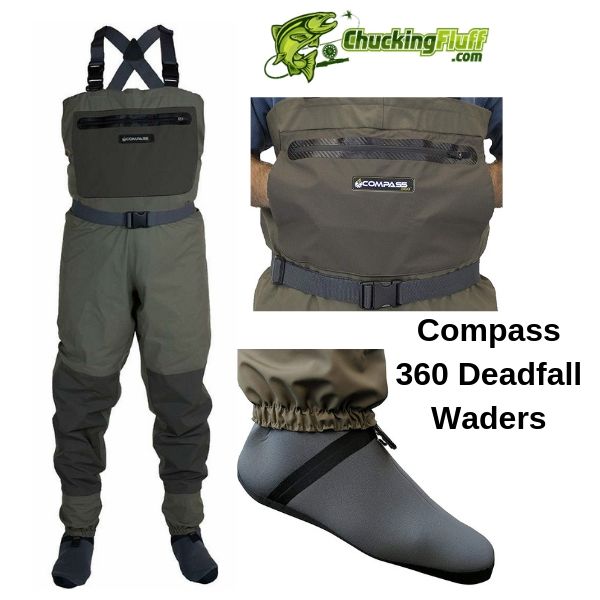 Construction is spot on with the manufacturer using 4-ply nylon as the main material. Be sure of the durability and functionality in any situation.
There is great reinforcement and layering around the shin and knee areas for maximum warmth as you wade and the prevention of quick wear and tear. The attached booties protect your feet.
They are made from stretchable 4mm thick neoprene that snugly fit each foot at the same time preventing bunching. You will enjoy exceptional breathability.
These waders feature gravel guards and have adjustable elastic suspenders and a wading belt with quick-release buckles for easy wearing and take off. You can adjust the fitting to your body at your convenience.
Compass is a considerate manufacturer and has in mind anglers of all ages and gender. These waders are unisex and are available in a wide range of sizes. You can choose from small, medium, large, extra-large, and double extra-large depending on your measurements.
Are they waterproof? Yes. These chest waders are fully waterproof from top to bottom. These are stockingfoot waders that are still waterproof but will need sturdy boots to prevent puncturing.
If you are still skeptical about the safety of your valuables, wrap them in waterproof bags and place them in the frontal pockets. You need not worry though. 
Check Compass 360 Amazon Price
Frogg Toggs Canyon II Stockingfoot Breathable Chest Waders
Unfortunately, there doesn't exist a magical universal wader fabric that does it all. The good news is that there is a universally accepted rainwear brand that PERFORMS!
Frogg Toggs takes the Canyon II a notch higher with its affordability among most of its wader choices.
These waders feature the Dri2Pore technology of construction with each layer serving its purpose from breathability, abrasion resistance, lightness, to waterproofness, flexibility, and comfort. It provides performance and durability at a reasonable price.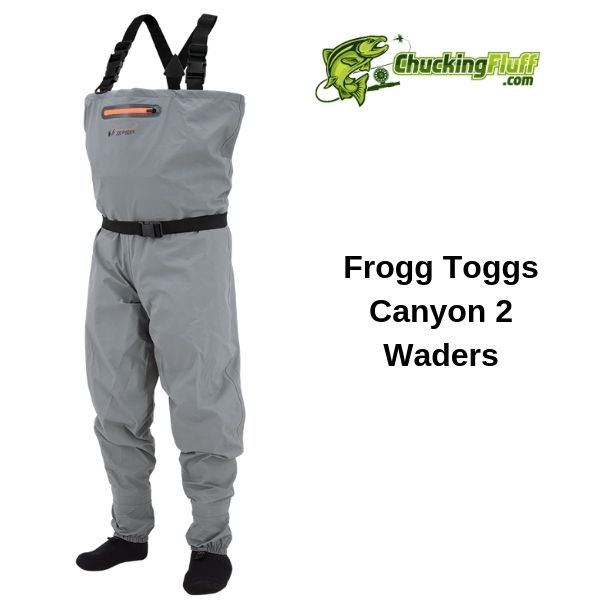 The fabric construction is from a 4-ply nylon fabric with super standard waterproofness. The material is pliable and comfortable to wear. The whole wader from top to bottom is 4-layer thick. Such reinforcement is rare yet to the advantage of the angler for maximum protection.
Any avid angler is a proponent for well-fitting waders. The downside of most waders is burst seams. You need to get the right fit to avoid stressing the seams when you bend and get up.
Referring to the size chart will save you this embarrassment and loss. The 4mm neoprene stockingfeet are reinforced with double taped seams to ensure your feet are warm and dry.
Canyon II features a zippered waterproof pocket to store your personal items that easily get damaged by water. More items can be stashed in the flip out security pocket. The front chest has a D-ring to attach your accessories.
3 ply Gravel guards keep off sand and grit from your booties while the wading belt is for adjustability. Y-back suspenders are high-quality and comfortable to adjust to any position that feels fine.
Rust-free integral lace hooks are durable and you can select a wading boot of your choice. The Canyon II breathable Chest Wader is available in small, medium, large, extra-large, and double extra-large sizes. There are no restrictions on gender matters. You love it, it fits, buy it!
Check Frogg Toggs Canyon Amazon Price
8 Fans 3-Ply Durable Breathable Waders
Duck hunting and fly fishing are equally fun water sports that need high-quality breathable waders for comfort and safety on the water. 8 Fans is a creative and innovative manufacturer that caters for the needs of all anglers despite their age, size, and gender.
There are 6 American sizes ranging from small to triple extra-large each with different measurements.
To ensure you get a custom fit, compare your measurements to those on the manufacturer's sizing chart. In case of more questions on sizing and fits, the manufacturer allows for enquiries via email.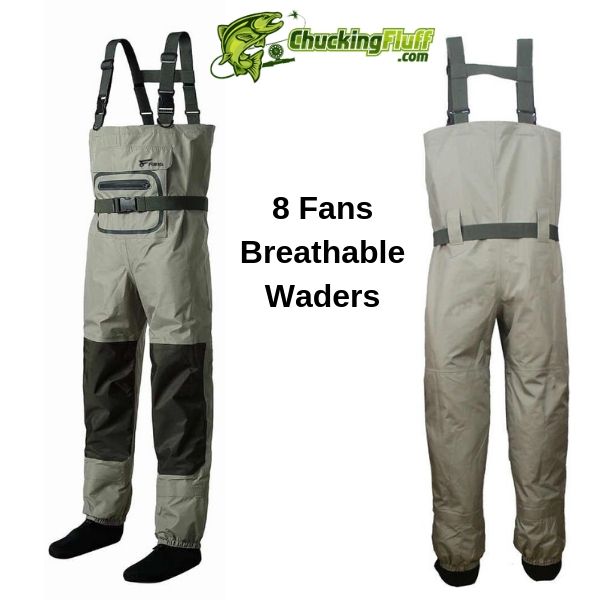 Breathability and waterproofness are at 100%. Thanks to the high-quality fabric construction that entails the use of 3-ply material for the outer shell incorporating the Dry Technology by this brand which enables perspiration to pass through to the external surface and at the same time keeps water out completely.
The durability is incomparable with the fabric being wear and tear-resistant. There are no leaking problems and is very easy to clean. Gravel guard attachments keep off sand, gravel, and grit from your booties ensuring they perform and maintain their quality.
The knee fabric construction is durable with double layers of fabric for comfort and safety while kneeling.
You will love to have your phone, camera, and other gadgets with you on the water. How safe are they from damage? Very safe.
These waders have a security waterproof pocket accessed via a durable zipper for this purpose. If you have any doubts about it, waterproof bags will come in handy as double security.
For comfort and fit, the wader has an adjustable H-back suspender system with high-quality release buckles and a wading belt for convenience.
Check 8 Fans 3-Ply Amazon Price
Frogg Toggs Hellbender Stockingfoot Breathable Chest Waders
Regardless of the body type you have, these Hellbender waders are likely to fit well. Made from a 4-layer polyester fabric construction, the stockingfoot design ensures that you are dry and comfortable in the deepest water you wade in.
Very few manufacturers incorporate ultra-lite microfiber DriPore technology and material in their waders. Frogg Toggs does in this pair. Despite the dense fabric construction, it seals out water at the same time allowing for moisture-wicking properties which makes it exceptional.
The design will catch your attention if you are looking to combine durability and performance. The knee and shin areas are reinforced with a second layer of fabric for safety purposes. Moreover, they hardly leak or get punctured.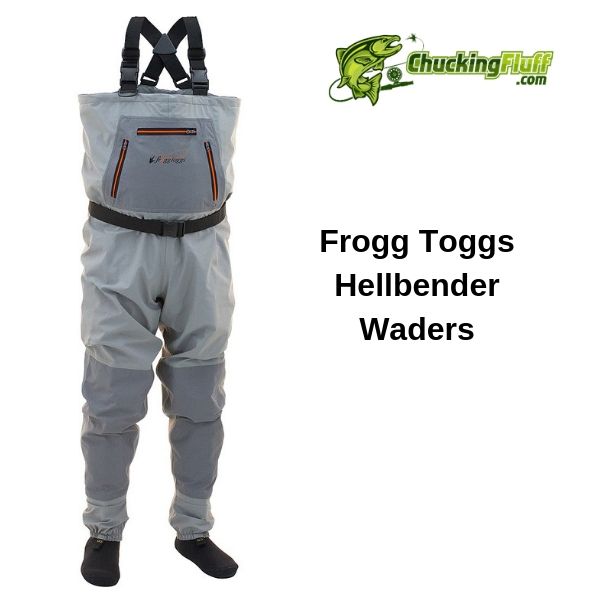 No one wants a baggy pair of waders. They are uncomfortable and hinder active angling. If you are appreciative of a snug fit and comfort as well, you will find great favor in this pair.
The waders come with a durable belt and belt loops to ensure they fit snugly. The X-back suspenders are adjustable to ensure you achieve the utmost comfort regardless of your body type.
Toggs designs the Hellbenders with quick-release buckles to easily take the waders off. This is one of the best waders in the market today because of its practicality. All microfibers are well done and are entirely waterproof.
We know polyester for its static energy and ability to frequently stick to the body when you sweat. No worries because with breathability aspects, they remain fully functional.
Gravel guards have integral lace that keeps off all debris from getting inside the boots. The manufacturer is generous enough to issue a 1-year unquestionable warranty in case of defects in construction, workmanship, and need for any repairs.
If you are looking for practicality, don't hesitate to get the Hellbender waders.
Check Frogg Toggs Hellbender Amazon Price
Redington Crosswater Stockingfoot Chest Waders
An excellent pair of breathable waders is an angling necessity. For the best price and performance, these Crosswater waders are the best choice. Durability comes among the top factors to consider when looking for the best breathable waders for fly fishing.
These ones though durable, won't bear too much damage from extremely sharp objects like thorns, jagged branches, and hooks. If you bushwhack excessively before reaching your fishing spot, you need to be a little more cautious than before.
The ocean is among the most powerful forces of nature that easily destroy angling gear if not well washed after fishing. Proper care and maintenance are crucial for longevity.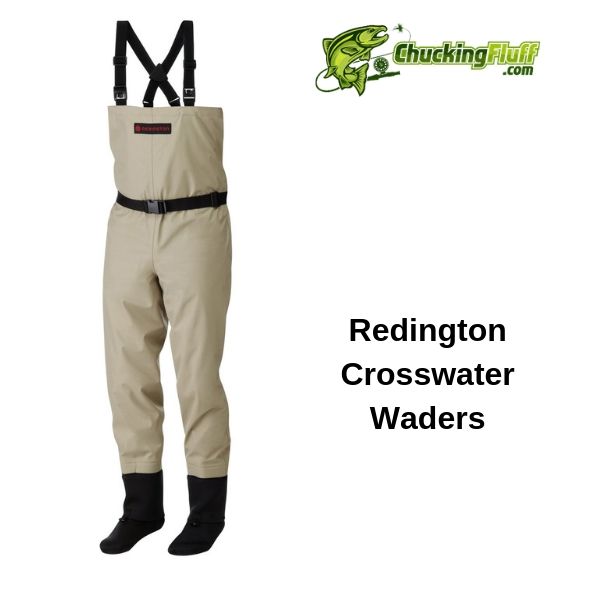 Nothing beats a 2 in 1 design pair of waders. The Crosswater has opposing buckles that allow the wearer to convert their pants to waist height and you can adjust them as per your convenience.
Redington integrates neoprene gravel guards for feet comfort and the safety of your boots. The chest area has pockets with drainage holes for the safety of its contents from water damage.
If you need to carry extra items, the flip-out pocket has YKK Aquaguard zippers for durability and to last long. They are waterproof and corrosion resistant making them usable in any environment.
Use the belt loops on the wader to securely fasten it. The wader belt allows the wearer to carry multiple items at the same time. Position it well so that it stays in place throughout as you fish.
The neoprene booties with a high density are for extra warmth and feet safety. As everything regarding waders drips sewn to personal preference, it depends on your fishing style or technique and the water you will be wading in.
Redington has proven that you can look good in the water while still engaging in what you love safely.
Check Redington Crosswater Waders Amazon Price
Ouzong 3-Ply Breathable Unisex Stockingfoot Waders
Every angler loves functional waders with interesting designs. This one from Ouzong doesn't deviate from this. Their construction depicts great style and innovation without compromising on performance.
It has a comfortable and durable H-back suspender system for secure fitting. We have seen most waders with X-back suspenders which are the commonest so far in the market.
You need an adjustable fastening system at the waist area in case you add a few pounds and still need to fit in your waders. There is a web wading belt on this wader that comes with high-quality release buckles for this purpose.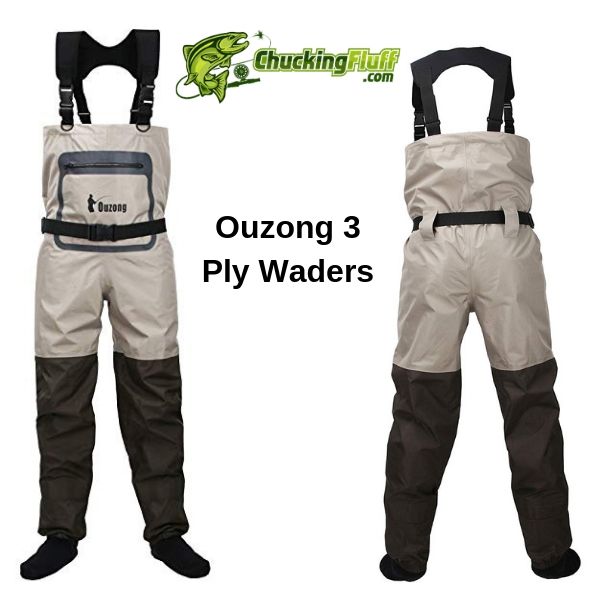 Most anglers are sceptical about purchasing waders because they have fallen prey of counterfeits that leak and aren't waterproof from local markets and illegal service stores. Ordering from a reputable store guarantees you utmost waterproofness regardless of the depth you wade in.
For storage reasons, you won't be able to carry much though the front zippered chest pocket can accommodate a few accessories and the inner pocket a few of your essentials.
Trust them to remain dry and safe from water damage because of the durable waterproof zippers. Without comfort even if you have the most expensive waders, you won't cast for half an hour.
Breathability is key when selecting the best waders for fly fishing. Ouzong makes these waders from 3-ply taupe material which has moisture-wicking properties ensuring the wearer remains cool, dry, and comfortable.
This type of polyester allows you to perspire at the same time sealing out moisture making it ideal for regular anglers. These waders are functional in all weather conditions.
The suspender straps though very durable and have the ability to fully adjust upwards, they don't adjust downwards enough. This is one thing that has proven a challenge to owners. There is a chance for redesign if the manufacturer considers an upgrade of the same. 
Check Ouzong 3-Ply Waders Amazon Price
Best Medium Budget Stockingfoot Chest Waders
Mid-priced breathable waders are a go thing if you are looking to strike a balance between durability and performance.
Waders here have tough construction and are for dedicated anglers who are tired of purchasing waders year in year out. Aesthetics are well on point with waders here coming in stylish designs.
For functional features, the manufacturers have taken a few steps forward to ensure that as you wade in the water, you achieve maximum comfort, safety for yourself and items, and convenience since you can easily access everything near you.
Compass 360 Tailwater Stockingfoot Breathable Chest Wader
Not everything catches your attention. The Compass Tailwater will do regardless of how choosy you are. It has an incredibly comfortable fit and is an excellent choice for anglers of all levels.
Their construction is superb and is comparable to the high-end waders when it comes to performance and durability.
Waders that can stand up to any abuse on the water are perfect for any angler who is looking to maximize functionality and longevity. 4-ply nylon is the real deal for such waders.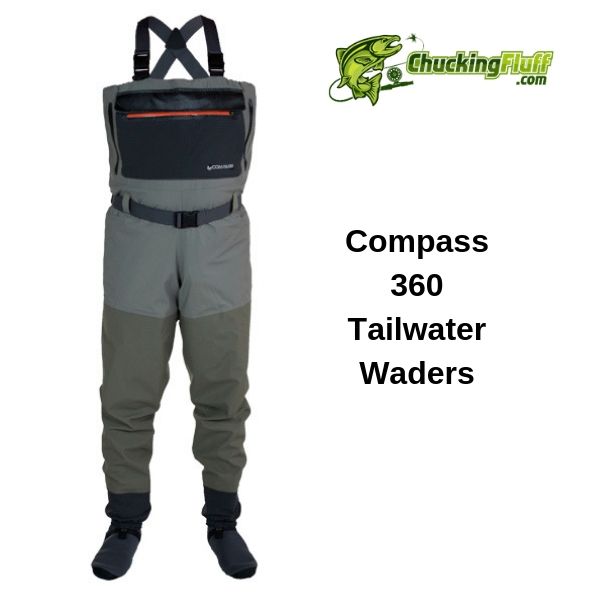 Like the Deadfall, the knee and shin areas of this Tailwater are reinforced with a 6-ply layering to avoid puncturing and leakages as a result of friction with abrasive material and scuffing branches.
There is a great reduction in seam stretching and stress because of the noteworthy shape and fit which translates to durability. There is a sizing chart on the manufacturer's site to compare with your measurements for a proper fit and avoid a puffy wader.
The chest area has large zippered storage pockets for your personal essentials. Handwarming pockets lined with fleece come in handy when the temperatures drop.
If you have any extras, the flip-out pocket will be the right place for them. The stockingfeet are 4mm chloroprene booties that have double taped seams for longevity.
For comfort, Compass features adjustable buckles, drawcord, and suspenders to ensure maneuverability is on point. So far, these breathable waders have an impressive online reputation.
While the company has proven to nurture the skills of outdoorsmen through the production of high-grade apparel and gear, these waders aren't an exception they are worth the value.
One concern is that the manufacturer has a chance to add more fleece in the pockets for more warmth especially for anglers in freezing areas. So far, its construction isn't so different from that of the 360 Deadfall STFT Waders. 
Check Compass 360 Tailwater Amazon Price
Caddis 2-Tone Tauped Deluxe Stockingfoot Breathable Wader-For Men
Caddis displays how versatile a chest wader can be in this Taped Deluxe pair. The general construction is tough and durable. Anglers are reviewing these waders with thumbs up because of their performance and availability in various sizes.
The key feature is breathability and to achieve this, the manufacturer uses special technology called the CaddisDry to allow for moisture-wicking in the interior to the outer shell at the same time preventing the entry of water from the exterior to the inner side.
Feet are double taped after gluing to ensure your feet retain their warmth. Since they are stocking feet, you will need to separately purchase wading boots of your choice.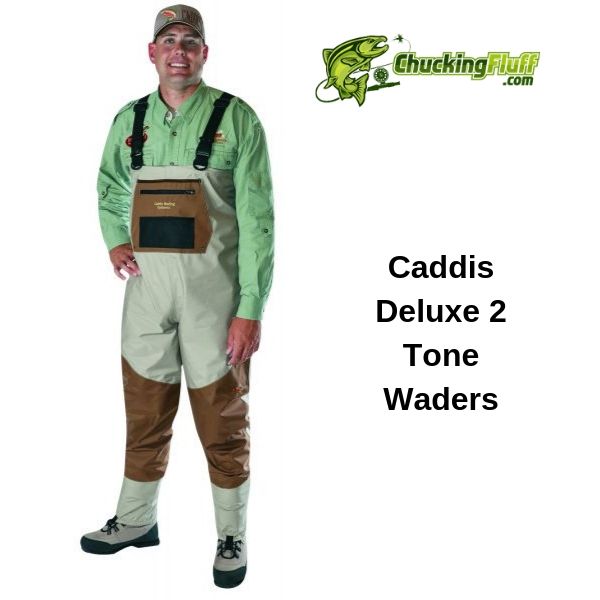 The adjustable suspenders are durable and fully functional to allow you to adjust them to a good fit and comfortable length. The wader has a basic zippered pocket that you can throw in your lures, hooks, and other accessories.
For utmost warmth provision and abrasion resistance, the knee area has double fabric. Breathable gravel guards prevent stones, sand, and grit from getting into the boots.
Polyester is lightweight, easy to dry and very packable. You will plunge in mud often and to get the dirt off, ensure you follow the laundering and care instructions from the manufacturer.
This ensures that you don't tamper with the special technologies and coating used on the outer and inner surfaces. If you are looking for a pair of waders that you can have on for the whole day, this Caddis Attractive is the right choice.
The manufacturer isn't biased in gear customization hence designing this one as unisex. To ensure you get the right size, compare your measurements with those on the sizing chart.
Compared to other wader series, this one has more available adult sizes than any other. You mustn't miss an option.
Check Caddis 2-Tone Amazon Price
Orvis Encounter Fly Fishing Chest Wader
The Encounter series of products by Orvis is extensive. From the Encounter Fly Reel, Encounter Fly Rod to the Encounter Wading Jacket and the Encounter Waders, Orvis wants you to have the best of encounters each time you carry along a product from this collection.
Here we are with the Men's Encounter breathable waders with a four-layer construction consisting of an outer shell, a laminate, a liner, and an inner shell with a stockingfoot design. You must love it. If you don't, your consideration features are overboard.
You will love its accessories that enhance functionality. The two zippered pockets- one on the chest area and the other an internal pocket- are made from a blend of nylon and mesh fabric for storing your personal items.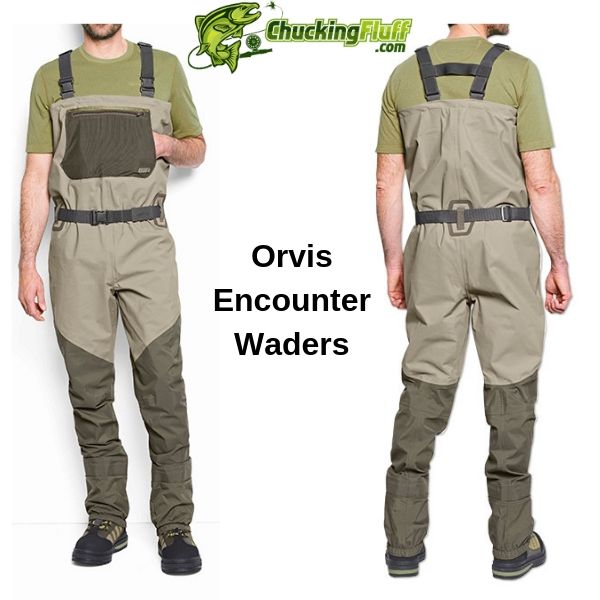 Breathability is not on compromise. It will please you to know that you can layer up to two pants underneath with ease while still feeling flexible and comfortable. One of the greatest extra features is the gravel guards that come for free.
They seal off your wading boots from debris, gravel, and sand. It becomes more comfortable to stay on the water for a longer period of time.
This model is fantastic and guarantees you longevity and performance throughout. If you feel like having it on in warm weather, do not layer too much underneath.
If you have the Silver Sonic Waders from Orvis, you will realize that the quality is similar and provides the wearer with an incomparable experience each time.
Handwarmer pockets strategically located to create a kangaroo style come in handy when the cold sets in. The integrated belt and belt loops allow for an excellent snug fit to maximize comfort and performance.
You can separately purchase a Velcro strip which offers a placement point for the waterproof pockets.
Check Orvis Encounter Wader Amazon Price
Redington Palix River Breathable Waders
If you are an adventure junkie with a passion for fishing, an important gear that you need in your arsenal is a fly fishing wader to avoid carrying your ridiculous-looking low-quality hip-high rubber boots.
The Palix is a special pair because it is extremely lightweight, unlike your old rubber boots. Additionally, the fabric construction is superb with the 3-layer breathable and waterproof construction.
To ensure efficiency and functionality, the manufacturer uses a DWR coating on the fabric for waterproofing and allow for folding. This translates to high packability especially if you are a traveling angler who minds safety.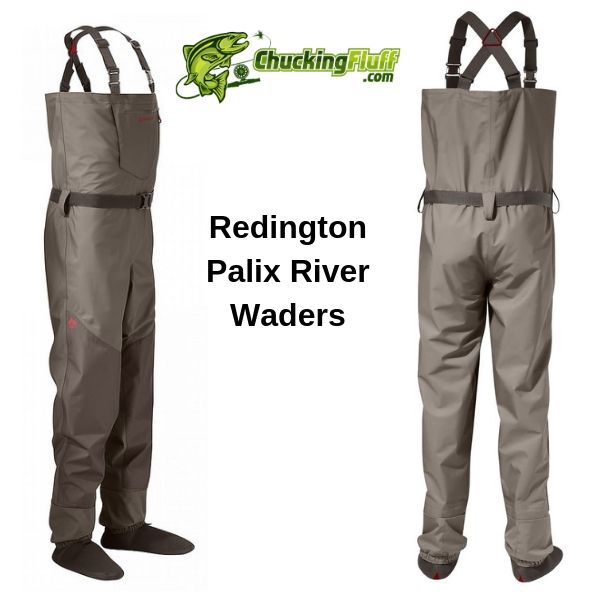 It is a hell of a design now that it is paired with fleece-lined handwarmer pockets and high-quality neoprene booties. All these despite adding to your comfort and protection they ensure you achieve great performance for an incomparable experience.
Despite it being thin in construction, it doesn't sabotage durability at any point. A lot of wear and tear occurs around the knee area. Redington reinforces this area with an extra layer of fabric for durability purposes.
A bonus to this wader is the chest pocket. Though not very spacious lie those on wading jackets, it holds a few personals and accessories. It has a stout YKK Aquaguard zipper that secures it protecting your items from water damage.
You might want a perfect solution for summer and winter. These waders aren't too thick nor too thin for your liking. You will love them because they are also true to size.
This is one feature that makes them stand out from the rest. There are so many waders that big. Most of the time it becomes hard to estimate the sizes, especially when purchasing online.
When it comes to the pocketbook, the Redington Palix isn't bad because you get more than value for money.
Check Redington Palix Waders Amazon Price
Simms Freestone Stockingfoot Waders
Simms has the Freestone line that features high-quality chest waders perfect for angling. The style is unique and has a large zippered pocket on the chest area, high-grade belt loops and if you feel like you can tear them chest waders up, worry not.
You can convert the chest waders into a waist-high design using reversible suspender buckles. Like the Freestone Z, the construction technology is the YKK Aquaseal on all the zippers and Toray QuadraLam on the fabric.
If you are very new to waders, these terms and their functionality might sound like Greek. In simpler terms, Simms says that the Toray QuadraLam material is a heavy-duty fabric that has a microporous and waterproof coating that uses a 2-layer coated fabric, one membrane layer, and a tricot backer for longevity.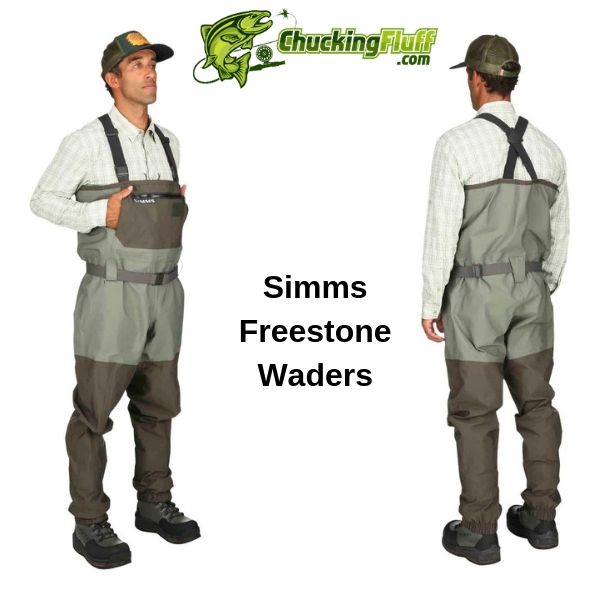 The special fabric was specially made for waders. YKK Aquaseal zippers are made from high-quality nylon to reduce corrosion and offer durability. As an angler-driven design, they are both effective and comfortable.
The waders incorporate the center seam style and articulated patterning to ensure that fit is a priority for all anglers.
There is an hourglass patterning at the bottom to ensure the waders are tight yet comfortable and the stockingfeet fit in your wading boots of choice.
The sizing chart is accurate and very dependable when you need to find waders that fit your body snugly.
The zippered chest pocket is spacious and comes with a fly patch for your boxes. The fleece-lined handwarmer pockets are easy to reach through to warm your cold fingers.
You will appreciate breathable waders that come with gravel guards if you have pairs of wading boots damaged by stones and sand.
Simms has taken innovation to another level by coming up with the Freestone line which has got an excellent reception after its launch. 
Check Simms Freestone Waders Web Price
Patagonia Rio Azul Regular Waders for Men
Who wants waders that will put a toll on them before the first hour of fishing elapses? I bet you don't. Patagonia designed the Azul as one of the lightest breathable waders with high packability.
The manufacturer had traveling anglers in mind. You know that every ounce counts if you are a luggage guy. We have seen quite a number of breathable waders for the cold weather but here comes the real deal for warm weather and water.
As you go out in spring and summer you have a guarantee that comfort will not be an issue. This brings us to the wader's fabric construction.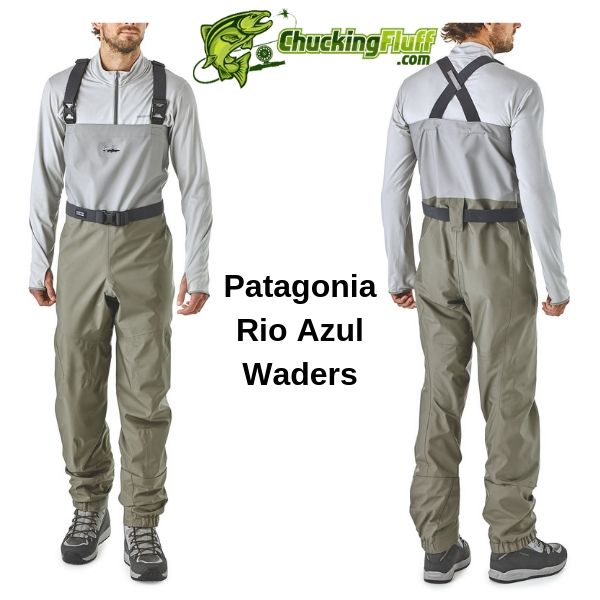 Patagonia uses the H2NO performance standard high-quality four-layer polyester fabric that has a breathable and waterproof barrier and is finished with a DWR coating.
All seams are fully taped to prevent leakages. The patented single seam construction is evident in the inner leg area to avoid wear and tear adding a bonus to the wader's durability and performance.
There is a full elastic belt and unisex buckles on the adjustable suspenders to ensure you have a good fit and comfortable waders to allow you to fish longer.
Mobility and flexibility are not a problem as long as you get the right size of waders. The regular Azul waders are available in a wide range of sizes and to ensure you get a pair that fits well, compare your measurement to those on the manufacturer's sizing chart.
Patagonia designed these waders with Hypalon utility keepers for tool organization among them are internal daisy chains and inner chest back hanger loops.
Legs are well-articulated for knee protection when you kneel on rocks or sand. Gravel guards come in handy to protect your boots from abrasion, wear and tear adding to longevity. 
Check Patagonia Rio Azul Waders Web Price
"Check out some of our other Buying Guides"
Best Breathable Chest Waders – Top Budget
Is it worth it to spend $600 on waders? Absolutely worth it! Others may think that this is way absurd but boy oh boy, you don't know what you are missing without these waders.
The companies are probably using the obviously same manufacturing machines to manufacture the latest designs. Materials of waders here are more expensive and labor costs skyrocket.
Inclusive is the range of new and advanced technologies, a few optional and removable features for convenience and a very durable general construction that rounds up to comfort and longevity.
Patagonia Rio Gallegos Men's Zip-Front Waders
The Rio Gallegos earns its name not from the close Janeiro common name but from the large frontal zipper that is highly waterproof and runs from bottom to top.
Venting heat on hot days is crucial, and this is among the major purposes of the zipper besides making the wader easily wearable.
Regardless of the time the zipper also allows the owner to void as many fluids as possible which is one great benefit gearing towards comfort and functionality. Well, it is a very visible feature on the Rio Gallegos and its venting potential if boosted by the convertible uppers.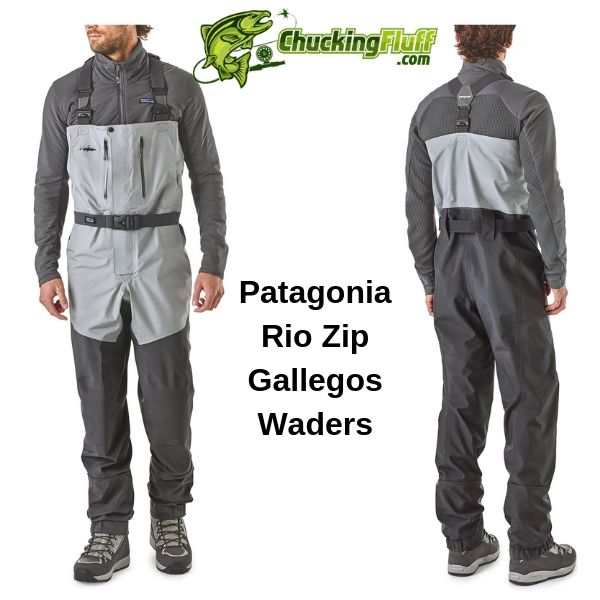 The chest-high uppers and the pop couple buckles slide down past the shoulders to get closer around the waist. You will feel very comfortable on hot days.
The wader feature multiple pockets and two internal drop pockets for quick gear access.
Handwarmer pockets come in handy when it begins to freeze on water.
Removable knee pads are a wise thought though some users think that they make the waders look like storm trooper uniforms.
Well, to be appreciative, they protect your knees when you need to kneel and assemble your combo, catch or release a fish. Fleece-lined booties have a very high density for extra warmth and comfort.
The resistance to compaction is due to their 4mm neoprene construction.
Patagonia is an innovative manufacturer and in this pair, it uses the single seam construction to hide all seams at pressure points to prevent unnecessary bursts improving durability.
The material combination is upbeat with the top shell being from H2No. The upper fabric has a 4-layer construction from high-quality polyester microfiber with specifications from high-density taffeta.
The lower fabric has a similar construction to the upper but features double-weave taffeta. Bot layers are highly waterproof and breathable. They have the Durable Water Repellent finish for longevity and performance. 
Check Patagonia Rio Gallegos Waders Web Price
Simms G3 Guide Stockingfoot Waders
The G3 Guide waders has been designed with the patented Simms 3-layer Gore-Tex Pro-shell construction around the chest area and a 4-layer ProShell right below the waist.
Doing this enhances durability compared to many models in its price range. The heavier fabric slightly reduces breathability to ensure there is utmost warmth, especially when wading in ice-cold water.
This wader is rich in features. The multiple pockets allow for gear storage. There is a flip-out pocket that has a tippet sleeve and a sturdy retractor pad. These two features are very useful. Not until you have these waders, you won't realize it.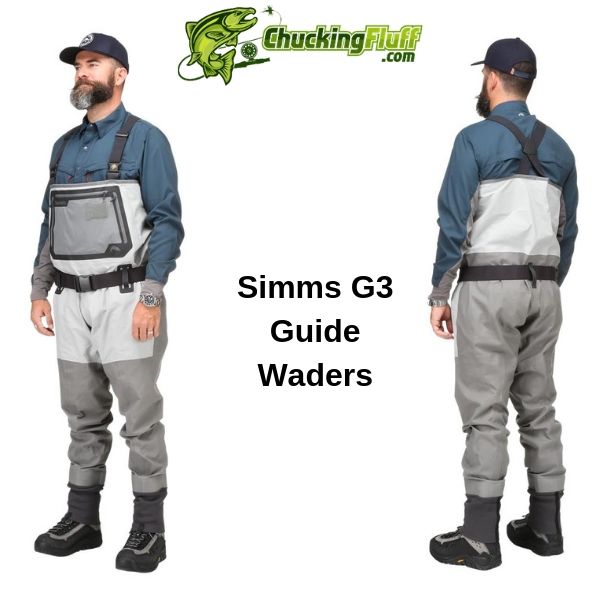 There are in-built gravel guards that come with boot hooks to keep off sand and debris. Seams on the front and back of the leg are well sewn to allow for easy movement and prevent rupturing.
Getting a good fit once you buy the waders isn't a problem. There is an adjustable elastic suspender system with durable YKK buckles to convert the waders into a high waist design. Inbuilt low-profile loops together with the wading belt ensure your waders are comfortable and secure. 
Another feature that has earned more praise is the anti-microbial treatment on the high-grade neoprene booties.
As you get sweaty when the temperatures shoot, you won't get stinky like when in rubber waders.
The stout four-layer fabric construction features the Gore-Tex ProShell making these waders stand up to rugged use than most of its competitors.
Whether you scramble over knife-sharp riprap rocks, push through the tangles of scrub alder, the devil's club, and blackberry briars, they show no signs of abuse or wear.
What do we say about durability? We give it a thumbs up. River professionals will confirm that this wader is very versatile for daily use and are unbeatable in cool to moderate weather especially on local rivers.
Check Simms G3 Guide Stockingfoot Waders Web Price
Simms Headwaters Stockingfoot Pro Waders
Why the Headwater? We are talking about an award-winning breathable wader here. It takes so much to be featured in the IFTD awards list. The Headwaters won the best breathable men's waders in the IFTD 2016.
They feel lighter than other breathable waders even though their conduction is similar to that of the G3 Guide waders.
You will be impressed with the feeling once you have them on. The zippered storage pocket is for your small angling gear and accessories.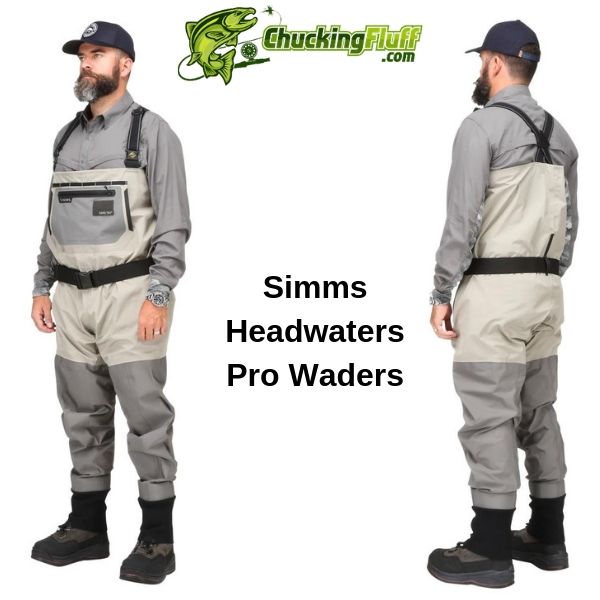 The storage system might not be as reliable as in wading jackets but if it can hold a few necessities then it still adds to functionality.
A little warmth for your hands allows for finger dexterity which is vital for any angler. The handwarmer pocket is reachable to easily slide your hands in when not engaged.
Straight to whether it fits or not, Simms has created a new size list for these waders. They are available in small, medium, medium short, medium-long, medium king, large 9-11 shoe, and large 12-13 shoes.
Alongside selecting the right size, the waders come with inbuilt belt loops at the center back allowing the owner to make multiple height adjustments at their convenience.
More so, it has a 1.5 inches adjustable elastic suspender that comes with opposing high-grade YKK buckles that enable you to convert to a high-waist design.
Safety and durability are in check with the built in gravel guards that are resistant to abrasion and prevent sand and grit from damaging the boots.
Neoprene stocking feet are anatomically engineered and feet in your wading boots of choice. The 3-layer Gore-Tex waders seal out water completely and allow for moisture wicking from the inside to the outer shell.
This feature is a combination of waterproofness and breathability which are crucial factors for fully functional waders. 
Check Simms Headwaters Pro Waders Web Price
Simms G4 Pro Stockingfoot Waders
Anything Pro might not be it but for this G4 Pro, there is no doubt that it goes beyond its name. The stride and fabric cut are comfortable like other renowned waders such as the Rio Gallegos.
If you intend to have them in warm environments, you are likely to feel hotter. The stockingfoot fits well and the 5-layer material though very effective in colder areas has been reported to be stiffer by a few owners.
Well, regardless of the few critics, this is a badass wader that serious workhorses and river warriors should take note of.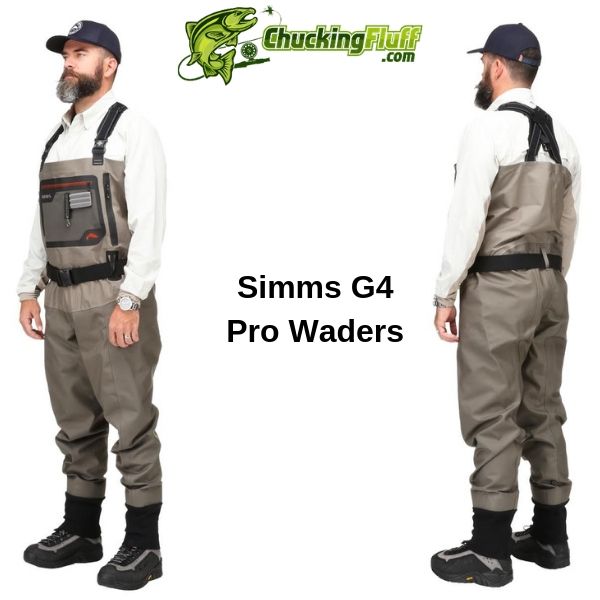 They are bulletproof bombers and you can live at the center of a briar patch while in them. Wading and navigating through the worst and unimaginable stuff isn't much of a problem.
The 5-layer fabric construction goes higher than the famous G3 and fully covers your butt. If you are a chap who loves sitting a lot on a rowing seat or are extremely abusive to your gear, having these Pro waders is the best idea.
It is among the few waders on our list with a D-ring for net attachment. All Simms Gore-Tex breathable waders have seams running down the back and middle of the legs reducing the chances of seam abrasion.
The wader's breathability is unspeakable. Store your gear and accessories in the large chest pocket. The flip-out can be for your tippets and other valuables. When it gets colder, handwarmers will do justice to your hands.
Adjustability is spot on with the air mesh suspenders to ensure you get a good fit and are comfortable throughout as you fish. Inbuilt low profile belt loops together with the 2-inch nylon wading belt ensure that the waders are secure and you can convert them into a waist-high design.
Check Simms G4 Pro Waders Web Price
Simms Freestone Z Stockingfoot Waders
The Freestone Z is a feature-rich pair of stockingfoot waders that any male angler would love to own. The design is epic and away from the usual construction styles.
This one is made from a 4-layer Toray QuadraLam laminate which is waterproof and breathable. You will love its efficiency as it breathes with ease has a high water repellent ability and always bushwhacks with great aplomb.
The frontal zipper is easily visible and is made from YKK Aquaseal material, it totally blocks water from penetrating through. Wearing and removing the waders is fast with the easy access zipper.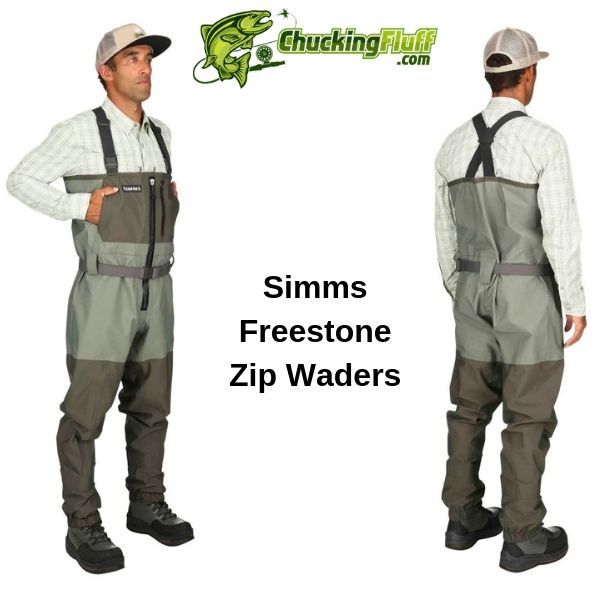 Designed with the patented back and front leg seam design, the fit is wonderful and very articulated to enhance comfort and mobility. As you purpose to sharpen your angling skills, you can spend more time while feeling free and comfortable in these waders.
The waders have 2 large size handwarmer pockets lined with fleece. The pockets are well-secured with storm flap closures. You can double them as fly box pockets. Nothing beats a comfortable and fitting wader when you need to spend more hours out on the water.
The Freestone Z comes with a 1.5-inch adjustable elastic suspender system and has opposing YKK buckles to enable you to create a high waist conversion.
Simms is thoughtful to include two retractor docking stations on your chest pockets to attach a few light accessories and have them at closer reach.
For tool retention, the waders come with internal magnetic retainers which is a great storage feature that male anglers will find interesting. Gravel guards are among the reliable extra features in good waders.
You will have your booties lasting longer than usual. Simms has care and maintenance instructions on their website to ensure that as you enjoy service and performance from the Freestone Z, you can have them longer if you maintain them properly.
Check Simms Freestone Z Web Price
Patagonia Skeena River Breathable Stockingfoot Waders
Patagonia is a household name in the fly fishing industry and since its establishment, there has been nothing but excellence in many of its products.
These Skeena River waders are an update for 2016 and depict a great balance between toughness, mobility, and flexibility. The construction is rigid and has been tested and proven to be dependable.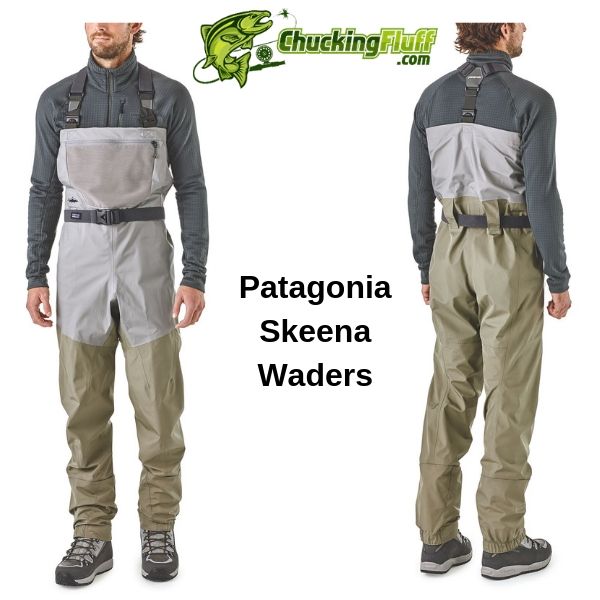 Thanks to the four-layer H2No performance standard high-quality polyester microfiber shell which has unbeatable breathability and waterproofness.
The manufacturer is tactful enough to apply a C6 Durable Water Repellent coating. The overall result is a heavy-duty and puncture-resistant construction with no multi-layers or any additional weight.
Areas of high tear and wear need great attention during construction. Patagonia repositions the seams ensuring that the product offers comfort and performance.
To improve the fit, the manufacturer removed 2'' of fabric from the chest, waist, and hip area to ensure there is an option for underneath layering in the cold season.
There is a new pattern in the crotch area and allows the wearer to swing their legs or part them further without worry. More articulation is on the leg area for times when you need to be on your knees like quick releasing.
Anglers love to fish in and out of the kayak. For safety purposes, the newly designed flat gravel guards allow for quick water drainage than the older version. As you wade or hike, they greatly reduce wear and abrasion.
There is a great improvement in the booties to give them a sock-like fit. Made from high-quality 4mm neoprene, the booties greatly resist compaction as you haul.
The internal suspension system is for easy height conversions from the chest waders to waist-high waders without forcing you to take them off.
Inner welded waterproof pockets have a TPU coating to hold your gadgets and personals. Patagonia adds daisy chains on opposite sides for more organization for tools and accessories. A handwarmer chest pocket is easily reachable when your fingers begin to get icy. 
Check Patagonia Skeena Waders Web Price
Patagonia Rio Gallegos Regular Waders for Men
Another upgrade from Patagonia that amazes most anglers is the Regular Rio Gallegos for 2016. There is a greater improvement in fit than the previous models. This one is slimmer and reduces bagginess.
The booties are more comfortable and the manufacturer incorporates poly-grid lining to boost comfort. Stretchy shoulder straps have durable quick-release buckles for easy wader removal.
It gives more relief and is excellent when you need to change layers. The inner side has one waterproof pocket that is spacious to hold your smartphone or other gadgets and two stretch pockets for fly boxes and a small flask.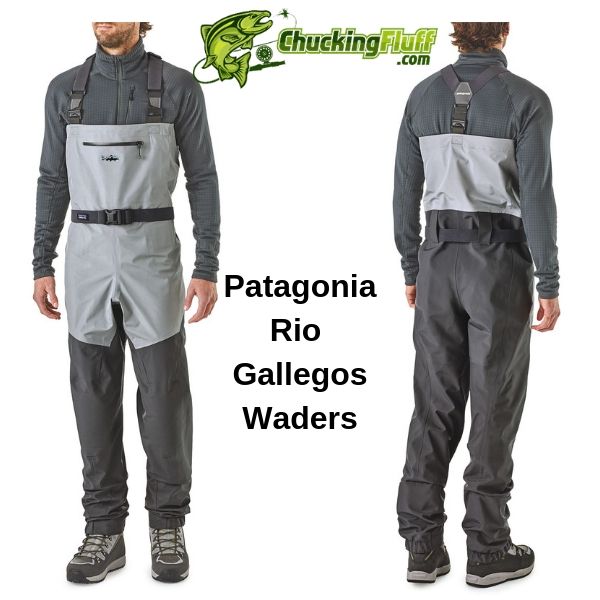 Patagonia includes daisy loops above the pockets to hang your accessories and tools.
Patagonia dropped the mesh fabric on the chest pocket and uses a solid fabric that has a waterproof zipper.
There is a pocket in the knee area which has high-quality padding to allow you to kneel comfortably as you release your fish back to the water. The paddings are removable.
Construction is durable with the four-layer H2NO barrier in the whole wader. The manufacturer uses the Durable Water Repellent finish for more protection and quick-drying and preventing the entry of moisture that can compromise breathability.
EZ-lock suspenders mounted on the waist are convenient to allow you to convert your chest waders into high waist waders. There is a full elastic belt to secure the waders to your body.
Single seam construction is common in Patagonia waders to do away with seams from areas prone to high wear especially on the inner side of the legs.
Once you remove it to dry, hang it by the center back loop on your hanger to make it quick and free from damage. The major difference between the Regular Rio Gallegos and the Front Zipper Rio Gallegos is the visible zipper on the latter that runs from bottom to top. 
Check Patagonia Rio Gallegos Web Price
FAQ's on the Best Fly Fishing Waders
What are the Best Waders for Fly Fishing?
Simms G4 Pro Stockingfoot Waders
Orvis Men's Pro Waders
Redington Sonic Pro HD Stockingfoot Waders
What are the best waders for the money?
Best Beginner Wader – Frogg Toggs Hellbender Breathable Stockingfoot Waders
Best Fly Enthusiast Breathable Waders – Patagonia Rio Gallegos Regular Waders
Best Intermediate Stockingfoot Waders – Simms Freestone Waders
How do you pick fly fishing waders?
Budget, spend as much as you are happy with the more the better.
Features like hand warmers, front zipped pocket, internal pocket, access zip, convertibility are all cool but not essential. Decide what is important to you.
Style, many now come with their own brand stying and some are more pleasing to the eye than others if this important to you.
Sizing if you are not in the normal size range your choice may be limited.
Are Simms waders worth the money?

Yes, they are more an investment in your fly fishing than a one-use item. They will last many years more than most brands if looked after properly divide that into the cost and it works out a decent spend.
What do you wear under your waders?

Whatever you do, don't wear jeans, polyester or wicking fabrics like merino wool or fleece bottoms that allow for better movement of perspiration and fit nicer so there is no bunching.
How do you know what size waders to buy?

Most manufacturers have a size guide on their websites to allow suitable choices when deciding to buy.
Are breathable waders as warm as neoprene?
On their own no, but layered up with fleece bottoms they can be toasty. The benefit is they don't become as wet as neoprene from sweat build-up.
Do you need waders for fly fishing?
No, they are not necessary on some occasions but if fly fishing a river they allow better casting options and approach to sections unobtainable from the bank.
Are waders dangerous?
That's a myth! Waders are perfectly safe and if worn with a wading belt they can actually help you float to safety after falling in. Common sense must be used though.
Final Verdict on the Best Breathable Chest Waders for Fly Fishing
Woohoo! So you have your pair of breathable waders with you. You have put them to the test and it has endured all abuse and brutality and doesn't look out of shape.
What next? It is on the better side that you ensure you get the best out of these waders and this is the point we need to make you aware of what to do to ensure you achieve longevity and performance at the same time.
Usually, breathable waders unlike neoprene or rubber waders are low maintenance and doing two or three things will prolong their life.
---
Here are a few dos and don'ts that will save a day and a coin:
Make sure you dry your waders in between uses. Thorough drying both in and out will prevent the growth of mildew. Mildew breaks down any material on all sides tampering with their performance. If this happens before your wader's warranty elapses, it is rendered void. More so, hang them using the center-back hanger loop on a hanger right side out. It should be in a cool and dry place.
---
Zipper care is very important. Some manufacturers use the YKK Aquaseal zippers which are easy to maintain while others use the usual metallic or plastic zippers. Keep the zippers free from oils, scum, and dirt. Ensure fishing lines and debris are away too. If the zipper catches any foreign matter, it is likely to get damaged. Refrain from forcing a stuck zipper. Back it off in the opposite side, clean the whole zipper and use lube on it to ensure it runs smoothly then you can use it again. Use lubricants and zipper protectants that are of good quality to ensure prolonged performance.
---
When washing, it is advisable to hand wash the waders using a proper cleaning product for waterproof fabrics in lukewarm or cold water. Do not rub with your hands. Use a soft rag to wash and remove as much dirt as possible. Hang to dry and use a DWR spray reviver on your waders once they are completely dry. Machine washing causes abrasion, bunching, and catching during the cycle. Soaking the inner seams is also discouraged.
---
During transit to and from your fishing spot, roll them and avoid folding them. Folding adds stress to crease points putting them at risk of breaking down with time.
---
If you don't intend to use your waders for a long time? Hang them upright or lay them flat on a dry surface.
---
You might be fishing in the sun which is a good thing to do. Quite understandable. When not in use, like when drying, avoid the sun. The ultraviolet rays break down the Durable Water Repellent coating and other waterproof coatings reducing your wader's lifespan.
---
Don't leave your waders is the vehicle during hot summer days the heat will break down the DWR layer and weaken the seam's glue.
---
Major recap: until this point, you have noticed that the majority of the best breathable waders are stockingfoot waders. Why? Because most of the time, boot foot waders will have problems fitting because of the attached wading boots.
There is a bunch of combination possibilities especially when it comes to the types and features of the best breathable waders.
---
Confidence is among the vital attributes that can help any aspiring angler to take their fly fishing skills to the next level until they earn a professional or expert title. It is possible to build confidence and achieve this by investing in the right type of breathable waders.
---
Waders allow you to quickly leave the river banks and move closer to your catch. Having waders with the basic and necessary features is good to start off with.
---
Other extra features can be matters of personal preference and financial plans. Our buyer's guide has a selection of more than 15 best breathable waders placed in their price categories.
---
It doesn't matter if you are shopping on a budget or are having more than excess to spend, there is something for every angler on our guide.
---
You and I know that purchasing apparel and gear online can be overwhelming. Today you land a fitting wading jacket, tomorrow a baggy and annoying wader, and the next day very tiny fishing vests.
---
We have done in-depth research and are confident with the findings that what we have on the list are sizeable, have a great fit, and are comfortable to wear for longer periods.
This is from thorough scrutiny of user reviews online to confirm that we bring you nothing but the best choice. Despite a few critics here and there on several breathable wader features, we are confident the waders in our list will benefit your fishing experience.
That is pretty much it! As always, your views are valued.