The sport of fly fishing has increased dramatically over the last 10 or 20 years. Materials used in the manufacturing of fly fishing equipment has become lighter, stronger and more durable and flexible.
With the introduction of these new materials fly fishing manufacturers have been able to incorporate them into their products making for a long list of the best fly fishing rods available on the market.
In the old days fly fishing rods were made originally from split cane which was very heavy very sally and quite difficult to cast. With the introduction of fiberglass in the 1940s, these rods became a bit lighter and more flexible and now with the introduction of carbon fibers again the progress for lighter and stronger materials better fly rods are being produced.
Apart from strength of the actual rod other aspects of the rod worth looking at are the reel seat which holds the reel, the handle type, how the sections are joined together and the overall finish of the best fly fishing rod 2021.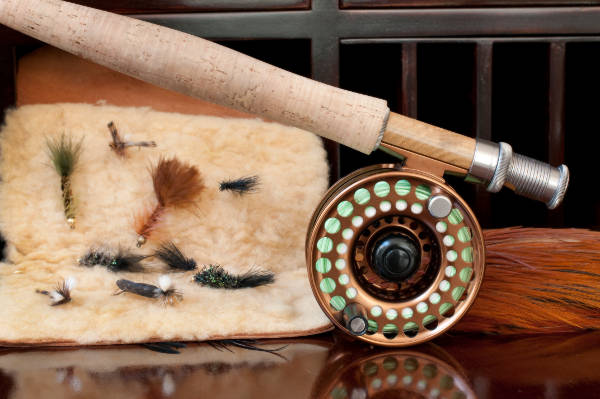 When looking for a new fly fishing rod it is first beneficial to decide what kind of fly fishing you're going to be doing.
There are so many types of fly fishing and not one rod will do all, there are some that will do a few but will go into that detail later.
For instance, if you're thinking of fishing saltwater for tarpon or striped bass etc or large sport fish then you will need a fly rod that is weighted between 8 and 10 preferably.
If fishing for stillwater rainbow trout maybe a 7 weight would do and on a river you would go down to maybe a 4 or 5 weight as the river gets smaller.
It is imperative therefore that you try to decide on which of these areas you're going to do the most fly fishing.
You can get a rod for instance for saltwater fly fishing what you could use on a river with a lighter line but that rod will not be properly balanced and will hinder your progress. It would be better that you purchased a second rod for the river with the correct weight.
As most people start out their fly fishing experience on a river we will work this post on a 9 foot 5 weight which will be ideally setup for fishing for trout in the range of 1-2 pounds in weight.
So for our 9ft 5 weight fly fishing rod what characteristics or features do we expect to see?
Most fly rods nowadays come as a 4 piece set up. That means the road is divided into 4 equal length pieces it makes it easier for traveling and that you can break the rod down easily to put into the boot of a car or take on an airplane. There are also some examples of rods out there called frequent flyers which come in 6 or 7 pieces again breaking the rod down even smaller for easy portability.
One thing I would say the more sections a rod has the more it affects the action because each join will affect the flex from the butt to the tip of the rod.
Saying that materials have got so much better nowadays that this is minimal and a beginner will not really notice a difference. It has been said that a 1 piece rod has the best action as it is made in one continuous piece but this is not practical in any sense.
I would say a 4 piece fly rod would be perfect for our example however you can get some two pieces on the market today and these are good because there's only one joining section but I wouldn't make the decision between a 2 or a 4 on price either would do perfectly well.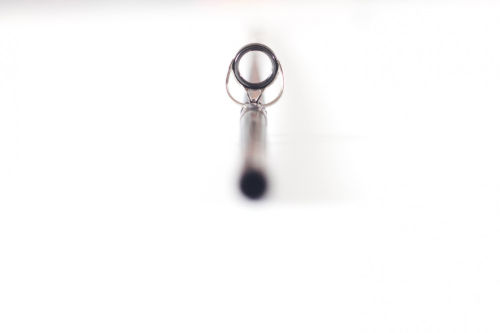 Next you'll have the guides these are the little eyelets that hold the fly line up the rod typically you may have two at the bottom close to the butt which will have a ceramic disc which are called the stripping guides and take the most pressure while your stripping line in the retrieve. After that you will have several wire guides, these can be made from different materials with the top end products being very smooth which aid in casting speed of the line.
Not totally imperative but the guides can make a difference in casting distance.
Some manufacturers especially as you go up the quality will have a nice little line and dot setup at the joint so you can make the rod align nice and straight.
While lining up your sections and guides correctly will make the line move a lot quicker through the rod as you fish. However, your rod will be induced to torque from your casting and your guides may slightly move offline so it's important therefore that you check this from time to time to keep them straight.
Next we have the reel seat. These come in a mixture of different materials the better ones would be of an aluminum based so they are slow to corrode and very lightweight. The reel seat would be incorporated into the cork part of the handle this cork will come in different grades the better. The grade triple AAA is the smoothest in your hand and will hold up to weathering better.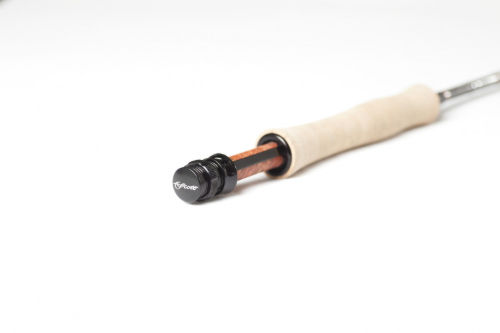 There are different types of handles mainly half wells and full wells this is more to do with the grip that your hand will have placed on it and it can be a personal choice I myself like the full wells.
It seems the smaller rods will have the half wells while anything over 6-7 weight will have full wells which also goes up further into double handed rods which we are not thinking of here.
The last part of the fly fishing rod would be the tube that it comes in, some manufacturers provide only a cloth bag while others will give you a Cordura tube or an aluminum tube which is stronger again.
These are used to protect your rod while traveling to and from your fishing destination.
A rod left in the boot of a car just in a cloth bag can get broken very easily when other gear moves when traveling.
Although the carbon-fiber is particularly strong when flexing and casting fly lines and handling trout or other fish, however to get it knocked with something hard can cause slight damage that will then cause the rod to break while fishing.
Even dropping your rod accidentally on the bank side or in the bottom of a boat can cause a slight weakness that you may not see at the time but will damage the rod when it is next flexed.
It's important therefore to be wary of the warranty setups with the different manufacturers some allow one year some five-year some have a lifetime.
Although some of these will say there's a Lifetime on a particular rod they will still charge you carriage costs to get it replaced typically $30 to $40 to send the piece to you. That can be a lot cheaper than having to pay for a new rod though so worth checking out beforehand.
Warranty can make the difference between having a good product for a lifetime or maybe only a few years but if you can learn to look after your fly rod correctly keep it well protected while traveling to and from your fishing venues and also protecting it while you're fishing.
Protecting while fishing just means watching where you cast and always being wary of bankside vegetation in your way or overhead wires etc always be in the lookout for hazards while you make the forward and backstroke.
If you learn to look after your rod well from the start it will stay with you during your lifetime of fly fishing I have broken many rods some through my own fault some through fishing. It's not nice when it does but its not the end of the world either when it does as most manufacturers will have spare sections, you may be out a few dollars to get one but it's cheaper than buying a new rod. The only downside to this if the rod is older sometimes spares are no longer available and you will have to go get another.
---
Best Fly Fishing Rods over $350 top range materials, power and flex highly finished blanks
So to our first section rods over $350. In this section, we would expect to find good quality materials, lightweight rods with good accurate action. The rods will also have top grade cork on the handle and the reel seat will be light and string. Additional highlights are section alignment dots and the types of guides used. Also, the addition of a good rod tube will be provided.
---
G Loomis NRX Trout Fly Fishing Rods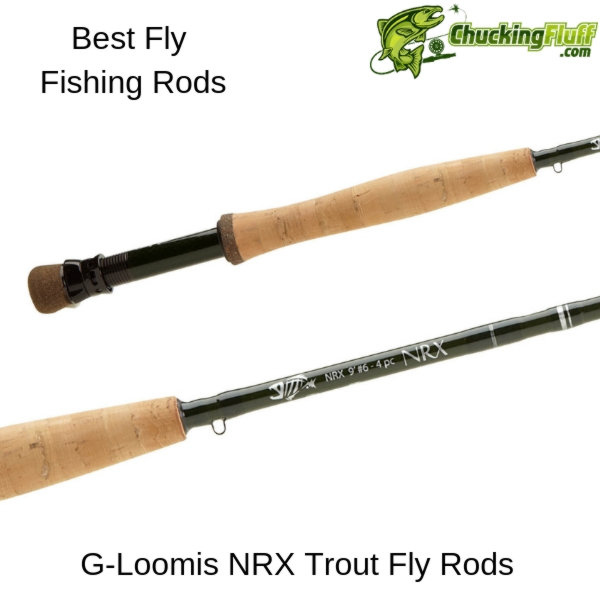 Rod Spec – 9 Feet 3-12 weight 2.9 oz
Rod Action – Moderate stiff
Materials – High modulus graphite and resin combo
Guides – Aluminum titanium carbonitride coating super zip.
Number of Sections – 4
Handle – 6.75 inches, half-wells high-density cork
Reel Seat –
Tube – Aluminum
Warranty – Case by case but will do best to get a replacement to you
The G Loomis NRX series rods are what you want when you need perfect accuracy, line control and maximum casting range. When you pick up a NRX you might think this incredibly lightweight rod will not be capable of handling itself with a large trout.
Neither will you expect it to cast as accurate with incredible speed. Something you will notice immediately is the unique construction when compared to other rod manufacturers. The difference lies in the materials used.
G Loomis combined Nano Silica resins with high-density carbon in their NRX range. This combination gives you an entirely different feel than what you are probably used to.
Incredibly sensitive, durable, lighter and at the same time stiffer than usual. You need to heed this warning though regardless of how much you like the look or feel of this rod. You must be an advanced caster or planning that you will get there soon.
I assure you once you cast with it you will practice until you are classified as an advanced caster. The main reason why it was designed for advanced fly fishing is its ability to cast into the wind while remaining accurate and a long way too. On top of that would you be capable of handling a rod that comes with a lot of line speed too.
I do not recommend it for a beginner that is not used to fast action rods. Picking it up even before you hit the water you know you hold a crisp, light rod that will feel each vibration through the line, the fly and obviously when you hook your fish. If you are looking for a fly rod with excellent fast and accurate performance that's gorgeous to look at, this one's for you.
Check out our In-depth NRX Review
---
Hardy Zephrus FWS Fly Rod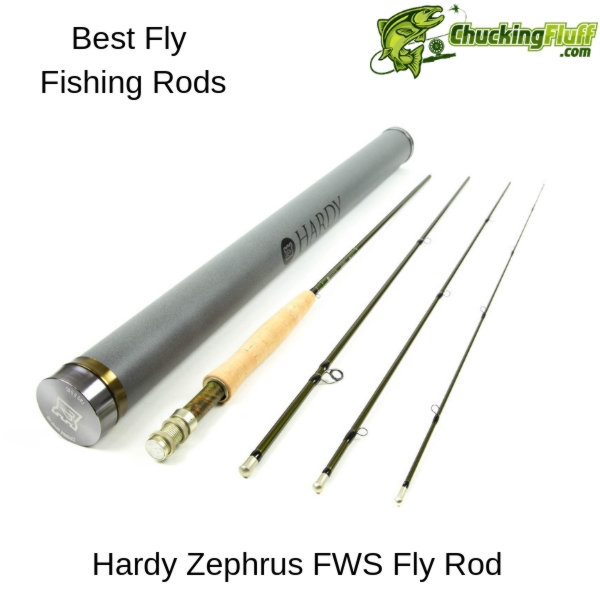 Rod Spec – 9 Foot 5 weight 2.9oz
Rod Action – Fast Action
Materials – Sintrix 440, 3M nano wrap mix
Guides – Silicon insert carbide SiC stripper and Titanium one foot recoil guides
Number of Sections – 4
Handle – Half Wells high density cork
Reel Seat – Aluminum with wood underlay. Double Locknuts
Tube – Matt Grey metal tube
Warranty – a lifetime for the original owner
First off before going into the nitty-gritty, make sure that when you choose a Zephrus for fly fishing you need to be specific about the models.
For example, the FWS model is for Freshwater, while the SWS is saltwater and the AWS is all water. The initials make a big difference as the FWS is much lighter than the other two.
If you know Hardy rods, you will realize as soon as you touch or cast the Zephrus FWS that it is by far the most accurate and finest of their rods. Sintrix 440 resin is proprietary to Hardy which is a combination of 3M Nano-silica resins that produce a graphite rod that stands out from the rest.
The swing weight of the FWS is incredibly light which might feel as if it will fly from your hands. You will find that short casts are not great though, while mid and long-range casts work perfectly. Especially at long distances, you will find you can throw very tight loops.
Something you will love about the Zephrus FWS is that it is suitable for all ages and experience levels.
It handles fish unsurprisingly well and capable reeling in up to eight pounds easily even though you might feel a lot of feeling through your rod, you will not feel under-gunned.
You will love this freshwater rod that can handle windy conditions rather well. It is better suited for longer casting and would be better for an intermediate to advanced angler.
Zephrus Amazon Reviews and Price
---
Orvis Helios 2 Series Fly Fishing Rod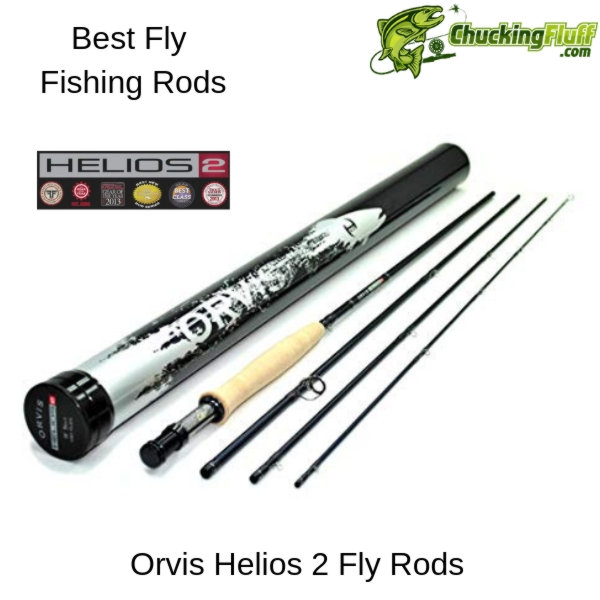 Rod Spec – 9ft 5 weight , 2.5oz
Rod Action – Mid to Fast
Material – Carbon fiber specially developed by orvis
Guides – Crushproof REC Recoil® guides. Titanium nanolite ceramic insert stripping guide
Sections – 4 Alignment dots
Handle – Half wells high grade cork
Reel Seat – Aluminum with burled wood insert
Carbon rod tube
Warranty – 25 years
The Orvis Helios 2 is light, strong, powerful, smooth and beautiful in design.
This fishing rod (Orvis Helios 2 series) has a proprietary material which is integrated onto the tip of the rod to enhance its strength and for a weightless impact. In fact it is 20% lighter and 20% stronger than the Helios 1 model a decent improvement by any standard.
The tapers on the Helios 2 Fly Rod are designed in a way that the fly rod transfers energy along a smooth curve.
Orvis Helios 2 series come with varying rod lengths however this review is for the 9ft 5 weight which is in 4 sections and has midnight blue blanks with accentuating wraps.
These fishing rods come with graphite reel seats with burled wood insert. The Tip-Flex construction of Helios 2 series provide great smooth performance and is a powerhouse, well-designed that can handle any situation. 100% stronger from the previous.
These extraordinary fishing rods also bring in Super-graded and modified full wells freshwater handles.
Helios 2 fly fishing rods are durable to throw in the back of your truck, but look stylish and cool enough to hang on your wall!!! These rods have Ultimate lifting power and show no compromise with durability.
Hold a Helios and you will realize that you are holding something special that is designed for you. The Helios 2 fly rod is precise, accurate and smooth as butter. No doubt that the Helios 2 series fly fishing rods are extremely powerful!!
If you are a fishing addict, give it a try to you will fall in love with it. Now with the Helios 3 released onto the market the price of these has come down and a good time to buy.
Helios 2 Amazon Reviews and Price
---
Scott Radian R905/4 Fly Rod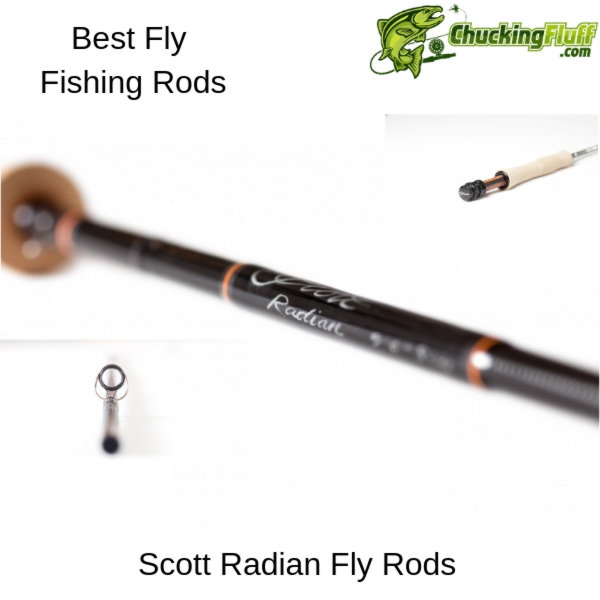 Rod Spec – 9ft 5 weight, 2.8oz
Rod Action – Fast intermediate to advanced
Material – Unlike other rods Scotts are not sanded leaving the natural look of the graphite this means no flat spots and weakening of the finish. ReAct and ARC technology
Guides – Snake Brand Universal radius feet anti-corrosive self-lubricating. Silicon carbide (SiC) rings are diamond polished to create the smoothest surface
Sections -4
Cork – full wells
Reel seat – anodized with wood insert.
Tube – Aluminum
Warranty – Lifetime
Line – Rio Grand or SA GPX
The Scott Radian R905/4 Fly fishing rod is indeed one of the best fly fishing rods ever produced, and we aren't just saying that. Measuring in at a glorious and imposing nine feet long and available with a variety of optional colors for the backing and reel this stallion of a rod is sure to turn heads wherever used.
Don't be fooled by looks. However, the R905/4 has the performance ability to back up all those pretty features. Due to its all-purpose five weight rating paired with a sensitive tip and powerful butt, this rod is capable of wrestling all sorts over any fishing distance.
Its composite resin frame is made to withstand the tremendous strain and has been engineered by the company with immense care. In fact, the Scott company has such faith in their rod's shaft integrity and quality that they offer a lifetime warranty with every rod.
To make things even more special, the R905/4 also has a pair of hidden weapons built right into her very bones called ReAct Technology and ARC technology. Designed to minimize vibrations and maximize torque respectively to conserve the user's energy they both work wonderfully to make the rod feel less like a tool and more like a treat to both newbies and experienced fisherman.
If that deal isn't enough to sell you on the work of art rods, Every Scott Radian rod is handcrafted in Montrose Colorado with cherry-on-top traits like Titanium frame stripping guides, custom reel seats made to include elder spacers, and imported Portuguese cork for the handles.
To maximize the effectiveness of the R905/4, several line recommendations are made by the Scott company for use with the R905/4 including Rio Gold, Rio Perception, and Scientific Anglers. With all the science and engineering involved however one simple fact remains, using this rod just feels right, so what are you waiting for? Get yours now!
Radian Amazon Reviews and Price
---
Sage Bolt Series Fly Fishing Rod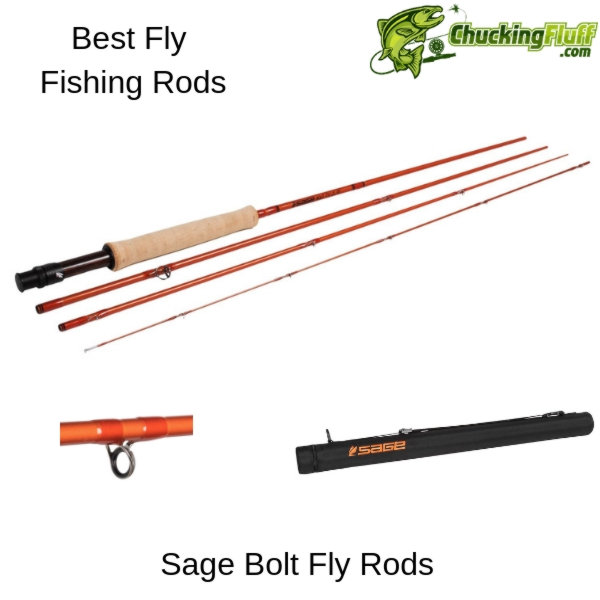 Rod Length – 9 feet 5 weight
Rod Action – fast action
Materials – Generation 5 Technology
Guides- Fuji ceramic and hard chromed snake guides
Sections – 4
Handle – Half wells high-density cork
Reel Seat- black anodized with rosewood insert for freshwater
Tube – black ballistic nylon tube and rod bag.
Warranty – Lifetime original owner
If you love fly fishing in relatively bad weather that includes strong winds you will not go wrong with the Sage Bolt. The Bolt uses the Generation 5 Technology that is the Sage trademark.
You need to be experienced to cast long distances in the heavy wind while using an ultra-fast action rod. If this is you, then you will love it. You can expect very quick recovery with incredible line speed regardless of the distance. Wind, rain and demanding conditions are a breeze when you cast with a rod like the Sage Bolt.
While you might not need persuasion to spend any amount on a decent rod, you get a bargain with the bolt series. It is one of the best while still moderately priced. While it is still not cheap, you get a top of the range rod capable of great distances.
If you ask, who is it for aside from ideal when you do not mind the weather, the answer is simple; it is for anyone who loves a powerful rod without a beefy feel. It feels quite stiff when you handle it initially, but therefore it handles line so well. You will hold extreme line lengths in the air when you go extreme lengths for sure.
As an American-made rod, you can know that it might become the go-to river rod used by American and Australian Anglers. Like the saying "orange is the new black" you can say the Sage Bolt is the rod for accurate, quick casting using ultra-fast action with a mid-range.
You will notice that it is a mid-range rod, but according to all reviews from seasoned anglers, everybody that used this bolt agrees you can go extreme distances with it. Something notable of the Bolt series is that Sage caters for all waters with their unique numbering of the rods. While they are all nine-foot rods, they number their rods from 4 through to 8. The number six is excellent for chalky streams, while you will not go wrong with stormy seas, reef edges and strong winds with a number 8.
---
Hardy Fly Fishing Demon Single Hand Fly Rod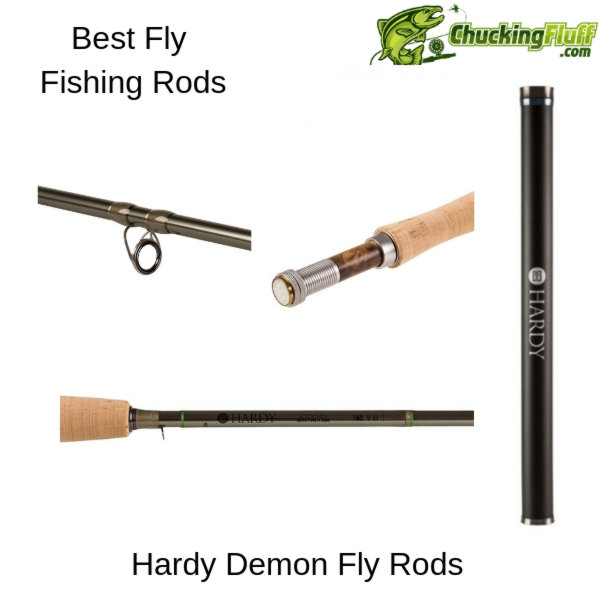 Rod Spec – 9 feet 5 weight, 3oz
Rod Action – Fast Action
Materials – Sintrix 330
Guides – Fuji Titanium Striper Sic, snake single leg
Pieces – 4 pieces
Handle Material – high-quality cork
Reel Seat – 6061 aluminum
Tube – custom aluminum tube engraved cap
Warranty – Lifetime to original owner registered within 60 days.
If you are familiar with Hardy rods but haven't used the demon single hand fly rod yet, you will find it is different from previous designs. The Demon is redesigned for improved hand balance using one hand, much faster recovery, lightweight and strength is significantly increased too.
When you hold a Demon in your hand you can face a massive wind-swept lake to a smooth day out on the water. The fast action of the Demon allows you excellent flexibility in the tip when you cast but the recovery after flexing is almost immediate.
I suggest you are a talented caster when using this long-distance rod as it will give you increased control over the loops when casting back and forth using one hand. If you plan to get some casting lessons to master single-hand techniques with a fast action you will master the double-haul too.
Unlike other rods, this rod never bounces to upset line progress through the air. If you are less experienced, you might find the fast action a bit too quick to get your timing right especially when the winds are strong.
Even though few anglers compromise on price when looking at a decent rod, you will find that the Demon is the least expensive in the Hardy range.
While you will get away by casting closer you will definitely find the Demon Single Hand thrives when you haul the rod as far as possible. When you look at the online reviews of this rod I have to agree with everybody. It continuously gives you receptive and straight action landing exactly where you aim.
Demon Amazon Reviews and Price
---
G Loomis IMX-PRO FW Fly Rod – 6wt 9'0″ 4pc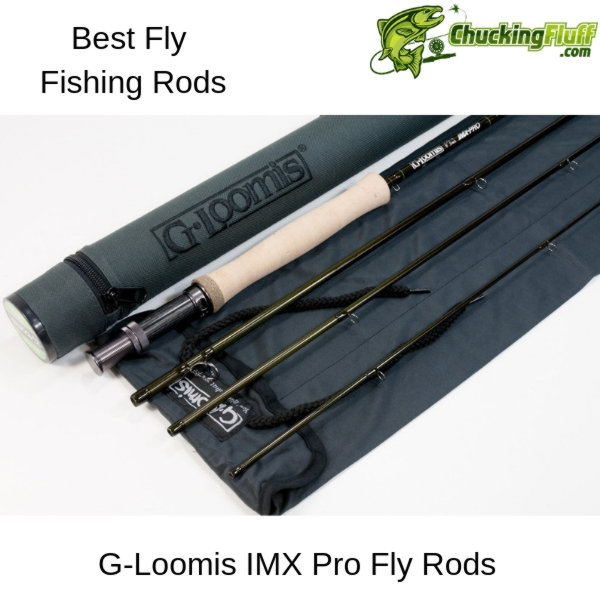 Rod spec – 9 ft 6 weight 3.2 oz
Rod Action – Fast-action
Materials – IMX-PRO MATRIC Technology
Guides – Fuji stripper guides single-foot snake guides
Pieces – 4 pieces
Handle Material – Full wells Cork
Reel Seat – Custom ported aluminum and wood insert
Tube – Cordura
Warranty – Limited Lifetime Warranty and the G. Loomis Xpeditor service
It might sound too good to be true, however, when you look at the IMX-PRO or use it once, you know you are looking at a PRO rod. It is one of the few rods on the market that were manufactured according to the specification of professional anglers. How can you go against that?
This is one of the few rods that even meet the demands of high-performance trout fishing aside from fly fishing. The material or technology used in the IMX-PRO was specifically designed for this rod.
Using a multi-tapered design with Conduit Core technology you will feel the difference between this rod and another manufacturer. It is based on using less graphite in wrapping and the result leaves you with an incredibly fast, long action rod.
It is based on delivering a rod that maintains its durability and power, while it has increased sensitivity and much lighter. Once you cast this rod you will immediately feel its responsiveness.
You should take note though that the IMX-PRO range is diverse with a long list of rods of various lengths, pieces, and actions. The 6 weight, 9 feet rod is of fast action and specifically designed for trout fly fishing in particular.
When you love serious adverse condition to do some fly fishing you will not go wrong. Extra strong winds and very technical shots are something most professionals will struggle with when they have the wrong rod at hand.
A ramped-up breeze that turns into a strong blaze and long casts are what this one was made for. At the same time can you do equally well in tiny dry flies and delicate tippets too. An excellent rod for intermediate and advanced anglers who likes a challenging fly fishing expedition under harsh conditions.
IMX-PRO Amazon Reviews and Price
---
Best Fly Fishing Rods priced between $150 and $350 – Hidden gems in middle price point!
In this category you will see rods with less high-end quality features, the carbon will be a little heavier and not as strong as some high-end market. The reel seats will not be a finely highly finished and the cork grade may be a little less, however for a beginner, these rods are as good as someones professional fly anglers still use. Manufacturers are always coming up with ways to make cheaper rods while not dropping too many of the option the high-end ones have and in the range, you will find some.
---
Moonshine Rod Co. The Drifter Series Fly Fishing Rod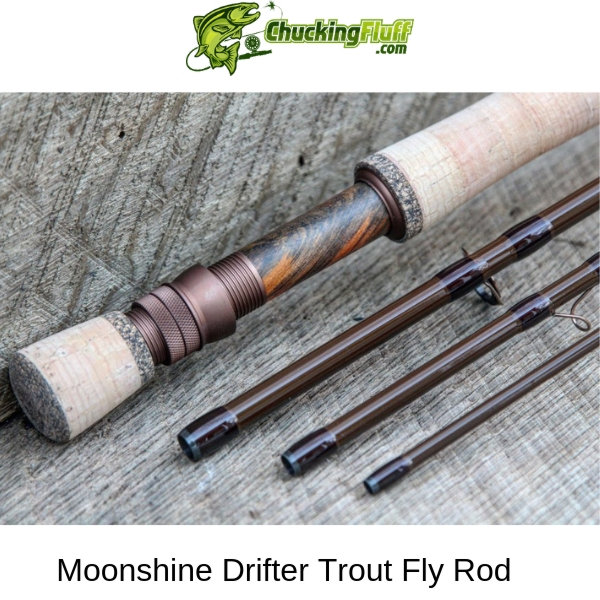 Moonshine Rod Co. The Drifter Series Fly Fishing Rod is an all-round rod. Its action is upbeat- medium action. Don't think about the sensitivity because it is faultless so far. If you compare this rod with popular brands, you will confirm that it beats many of them. It takes a vintage color scheme and for its worth, you have more than you can imagine. This is a rod for anglers of all levels thanks to its effortless casting ability.
Graphite is the material used on all rods by Moonshine Rod Company. It is light in weight and its durability is undoubtable. Something that can last decades and more.
The rods in this series come with a 5 compartment rod tube made of canvas which is weatherproof and durable. Its interior is sectioned to ensure that your fly rod breaks smoothly during enclosing to ensure transportation and portability is stress-free. The Moonshine Logo embroidered on it depicts class.
The reel seat and other hardware are made of anodized copper to add to durability. Copper is among the strongest metals.
Cork grips have burled ends and are gentle on your palms. You do not need a pair of protective gloves. No blisters.
Moderate action rods are loved for their versatility, more forgiving nature, flexibility and ability to offer good stiffness levels. As you cast, the rod bends moderately. You experience improved line control, good accuracy and you can use it in different fishing conditions.
What sizes are available? You can find these sizes of the Drifter series from 3wt 7'6'' to 8wt 9ft. The difference is in the line weight and the length of the rod.
This manufacturer is known for its no-fault lifetime warranty. The warranty page has all the details with regards to which types of repairs and replacements will be catered for.
---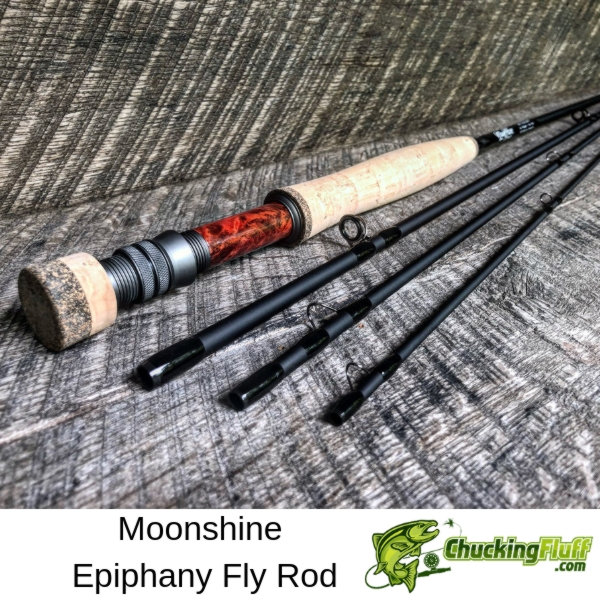 European nymphing is a different way of fishing nymph and it is distinct from traditional nymphing because you will maintain a direct connection to your fly at all times. Forget about bobbers, plus will not be casting a fly line-only the leader. By this, you need a very light rod to give you the highest accuracy levels and one of them is the Moonshine Rod Co. The Epiphany Series (Euro/Czech Nymph Style) Fly Fishing Rod.
This graphite rod is lightweight, durable, flexible and less brittle. The rod holds more resistance resulting in high performance compared to fiberglass rods.
Its fighting but is removable to allow an angler balance the length of the rod. You cannot doubt the flexibility. However, you can choose to use the rod with or without a fighting butt. Your skills will speak volumes here.
The rod weighs 3.1 ounces-quite light compared to other rods. Thanks to the material used during construction. New anglers will find this length to their advantage.
To its dimensions, the rod is 10 feet long. One foot longer than the standard length. It is a 4 piece rod but has an extra tip included. The matte black color tones down the glare when the rod is reflected on the water surface.
The rod has black wraps and high-quality anodized hardware on the real seat and the rod. This makes its use effective in all types of water.
The spalted burl is hand turned and well dyed to show off the graining in the burl- quite aesthetical. You will find it a beauty.
An embroidered rod case allows for easy storage and transportation of your fly rod. To avoid damage when not in use, use it.
There is a no-fault lifetime warranty that will cater for replacement of your rod and other repairs. All these will be indicated in the terms and conditions section.
---
Redington VICE Fly Fishing Rod w/ Tube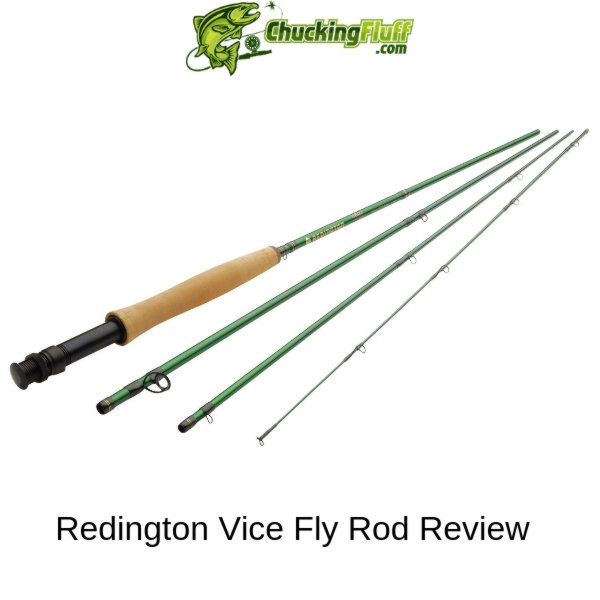 Redington VICE Fly Fishing Rod w/ Tube offers great casting, high accuracy levels and control. It is non-discriminative and is usable in all types of water. Craftsmanship is something it boasts about. The color scheme, performance, versatility and affordability make this rod irresistible.
Blanks made of multi-modulus carbon fiber are important for accuracy and greatly increase the levels of line recovery as you cast. Something unique about the VICE.
Designed as a fast action rod, an angler can shoot the line a longer distance and will often land bigger fish. You easily survive the winds with this type of rod.
The ceramic stripping guide will add to castability of your rod. Anodized snake guides provide functionality and performance. Both guides are of the same color.
Redington has a laser-etched reel seat on this rod. It is made of anodized aluminum to allow it to perform well in salt water too. Anodization is a special treatment that prevents corrosion and rusting. The etching is for quick and easy line identification.
A Reversed half wells cork handle is on the small-sized rods while larger weighted rods have a full wells cork handle that has a fighting butt. All of them are safe on the hands.
The Cordura rod tube is for maximum travel protection. Its interior has dividers to allow the rod disintegrate easily into its four pieces to reduce the chances of breakage and damage during traveling.
A limited lifetime warranty to rod replacement only is issued by Redington. Damages as a result of using the rod will not be catered for.
Redington has the VICE in different sizes ranging from 3 WT 7'6'' to 9 WT 9'0''. So many models to choose from depending on your use. The rod lengths vary but the longest of them all is the 10 feet while the shortest is the 7 feet.
---
Douglas DXF Fly Fishing Rod DXF5904 9′ #5
Rod Spec – 9ft 5 weight, 2.9 oz
Rod Action – Fast action
Materials – High modulus blanks
Guides – Hard chrome guides
Sections – 4 pieces, alignment dots
Handle – RHW AAA-Grade cork
Reel Seat – Double locking, wood insert
Tube – Cordura tube
Warranty – Lifetime to the original owner
When you buy a normal Douglas rod you know you have a high-quality rod in your hands, however moving on towards the DXF range you get a premium rod. Within the DXF range, they aimed at specific anglers fishing in different environments and species.
The DXF 5904 9 feet, number 5 referred to here is ideally set up for trout fly fishing. You could be skeptical about buying a DXF as it's a fairly new company, but rest assured the designer Jim Murphy came from Hardy and before that Redington and Albright. He is one of the best fly rod designers out there and done amazing work if you need a little bit of background on the DXF.
Trying it at a short range of around 25 feet you find it's accuracy reasonable, but it lacks the smoothness. You will feel as soon as you cast that it feels too stiff into the rod's third section and this is where the accuracy fails when casting short distances.
Casting it at mid-range of 45 feet and immediately you will feel a difference. There is more improvement however when casting with a fast-action at that range and the accuracy is improved significantly with better loop control too. Now I can say with confidence that you must cast this DXF 5904, #5 at greater distances of 70 feet and more to really see it's performance, here it excels.
When you consider it's low price, which is moderately priced, you know you have value for money. It feels like a pro fly fishing rod that has a massive price tag and classed as one of the best long-distance rods.
Take note though that you need to put some action into your cast as this is what it was designed for. The stiffer tip of the DXF hits the mark accurately, the tracking is incredible, and you have amazingly tight loops. The 2.9 ounces of the 5 weight tells you that it is a lightweight rod and while most of these weights typically cast better at mid-range, let me tell you now that it wants a fast-action long distance cast.
If your looking for a rod to cast at distance then without spending a packet the Douglas DXF could fit the bill perfectly.
---
TFO BVK Series Fly Fishing Rods
Rod Spec – 9ft 5 weight, 2.9 oz
Rod Action – Fast actioned
Materials – Braided carbon fiber
Guides – Hard chrome and stainless steel
Sections – 4 pieces dot alignment
Handle – RHW AAA-Grade cork
Reel Seat – Anodized double locking
Tube – Cordura tube sold separately
Warranty – Lifetime for the original owner
When you look at the low entry prices of the TFO BVK range you may be skeptical, but only until you try it out. This is one of the finest highly tuned rods out there. If you need a rod for close accurate casting you can skip this series of rods. Neither one of the rod lengths and weights performed well at 25 feet. They are simply too stiff and seriously lacks finesse with zero accuracy.
Only once you cast further at mid-ranged 45 feet will you feel the improvement. At this distance, you actually land where you aim. As soon as you go beyond fifty feet and peel more line you actually appreciate the TFO BVK range.
You might have found that very few stiffer rods handle accuracy well even when it is a lightweight rod like this. While the pricing might put you off as simply too cheap, you can rest assured that while you save for excellent trips with your low-priced rod, you get impressive performance.
Where many use their cheaper rods as a backup, you will use it as primary rod once you get the hang of the incredibly lightweight and extremely sensitive rod. When you love facing hardy conditions with rainy and windy weather you can take this rod with confidence.
Check out our Review!
TFO BVK Amazon Reviews and Price
---
Temple Fork: Finesse Series Fly Rod, TF 05 89-4F
Rod Spec – 8ft 9in 5 weight, 3.1oz
Rod Action – Slow
Materials – FSG fiberglass
Guides – Stainless steel snake
Sections – 4 pieces dot alignment
Handle – RHW AAA-Grade cork
Reel Seat – Double lock nuts Rosewood insert
Tube – Cordura tube sold separately
Warranty – Lifetime for the original owner
Like most anglers, you might look first at the price of a rod especially when you shop for a fly fishing rod. I do too, and it is nothing new to give a rod amiss when you see a price in the lower end when you want to do some serious fly fishing.
With the Finesse series from Temple Fork, however, you can buy with confidence. The TF 05 89-4F specifically is aimed at all level anglers. You might own a good couple of rods including expensive big named rods too, but if you have this one in your kit, you will love it for the shorter and mid ranged casts.
While you pay a third of the price compared to most others you do not need to put much punch behind your throw while still achieving great accuracy. While Temple Fork lists it as a slow to medium action, you simply have to try it for the longer hauls too. This is one of the outstanding factors about it, it's different range capabilities and accuracy regardless of distance.
From a boat or from the shore, wind or no wind it performs great. If you like a delicate cast up-close with great tight looping, you have it. Medium distance is perfect too, but what is found with this rod is that when the conditions are bad with wind and you pick a far point to throw, it is very accurate and handles smoothly.
This traditionally tapered rod does very well during fishing trips that involve spring and limestone creeks, streams and then large bodies of water, it's a roll casters dream. Temple Fork will tell you that you should concentrate on short to medium distances and tight quarters due to it's shorter length but give it a go when you cast at distances between 60 and 70 feet.
The Finesse Series TF 05 89-4F is a rod I recommend when you have never done fly fishing and looking for a cheaper option, but an excellent rod. Experienced anglers, on the other hand, will love its versatility during fishing trips.
Finesse Amazon Reviews and Price
---
TFO Temple Fork Lefty Kreh Professional Series II Graphite Fly Fishing Rod
Rod Spec – 9ft 5 weight, 3.8 oz
Rod Action – Medium Fast
Materials – IM6 Graphite
Guides – Hard chrome and stainless steel
Sections – 4 pieces dot alignment
Handle – RHW AAA-Grade cork
Reel Seat – Anodized with braided carbon insert
Tube – Cordura tube sold separately
Warranty – Lifetime for the original owner
You might be like a lot of anglers and buy yourself a TFO Lefty Kreh Pro just to have it as part of your tackle or as backup rod especially when you look at its low price. Believe me, you will continue to use it, once you have tried it out during a fly fishing trip.
You will notice that it is not a very beautiful rod like some, but when it comes down to what it can do, you will agree that it is a great buy. It is supposed to be a medium fast rod, however, when you handle and cast with it, it handles much like six or seven fast action rods.
It feels quite heavier and handles like a heavier rod as mentioned, however, this specifically causes it to show more predictability and extreme smoothness through a cast. While you are supposed to have a few rods in your kit, you will do well in all seasons and all conditions with just the Lefty Kreh Pro during any fly fishing trip.
From lakes to rivers and streams the Lefty Kreh Pro Fly Rod can cover it all. One thing you can say about TFO throughout their fly rod designs, especially with the Kreh Pro, they believe in handling ability and distance. Two very important factors that you get with this rod.
As a fast action rod, you will handle short distances when you are an experienced angler, however, both beginners and professionals will find that during a mid-distance and even greater lengths it handles magnificently.
This is the type of rod you will use exclusively during all fly fishing trips. You will find the shorter lengths do better in creeks and rivers while the longer lengths do exceptional at distances regardless of weather conditions.
Lefty Kreh Pro Amazon Reviews and Price
---
Orvis Clearwater 5 weight 9 ft Fly Rod
Rod Spec – 9ft 5 weight, 3.25oz
Rod Action – Fast
Materials – Helios technology
Guides – Chrome snake
Sections – 4 pieces
Handle – RHW AAA-Grade cork
Reel Seat – Anodized
Tube – Cordura tube
Warranty – 25 years
Orvis has been in the sporting and fishing goods industry for over 100 years and continues to make some best rods as you will see with the Clearwater fly rod. The name Clearwater should indicate to you that this rod is aimed at freshwater fishing, which it is.
When you look at it's moderate price, you might wonder if it's features are equally moderate. However, the moderation stops at it's price. While you will find most anglers with a 5 weight, nine-foot rod in their tackle for allrounder fly fishing, you find that fly fisherman prefer the Clearwater.
Even though you can use it for just about any kind of fly fishing, it is a dream rod of exceptional quality. It is very lightweight and line control is exceptional which makes it perfect for fly fishing. Aimed at both beginners and advanced anglers it maneuvers very well regardless of the weather.
It performs well with wind both from the shore or in a small creek. Also, from a boat down on the lake, it's performance is equally great. I must add though that when you cast to distances of over sixty feet it loses some of it's accuracy and sensitivity.
However shallow and short distances show tremendous control with super tight looping. Moderate distances up to 45 feet proved to be even better even when using weighted flies.
You will immediately feel a bite or a fish with it's sensitivity, making it impossible to miss your fish. When you go on a camping trip or a few days out you only need one rod in your gear then you need the Orvis Clearwater.
Clearwater Amazon Reviews and Price
---
Redington Classic Trout Fly Fishing Rod
Rod Spec – 9ft 5 weight, 2.9 oz
Rod Action – medium fast
Materials – Carbon fiber
Guides – Titanium oxide stripping guides
Sections – 4 pieces. alignment dots
Handle – Half wells, grade AA cork
Reel Seat – anodized, wooden insert
Tube – Ballistic Nylon Tube
Warranty – Lifetime for the original owner
If you are an all-round angler that tries his hand at different kinds of fishing and looking for fewer rods to cart around, I suggest you try the Redington Classic. It is very rare that you find such as good a rod at such a low price, thus is it something to take advantage off.
Initially, this rod was designed specifically with the trout anglers in mind. The problem with the Redington Classic is that many anglers gave it a miss as they thought of it as a backup or beginner rod, simply because of it's price.
However more and more fly fishing was done with it causing Redington and more anglers to take another look at it. While they designed it for small trout in tiny streams, the fly fishing seemed to take prevalence.
As a great moderate action rod, you get the best of both worlds, while it offers enough delicate and sensitive action for small creeks and streams, it is equally successful for a boat, big river, and larger lake fishing.
I must add that it works best at shorter and mid distances though with distances of maximum fifty-feet. It is a smooth loading rod with great flexibility which makes it better for the shorter distances too. It bends delicately at the tip and much more flexible than most of it's competitors.
The deep-bending action of the Redington Classic cannot cast long lines as it results in tailing loops. You would be able to cast a moderately far distance like sixty feet when you do not strike hard and fast, but a smooth throw.
The 3 and 4 weights are very light, very accurate and responsive. The 9 feet, 5 weight rod has exceptional accuracy while better distances of up to forty feet while maintaining accuracy even when the wind is blowing. The 9 feet, 6 weight, however, gives a better distance but loses some accuracy when reaching about sixty feet plus. [easyazon_link identifier="B001T7EN0Q" locale="US" tag="chuckingflu0b-20″]Rio Gold fly line[/easyazon_link] is recommended by many as a good line to use on this rod.
Classic Amazon Reviews and Price
---
Best Fly Fishing Rods 2021 under $150 – You don't have to spend a fortune to get fly fishing
In this category, we look at some of the best budget fly fishing rods available. They are not going to have all the bells and whistles that the top to middle categories have but for someone starting out then that is not a problem. Every manufacturer does a lower end budget rod for the market and some put little to no effort in to produce a nice starter rod, however, there are a few who go that extra mile and come up with a rod that not only can be a beginner rod but one that a Pro will use as a backup rod. These rods are generally a bit heavier, don't have the high-end cork or reel seats but do have good functionality and will get you catching fish which is what it's all about anyway.
---
Redington Path II Fly Fishing Rod
Rod Spec – 9ft 5 weight, 3.2oz
Rod Action – medium – fast
Materials – graphite
Guides – Ceramic stripping guide with stainless steel snakes.
Pieces – 4 pieces, alignment dots
Handle Material – reverse half wells
Reel Seat – anodized aluminum with wooden insert
Tube – Cordura tube with dividers
Warranty – lifetime warranty
The Redington Path II gives you the perfect balance between control and moderate action. It is an ideal rod for beginner fly anglers while experienced angler will love it too.
As an all-round rod, you will find it equally great for boat, shore, slow currents and quick streams too. What I like about this rod, in particular, is it's adaptability to suit all experience levels and conditions.
It's sensitive tip ensures you don't break your tippet in a trout take. Try it from the shore under harsh conditions and you will find it's aim remains where you intended.
Something all anglers love is getting value for money and with the low price you would be forgiven to think it was not worth looking at but the Redington Path is a great rod and one the manufacturer have developed to get more newbies into the sport.
You will find that it does well when throwing short distances but while most beginners do not attempt distances of 70 feet and up, it remains accurate with excellent tight loops. This is the type of rod that will not tire you when you cast continuously all day as your arms do not get sore with the relaxed casting strokes either.
A great beginner rod or a well worth having as a backup for when things go wrong.
Path II Amazon Reviews and Price
---
Fenwick Aetos Fly Fishing Rod
Rod Spec – 9ft 5 weight, 3.6oz
Rod Action – fast
Materials – high-quality graphite
Guides – gunsmoke stripping guide with stainless steel snakes.
Pieces – 4 pieces
Handle Material – reverse half wells high-grade cork
Reel Seat – black anodized aluminum double lock nuts
Tube – cloth covered tube
Warranty – Limited Lifetime "get your Fenwick fishing" program
Something important about the Fenwick Aetos that needs to be shared is that it was known under a different name. Until 2013 it was known as a Greys XF2, thus check if you have it in your tackle box. When Pure Fishing Inc. bought the brand, it was renamed and subsequently sold as a Fenwick.
If you are familiar with the Hardy Zenith, you will find it is quite on par if not better than the Zenith. Take note though that some changes have been brought to this upgraded Fenwick. It is only cosmetic though and predominantly color, changes to the reel seat and contrasting handle colors too.
For the low price, it is one of the best with an impressive performance. You will love this rod that holds it's own against rods that is four to five times it's price. It casts with smooth power, while it remains lightweight and it simply feels great in your hand.
Fly fishing anglers that love this rod will find that you have 17 different fly rods available in this Fenwick Aetos. This 9-foot, five weights, however, is one of the best and favorite from this brand.
As a fast action rod, you will find the tip flexes with perfect accuracy and smoothness. The loading times are impressive and over various distances, it remains equally impressive. Regardless of distance, you maintain tight loops which attune to it's accurate perfect loading.
While you probably know most fast action rods lack accuracy in the shorter distance department, not so with the Fenwick Aetos which remains fairly accurate at 25 feet, but then again with this 5 weight, it is possible to throw a perfect cast at under 20 feet and longer distances though from 45 feet and 65 plus were where it truly shines.
One thing is for certain, this rod is underestimated and undervalued simply because of it's price and appearance of a low-value rod. Beneath it, however, it is a different story.
Aetos Amazon Reviews and Price
---
Okuma SLV Graphite 4-Piece Fly Rod
Rod Spec – 9ft 5 weight, 4.8oz
Rod Action – moderate-fast
Materials –Lightweight graphite blank
Guides -Titanium oxide stripper and stainless steel snake guides
Pieces – 4 pieces
Handle Material – reverse half wells high-grade cork
Reel Seat – Aluminum reel seats with carbon fiber inserts double lock nuts
Tube – Okuma rod bag
Warranty – 1 year
When you are serious about fly fishing you might decide to give the Okuma SLV range a miss, as such a low price could indicate low quality and poor fishing. I am here to tell you different as hundreds of satisfied customers will repeat.
It is the perfect rod when you are a beginner and do not want to spend too much while seasoned professional anglers add this brand to their gear. The quality is good, while it is a well-balanced lightweight rod.
With it's lengths and moderate-fast action, it does cast more like a fast action though and compared to other rods of the same weight it does feel slightly heavier too. The Okuma SLV is equally capable for use at saltwater flats, large rivers, and small streams as well as fishing from boats too.
There are loads of rods in the range and the shorter lightweight models are great for the small stream as the 10 weight 9 ft is great on the estuary or saltwater boat. However, the 9ft 5 weight is the best all-rounder and will cover many situations.
It does well as far as accuracy and tight looping are concerned and delivers perfect long-distance placements. This is a great buy when you want to diversify with species and conditions while you are a fly fishing beginner.
IMX-PRO Amazon Reviews and Price
---
Tailwaters Toccoa Fly Rod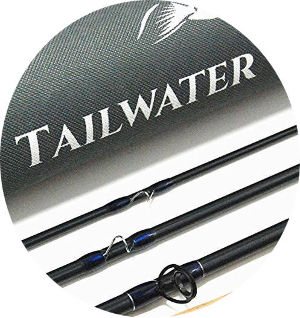 Rod Spec – 9ft 5 weight, 4.8oz
Rod Action – Fast action
Materials – IM8 graphite
Guides – Ceramic stripper, chromed snakes
Pieces – 4 pieces, alignment dots
Handle Material – reversed half wells
Reel Seat – Machined aluminum, with double lock nuts
Tube – Cordura tube
Warranty – lifetime warranty
When you see the Toccoa Fly Rod for the first time you may not expect too much when you consider it's cheap price. However, it uses high-quality materials and these materials allow it to perform with accuracy and durability. It is one of a favorite "cheapies" in many anglers gear and many other professional fly fishing anglers will tell you the same.
It comes as 4-piece for convenient travel and one of the few cheap rods that you get in a Cordura tube. Chromed snake guides that prevent line breakage with less friction and abrasion, half-wells cork handle and machined aluminum reel are a few of the high-quality features you predominantly find with expensive rods.
Its performance though is what impresses most. Regardless of where you want to fish boats, lakes, streams, rivers, creeks, it handles it superbly. Take a narrow creek and cast real shallow and you will have an incredibly accurate cast with no twisting lines. Large bodies of water and you want to cast long distances are no problem either and this is where it truly shined.
You will find that with it's fast action it is capable of short, medium and long-distance casting with equal accuracy. The 9 feet, with both 5 and 6 weights fished during windy conditions and strong currents and you will find the Toccoa handles it like an expensive professional rod that is ten times it's price.
I highly recommend you buy this rod when you are a beginner angler looking for a high-quality rod that performs, but professional anglers that want bang for their buck will love it as well. It's amazing how much high quality features this rod has for the low price tag. The only negative thing to say is it is a bit heavier than the top of the range models but only about 20-25% heavier but it is more than 200% cheaper. That shouldn't be enough to put you off this great rod.
Check our Indepth Review
Toccoa Amazon Reviews and Price
---
Piscifun Sword 4 Piece 9 feet 5 weight fly rod
Rod Spec – 9ft 5 weight 4.2oz
Rod Action – Medium action
Materials – IM7 Carbon Fiber Blank
Guides – Ceramic stripper, Chromed Stainless Steel Snake Guides
Pieces – 4 pieces
Alignment dots
Handle Material – reversed half wells
Reel Seat – Machined aluminum, with single lock nut
Tube – Plastic Tube
Warranty – 1 year
When you are learning to fly fish you want a rod that falls into your budget while giving you everything you need before advancing to professional rods. The Piscifun Sword is such a rod with a moderate action mode that will allow you everything a professional rod does. At the same time do I have to add that even professional anglers love to have this rod as part of their tackle and use it as a backup rod. It is a real bargain that allows varying techniques of fishing.
I need to tell you that it does not have the quality of a high-end rod, however, it does incorporate some high-end features. One of these is the materials used for the blank, which is IM7 Carbon Fiber. This, in particular, is something you only get when buying an expensive rod.
The snake guides are made of stainless steel, that will prevent corrosion for many years. In fact, the entire rod is designed for durability when you consider the stain resistant cork grip and the reel seat that is also chip and rust resistant.
While many longer 8 and 9 feet rods of these 5 and 6 weights do not do well in short casts, the Piscifun delivered beautifully. You will land where you aim to cast even when you cast under 20 feet.
At the same time it does give you excellent longer and medium length casts with seamless loading and tangle-free lines. Taking into consideration that you only pay a small amount, you will have years of use while you grow from a novice to a pro and learn all the fly fishing skills. You may struggle to get great distance with this rod as the slow action doesn't allow the speed to get those 60+ yard casts incorrectly.
Negative comments included some snake guides came loose and needed fixing and the single locking nut sometimes comes loose and needs re-checking while fishing and although the manufacturer states it's a moderate-fast rod it really is more like a slow-medium action rod. That is easier for the beginner to master anyway so not a big problem.
Piscifun Amazon Reviews and Price
---
Maxcatch Extreme Graphite Fly Fishing
Rod Spec – 9ft 5 weight 4oz
Rod Action – Moderate fast action
Materials – IM 6 Carbon Fiber
Guides – Ceramic stripper, Chromed Stainless Steel Snake Guides
Pieces – 4 pieces
Handle Material – reversed half wells
Reel Seat – Machined aluminum, with double locking nuts
Tube – Plastic rod tube
Warranty – 1 year
You can read my review and many others online that tells you that this Maxcatch Extreme Fly Rod is an excellent buy for under $50.00. Personally, I did not expect much when seeing the price tag and left it as part of my tackle for a day when I did not have a spare rod to share with someone who simply cannot fish. I have made a 180-degree turnaround though since first seeing the rod. It matches rods that are $400 and more even though the quality is lesser, the performance is superb.
The value is decent enough to give you many seasons of fishing regardless of species and conditions. If you are looking for a rod that offers you good performance while undoubtedly offering bang for your buck, then I suggest you get it now.
Tested in different fishing scenarios from streams, lakes, rivers, and creeks we concluded that even though it is advertised as fast action rod, it casts and handles like a medium fast action.
A-Helical tapering is used in the blank design which adds to it's ability for excellent line control while it is very lightweight too. This design gives you maximum control during a powerful cast at long distances while accuracy remains perfect.
The 9 feet length usually indicates that shorter distances are not quite accurate, but we found that casting twenty feet distances are great when you want to maintain it's accuracy. It excels however during the longer distance throws and you can pack power behind the cast.
Even though it is aimed at fly fishing will you have a great multi-purpose rod that handles all condition like strong winds and all species fish too. If you are a novice fly fisher, this would be the go-to rod for the action will teach you much faster to become a pro angler.
Extreme Amazon Reviews and Price
---
Check out some of our other Buying Guides