The sport of fly fishing has increased dramatically over the last 10 or 20 years. Materials used in the manufacturing of fly fishing equipment has become lighter, stronger and more durable and flexible.
With the introduction of these new materials fly fishing manufacturers have been able to incorporate them into their products making for a long list of the best fly fishing rods available on the market.
In the old days fly fishing rods were made originally from split cane which was very heavy very sally and quite difficult to cast. With the introduction of fiberglass in the 1940s, these rods became a bit lighter and more flexible and now with the introduction of carbon fibers again the progress for lighter and stronger materials better fly rods are being produced.
Apart from strength of the actual rod other aspects of the rod worth looking at are the reel seat which holds the reel, the handle type, how the sections are joined together and the overall finish of the fly fishing rod.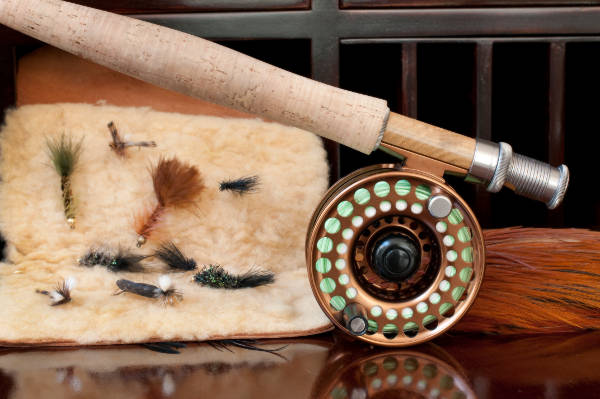 When looking for a new fly fishing rod it is first beneficial to decide what kind of fly fishing you're going to be doing.
There are so many types of fly fishing and not one rod will do all, there are some that will do a few but will go into that detail later.
For instance, if you're thinking of fishing saltwater for tarpon or striped bass etc or large sport fish then you will need a fly rod that is weighted between 8 and 10 preferably.
If fishing for stillwater rainbow trout maybe a 7 weight would do and on a river you would go down to maybe a 4 or 5 weight as the river gets smaller.
It is imperative therefore that you try to decide on which of these areas you're going to do the most fly fishing.
You can get a rod for instance for saltwater fly fishing what you could use on a river with a lighter line but that rod will not be properly balanced and will hinder your progress. It would be better that you purchased a second rod for the river with the correct weight.
As most people start out their fly fishing experience on a river we will work this post on a 9 foot 5 weight which will be ideally setup for fishing for trout in the range of 1-2 pounds in weight.
So for our 9ft 5 weight fly fishing rod what characteristics or features do we expect to see?
Most fly rods nowadays come as a 4 piece set up. That means the road is divided into 4 equal length pieces it makes it easier for traveling and that you can break the rod down easily to put into the boot of a car or take on an airplane. There are also some examples of rods out there called frequent flyers which come in 6 or 7 pieces again breaking the rod down even smaller for easy portability.
One thing I would say the more sections a rod has the more it affects the action because each join will affect the flex from the butt to the tip of the rod.
Saying that materials have got so much better nowadays that this is minimal and a beginner will not really notice a difference. It has been said that a 1 piece rod has the best action as it is made in one continuous piece but this is not practical in any sense.
I would say a 4 piece fly rod would be perfect for our example however you can get some two pieces on the market today and these are good because there's only one joining section but I wouldn't make the decision between a 2 or a 4 on price either would do perfectly well.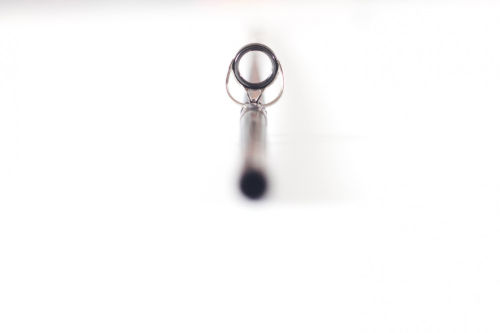 Next you'll have the guides these are the little eyelets that hold the fly line up the rod typically you may have two at the bottom close to the butt which will have a ceramic disc which are called the stripping guides and take the most pressure while your stripping line in the retrieve. After that you will have several wire guides, these can be made from different materials with the top end products being very smooth which aid in casting speed of the line.
Not totally imperative but the guides can make a difference in casting distance.
Some manufacturers especially as you go up the quality will have a nice little line and dot setup at the joint so you can make the rod align nice and straight.
While lining up your sections and guides correctly will make the line move a lot quicker through the rod as you fish. However, your rod will be induced to torque from your casting and your guides may slightly move offline so it's important therefore that you check this from time to time to keep them straight.
Next we have the reel seat. These come in a mixture of different materials the better ones would be of an aluminum based so they are slow to corrode and very lightweight. The reel seat would be incorporated into the cork part of the handle this cork will come in different grades the better. The grade triple AAA is the smoothest in your hand and will hold up to weathering better.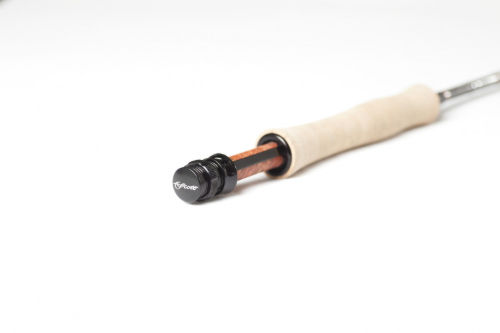 There are different types of handles mainly half wells and full wells this is more to do with the grip that your hand will have placed on it and it can be a personal choice I myself like the full wells.
It seems the smaller rods will have the half wells while anything over 6-7 weight will have full wells which also goes up further into double handed rods which we are not thinking of here.
The last part of the fly fishing rod would be the tube that it comes in, some manufacturers provide only a cloth bag while others will give you a Cordura tube or an aluminum tube which is stronger again.
These are used to protect your rod while traveling to and from your fishing destination.
A rod left in the boot of a car just in a cloth bag can get broken very easily when other gear moves when traveling.
Although the carbon-fiber is particularly strong when flexing and casting fly lines and handling trout or other fish, however to get it knocked with something hard can cause slight damage that will then cause the rod to break while fishing.
Even dropping your rod accidentally on the bank side or in the bottom of a boat can cause a slight weakness that you may not see at the time but will damage the rod when it is next flexed.
It's important therefore to be wary of the warranty setups with the different manufacturers some allow one year some five-year some have a lifetime.
Although some of these will say there's a Lifetime on a particular rod they will still charge you carriage costs to get it replaced typically $30 to $40 to send the piece to you. That can be a lot cheaper than having to pay for a new rod though so worth checking out beforehand.
Warranty can make the difference between having a good product for a lifetime or maybe only a few years but if you can learn to look after your fly rod correctly keep it well protected while traveling to and from your fishing venues and also protecting it while you're fishing.
Protecting while fishing just means watching where you cast and always being wary of bankside vegetation in your way or overhead wires etc always be in the lookout for hazards while you make the forward and backstroke.
If you learn to look after your rod well from the start it will stay with you during your lifetime of fly fishing I have broken many rods some through my own fault some through fishing. It's not nice when it does but its not the end of the world either when it does as most manufacturers will have spare sections, you may be out a few dollars to get one but it's cheaper than buying a new rod. The only downside to this if the rod is older sometimes spares are no longer available and you will have to go get another.
---
Best Fly Fishing Rods over $350 top range materials, power and flex highly finished blanks
So to our first section rods over $350. In this section, we would expect to find good quality materials, lightweight rods with good accurate action. The rods will also have top grade cork on the handle and the reel seat will be light and string. Additional highlights are section alignment dots and the types of guides used. Also, the addition of a good rod tube will be provided.
---
G Loomis NRX Trout Fly Fishing Rods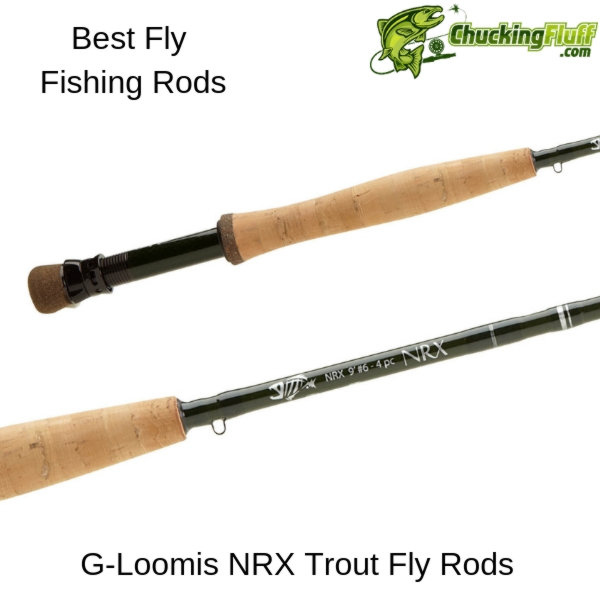 Rod Spec – 9 Feet 3-12 weight 2.9 oz
Rod Action – Moderate stiff
Materials – High modulus graphite and resin combo
Guides – Aluminum titanium carbonitride coating super zip.
Number of Sections – 4
Handle – 6.75 inches, half-wells high-density cork
Reel Seat –
Tube – Aluminum
Warranty – Case by case but will do best to get a replacement to you
The G Loomis NRX series rods are what you want when you need perfect accuracy, line control and maximum casting range. When you pick up a NRX you might think this incredibly lightweight rod will not be capable of handling itself with a large trout.
Neither will you expect it to cast as accurate with incredible speed. Something you will notice immediately is the unique construction when compared to other rod manufacturers. The difference lies in the materials used.
G Loomis combined Nano Silica resins with high-density carbon in their NRX range. This combination gives you an entirely different feel than what you are probably used to.
Incredibly sensitive, durable, lighter and at the same time stiffer than usual. You need to heed this warning though regardless of how much you like the look or feel of this rod. You must be an advanced caster or planning that you will get there soon.
I assure you once you cast with it you will practice until you are classified as an advanced caster. The main reason why it was designed for advanced fly fishing is its ability to cast into the wind while remaining accurate and a long way too. On top of that would you be capable of handling a rod that comes with a lot of line speed too.
I do not recommend it for a beginner that is not used to fast action rods. Picking it up even before you hit the water you know you hold a crisp, light rod that will feel each vibration through the line, the fly and obviously when you hook your fish. If you are looking for a fly rod with excellent fast and accurate performance that's gorgeous to look at, this one's for you.