Disclosure:
Just to be open and honest the buttons and links you click on in the website will in most cases take you to another website where you can purchase the products I am reviewing. As an Amazon Associate I earn from qualifying purchases.
March 7, 2020
Best Fly Fishing Wading Boots – Traction and Comfort
As Winter effects begin to thaw and avid anglers ready their gear and equipment for the next fishing season. You will come across your waders and boots after you have checked the rods, reels and lines. Wading boots are an underrated piece of gear. Its not until your feet are numb in the deepest parts of the stream or you stub you big toe that you realize buying a decent pair would have been better. As you ponder about the budget, highly consider your fishing style and conditions.
So what about the budget? Summertime anglers who love to hit the waters on weekends only will benefit from entry-level wading boots and if they can afford mid-range boots, why not? Avid anglers who cast over 30 times each year need boots of the highest quality, build, and durability.
We aren't trashing the budget focused beginner boots but their construction isn't similar to that of high-end wading boots. You will understand the variables as we dive into the features to look at and the product guide of best fly fishing wading boots.
Wading boots are among the easiest and the most practical solution for feet safety when in the water. Nowadays, they are excellent compared to what the industry had decades ago. Some are comfortable to your liking as distance hikers and allow you to cover some ground unlike you would do with sandals.
If you have read our waders buyers guide, you will discover that the stockingfoot design couples wading boots. So if you have waders without neoprene stocking feet, invest in two or three pairs. Booties slightly add bulk to your feet since most wading boots come a little oversized. The booties help to achieve a great fit.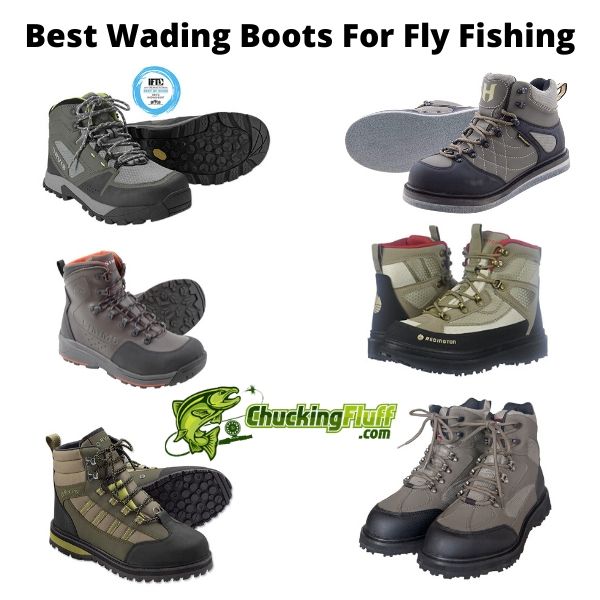 ''Which boots do you advise? Spiked or felt-soled?'' Such questions are causing a buzz on online fly fishing forums, fishing clubs, and groups. Well, first, wading boots with felt soles are being forbidden. For instance, recently, the Yellowstone National Park illegalized them.
Some anglers will consider Vibram soles. Despite their functionality, they aren't reliable when it comes to giving enough traction like that of the spiky soles. Life is full of survival hacks. You can add spikes to wading boot soles without them to add extra grip.
Angling isn't normally risky but wading a stream or lake can get tricky sometimes. Rocks are very slippery, the footing can be absolutely awkward and are potentially dangerous. Well, you have to brace yourself with enough perseverance to cope with all the fatigue that comes with having to stand all day.
With the right wading boots, navigation on foot isn't a big deal as many perceive. High-quality wading boots provide an angler with the necessary arch and ankle boot support that they need as they traverse the sketchy waters. They perform great protective functions from jagged wading conditions.
If you hike to your fishing hole, you will be more appreciative of these boots. As you consider your outdoor love, owning a good pair of high-quality footwear is very sensible.
Do you know that without the right pair of boots you end up in a swimming competition with the fish rather than trying to have fun catching them? Moreover, your probability of hospital appointments increases due to a high risk of breaking an ankle or a leg.
If you reason with me, then you'd rather bite the bullet and make the right footwear investment. Since safety is a major benefit, do not gamble with your comfort. Have you tried on oversized shoes in a race? Or two sizes smaller than your rightful? That is how annoying and uncomfortable it feels if you go wading in ill-fitting wading boots.
They are the easiest recipe to a nasty day. Don't let your fly fishing days grow shorter because of tired legs and sore feet.
Most sportsmen love to pick functional sportswear from reputable brands like Nike and Adidas. While most people associate such brands to sophistication, style, and class, the owner knows the intention of the purchase. Let's see how it is like on the aqua side of life.
Most manufacturers are striving to set themselves apart from the competition. They make wading boots for their dependability during service delivery. Most of them come in almost a similar design and the colors are not as fancy as you may want. However, the most important thing that an avid angler will consider is if they do the job well.
The rapid parts of water will confirm to you that an excellent pair of wading boots is worth the weight in gold. New anglers on their first or second fishing excursions might not know the limits of the gear. As they walk across a pile of rocks, submerged log, or a simple patch of clay, they fall with a thud because their boots aren't cut for the job.
It happens to most novices and anglers who are new to wading boots. How bad is it to get back home soaking wet and cursing the day. Well, blame yourself because you blatantly refused to research on the best wading boots. This guide rescues you from this predicament so stick around.
The Ban? Unwelcome Hitchhikers
Many areas like New Zealand are battling invasive species like hydrilla, didymo, and mud snails. Water transfer from one source to the other can be destructive though pest transfer. There are proper legislations and measures that are in place to counter this and maintain the natural resources for future generations.
As we had mentioned before, some areas are prohibiting the use of felt sole wading boots in some seasons. The reason behind this is the soles are capable of trapping and carrying invasive species. Ensure you check and confirm the local regulations before embarking on a fishing trip.
It costs an arm and a leg to get a ticket and there is no doubt that DNR can retract your license. All the same, you don't want to go down in history for wiping out a whole habitat.
So how do you prevent the frequent falls, feet fatigue, broken ankles and legs? Before you pay for any wader's boots, here are the factors to consider to ensure you get value for money while achieving performance:
Factors to Consider when Selecting the Best Wading Boots
Are you looking for the best wading boots but still don't know how to select them? Below are the major things to keep an eye out for as you go on your product hunting spree.
Sole Type
A good sole must provide firm grip as you navigate rocky and slippery surfaces. Different manufacturers use different materials to make soles for wading boots. Each type has its benefits. Remember that technological advancements have driven manufacturers to design wading boots with two soles.
Meaning that you can have a felt sole boot with a Kling on sole which is rubber, cleated, or studded. This is how sophistication is combining with performance to achieve convenience. They don't cost peanuts though. The good thing is that once you carry the whole pair, you have everything to worry less when you need to adventure other fishing spots that require wading boots with other sole types. See what you can choose from under this: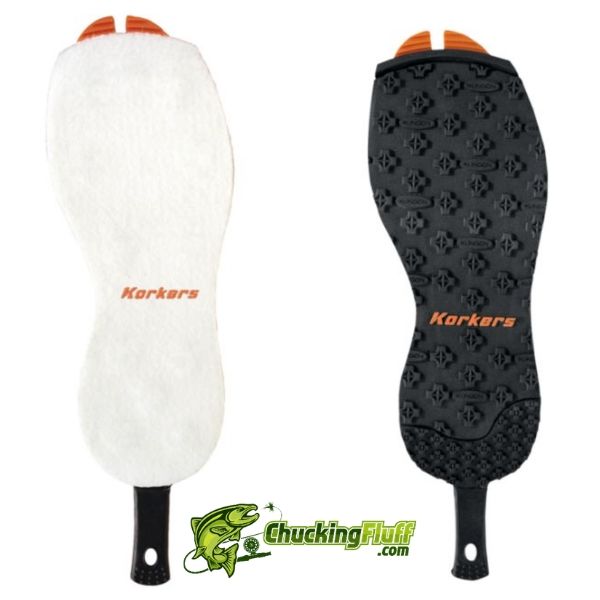 Rubber Soles
Previously, there were reports of the unreliability of rubber soles with regards to traction and durability. There have been copious technological improvements that have since led to perfection, longevity, and performance. They are now a go-to choice for anglers because of their tolerance when trekking and hiking.
The grip is firm, the softness is worthwhile, and they are highly abrasion-resistant. Thanks to the aggressive tread patterns than traditional shoes. Usually, with excess use, though it still takes some time, the treads wear out and the sole assumes a flatter base.
No need to throw them away if their performance is still not super. You can use a few DIY hacks like using studs or boot screws to increase traction for enhanced grip.
Felt Soles
It is sad that felt-soled wading boots are becoming obsolete due to their ban in most states. They are made with a thick felt layer and not rubber. The soles offer more traction on the wet and slippery rocks but their functionality is poor out of the water.
They take longer to dry and if you are an angler constantly switches places, it is easy to transfer invasive species to areas where they didn't belong. Their durability is questionable especially when frequently used out of the water. Though easily replaceable, don't you think it creates additional cost?
If you are not sure of how often you will be needing felt sole boots, it is advisable to purchase the 2 in 1 sole wading boots for convenience. They come as a felt sole but allow for attachment of a Kling On sole of your choice.
Studded Soles
These types are rare but come effective in a few cases. Studded soles have in-built metal spikes that can easily dig in and greatly improve traction in some of the brutal conditions. Waders will appreciate these soles when in very fast and dangerously slippery waters.
Most of the time users separately buy studs from reputable manufacturers to add to their studded boots for more grip. These studs don't cost so much. They are very easy to attach and remove. Beware though if fishing in a tube boat they may puncture it.
Wader Material
The Best Wading Boots have to drain water fast in case they fill up. Wet boots are heavier meaning that you should select very lightweight boots. Synthetic leather is the commonest material such as the microfiber or Nubuck for example polyester or nylon.
There are waterproofing wading boots which are more versatile and are usable in all seasons. They have an air-permeable layer that allows for moisture-wicking. These materials have good drainage and aren't as burdensome when wet. See the options that are available in the market:
Nylon
Nylon wading boots are a great choice for anglers looking for lightweight and cheap waders. Their problem is warming out very fast and being unbreathable. If you step out in them during cold weather, your feet will freeze.
Neoprene
Cold weather fishers will appreciate neoprene waders for their durability, waterproofing, insulating warmth, and availability in different thickness to maximize on comfort.
If fishing in moderate climate areas, neoprene boots of 3mm will do while 5-7mm is ideal for colder areas. Neoprene boasts of high buoyancy levels which is a plus for float tube fishing.
Hydrophobic Coating
Some manufacturers apply a special coating for waterproofness. Simms is common for its DWR-Durable Water Repellent Coating.
The fluoropolymer treatment reduces the chances of water absorption and restores the boot's normal weight once you wade out. After prolonged use, the coating wears out but is restorable using a DWR spray.
Ankle and Foot Support
River and stream bottoms are unstable because of the rocks. Select wading boots with supporting ankles to reduce the risks of sprains and breakages. Most brands have padding around the heel and collar for more support.
Others have tongues to the boot sides for the same purpose. Check for toe and heel caps with rubber for longevity and heel and toe protection when you hit rocks.
Screw-in Cleats
The Best Wading Boots should allow for screw fitting to increase traction as you walk on the slippery grounds. Their advantage is that they are usable on rubber and felt soles. Avoid wearing boots with these screws in your boats since they damage the decks.
Uppers
Uppers should be lightweight and made from synthetic leather or microfiber for durability and flexibility. They should dry quickly when you wade out of the water.
Traction
Tough terrain needs great traction lest you put yourself at high risks of safety hazards. There is no specific traction design recommended for wading boots. The key point is choosing boots with a suitable amount.
Sizing
Size up your wading boots a bit by choosing a larger size than your usual fit. Going bigger is beneficial especially in the cold seasons. You need enough room for your wading booties, insulated socks or wading socks to warm your feet.
It takes a very short time for the cold water to numb your toes. Don't go overboard however. Overly large boots can be difficult to control and you are at risk of losing balance.
Lacing
There are four main lacing options so far that you can choose from depending on your fishing condition, style, and needs. See what's available below:
Velcro
Velcro laces are added to the boot cuff and in some instances are a reinforcement for traditional lacing. This feature prevents boot loosening adding to durability.
Traditional Lacing
This is the commonest type featuring eyelets from the toe to the cuff area. They are a great choice however, it can be difficult to loosen laces to slip your foot in and often, the knots untie.
Speed Laces
They work hand in hand with traditional laces. They are designed as hooks usually on the top half of the boots and shoelaces loop under. It is easier to open the tongue of the wading boots to slip in and out.
BOA Laces
BOA laces are the newest type and the dial laces come in a small and sturdy cord that is attached to something like a rotating ratchet mechanism on top of the boot. You have to spin this ratchet using two fingers then tighten the boot. It remains tight throughout.
They are costly though very effective. More advantages are a glove-like fit, micro-adjustability, lightweight, quick on, secure, easy to clean, and no-stretch capabilities.
Cuffs
Neoprene wading boots come with cuffs to lock out water and for comfort. However, with prolonged use, they wear out like the other parts of the boot.
Weight
Standard wading boots weigh about 2 to 3 pounds. Most of the time, the size of the rubber sole will either increase or decrease the overall weight. Don't go for very heavy boots that will be burdensome or ultra-light with crappy construction.
N/B: All these factors to consider together with proper care and maintenance will translate to durability. There are anglers who own boots they bought over 5 years ago and are still in good condition. If you fish with your fly and feet, take care of them all!
Best Saltwater Wading Boots – Frogg Toggs Saltshaker Wading Flat Shoe
Do you need special saltwater boots when wading in saline environments? For the sake of durability and performance, yes. It might seem foolish or very dubious because of what the same amount of money can buy.
Maybe a bottle of the oldest Scotch Whisky. Boulder fields, sandbars, flats, and coral reefs have their environmental characteristics that distinguish them. Saltwater wading boots make your feet safer and comfortable from the effects of the brutality in salty areas.
The Frogg Toggs Saltshaker Wading Flat Shoe takes the crown in this category. Thanks to its construction it can combat the ruthlessness in saltwater areas.
Thanks to their non-corrosive closure systems, the lacing system keeps your feet snugly fit in the shoe. They go on pretty fast and you can throw the boots in a flash then leap into the salty waters to chase down the schools of cruising fish.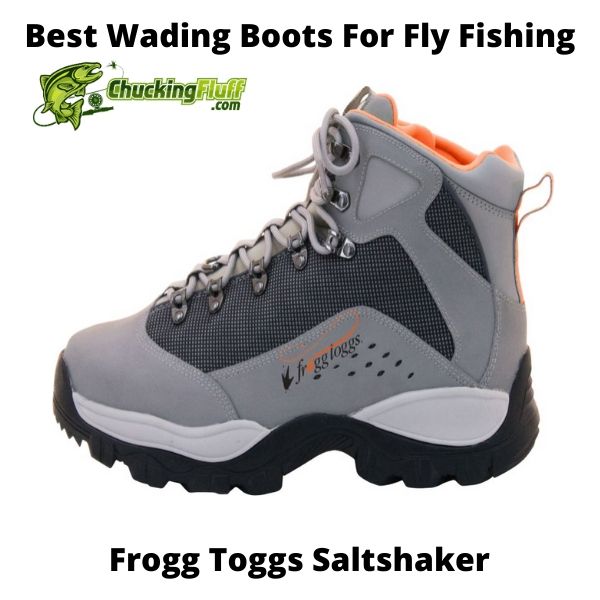 Saltwater is a quick agent of rust and corrosion and major victims are corrosive metals which aren't coated. The soles feature heavy-duty cleated rubber which is for protection against the barnacles, corals, and more of the abrasive obstacles which chew feet and footwear apart.
As you wander on the flats all day long, you need more support and stability to stay upright. For this reason, the wading boots have a good feel for the bottom structures and very uneven surfaces.
You might disregard them but their benefits are more than you think. These wading boots are lightweight and aren't a pain to wear. Besides traction and support, the boots offer protection and mobility.
They are streamlined and easy to fish in them. You will experience very less to no fatigue and can withstand high heat and the sun in tropical destinations.
Check Saltshaker Amazon Availability
Best Low-Profile Ankle Wading Boots – Orvis Ultralight Wading Boots for Men
A lightweight package that provides good performance is what any angler would love to get for their fishing outings. Featuring EVA outsoles that have a firm grip on the slick riverbeds better than most wading boots in its category. The Ultralight wading boots fit exceptionally well without leaving excess volume.
They can be a little snug if you use them with very thick neoprene booties. The uppers are built to be mid-height to keep the boot weight down and leave the ankles slightly open to twists. These waders strike a perfect balance between performance and weight.
These wading boots offer more solid performance and less weight compared to other wading boots in its category. The mid-height design earns it its low-profile tag. It fits snugly as hiking boots would. Clarino microfiber adds to the lightweight nature of the boots and the PU coating makes the wading boots waterproof.
The polyester mesh lining serves the purpose of quick water expulsion once you wade out of water. Its properties favor its quick-drying action. The midsole area is made from Vibram EVA which is comfortable to the feet since it is heat resistant and offers enough comfort for light and heavy outdoor use.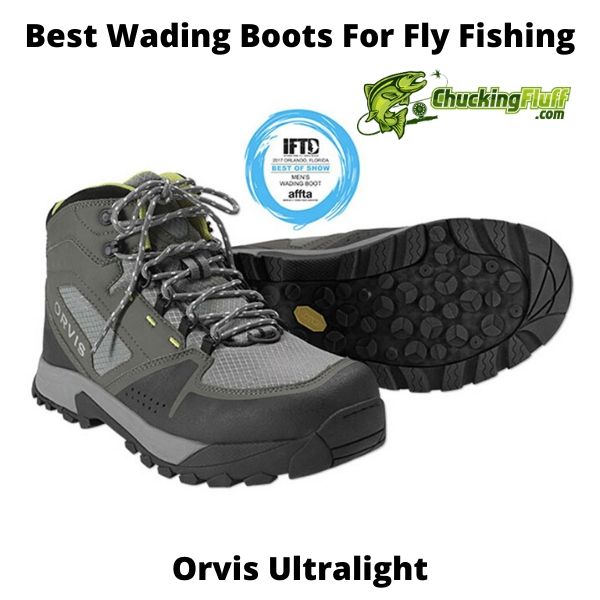 The lace closure is simple and webby to give a secure fit. This design is specifically for men and is available from size 7 to 14. If you are a female angler and develop an interest in this pair of wading boots, Orvis has a similar design for women which is the Orvis Ultralight Wading Boots for Women that you can purchase. When it comes to overall performance, the wading boots are the real deal.
So you have purchased you favorite workhouse pair of boots and are excited about the next fly fishing trip. For you to maintain the delight for more seasons to come, you need to properly care for your boots to prolong their lifespan. How? When you can take them off and dump them in the garage until their next use?
Try this and you will have your money and boots to lose. We will briefly give you top insights on how you can offer some tender loving care to these boots for greater service. The basic steps include: cleaning, disinfecting, drying, and storing.
Check  Ultralight Amazon Availability
Best Low-Cost Wading Boots – Caddis Taupe EcoSmart Grip Sole Wading Boots for Men
Caddis Systems are becoming a common name among anglers. You might be wondering why. The company gears towards the production of good quality gear and apparel at affordable prices. This brings us to the lowest cost yet functional wading boots that are at your disposal without costing an arm and a leg.
Despite its low price, it has most of the features that you can find in high-end wading boots. The outer side is made from quality polyester which is a common material in most wading gear. Insulation is a key feature to consider and for this, the boots come oversized and allow for your neoprene booties to fit in well.
The toe and heel areas have great reinforcement and work together with the rubber sole to ensure that safety and durability are achieved. The EcoSmart grip sole is tough enough and the treading pattern provide more traction in terrible situations. The type of sole values the cycle of Mother Nature and doesn't allow the transfer of invasive species to wear they don't belong.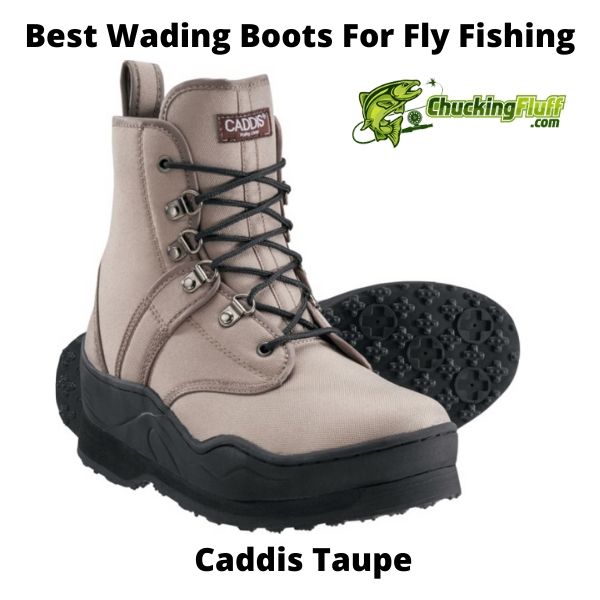 The quick lacing system allows for easy tying and untying in the shortest time possible. What impresses most anglers and testers is that despite their low price, they come in various sizes, are highly durable, and offers exceptional stability both while standing and when moving around in the water.
One of the noticeable points of care is the laces which are thin and might not last long. This might require you to look for extra shoelaces to serve you in case these ones snap.
Otherwise, these waders are an excellent choice for anyone who is looking for rubber sole wading boots that can do the job well without aiming for a cash-cow budget. Beginner anglers who are looking for a pair to start off with will find this one reliable.
Check Taupe Amazon Availability
Best Wading Boots on a Budget
Not everyone is willing to spend so much on a pair of wading boots because of one reason or the other. It is the reason why manufacturers like Caddis Systems and Duck & Fish have products available for the low budget anglers who are looking for functionality.
Most wading boots in this section aren't sophisticated. Their construction and designs are very simple, they are easy to wear and remove, and have the basic features that you will find useful for your fishing outings. Durability is not fully guaranteed though. If you are on a small budget or are a novice unsure of whether this sport is the right one for you, this category will highly interest you.
Hodgman H3 Felt Wading Boots
The H3 is a top-quality pair of wading boots meant for serious anglers. There is more that it does with regards to excellence in water. The boots protect your feet from any dangerous inhabitants of nature and keep you comfortable.
These boots stand up to any test or abuse while you are out. As you battle fish in fast-flowing water, you are sure to have them take a firm grip on the river base and offer you more stability and balance as you pace around.
Felt soles though very questionable are still high performing. This one is top-notch and offers superior traction when you get to slick areas. The collar has enough padding and Hodgman includes a tongue to maximize on ankle support and counter ay risks of sprains or leg breakages.
The toe areas have proper reinforcement for more protection reducing the chances of getting injuries. They are very lightweight and aren't burdensome as you hike to your spot or wade in the water.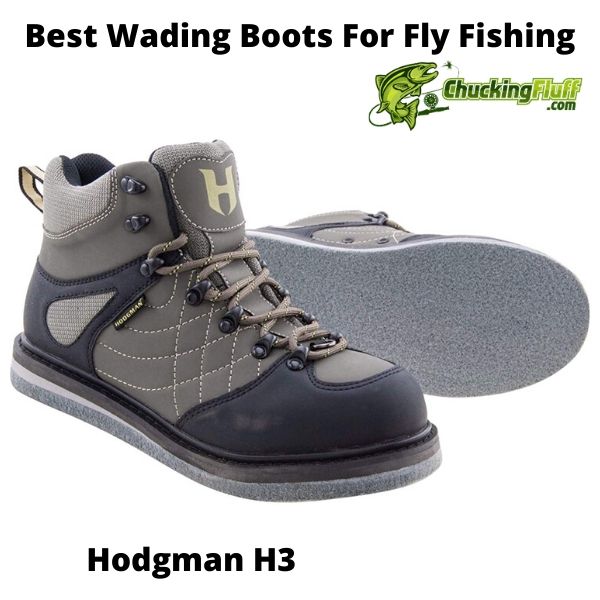 Drying efficiency is something to keep in mind as you go shopping. The material construction is from an abrasion-resistant and hydrophobic material which allows for proper functionality and longevity.
The side panels on the boots have drainage ports made from a mesh material that allows for water escape preventing the boots from getting soggy after wading out of water. The midsole has shock absorbance mechanisms to maximize comfort and steadiness when you hit on rocks under water.
The D-rig gravel guard point of attachment allows you to secure your waders to the boots to prevent the entry of sand, grit, and gravel that damage the waders. There are possibilities of attaching studs under the sole depending on where you intend to go fishing. The color combination is perfect in black and sharp olive.
Check Hodgman Amazon Availability
8 Fans Anti-Slip Wading Boots
A comfortable experience on the water begins by owning a satisfactory pair of wading boots. The boots are lightweight and are wearable for more hours. The cushioning is superb to sensitize comfort and boost performance. Soles are solid enough for use in harsh conditions.
With American sizes, ranging from 9 to 13, you are sure to identify a pair that fits you well. The wading boots have great drainage once you wade out of water. Waterlogged boots are extremely heavy and greatly affect mobility and flexibility.
Longevity has been achieved through several features like reinforcing the heels and toes. These are the highest wear points on waders. The Oxford uppers double up as comfort features and support mechanisms for your ankles.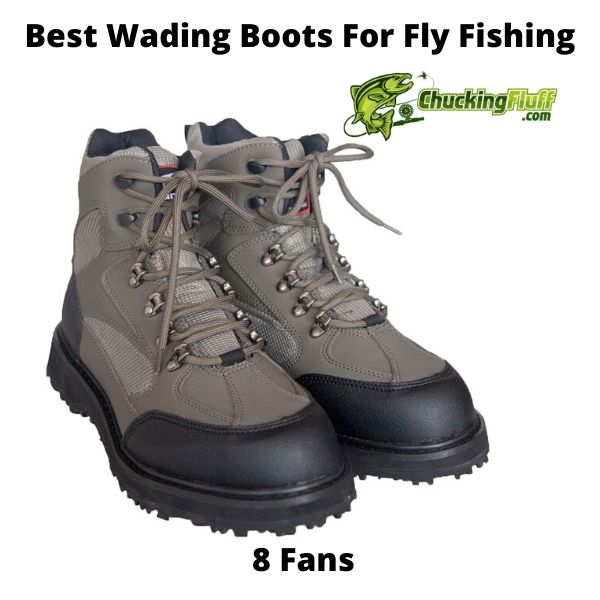 They prevent risks of ankle sprains or leg breakage. Speed laces are easy to handle and their durability is not questionable since the attachments dot rust. They make the wading boots easy to wear and take off.
The non-slip rubber sole is designed to offer superior traction on the slick surfaces. The treading pattern is superb and guaranteeing you excellent slip resistance. The collar design is very extensive to ensure that the wading boots can match well with fishing waders.
You can layer your feet for more warmth when going out in winter. If you love other outdoor activities like hiking and hunting alongside angling, you can choose to use these boots for all the activities. These 8 Fans wading boots are versatility galore.
Check 8 Fans Amazon Availability
Compass 360 Tailwater II Cleated Wading Boots
Do you remember the top-rated Compass Tailwater Breathable waders from our wader review guide? Here is a matching pair of wading boots to match them. No limits though, if you love them and feel like they go well with any of your waders, put them in the cart.
The wading boots have durable steel cleats that are spread across the under soles for excellent grip on any surface. Since many states are outlawing felt soles, this feature is becoming very crucial and relevant. Muddy trails, rocks, and underwater slime are some abuses that the soles gladly take without feeling belittled.
The heel pull system is fantastic since it features very durable webbing to help wear and remove the boots. In fact, it takes the shortest time possible to do this even when you are straight from the water. Most wading boots pose difficulty especially after wading out but for the Tailwater, you have everything to be thankful for the unique craftsmanship.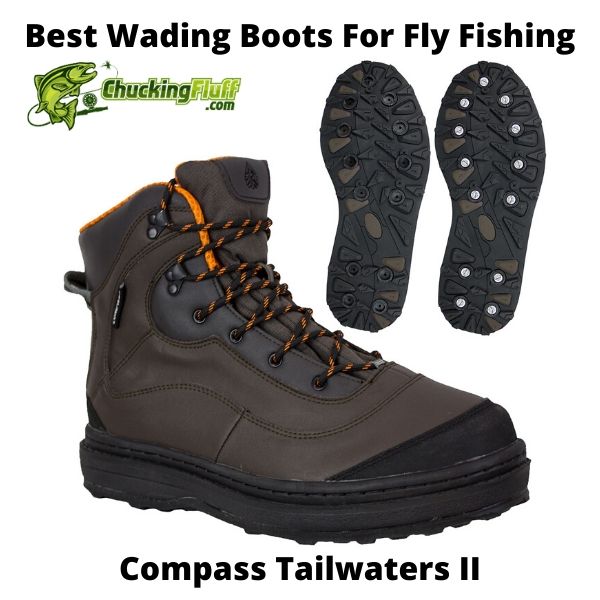 For more comfort, Compass adds more padding to the sides and with prolonged use and frequent soaking, they remain as intact as new. The fit is superb and the manufacturer designed it with a roomy fit to allow for feet layering for insulation especially when stepping out in the cold season.
Clarino leather is the main material used in construction. Its main property is the fast-drying mechanism. Together with the monofilament mesh panel, the drainage is super and reducing the boot weight when you wade out of water.
The locking lace hooks work hand in hand with the locking stud grip which is outside to hold the steel wading studs at their rightful places without feeling stuffed and constrained.
Check Tailwater Amazon Availability
Duck and Fish Sticky Rubber Sole Wading Boots for Men
You need to be at ease when you walk in the high stream waters. This isn't possible in your outdoor sandals or garden boots. The Duck and Fish boots will do the needful in this case. The upper body is made from high-quality polyester while the ankle collar is made from neoprene and is triply padded for more comfort and ankle support.
The toe and heel area have great reinforcement and you need not worry about injuries. Accidents are common in the water. However, the type of gear you choose to wear will determine if you need a doctor's appointment or not.
The extensive base and midsole ensure that anglers with wide fit have an easy time when achieving comfort. Not so many manufacturers incorporate this feature in their wading boots. The rubber sole is sticky and comes with self-cleaning properties giving you an easy time.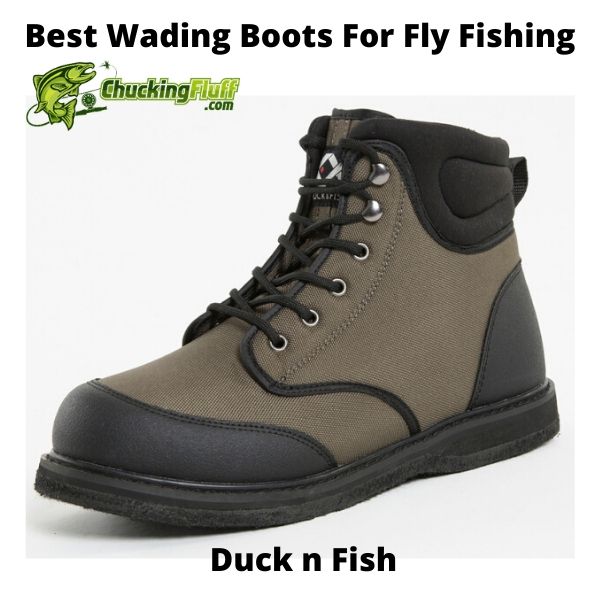 Mud and dirt dot stick on the underside like in other boots. The boots have been designed with drain holes to allow them to get rid of water after wading out of water. The good news is that they don't allow for the entry of water.
You will love the removable insoles. You can choose to use them or not at your convenience. They are replaceable and if you feel like you have used them more and need a change, feel free to do as you desire. If you are looking to achieve customization, you can go that path.
You can wear these boots in any waters including saline environments. If you are a pro angler or lover of versatility, do not hesitate to get yourself a pair. The workmanship on these boots gives the owner an easy time when it comes to care and maintenance.
If you are looking to achieve functionality, durability, and performance, then these waders give you great value for your money.
Check Duck and Fish Amazon Availability
Frogg Toggs Hellbender Wading Boots – Best Felt Sole Boots
Not unless you go on more activities, as long as angling is your thing for life, once you are on the water, focus on fishing only. What is focus without confidence? Well, confidence is the Hellbender wading boots whose toughness is incomparable and for this reason, it gets more loving from anglers and other watersport lovers.
Haul in your catch with these durable boots that come with high-quality rubber toe and heel caps. These are the areas prone to high wear and tear. Reinforcing the sections was rightful to add to their durability.
Though very thick, these boots are lightweight. Toggs designs them with a hard PVC and mesh uppers that double the stability and support they offer. Regardless of the situation, they are commanders that is why they are recommended for saltwater use.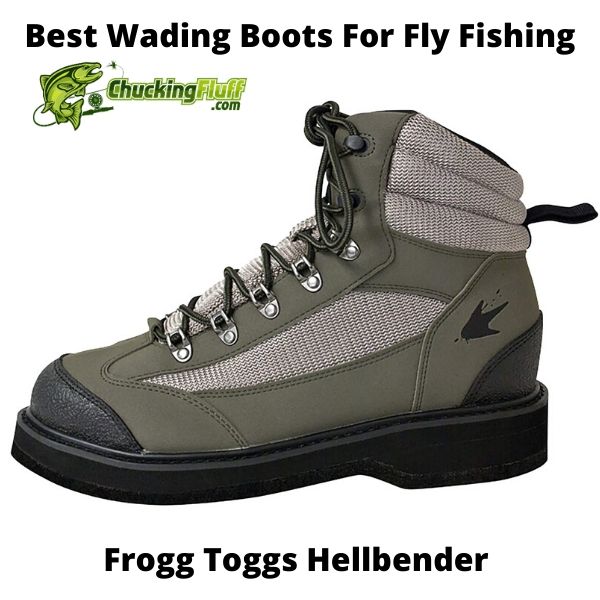 The full felt sole is replaceable and you can use them year in year out without worry. The tongue and ankle collar have enough padding to allow for unrestricted movement while still offering great support.
The color combination matches well with Mother Nature with green and silver. There is a nylon heel pull that allows you to easily slip your feet in and out. The midsole is made from extremely thick PU foam to keep your feet comfortable and fresh regardless of the duration you have them on.
You can stand and cast for more hours. The lacing system is heavy-duty and has riveted speed lace for quick and easy handling. For this reason, they are some of the best wading boots on the market. There are locking clips for the lace on the upper section to give your boots a snug fit until you take them off. You can pair them with the Frogg Toggs Hellbender Waders for more protection and functionality.
Check Hellbender Amazon Availability
Caddis Northern Guide Wading Boots – Best Value Wading Boots
Caddis gear last as long as most of the high-end boots do. This is another budget option that you'd love to get for your fishing trips. Still, part of the Caddis value products, the Northern Guide boots have a tag that is extremely hard to pass by and with proper care and maintenance, they hold up well for many angling seasons.
The manufacturing quality might not surpass the heroes like Simms and Orvis but if you are lenient on your boots, there will be no major difference. The rubber soles are fairly standard though still good performers. Northern Guides have uppers made from high-quality polyester material and they have sides with more padding for more comfort.
Speed laces are the commonest and Caddis has them in good quality. Tying and untying are easy. They snug properly to ensure that you feel safe while moving around. The insole is well cushioned to ensure the utmost comfort for lengthy use.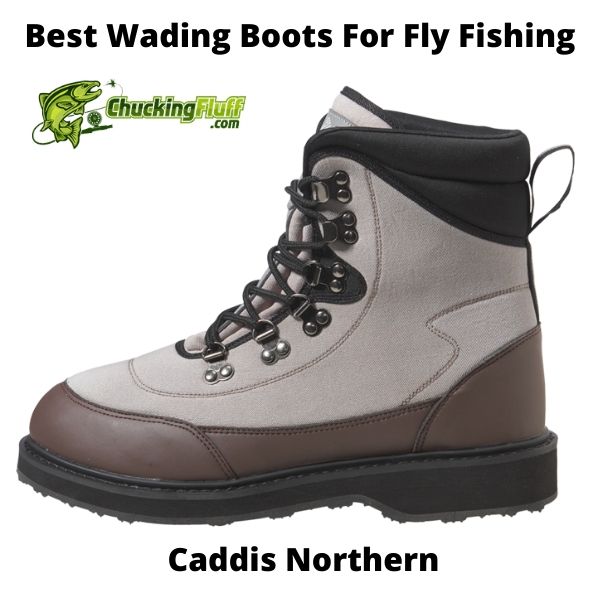 These boots don't lack as long as comfort is concerned. For days that need more trekking and for highly mobile anglers, there is no need of going on with the search. This is definitely a lighter option that you can consider.
Designed with the EcoSmart Grip II sole, you are sure of using these wading boots in any state since they don't transfer aquatic organisms. If you are a travelling angler, this should be a big bonus for you. Anglers have plenty of reviews about the sole traction so they are highly reliable.
The toe and heel areas have rock guards to prevent wader damage by stones and gravel. Still, with the same construction like the Taupe for Men, the size is half bigger to accommodate neoprene booties and other insulation layers. After layering they fit snugly and are very comfortable for long time use.
Check Northern Amazon Availability
Caddis Taupe EcoSmart Grip Sole Wading Boots for Men
Caddis is a legendary name in the fly fishing industry for its dedication towards customer satisfaction through innovation and production of high-quality wading gear. Take for instance the Men's Taupe Felt Sole Wading Boots that boast of versatility and longevity.
Anglers who wade in any environment will be appreciative of these boots. As you struggle to fulfill your purpose of being on the water each time, these boots ensure that you remain steady while on slick bottoms, mossy rocks, and downed logs. The material construction is a sure bet. High-grade polyester is wear and tear-resistant, water-resistant, and fast-drying making them the best wading boots, especially for tight budget anglers.
More protection boosts your morale to cast more and keep reeling. The heel and toe area have double reinforcement for safety purposes and to minimize wear and tear. Cushioning the insole was relevant enough to increase feet freshness and maximize comfort provision.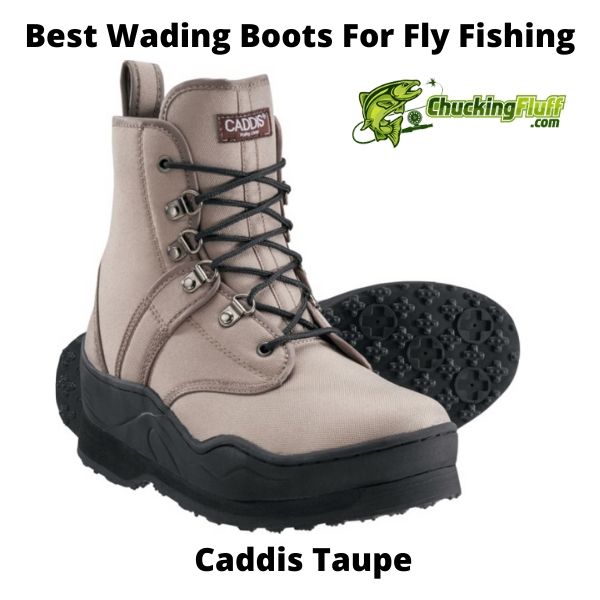 If you have fished in crappy boots with hard insoles, you know that sore feet are the worst feeling than missing a catch. They come as oversized boots by half size allowing for enough room for feet layering. You can choose to have wading socks, insulating socks or stockingfeet to keep your feet dry and warm.
The manufacturer is famous for cutting-edge technology on most of its products. Speed laces ensure that you secure the boots to your feet. Unlike Felt soles, the EcoSmart Grip sole is acceptable in all states for their environmental safety.
They go well with the Caddis waders and if you feel like you need to explore other waders, feel free to get what your money can get.
Check Taupe Amazon Availability
Best Medium Priced Wading Boots
Mid-priced boots are becoming lovable. Their workmanship is very dependable and the material choice is on another level. Most manufacturers blend two materials here to come up with wading boots that deliver exclusively.
We see manufactures using waterproofing coatings on some mid-priced boots to maximize performance. There are advanced features like D-rings to attach your gravel guards for feet and wader protection which you will appreciate.
Brands like Orvis and Redington feature in this section. If your budget allows you to go beyond $80 on wading boots, you will find a few considerations in this category.
Korkers Greenback Wading Boot-Felt Sole
Sometimes it gets difficult to decide whether to walk out in rubber or felt sole boots? Whichever world you decide to explore, these wading boots will do what you need them to do. The design is superb since the sole is changeable. You are free to change to any sole at your liking.
The good news is that the two soles come at no extra cost. Shaking feet to get rid of water is hectic. This doesn't happen when you have these boots on. They channel all excess water out reducing their weight once you wade out of the water.
Comfort is nothing to gamble with when going angling. The Greenback is a sure bet. Designed with enough padding, the thickness is top-notch and they feel like hand gloves when your feet are in.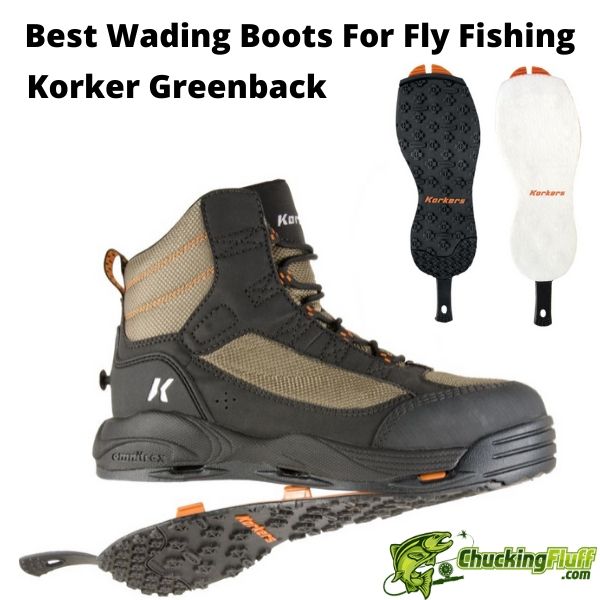 The material combination is hydrophobic to allow for faster drying and maintain the original weight even in brutal situations. On top of high water dissipation, water entry is greatly minimized.
Fabric and leather material is easy to maintain. The color combination goes well with your fly fishing needs. They are easy to clean. Some parts are cemented while seams are sewn in strategic positions for durability. The closure system is dependable and comes with traditional laces and rugged web loops.
The construction is very light and supplies plenty of ankle and leg support without compromising comfort. From the online reviews from previous users and current owners, you will agree that these boots are worth every dime spent on them.
Well, whether this pair is your first or among the tens in your closet, you know that you often decide which one to choose between the felt sole and rubber sole. Well, this pair comes to your rescue if you aren't a boot hoarder or need to spend more on separate purchases.
Rubber soles will serve you well if you trek long hours or move between fishing spots. Their longevity is superior and you will love their genuineness or performance. Felt comes in handy if you fish in extremely slippery surfaces or mossy rocks. For such situations, even the highest quality rubber soles can't make it to tops.
Featuring the OmniTrax system, these wading boots allow for additional soles with extra studs if you wade in areas that ban felt soles. The good is that the soles don't fall out even with rough use. The uppers of these boots are made from high-grade hydrophobic 100% synthetic leather and quality textiles.
Sounds ambiguous but if you have waded in water before in poor quality wading boots you will understand. They allow for quick water dissipation and ensure faster drying. They return to their normal weight of about 2lbs. after wading out of water. The foam midsoles have a good number of drainage canals which is a well-thought-out system.
Seams are well constructed and last longer since they are made from cemented parts for durability. There is reinforcement in the heel and toe areas for more safety and durability. Bumping into stones can't be painful.
The insole is removable and you can have it out for faster drying. If you are looking to achieve value for money, then this pair is a considerable choice to maximize performance and value for money. A pair that does anything anywhere is worth buying.
Check Korker Amazon Availability
Redington Palix River Rubber Wading Boots for Men
The Palix wading boots hold up very well over time. The construction is awesome since Redington stands by its products. The upper of the boots is made from high-grade canvas material which adds stability to the boots. The toe caps have great reinforcement from rubber material for more abrasion resistance since these are high wear points.
You will love how the non-corrosive metallic hardware hooks and the pull lops stand up to the environmental abuse. You don't need to waste time lacing up your wading boots. The lace hooks allow this to happen in a flash which saves you more time to cast on the water than fumble with boot lacing systems.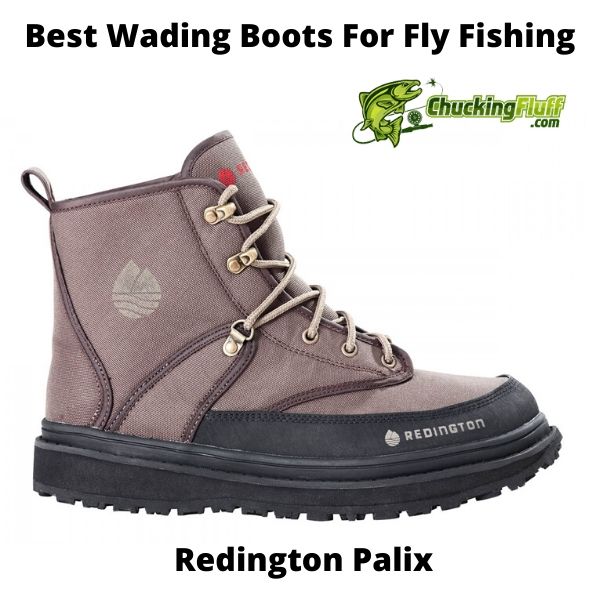 The rubber sole is very durable and boosts your confidence when walking on the slimy river bottoms. The treading pattern is precise and the amount is enough to last your wading boots several years before you can think of an alternative. The sole is usable with studs if you are still skeptical and need extra grip when you encounter extreme circumstances.
With the standard neoprene booties or insulating socks, you are sure to stay warmer when the cold season sets in. Generally, the wading boots are extremely lightweight and allow you to pace with ease and for longer sessions. The inner section is well-padded for maximum ankle and leg support.
Redington designs these wading boots specifically for men. They come in various sizes from size 8 to 13. If you are a lady angler who gets more fascinated by these boots, identify the proper size that will have you execute your water mission successfully and order it.
For those longer trips to your fishing spot, you need assurance that your boots are tolerant. Without this, you are awaiting more danger than you can think of.
Check Palix Amazon Availability
Orvis Encounter Felt Sole Wading Boots
No one is disputing that rubber soles are the most reliable choice if you are a tough trekker and angler who explores different waters. Felt soles have their glory too in its environment. Despite it having been banned in some states, some accept their use. The felt soles on these Encounter waders which offer superior traction.
They top the list when it comes to a good grip. Once the boot fabric becomes wet, it softens well and perfectly adapts to the river bottom. One of the commonest downsides of these soles is that they easily wear out if you walk a lot.
The good news, however, is that they are replaceable but you should be keen to know what will suit your needs better.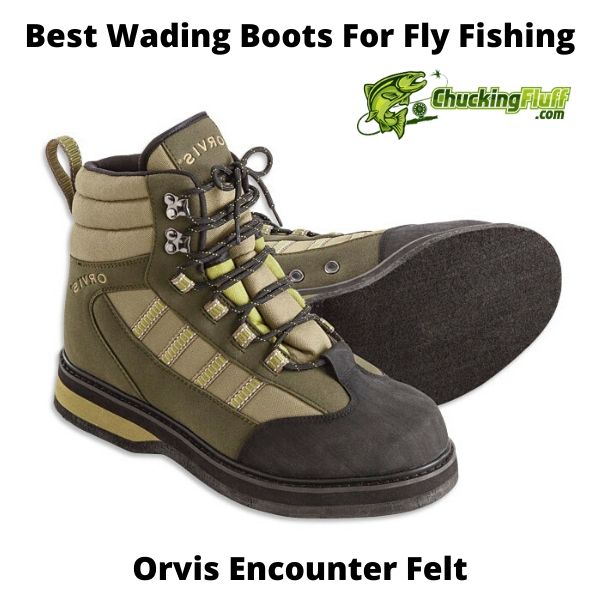 The upper section is made from high-quality polyester which allows for quick water expulsion and allows for quick drying even when the weather is gloomy. You will value this feature because it results in it maintaining its weight as quick as possible.
The collar area has enough padding to ensure that you gain more feet support without sacrificing comfort. There is not much difference in construction when you compare the Felt and the Rubber sole Encounter waders. The major difference is in the sole.
Cushioning the inner section is for added comfort and warmth when it begins to get chilly. The toe caps and heels are made from rubber to enhance durability because they highly wear out and for safety from injury when you hit a rock bottom.
There is a durable metal D-ring on the toe cap to attach your gravel guards which will prevent the entry of debris that can damage your waders. The lacing system is solid enough and very easy to open and close for quick feet entry and exit. There is no limit to using these waders not apart from the prohibited areas only.
Check Encounter Felt Amazon Availability
Redington Willow River Boot Waders
Intrepid anglers need valiant gear and equipment all the time to maximize performance. Redington brings you the Willow wading boots which portray admirable ruggedness as features of aesthetics and besides generally outperforming compared to most of the wading boots in its category.
From the top to the bottom, they are good-looking and intend to offer the angler with exceptional comfort and grip. As you wade and fish on slippery rocks, you are sure of reeling in more fish than you expect. The toe cap is made from high-quality rubber which is abrasion resistant adding more points on the durability aspect.
The wading boots come with mesh panels which are fully functional and allow for quick water drainage. This ensures that the boots take the shortest time possible to dry and maintain their original weight. Like most of the quality wading boots, these ones have enough padding on the ankle area to allow for free range of motion and by this boosting flexibility.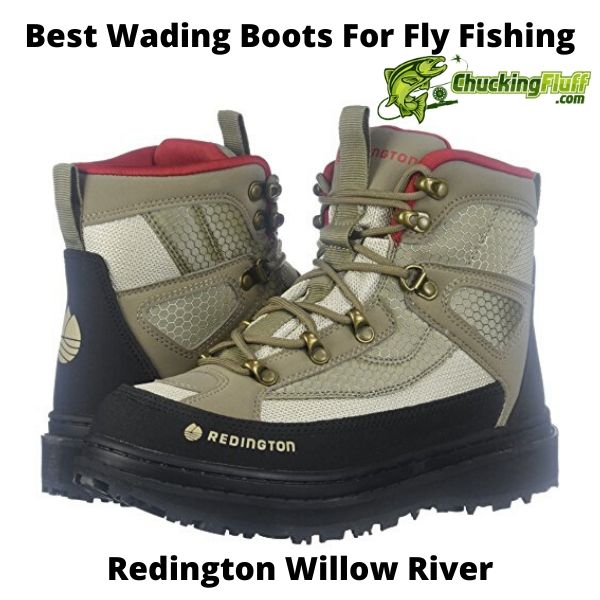 Redington has an impressive feature on these wading boots that will marvel your heart. The sole being stud compatible is a good idea to ensure that you can achieve more traction anytime you desire. The studs are a separate purchase and the good news is that they cost less.
Lacing systems can cause a migraine if they begin to rust or are difficult to tie and untie. Redington has a deep draw system which is well-molded and from non-corrosive metallic hardware.
You will love the boots applicability in any environment including the saline areas which are prone to rust and corrosion. The webbing pull loops are easy to tie and untie. It also takes the shortest time to slip in your feet and remove them even when the wading boots are wet.
Check Willow Amazon Availability
Orvis Encounter Rubber Wading Boots – Best Rubber Sole Boots
Novice and professional anglers will attest that these Rubber wading boots are very appealing. They offer features that you will find in most of the high-end boots. Although this pair has its close cousin the Encounter Felt Only wading boots, the Vibram rubber is acceptable in most states and doesn't support the spread of the dreaded invasive species. These wading boots have a promise to perform highly and they live up to that. They will definitely be a splendid choice for an angler of any level without having to run bankrupt.
Straight to its construction, the upper sections are made from 100% synthetics to ensure a properly functioning drainage system translating into a generally lightweight pair of waders whether you are in or out of water. The collar has extensive and thick padding to offer utmost support to the ankles.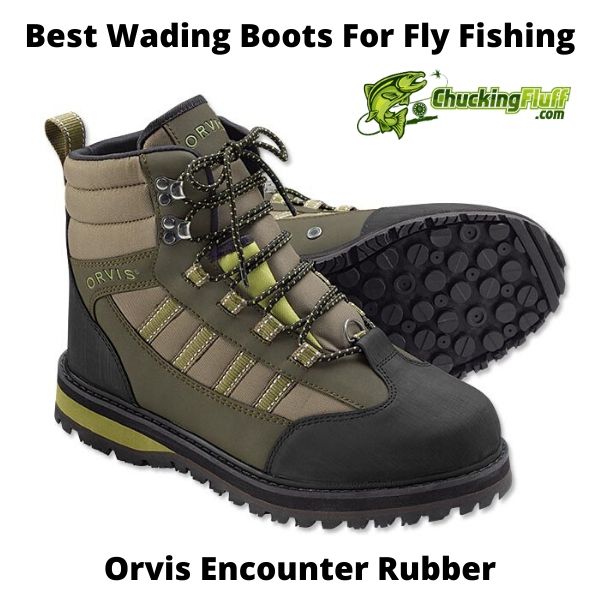 A bonus is the feeling of the heel section which isn't too stiff. You will love the inner section which has proper cushioning that provides maximum comfort while weighing the usual boot weight. The welted build is superb and as Orvis says, it is one of the sturdiest construction forms which outlives most of the wading boots within its range.
The rubber heel is appreciable and in combination with the toe cap from synthetic material, they perform their safety functions diligently. There is a metallic D-ring attached to the toe cap and holds the gravel guards.
Once the gravel guards are in place, they work in hand with the boot tongue to prevent the entry of sand and grit into your waders. The lacing system has nylon loops rather than metallic ones to allow for easy entry and exit.
This makes them ideal for use in saltwater environs without the fear of rusting and corrosion. The traction is super-duper compared to their felt sole cousins even after you attach the studs. Rubber is, in fact, more durable and allows for comfortable walking in the pools and rivers.
Check Encounter Rubber Availability
Redington Skagit River Sticky Rubber Wading Boots
Redington's mainstay wading boot is the Skagit River that assures you of utmost support, comfort, and greater resilience. If you are out looking for a good pair of wading boots that values quality and performance, you will never go wrong with the Skagit.
The manufacturer adds a mesh panelling to the boot's body to ensure quicker drainage and fast drying. The mesh is extensive to the upper parts of the boots to maximize on breathability both in and out of water. The nylon material and synthetic leather increase flexibility and durability.
The collar is well padded to exclusively support the ankles and counter the chances of injury in case of slippage under the water. The rubber sticky rubber soles when put to test alongside the same brand's felt sole pass the test.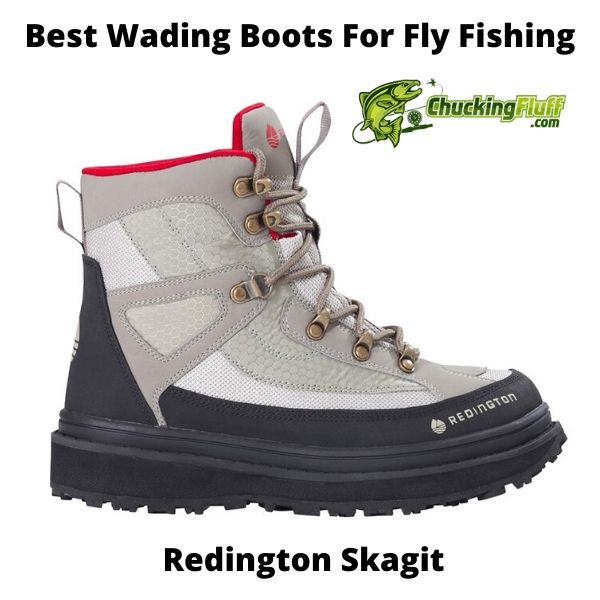 The construction is very soft and provides very firm grip especially under water. There are durable crushed walnut shells that are added at the bottom area to greatly improve traction.
Sometimes as you go fly fishing in your local rivers or streams, you will be spotted with several rotten leaves or twigs. You can add studs beneath to counter this. However, the studs will be a separate purchase and will not cost you so much.
The fitting and removal process of these studs is very natural. Once you wade out of the water, the boots drain very fast unlike most of the low-budget wading boots.
The boots are lightweight and at 3.5 pounds, you can trek long distances and easily wade in water without feeling exhausted or fatigued. The boots come with high-quality webbing pull loops for quick and easy boot-wearing and removal. You can slip out the boots eve when wet without having to fight the lacing system.
Check Skagit Amazon Availability
Best Wading Boot – Top Budget
Do you need a $150 pair of wading boots? If your finances allow you to sample the expensive boots and gear in the market, why not? You can buy as many specialty pairs as you'd wish to ensure that you achieve versatility and performance.
Well, there are no special features on these boots that make them overly vouched for. However, the craftsmanship and durability are what mostly count. They can serve you while on hikes, treks, and when wading in any water.
Some allow for stud additions while others come with Kling on or separate soles to allow for versatility as you change fishing spots throughout the day.
The convenience is worthwhile as it saves you from carrying an extra pair of boots and is time conscious too. Explore any reputable brand as long as your budget is not on the edge.
Frogg Toggs Saltshaker Wading Flat Shoe
A ton of fishermen and women swear by the Mighty Frogg Toggs. Well, no doubt but the company has a great reputation for its diligent service provision to anglers and outdoorsmen and women. If you opt for respected brands and names, the Saltshaker is the deal maker for you. It is at par with most of the top outfitters.
If you are in the market for felts, you should consider this option first before doing as you had planned. There is a crazily positive buzz online on how efficient these waders are. The praise goes directly to the solid traction and their comfortable fit. For their tag, they are a killer pair of wading boots that can last you as many seasons as you'd like.
The mesh uppers and the polyester out skin are well worked upon to ensure that they maintain their sharpness and durability. This allows for water expulsion as fast as possible and quickens drying. On the positive side, they don't allow for entry of water into the boots.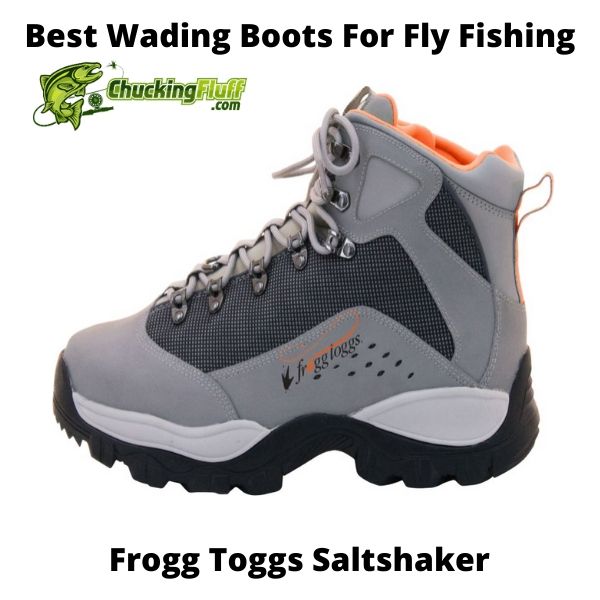 Collars have enough padding to maximize comfort and ensure you have support all day as you walk, hike, and cast. Their behaviour similar to most of the high-quality wading boots. There are no complaints of the sole experiencing separation from the boot since the construction quality is top-notch.
The sole is well cleated to ensure that you achieve very superior grip as you step on the broke logs and sharp rocks. The traction is undeniably awesome. The midsole has great reinforcement to allow for shock absorption when you hit the inhabitants of nature.
The inner side is lined with neoprene material which allows for easy boot-wearing and removal. You will appreciate the lacing system which has anti-corrosive hardware making it earn its popularity for its reliability in saline environments. Since many anglers vouch for them online, you can be sure to be making a reasonable investment if you purchase these wading boots. Their service delivery is more than what they are worth.
Check Saltshaker Amazon Availability
Simms Freestone Men's Wading Boot
If your desire is to wade in burly boots, Simms has the Freestone Wading Boots for this purpose. They endure the torture from sharp rocks and rough river beds. While the same version comes with a felt sole, what this mini-review focuses on is the rubber sole sister boots. Not so much of a difference in construction apart from the sole exists.
The design is superb and offers ample ankle support. The toe area has enough capping from high-quality rubber in a scratch patch design for more durability. The leather upper is made from 100% synthetic material which is super thick. You will love the collar lined from neoprene to offer the smoothest interior surface which makes the inner side amazingly comfortable to wear long hours.
Layering your feet should be a common practice especially in the winter season. These boots accommodate any type of insulation and don't feel too stiff or take an eternity to break in. once you have them on and get to business, you quickly forget their presence.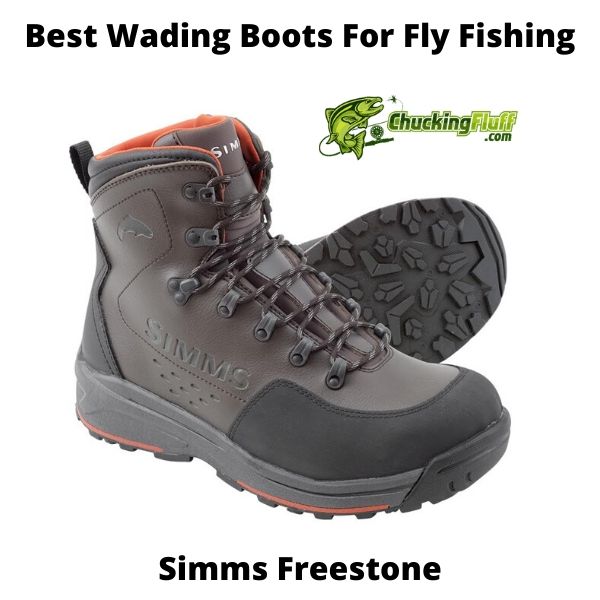 As you look around for a good one, pay more attention to performance and fit. By doing this, you build a stronger relationship with your boots. Usually, once out of the box, the boots are stiffer and more robust compared to most of the other boots in its category. However, once they get wet, they feel really great.
The rubber soles boast of great traction in the toughest of situations. What will fascinate you more is their highly waterproof nature that keeps your feet dry, warm, and feeling comfortable. Rubber parts are scratch-resistant while the midsole has dual-density EVA for maximum shock absorption when you accidentally hit a rock at the bottom of the river.
The closure system comprises of speed lace hooks and durable lace-toe closures to allow for easy feet entry and exit. The Simms warranty is applicable to these boots in case of defects in material or craftsmanship.
Check Simms Freestone Amazon Availability
Orvis Ultralight Wading Boot for Men
The Orvis Ultralight lie of Products comprises of the Ultralight wading boots for Men, boots for women, convertible waders for men, the same for men, and Ultralight wading jackets. These boots for men are fairly short compared to most heavy boots. The ankle height is lower and this is advantageous because of their nimbleness on various terrains.
They give greater balance and ankle support. If you love overland scrambling, these boots are the go-for option. The eternal area is made from a high-grade synthetic material that makes it durable compared to traditional leather.
The Clarino microfiber strikes a balance between the weight and strength of the boots. High wear and tear areas are sprayed with an abrasion-resistant rubber spray that coats the section-toe and heel areas. Don't you think it gears towards durability?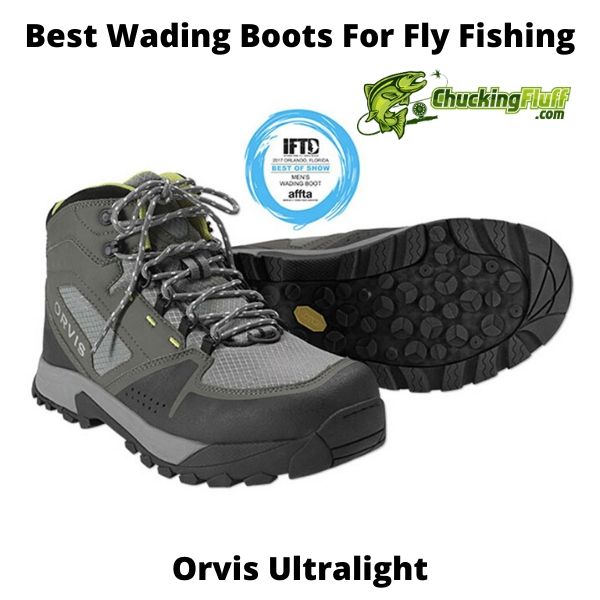 Ripstop nylon panels are a good blend of support and flexibility. The midsole ensures maximum cushioning since it is made from Vibram EVA and has TPU plates that increase the stability of the sole and allows for better stud retention. Studs are a separate purchase though and will improve traction. The good thing that makes these boots downright awesome is their ability to allow for feet insulation which you can consider in colder days.
The ankle support is dependable since together with the polyester lining which is softer to the feet and the lacing system that tightens up without trouble, you are sure of a good day outside. However, if your ankles are weak because of one or two reasons, you will have to consider taller boots.
These are so far among the best wading boots that you can take along to the river or stream. The rubber soles are fabulous on the trail. They survive on the river banks and boulders.
For small creek fishing, river, and lakeshore fishing with plenty of gravel and the sandy bottoms, you dot need to hesitate if they fall within your financial plans. The wet traction is easy to amp with quality screw-in studs for challenging waters. It should be on your shortlist if you are looking for a nimble pair of boots.
Check Ultralight Amazon Availability
Redington Prowler Boots
If you go deeper into details of the Prowler, you will dig out a lot of valuable info that will help in your decision making whether you will buy it or not. It is so far the company's premium choice since Redington took several years to design and manufacture the first sample batch. The reason for the long duration is to achieve durability, comfort, and performance.
The rubber soles have drawn solid praise from anglers and until now, it is still a work-horse. The only shortfall is the boot weight which is very heavier than the rest in its category. The good thing is that they are lighter and shed water quickly lightening them. Though supportive and clean, comfort is achieved by high-quality uppers. For more durability, the toe and heel areas are reinforced with stout rubber rand rings.
The insole has a series of drainage holes to allow for water expulsion and make drying quicker. They are hydrophobic meaning minimal water weight as you climb out of the river. The lacing system performs its function of snugging the feet into the heel box to give a slip-free and trouble less experience.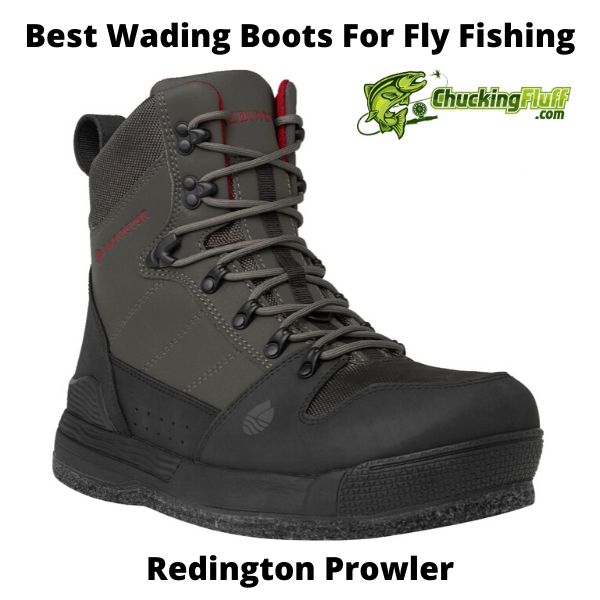 To be sure, you can make a firm double knot. The outsole comes slightly wide to allow for easy smearing onto the rocks to ensure there is a three-dimensional grip and you step on bigger rocks.
Prowlers have a clean design that minimizes abrasion and snagging eve as you scramble through the tight and jumbled rocks. The upper material is tougher and its construction holds up well to abuse and rough use. The only knock that you will often need to deal with is the loose laces.
To counter this, a firm double knot will solve the problem. When it holds water, the knot will need more effort to get free. Be careful because repeated knot picking will cause fraying.
Check Prowler Amazon Availability
How to Clean and Store your Wading Boots
Use a brush with stiff bristles and elbow grease to remove debris, mud, and invasive species off your wading boots. It is advisable to remove the boots first and clean when wet while still at the river or stream. This prevents mud from getting hard on the boots and invasive species being ferried to a destination they don't belong to.
Check the seams, treads, and laces closely to ensure that you don't miss a spot.
Thoroughly rinse the boots in and out and allow for water to drain. Several shakes will expel more water and make them lighter and less soggy.
NOTE: If you go angling in areas with invasive species or whirling disease, ensure that you strictly adhere to the disinfection guidelines. You can call your local fishing or wildlife agency and learn what they require from you before making a trip.
Well, regular wading boot disinfection is crucial to ensure your boots and feet are free from bacteria that can cause fungus, mold, or bad odour.
The quickest method is to submerge your boots in very hot water about 140 degrees for three to four minutes. If you are part of a fishing club that owns a cleaning station, you can have your boots disinfected there.
Option B is to freeze the boots for not less than 48 hours so as to kill microorganisms. Cover the boots with a garbage bag and put them in the chest freezers. Remember to thaw them before your next fishing trip.
Allow your boots to dry completely to cut bacterial growth. Most manufacturers recommend sun drying the boots though not for a very long time. Overexposure to the harmful UV rays may damage the material.
Boot dryers are a good alternative if the sun doesn't shine on you. Some anglers who frequent the waters in winter say that a clothes dryer does it for them. However, you need to be cautious to avoid damaging the boots. Here are the steps to follow:
Tie laces of the two boots together so that if you lift one boot, the other tags along.
Hold the laces and hang the boots over your clothes dryer's door. The boots should be inside your dryer.
Close the door so that the boot laces are hanging above on the outside. The boots in this position don't hinder the performance of the spinning drum.
Run on a normal drying cycle and the boots will be dry.
Store your wading boots in a cool and dry place. If possible after they are completely dry, tie the laces and stuff the boots with dry paper rags to keep their shape until the next use.
---
Final Verdict on the Best Fly fishing Wading Boots
When spending a day or night in the water, you need good wading boots as part of the essential pieces you have to purchase. While you can skimp on the others, wading boots should never miss on the must-have list. We have discussed above why the right footwear is mandatory and an addition to your angling gear.
Your safety is more important than the number of catches you will get on any day. You will spend most of your time trekking over the slipperiest rocks, climbing uneven river terrains, and wading through muddy pools to reach your point of desire. If you don't have proper gear, you risk brewing disaster. Imagine how you'd feel and how much it would cost you if you rolled an ankle or slipped on the rocks.
There is no doubt that poor quality boots will ruin the best fishing days. This fact is simple and precise and any angler should keenly think and be cautious of what they put on their feet. The best wading boots or wading shoes should offer traction, more stability, and comfort which will make your fishing days memorable.
Since the major function is traction provision, the streams and rivers you intend to fish in will have plenty of slippery surfaces, loose gravel, and very steep heels. Good quality boots whether you go for the cheaper options or the high-end choices will help you navigate the conditions very safely. This isn't negotiable because of the durable construction.
Overall, wading boots are a vital part of your wading gear. There are various key considerations to have in mind when looking to purchase high-quality wading boots. However, what will determine your choice is your financial limits. There are cheap boots that do what they need to do, mid-priced boots that are of good quality and very reliable.
The high-end boots are an option if you are looking to spend as much as you can on quality and performance to achieve value for money. Your boots need to keep you surefooted when you walk on slippery rocks.