Looking for the best rain jacket for all your fly fishing trips? Stop here and decide whether this Frogg Toggs Pilot 3 Guide Rain Jacket is for keeps or not.
All serious anglers own at least one or two high-quality wading jackets. As they say, there is never bad weather. There is only bad gear. It doesn't matter whether it is drizzles or a heavy downpour.
With the right wading jacket, a fly angler can persist through these adverse elements and have the best of that rainy fishing session.
High-quality wading jackets are supposed to be highly packable, cut wind and keep you warm and dry amidst the rain. It will surprise you that most habitual fishermen will overlook this item but it is worth owning?
As a die-hard angler, investing in a good wading jacket benefits your health. Exposure to wind and cold without garment protection puts you at risk of circulatory diseases, aggravated allergies to cold or asthma.
A rough look at a proper wading jacket;
it should pack small for transportation and allow for freedom of motion like in the Toggs Pilot 3 Guide jacket that has a drop shoulder design for this purpose.
It gives space to cast comfortably and reach for fish or tools and nets. Among protective features, it should be highly water and windproof. Breathability is key to keep you fresh at all times causing no water penetration.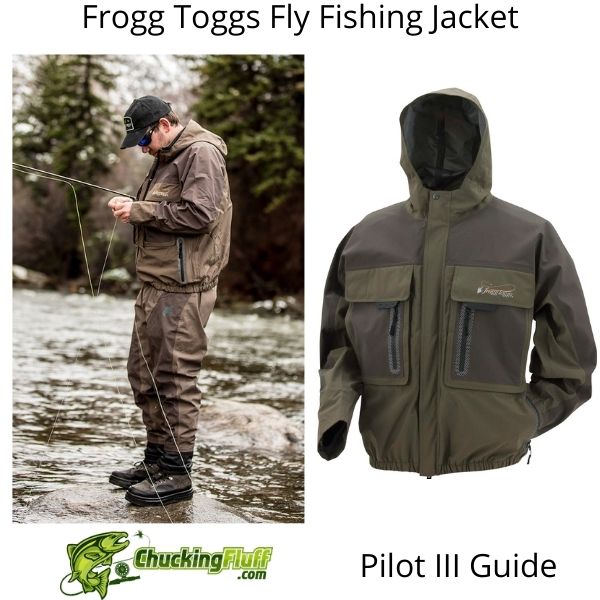 Like any other garment, if you don't take proper care of a rain jacket, it will not serve you longer than you expect. Consider treating this rain jacket with a high-quality waterproofing product to enhance its water repelling capability.
An example is TX Direct Spray On. This is a product by Nikwax and works excellently on old and new gear without compromising on breathability. The craftsmanship and quality are almost unmatched.
Frogg Toggs is among the reputable and consistently reliable manufacturing and supplying brands of everything fly fishing apparel.
Pilot III Guide Rain Jacket is an ideal companion for an angler while on water. It has been mindfully built to offer utmost support as you fish actively in all techniques.
Storage is a great feature of a good wading jacket and this one has it all. From Hand warmer to chest and internal pockets, if you are a light packer, you might not need an extra bag.
The jacket covers your entire upper body including your head. Folks who are asthmatic or have other health complications cold can aggravate that shouldn't worry. This jacket fully protects you from the cold.
Pilot 3 Guide Jkt Amazon Price