If you don't know the tricks ad tips of tactfully shopping for your fly fishing gear and equipment, the sport can turn out very costly and draining.
Fly reels and rods are easy to come by but there is very little information on the best fly tying kits and tools.
This is because most anglers prefer to buy already-tied flies to save them the hassle of tying unyielding ones.
Fly tying kits come with almost everything you require to commence your fly tying journey. You could choose to do it to save money or to make money.
A good kit should come with necessary material, equipment, and detailed instructions for tying common streamers, emergers, dry flies, and nymph patterns.
The full package offers an angler the convenience of materials and tools they require to popular fresh and saltwater patterns.
They are handy for beginners but even guides use similar ones to tie their favorites.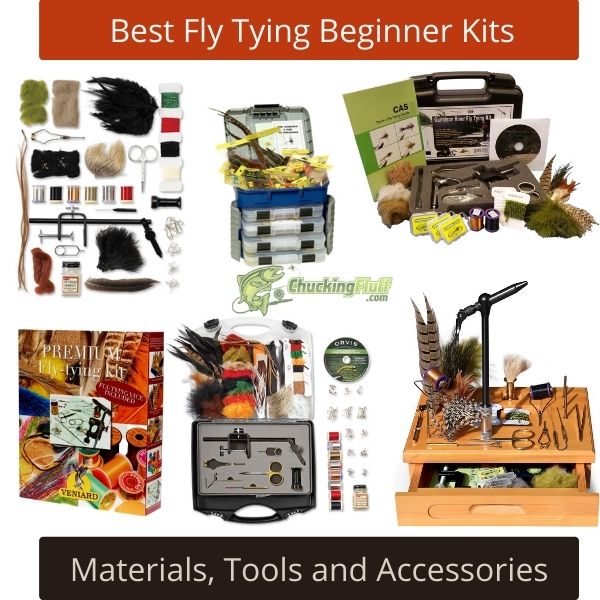 Catching fish on flies is one of the most thrilling and rewarding techniques of fishing even if others exist. Artificial flies entice slow rises of trout, he runs of Muskies, gentle sips of grayling, and explosive strikes of largemouth bass.
Many anglers say that tying flies is just as satisfying as hooking one. The fly tying art involves putting together a few primary elements of a fly including the hackle, body wing, and tail to create a complete artificial fly.
Upon learning and mastering the basics, you can identify numerous easy patterns to tie.
Fly tying kits come with a fly tying vise, bobbin, scissors, holders, threaders, hackle pliers, stackers, and teasers among others.
This guide will explain the contents of the best fly tying kits, necessary tools required, the importance of a fly tying kit, how to choose the best one in the market, and mini-reviews of some of the best fly tying kits you can purchase.