Introduction to Fishing Sunglasses
Angling success begins when you can boldly spot the visual location of a species in target. Almost the same way an eagle swiftly catches a fish. The eagle's action kicks off from identification from a far distance. As it swoops to catch a fish, it is almost unexplainable.
The speed is terrific and the accuracy of the catching action is spot-on. Thanks to the powerful vision-almost microscopic! Hooking your target doesn't require similar vision, experience, and keenness. For an adrenaline-charged fish hook-up, you need an excellent pair of fly fishing sunglasses.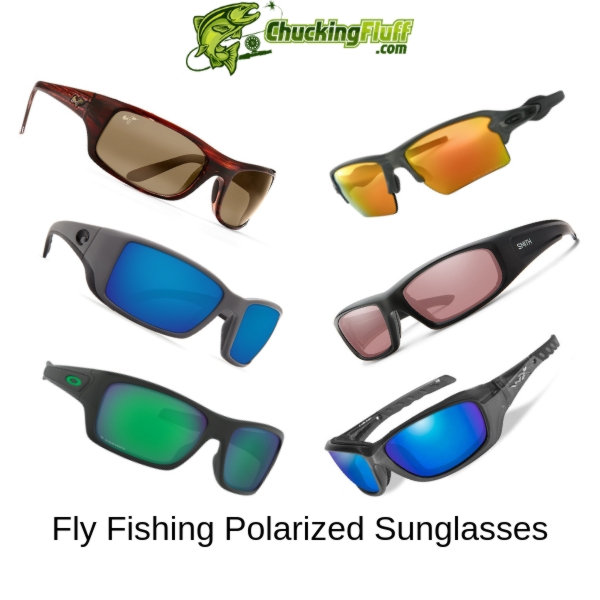 These are not your usual shades or darks. Fly fishing takes you outdoors and as an angler, you will come in contact with ultraviolet rays that you must tackle to protect your eyesight. Sometimes the glare on the water surface becomes too much to almost blind you. Will you stop at that?
Perfect fly fishing sunglasses give you 100% UV rays protection and greater ability to see through shallow water. Sunglasses further act as a protective barrier from physical damage to the eyes. The closeness of the hook to your eye can be a safety threat. With good glasses, we fully guarantee your safety.
Fishing has undergone great evolution. If you check in your nearest sports shop or on online stores you will discover a wide range of options to select from. All these are to enhance your fishing experiences.
Different fishing conditions like low light, offshore, inshore, fly fishing and open water fishing have their matching assorted lens types. Like earlier said, they are not your usual shades. Here are categories of sunglasses highly recommended for fly fishing:
---
Polarized Sunglasses
Anglers mostly fish at daytime. Polarized sunglasses are vital to protecting your eyes from sun rays and ultraviolet rays. It is easy to counter straining because of glares. So many brands manufacture polarized fishing sunglasses to suit each customer's needs.
Wiley-X won the Best New Polarized Eyewear in Europe for two years and is among the manufacturers that don't compromise the health of its customers by sensitizing on quality.
---
Prescription Glasses
These glasses have a crystal clear vision to increase the chances of flawlessly spotting fish. Frames are fitting and they range from transition lenses to progressive lenses, lenses of different tints, material and they are easily available.
Be careful when choosing the frames. They shouldn't slip down to the nose- they will be senseless, anyway. For utmost grip, those with nose and temple pad will be an excellent choice.
---
Blue-coated Glasses
No matter how perfect your eyesight is without protection, you can't stand the immense glare produced by water for a long time. The irritation is annoying and for all reasons will be a hindrance to successful fishing.
Scientifically and medically, wavelengths from blue light are enemies to proper vision. Glasses that block blue light protect your eyes from reflection and glare. The filtration process of the blue light is quick and enhances clarity.
There is a balance in color, contrast, and protection. With these glasses, the intensity of brightness outside doesn't matter. Clarity is unmatched.
---
Photochromic Lenses
Photochromic lenses are adaptive to light and their functionality is slightly an advancement of the polarized lenses. Anglers who spend long hours on water will find these lenses useful. How do they work?
A lens adjusts tint with accordance to ultraviolet rays to give a crystal clear vision. There are several lens colors you can choose from the descriptions below:
Copper/Flash – Copper lenses are all-rounders in almost all light conditions. They work perfectly in light amounts ranging from medium to strong. Stillwater and river anglers term is as a must-have piece for a great contrast.
Copper/Green – One of the best optic solutions and work similar to the Copper/Flash.
Yellow – Good yellow lenses increase depth perception and contrast and will work well in low light. For dusk, dawn, and during dark days.
Grey/Blue – If you love true color definition through a polarizing filter, this Grey/Blue lenses are a hit. They are excellent on bright and sunny days and prevent you from straining and eye fatigue.
Polarized lens sunglasses are the commonest upstream, downstream and at the coast. During manufacturing of these lenses, specialists apply a special chemical laminated vertically that polarizes the lenses.
The chemical reorganizes light and the vertical nature blocks light that hits the lens in a horizontal manner. By this, it counters glare. The mechanism is like that of window sheers.
Polarized lenses may make images to appear darker but upon eliminating glare, it is easier to see image details reducing eye strain.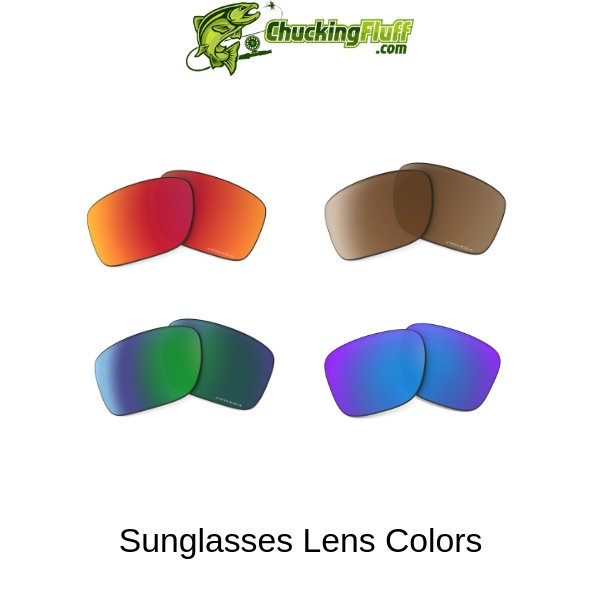 ---
Their prices differ. The cheap ones have a thin chemical laminate is on one side. Most of the time, you can rub it off easily. Lenses might have aberrations because of low quality when massive productions are made.
High-quality polarized lenses have a film laminated between two layers of the lens material. This protects the laminate from being scratched or rubbed off and makes it more protective against glare. Don't be misled on lens colors!
Darker lenses don't translate to ultimate protection. It is prudent to enquire from the eyewear specialist or retailer on the chemical laminate application.
Besides safety and protective benefits, acuity, contrast, visual clarity and an enjoyable environment are what you get when you have high-quality fishing sunglasses on. Seeing below the water surface is no ordinary thing but high-tech lenses make it extraordinary to non-users.
Talk of well-improved reaction time with an eagle-like vision. These glasses are available in an array of materials, colors, lens and frame designs. Your budget, taste, and preferences will speak volumes on your final choice.
What to look out for when buying Fishing Sunglasses
Horror stories are traumatizing but a great way to learn from others. It can be slightly enjoying hooks whizzing in the air but a turn of events when one knocks your eye. Your reasons for fishing don't matter but your health and safety does.
For whichever reason, you will need a high-quality pair of fishing sunglasses for this. We will start by diving into the key features any angler needs to look for when purchasing fishing sunglasses.
---
Polarization
Before anything else, a good pair of high-quality fishing sunglasses should have polarized lenses. They drastically reduce the amount of glare on the water. An angler gets improved clarity and can see rocks and fish deeper into the water.
Most anglers will complain of headaches and migraines because of fishing with naked and unprotected eyes. Polarized lenses help to counter this. Protection from UV rays is important to preserve your sight and polarized sunglasses will act as a good barrier.
Under polarization you will have to choose the type of lens- either polycarbonate or glass lens. Glass lenses are popular and give the crispest view. They are scratch and abrasion resistant and you can see clearer than when using polycarbonate lenses.
Shattering easily is the only downside of the glass lens. Polycarbonate lenses are lighter than glass lenses and don't slip anyhow. Durability is a guarantee especially if your hands keep dropping anything.
---
Comfort
It seems obvious but you won't confirm its importance until you get tight or loose sunglasses. Don't overlook your comfort! Most of the times tight fitting sunglasses have frames that exert a lot of pressure on your temples causing uncomfortable throbbing headaches.
Removing them means feeling slightly relieved but with the glare blinding you. So? It ruins your entire fishing experience. Or oversized ones that will slip down to your nose with the slightest head movement. It drifts your concentration every time and you can't make the smallest catch.
What's the solution? Find sunglasses that fit properly – the right size. A pair that doesn't hurt your temples and has a rubber material at that area and on the nose bridge to secure them from slipping. For all-day use, a pair with an 8-base, wrap around is the best.
---
Protection
Despite the polarization aspect from protection from the effects of intense sunlight and ultraviolet rays, the physical aspect is crucial. If you happen to forget your sunglasses, drive home and get them.
Agility and fun without protection might land you on a hospital bed. Hooks flying everywhere in the air are safety threats and when one gets in or around the eye, you will loathe the experience. Safer than sorry is the thing.
---
Durability
Whether or not you damage your sunglasses, the ocean doesn't give a damn. Durability will depend on several aspects including material of the sunglasses, and normal care and maintenance. Saline environments are active agents of corrosion and rust.
Sunglasses with metallic frames or components will be first to corrode. One with a blend of plastic or nylon will be resistant. Manufacturers make premier sports eyewear frames of nylon. You could be wondering why. To withstand extreme temperatures and maintain the shape and stick in place as if new.
---
Style
To each their own. What you fancy might not be the same as your friend's. There is so much to sample here including design, color, and shape.
While each angler is aiming at performance, quality, durability, and affordability, looking good is still part of the list. Manufacturers have moved from single designs to creating variety to suit all ages and gender.
---
Color
Most important is the lens colors which will have your time and type of fishing as determinants. There are those for inshore and shallow water. These have the inside lens in amber and the outside in green. For low light areas, yellow will never disappoint.
Grey lenses have proven to be for all-round usage while the grey inside and blue outside lenses are excellent for offshore fishing. Frame colors will be your choice.
---
Lens Curvature
Lens curvature is basically how the lens fits around the eyes. This will influence performance. An angler is supposed to have their vision with the sunglasses on to be closer to their normal vision without the sunglasses on.
Lenses with too much curvature distort vision and will interfere with your perception of where fish and rocks are. The front of the lens has to be flat from top to bottom and to curve on the side in the peripheral vision. Lenses that cause distortion of images are a NO!
---
Frames
Manufacturers offer a variety of frame styles but not all lens colors will be available in all styles. You can test frames for the right fit by wearing them. Each frame has its fit and style in different sizes. To look good, matching all other aspects is crucial.
Avoid choosing trendy styles such as aviators or those with square frame shapes. They will leave your periphery exposed to glare and more light. A frame that has a larger coverage wraps your face well and has thick temples is superb. Frames should be lightweight and shouldn't touch the eyelashes, hurt the ears or nose and stay in place at all times.
---
Fit
Fishing sunglasses that wrap around your face are the best and provide extensive coverage. Anything that doesn't fit will be useless.
---
Retainers
Your pair of sunglasses is better with retaining straps than without. These straps help your eyewear stay put. Whether you have them on or off. If they drop in the water you might as well count your losses.
---
Warranty
Most manufacturing companies issue warranty on sunglasses. This reassures customers of genuineness, quality, and reliability. Some are a limited lifetime that covers any defects in materials and workmanship while others are for a few years.
Costa Del Mar has all fishing sunglasses backed with limited lifetime warranties. Bucci and Pelagic Gear too.
---
Budget
Other aspects put in place, your finances will be a major determinant. I doubt there are anglers owning a bin full of fishing sunglasses. Man, these high-tech gear are costly. A practical and financially knowledgeable angler will tell you they own one or two pairs of pricey eyewear and not a pair for each fishing time.
A jack-of-all-trades pair will be good for most conditions. Keep in mind that the cheapest might not be the best neither will the most expensive. Doing due diligence will be helpful to ensure you don't compromise on quality and performance.
Best Fly Fishing Sunglasses over $200
While you are outdoors on water scanning the river or ocean surface, sight is key- your eyes are a vital tool here. The perfect fly fishing sunglasses work to protect your eyes from harmful ultraviolet rays, glare and greatly enhance your fishing game by completely filtering certain light.
Sunglasses in the upper category of our guide have these properties to the highest levels. They have the ultimate fishing lenses that allow an angler to clearly and effortlessly spot fish below the water surface. A fisherman's arsenal should have excellent fishing glasses as an important tool.
Your favorite sport mustn't be extremely detrimental to your health. You will spend more on sunglasses in this price range but it is worth every dime. No gambles. No compromises.
You are sure of excellence in quality, performance, durability, and purpose. If you can cough more for two or three pairs, you are safer.
Smith Optics Guides Choice Sunglasses
Getting amped for a day outdoors on the water gives a great feeling. But knowing you can reach for your Smiths Optics Guides Choice Sunglasses makes it greater. These sunglasses are unmatched. It doesn't matter if you are a guide, a tournament angler or are out to have fun on the water.
The Polarchromic Copper Mirror Techlite Glass Lenses are so far some of the most superior lenses. Despite putting it to test under the sun and in grueling weather from extreme cold to extreme heat, the results were amazing. So far the best in business.
Lenses pierce the water sharply cutting glare in all the light conditions. They maintain their clarity in brighter days, unlike other brands that fog up. You don't want to foul net then lose a fish.
Sunglasses are meticulously manufactured and provide utmost vision and comfort in tough weather conditions. The oil and waterproof coating allows water to bead and run off the lenses rapidly as you navigate on rough water or during rainy days. The vision is on point.
Care and maintenance is a breeze, glass lenses are easy to clean when they get dirty or have fingerprints. The anti-reflective coating is vacuum applied at the back side of the lenses to counter sidelight reflection.
These are a medium-large fit and have large coverage protecting your eyes from the effects of weather elements. You can find the frames in Howler Matte Tortoise, Havana, Black, Matte Black, and Matte Havana.
Evolve frames pair well with the 8-base lenses. The temple design is wider hence the hype. For a superior fit, it comes with a tight arm wrap. While frames fit well, they allow your face to breathe.
The nose and temple have hydrophilic Megol pads to ensure the sunglasses stay put always. Stainless steel hinges secure the arms.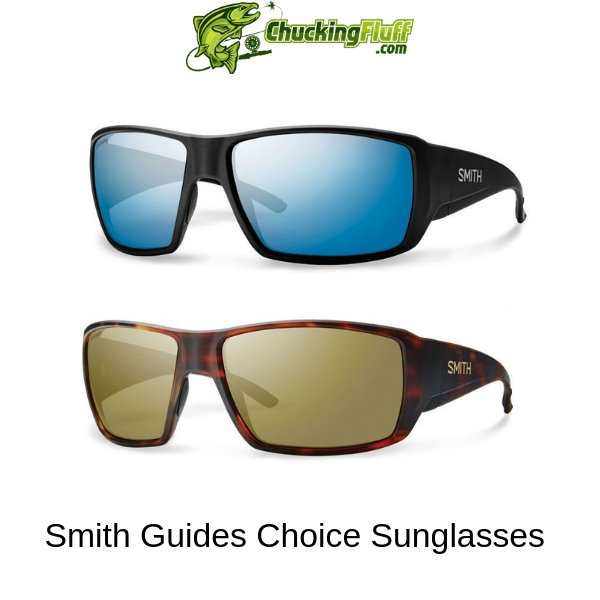 Costa Del Mar Brine Sunglasses
It isn't difficult to see why these Brine Sunglasses are among the best for fly fishing that Costa Del Mar ever manufactured. They gear every aspect towards making fishing safe and memorable.
You put more effort and focus on reeling and not trying to see what is under water.
The design is stylish and will look great on both male and female anglers. Lenses are larger and block peripheral light. This prevents you from having eye fatigue and headaches.
Polarization greatly reduces glare on water while ensuring visual clarity and every detail of the surrounding is visible without distorting colors. 99.9% polarization is very high and reliable.
Different sunglasses have different percentages and ways of polarization but Costa has some of the best glasses.
They are wearable all day and can be used almost anywhere. Lenses are lightweight, scratch and impact resistant and durable. They can serve you longer with proper care and maintenance.
Costa curves the frame to fit comfortably and stay in place without sliding off even one bit. You can add a prescription to these sunglasses and spare your expensive everyday glasses or contacts.
Made in the USA, you are assured premium quality. Brine sunglasses have gone through the trustworthy quality control procedures to ensure they release only exceptional quality sunglasses into the market.
580 polycarbonate lenses are fitted on the glasses to deliver unmatched clarity and easy view of objects under water. A special C-Wall molecular bonding makes the mirror smudge, scratch, oil, water, and sweat resistant. This allows for easy cleaning. 
For dimensions to confirm your fit before making an order, the temple length is 133mm, the distance between the lenses is 19mm/18mm and the lens size is 59mm/35mm.
Costa Del Mar issues a limited lifetime warranty to the original owner of these Brine sunglasses. This comes in handy in case of any replacement or repairs as long as all terms and conditions are met. More on this on the manufacturer's website.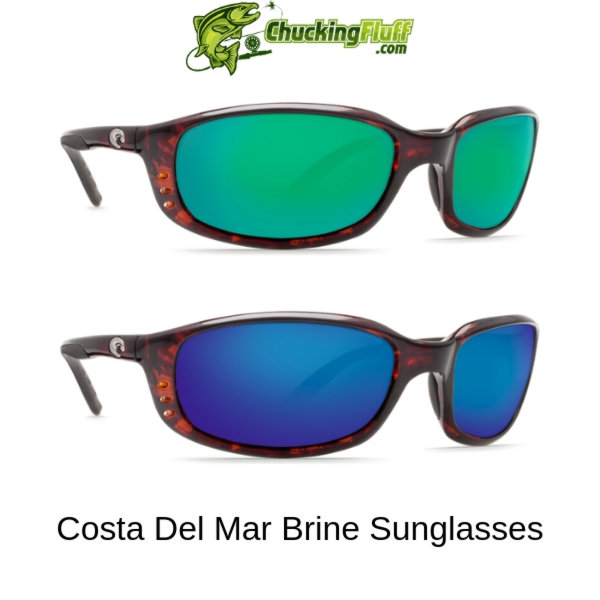 Costa Del Mar Zane Sunglasses
Serious outdoor adventurers and anglers will love the unbeatable lens performance and comfort of the Zane Sunglasses by Costa Del Mar. These ones are iconic and named after a prolific fishery in the world-Zane Grey Reef. The manufacturer constructs them to go hard with a striking frame design made from co-molded hydrolite.
A pair that performs in the harshest weather conditions on the planet is what any avid angler would love. These are perfect for use anytime, anywhere. Designed with 580 Lightwave glass lenses which incorporate a highly advanced filtering compound into the glass lenses to reduce the amount of yellow light. However, this doesn't distort the color of the images. It still maintains clarity.
To add to it, the lenses are 100% polarized to reduce glare by blocking reflection. The result is an improvement in eye comfort and allows proper viewing without squinting. It is easier to see underwater with highly polarized lenses.
The color revelation of images is not like ever once you have the Zane glasses on. The images are cleaner, crispier and with a higher level of detail that will astound you. To maintain the durability of the lenses, a water repellent, and an anti-reflective 580 lens coating is applied at the back of the lenses to prevent adhesion of water, oil, dust, dirt or scratches that may affect visibility. This translate to easy cleaning.
Experts design Lightwave lenses to be thinner and lighter than the typical lenses although they exceed the federal standards set for impact resistance. You can wear them all day. The lenses guarantee you 100% protection from harmful UVA, UVB, and UVC rays.
Costa's professionalism is evident in the construction of these sunglasses and to prove the genuineness of quality, the glasses are backed by a limited lifetime warranty. For repairs and replacement, you can reach the manufacturer through their website for further communication.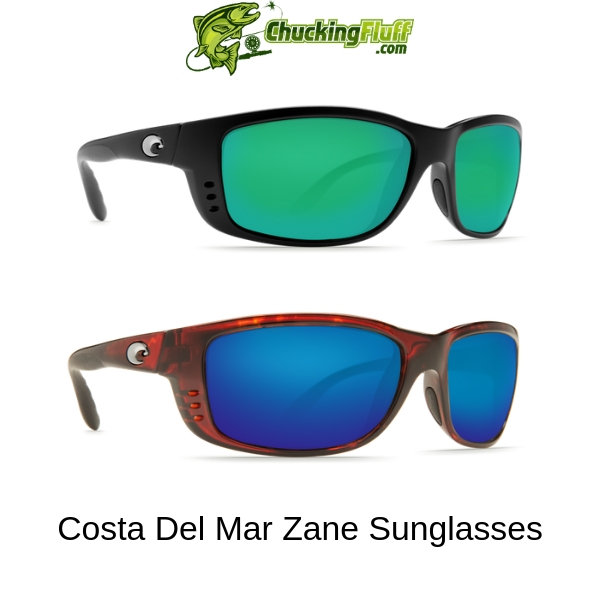 Maui Jim Peahi Rectangular Sunglasses
This one has a story to tell. Maui Jim Peahi Rectangular Sunglasses may not be very stylish but you will bow at how comfortable they are. Peahi is a name of an area on the northern shore. I bet you understand the linkage of these sunglasses to the shores. What else if not fishing? They are super light, have a sporty look and are hypoallergenic.
The sunglasses have a legendary reef break which most suffers refer to as Jaws. Peahi sunglasses are perfect for fly fishing and relaxing on the beach as you take a break off the water. Environmentally, they are usable in fresh and saltwater environs because of the high-tech lens treatments.
About the design, they are oversized and have wider temples for generous coverage and maximum comfort. They also protect you against weather elements. The modified rectangular frame shape complements a wide range of facial shapes.
For protection and care of the sunglasses, they come in a Mau Jim case with a piece of cleaning cloth included. They cost a lot so you need to care for them that much.
Maui Jim makes frames from Grilamid which is a lightweight, durable polymer that has high bending strength for retaining shape when you attempt to deform it. Designers make the temples of hypoallergenic cellulose propionate and have rubber ends to give a very secure fit. The fit is comfortable too and the frames don't hurt at the temple like those made from metal.
The manufacturer polarizes lenses to eliminate glare and enhance clarity while offering 100% UV protection.
Great finishing treatment is from high-grade gloss to give a sleek and sophisticated look. Anti-corrosive spring hinges offer flexibility and make the sunglasses secure. The bridge has a saddle style design and embedded silicone nose pads that are non-slip to ensure the glasses stay put and are more comfortable to wear.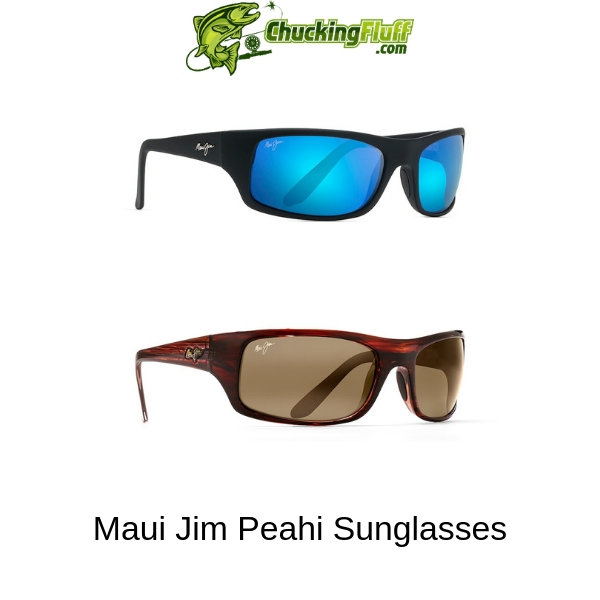 Best Fly Fishing Sunglasses between $150 and $200
This category of fly fishing sunglasses is slightly better in durability and performance. The glasses meet an angler's protection and safety needs.
From the list, you can confirm that the quality of material used is better and the sunglasses can serve you longer with good care and maintenance. It might impress you so much when you compare those in this price range and those in the lower range.
All the same, you can find a pair or two that will be your go-glasses each time you step out for the waters.
Costa Del Mar Tuna Alley Sunglasses
Any hardcore angler thinking about Costa Del Mar sunglasses will tell you that the Tuna Alley frames are what they wish to get.
This staple frame has been one of the best since its introduction to the core collection. Tuna Alley has all the great features that you will go hunting for in a perfect pair for your outdoor activities.
Bio-based nylon frames are very tough and durable and take a wraparound design to give enough coverage for the eyes against wind, glare, sunlight, and water.
They give an excellent fit for those who wear a large size. TR-90 nylon is a high-quality material that is resistant to the effects of temperature changes. They guarantee flexibility and comfort.
The sides of the lenses have ventilation holes to control airflow to prevent overheating and sweat from dropping on the lenses. Hydrolite along the temple and nose bridge to keep sunglasses tight to the face.
The 580G Lightwave glass lens is of very high quality to ensure superior clarity. The encapsulated mirrors which you find between the layers of glass are scratch resistant.
The glass here is thinner and lighter by 20% compared to the standard polarized glass lenses. This doesn't compromise on blocking glare.
580Polycarbonate is among the most durable and lightest lens that has incredible clarity. Something lightweight that is wearable all day will do you good, and this one isn't an exception.
The impact resistance is commendable. The Manufacturer bonds the mirrors with a C-wall molecule to make them smudge free, highly water, sweat and oil repellent. The result is a stress-free and easy maintenance pair of sunglasses.
Costa doesn't gamble on polarization. All glasses are polarized equally for anyone who loves to take time outdoors. Polarized glasses reduce eyestrain, fatigue, and headache by blocking glare.
Blue mirror lenses add to aesthetics and will come in handy in intense sunlight and full sun situation both offshore and on open water. The light transmission is at 10%.
Frame dimensions are as follows: temple length 115mm, lens width 62mm, lens height 41mm, frame width 133mm, and the bridge is 18mm.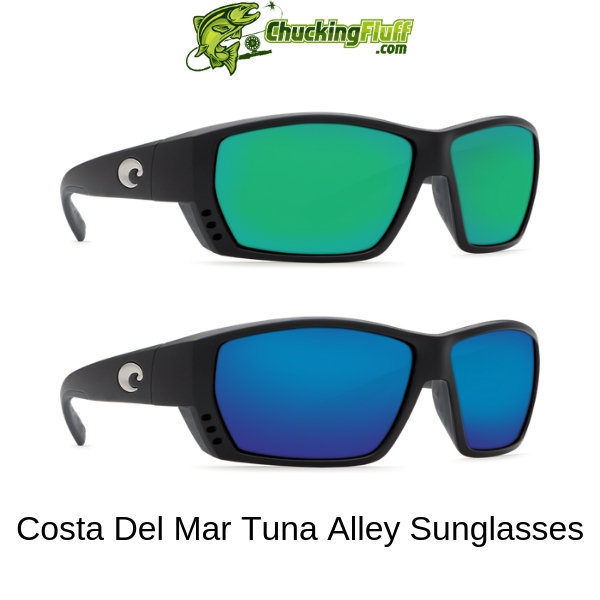 Costa Del Mar Bloke

Are you the bold guy when it comes to lenses or the classic aviator type? The Bloke by Costa is here for you. Something good about this eyewear is aesthetics and performance-tons of it for that matter.
Costa has continued to make its way into lifestyle space and this pair of sunglasses will complement anything since it is unexpectedly stylish.
Coming in an extra-large size, durability and reliability are aspects that shouldn't worry you. The cam action pin hinges are fully functional and the bilateral fusion technology that fuses the two colors to get a chip-proof finish make the sunglasses as great looking as they are.
The heavy-duty TR 90 Bio-resin frames are high-quality and have a good fit around your face. To ensure the glasses stay put at all times, Costa has the frames with hydrolite nose and temple pads.
They are comfortable and don't exert unnecessary pressure leaving you with an option to take them off.
Proper storage of your sunglasses ensure they last longer and remain intact and free from physical damage. You should use the hard case for storage when the glasses are not in use.
Costa has prescription lenses that fit specific frames. This Bloke style is prescription ready in case you'd like to go that direction.
Polarization is essential for all sunglasses for outdoor users. These ones are 100% polarized and kill reflected glare effectively maintaining your eye health by reducing eyestrain.
Ultraviolet lights are fully blocked for maximum protection.
Trivex and polycarbonate lenses make the sunglasses lightweight and are a durable option compared to glass lenses. Bonded with C-wall, the lenses are scratch and impact resistant.
Costa Del Mar has backed these sunglasses with a limited lifetime warranty to cater for repairs and replacement if need be. You can check more details on the warranty on the manufacturer's website.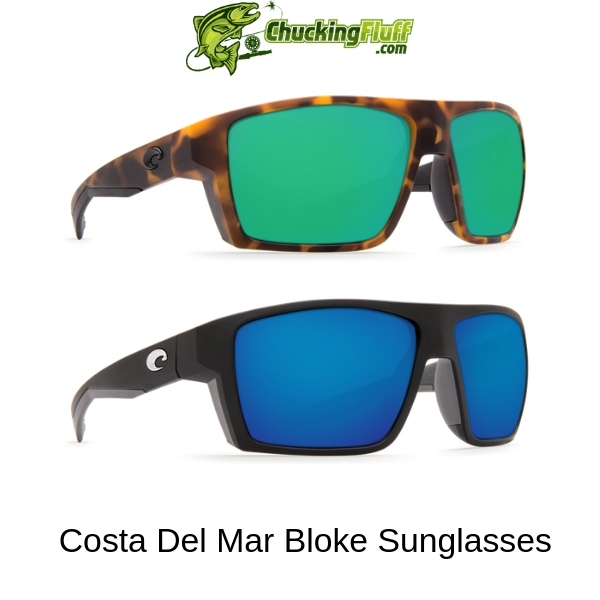 Oakley OO9096 Fuel Cell Sunglasses
Oakley Fuel Cell is not for timid anglers. The combination of art, style, and technology speaks volumes of what Oakley can do. The Fuel Cell keeps it clean, original and smooth.
Nothing beats quality and performance in a good pair of eyewear. This one will leave you wanting a second and third pair.
High-grade Plutonite is used to make the lenses and the addition of High Definition Optics and Polaric Ellipsoid lenses increases the clarity of your peripheral view.
Through this, these glasses have been able to meet the ANSI Z87.1 optical and basic standards. Protection from harmful UVA, UVB, and UVC rays is 100%.
Polarization greatly reduces glare and tuned light transmission of the Iridium lens coating.
HDO lenses result in a sharper, clearer and more accurate vision allowing the wearer to effortlessly see what is underwater at deeper lengths. The virtual elimination of distortion is a good thing.
Oakley hand makes its sunglasses in the USA and are well tested under various extreme conditions to ensure the protection is superior.
This confirms that quality is put into consideration and a buyer gets something worth.
Good eyewear pieces have extended lens curvature to protect the sides from weather elements. Oakley used the best materials to design the Fuel Cell frames without compromising on comfort and performance.
They are durable and comfortable to wear all day due to their lightweight nature. O Matter frames are stress resistant.
Frames come with a three-point fit which holds the lenses securely in good optical alignment.
So far, the Fuel Cell is the sharpest-looking wraparound style pair of sunglasses and don't hurt at the temples like other brands with almost the same fit do.
The tint is very outstanding. Generally, the glasses are forgiving in accidents because of the snap off design of the arms.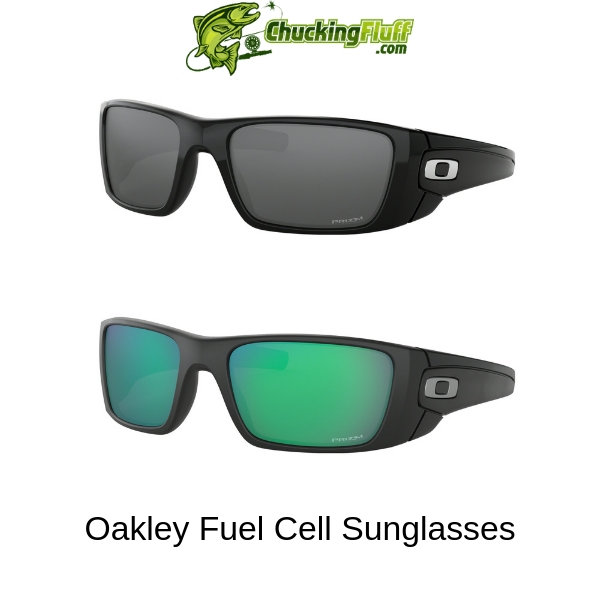 Oakley Men's OO9188 Flak 2.0 XL Sunglasses
While sunglasses come in a plethora of designs, the Flak 2.0 XL is worth dying for. The extensive face coverage is a guarantee of maximum protection against intense sunlight, harmful rays, water, wind and dust without interfering with your vision.
Sharper and clearer images are what anglers need to ensure focus is on making the biggest catches of the day. An angler misses no angle.
The sunglasses feature High Definition Optics that meet the ANSI standards of optical clarity. XYZ Optics add to clarity. Acuity is highly considered with the lenses being specially curved.
What more do you need than a pair of sunglasses that is able to stand up to any angler's lifestyle and being lightweight to allow one have them on all day?
O Matter frames are stress and impact resistant resulting in incomparable durability. Their loyalty in serving you will go on for years.
Polarized lenses are in sapphire blue Prizm deep water to filter out all shades of blue that strain your vision when on open water.
They boost green and red shades to give an excellent view of what is under water.
A good fit is among the vital properties of sunglasses. The frames come with Unobtainium ear socks and nose pads that keep your sunglasses in place.
The grip is excellent amid perspiration.  Frames are lighter compared to the traditional acetate ones. They guarantee flexibility and heat resistance.
The pupillary range is 54 to 74 and the sunglasses suit round and oval face shapes. For dimensions, the frame depth is 38mm, 59mm lens width, 12mm bridge, and 133mm temple length.
If you paddle in both shallow and deep water, they work amazingly regardless of the depth. If you take them off, you can't see the bottom of the bay especially 3 to 5 feet deep.
The filtration process of the sun, glare, and shadows results in clean, crisp and vivid views.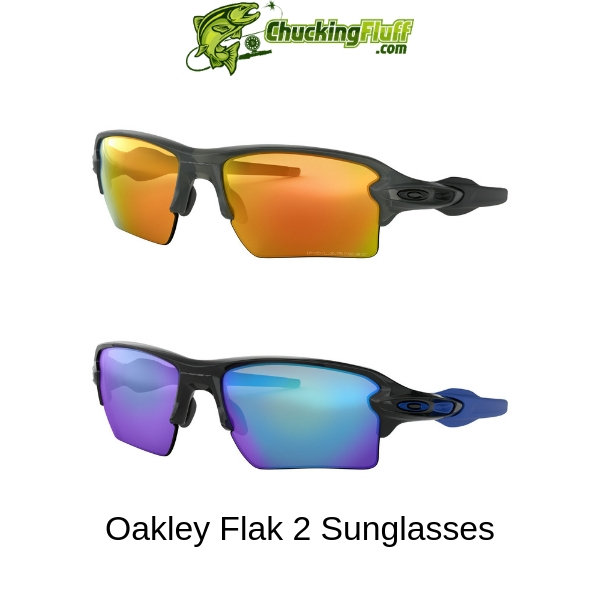 Maui Jim Men's World Cup 266 Sunglasses
Maui Jim is one of the reputable American-based manufacturers of high-quality sunglasses. The World Cup 226 sunglasses are for the strongest and fiercest individuals who take an interest in the outdoor space and activities.
Polarization by this company is on another level. Maui Jim advances the polarizedplus2 lens technology and protects not only your eyes from the harmful ultraviolet rays and glare but also ensures your periphery vision is comfortable. No squinting, straining or fatigue.
As an effective ultraviolet light filter, the sunglasses were able to earn Skin Cancer Foundation Seal of Recommendation.
ST Glass lenses are high-quality and some of the best optics. While glass can be delicate, these sunglasses need proper care and handling to prolong their lifespan. A hard case is inclusive for storage when not in use.
Injected nylon is among the high-grade materials used to manufacture high-quality eyewear frames. The resulting frames are very lightweight and comfortable to wear all day.
The high gloss finish maintains its shine and sleekness for the longest time. If you have a medium face, the frames will fit well.
Frames feature rubberized nose pads to increase comfort and ensure that the sunglasses stay put at all times. They don't hurt at the temple and are good for long-hour use.
Color enhancement is high-tech and doesn't distort the object whatsoever. Lenses are made of super thin glass that ensures absolutely crispy optics.
When compared to standard glass, these are 20-32% thinner. Solvent and scratch resistance is a good feature and you can have them on in rainy weather and you won't have to take them off for wiping.
Neutral grey lenses are epic and offer a maximum light reduction to give richer colors and sharper contrast. They are excellent for bright and direct sunlight.
You can't compare them with ordinary grey lenses which flatten the light evenly across all spectrums.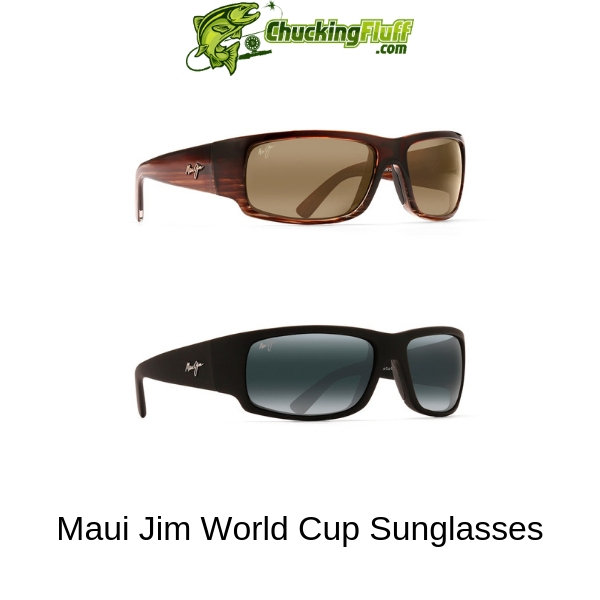 Oakley Men's Fives Squared Rectangular
Oakley's innovation has seen the company manufacture some of the world-class eyewear that gives a wearer comfort and enhanced vision.
Sunglasses beat industry standards and crown the resultant pieces in great art and style. Combining mother-nature and physics, the correspondence is huge.
All this is evident in the Oakley Men's Fives Squared Rectangular Sunglasses.
Well, they don't feel cheap whatsoever and have been increasing in popularity because of their high performance.
Plastic lenses use High Definition Optics which is superb and increases clarity and definition, impact resistance and visual fidelity.
They protect your eyes against harmful UVA, UVB, and UVC rays in extreme sun conditions.
Polarization filters reflected glare without any haze and optical distortion which comes with polarized lenses that are made with the conventional manufacturing techniques.
Lenses don't tamper with your sight of vision, unlike most glasses. No color distortion and the clarity and color contrast is on point.
Prizm lens technology fine tunes vision for very specific sports and environments like fly fishing.
The plastic frame type is sporty and very lightweight. An excellent and cool style for outdoorsy and can take a beating because of reduced weight yet tough construction.
Oakley terms them as 'Mens' but are actually unisex. Frames use condensed cranial geometry to give a tapered shape which feels great just like it looks.
Patented hydrophilic Unobtainium nose pads give a snug and secure fit while increasing grip regardless of perspiration.
It has a three-point fit to hold the lenses in the right optical alignment resulting in great viewing and comfort.
Sunglasses come in a nice little carrying bag to store your lenses and protect them from dust, water, and physical damage when not in use.
If you have a smaller head, this one will fit perfectly without pressing at the temples and causing unnecessary headaches.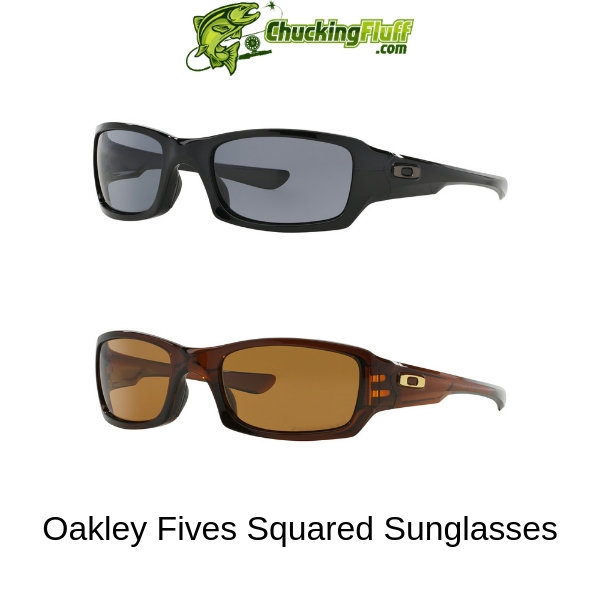 Smith Guide's Choice Bifocal Sunglasses
Smith Optics has won angler's trust by creating high-quality Bifocal Polarized sunglasses. It makes it easier to tie a fly and cast to a distant pool and you will never skip a beat.
What does t