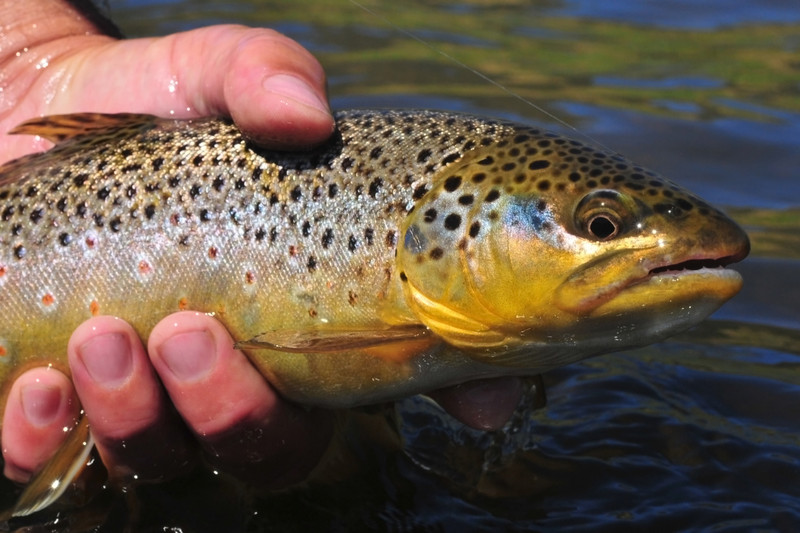 Before we consider the best fly line for trout lets look first at what we should do to make sure we have the correct fly line for the task. There are so many ways to fly fish for trout that we need to look at these permutations before purchasing a fly line.
For example we can fish in rivers, still waters or the sea. The target species can be very different too as small lough trout on an Irish moorland would be slightly different to fly fish for than steelhead in a river or river returning sea trout on the Rio Grande. However for the purpose for this article lets consider fishing for brown trout in a river, rainbow trout in a lake and sea trout on the Rio Grande to help with some of those permutations.
One of the first things we need to get correct is to match the fly line to the weight rating of the fly rod. Most modern fly rods now have the rating stamped on the butt section and this makes it easy to match a line for our rod so we can load and flex it correctly for casting. So if your rod says 6-7 on the butt section then we can use a 6 or 7 weight line to match up to it.
Fly lines are also rated with a weight on them so you can match this up. The 6 signifies using a double taper line where the 7 would be for a weight forward of shooting line. This is only a guide and a proficient caster would be able to use either line on the same rod.
OK we now have the line rating sorted lets look at the differences as mentioned above. For the river brown trout fishing we would most likely need to present the fly with precision and delicately with a dry fly so a need for a weight forward with a fine front end taper would be the best option. This gives us the ability to mend the line also in the river to control the drift speed. This cannot be done well with a shooting head line.
On the rainbow trout in a lake the need for casting large lures out into stillwater would need the shooting head fly line this gives us the ability to cast flies to a good distance with long retrieves to hopefully induce a take. As there is not usually a lot of features in a lake the need to mend line is not required so straight casts and retrieves are all that is usually needed.
For the sea trout fishing with large weighted flies we would need a shooting head or skagit line. The Rio Grande has been know to be very windy which makes casting difficult, however with a weighted skagit line you can punch through the wind to make long casts. We would also need the ability to change densities on these skagit lines as pools can be fast and deep requiring us to get the flies down fast to the sea trout.
To sum up brown trout river dry fly fishing would require a weight forward long tapered line.
The rainbows in the lake would require a shooting head or a good weight forward short head fly line.
The sea trout rio grande fishing requires a short headed fly line like a shooting head or skagit to get out in the strong winds.
These are just guides but you can use these to fish for other species in different locations and a good fly angler always carries extra lines to help cover the possibilities that come up. I hope this helps you choose the best fly line for trout fishing in what ever situation you find yourself.
[auction-nudge tool="ads"]