Well you have bought the fly fishing gear you have the rod, reel, line and flies. You have gone out fishing and now have caught your trout, well done to you. Now you bring it home and wonder how do I cook this trout. Well search no further I have compiled a few recipes for how to cook trout fillets. Any of these are delicious and well worth a try.
Recipe 1 – Baked trout in foil parcel
This is the basic trout fillet recipe. It is plain and simple but tastes great.
1) Take your trout and after gutting and washing place on a sheet of foil and a sheet of baking paper and place on a baking try.
2) Apply seasoning to taste salt and pepper.
3) Add a knob of butter and rub all over the skin and flesh.
4) Squeeze some lemon juice into the middle if using full trout
5) Wrap up the foil to form a pouch and place in a hot oven 200 deg centigrade for 10-12 mins.
If using full trout increase time by about 10 mins. You can open the pouch half way to check fish is cooking through. The flesh should start to look more crumbly and opaque in colour.
Recipe 2 – Grilled whole trout parsley and lemon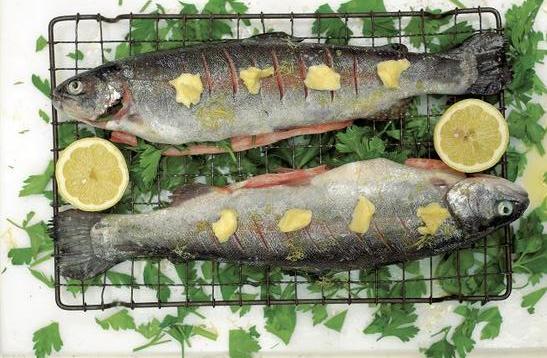 1) Take two trout 300-400 gms and slash about ten times 0.5 cm deep on both sides.
2) Rub the trout with olive oil and season with the sea salt and pepper.
3) Stuff the belly of the trout with cut parsley and lemon slices.
4) Place the trout on an oven rack over a tray on a lower shelf to catch the juices.
5) Put some lemon zest on top of the trout lemon wedges in the tray.
6) Put some butter drops on top of the trout and place the rack about 2-3 inches from the grill.
7) Cook on both sides for 5-6 mins until nice and crispy.
8) When ready squeeze the roasted lemon wedges over the trout and serve with rice or salad. (more…)