There are many fly fishing lines on the market today made by many different manufacturers. If you do a search on Google you will come up with hundreds if not thousands of lines. For a beginner, this is an overload of information and can lead to an incorrect purchase. Here we will consider the options available and show you how to choose a fly line suited to your needs.
If you have not already purchased a single handed trout fly fishing rod then you would need to consider that first as the line needs to match the rod and reel setup. In that instance, you can purchase a ready made kit from a reputable dealer which can include all the items required to start out.
These are all made to match and balance the setup and are ideal for someone on a low budget. However, if you can afford a little more I would recommend buying the items individually as you can still get bargains but items with more strength and options than in a basic kit.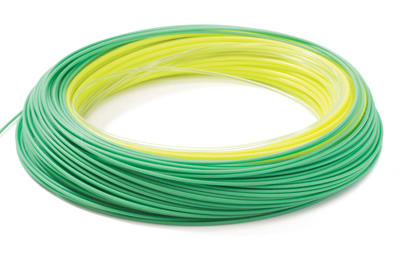 The first important aspect is to match your line rating to the rod you have or are considering. Each rod now has a line rating stamped on the butt section usually above the cork handle on the first few inches of the rod itself.
This figure is put there by the rod manufacturer and is a guide as to which line the rod has been made to make it a balanced setup.