Disclosure:
Just to be open and honest the buttons and links you click on in the website will in most cases take you to another website where you can purchase the products I am reviewing. As an Amazon Associate I earn from qualifying purchases.
August 14, 2016
Columbia Sportswear Men's Bahama II Long Sleeve Shirt Review
---
The Columbia Bahama II is versatile, wear fishing or casual, made large to keep you cool, UV protection built in, many colors available.
---
100% Nylon, good build, quick drying, flap vents, rod holder
---
For the price you pay the quality is good, well made and will last .
---
Well over a thousand positive product reviews, many have bought more than one color.
Columbia M's Bahama II Amazon Price
Why the need for a Fly Shirt?
There's many ways that a quality angling shirt can help a day at the lake, river or even out on the seas.
It's essential that these garments have not just an inherent level of comfortable water resistance and ability to dry quickly but also have plenty of useful accessories too.
---
Any serious angler has their favorite range of angling shirts and just like with many forms of sports and outdoor clothing it is a very personal choice.
What suits one person may not feel right for another and to a great extent this comes down to angling style.
For example, the needs of a static angler who has plenty of equipment and carry cases will likely be very different from those of a mobile hiking angler.
---
One of the beauties of angling is that it can be as expensive or affordable as budget allows. In many cases even lower range products and garments can fulfill the essential functions expected of them.
As we'll see in this review the Columbia Sportswear Men's Bahama II Long Sleeve Shirt is an excellent example of low price, highly practical outdoor clothing that will be as much at home when used by a starter as it would with an experienced angler.
---
It's a great little garment and matches the performance of many products that retail for twice the price if not more.
Columbia Sportswear Men's Bahama II Long Sleeve Shirt Key Features:
Up to 30 UPF sun protection.
Plenty of useful pockets across the shirt.
Chest mounted rod holder.
Designed to quick dry with water resistant pockets.
Classic angling design combining style with functionality.
Pros
Fantastic value angling shirt. Suitable for daily use as well as angling.
Omni-shade technology (see below) makes a comfortable, lightweight and 'easy fit' design.
Venting, quick dry and sun resistance help make the product genuinely multipurpose that would be as much at home on the lake as it would be at sea.
Sun protection is a major advantage in warmer climates/regions.
Rod holder is very secure.
Extra high capacity pockets ideal for both mobile and static fishing.
Cons
This is an 'oversized' shirt for many people so it can feel excessively baggy. Designed this way to help encourage air circulation but may not be to everyone's tastes.
We would recommend getting the size smaller if you are not happy with a baggy look.
People in extremely warm/sunny or wet areas may need a higher end and more resistant shirt.
UV protection built in lasts up to 30 hours protecting you from the harmful UV rays of the sun great when out all day fishing. UV reflectors and tight weave allow you to fish for longer than some lightweight shirts.
Quick drying fabric helps wick away the moisture from your body to keep you cool. There is nothing worse than feeling damp when trying to enjoy your sport.
Large vents on the back allow air to circulate around the body and also help keep you cool. These gently flap in the wind so air can get in and out from around your body.
Classic angling design, large chest pockets for fly boxes with large vent panel for airflow, roll up sleeves with button to tie they out of the way, button down collar.
Many colors available from the positive feedback left many customers have bought several colors so they have a range of possibilities for casual and event wear.
Summary
While it'd be stretching it to say this this is a 'one size fits all' universal fishing shirt the fact of the matter is that for the price range it's among the closest designs you'll ever get to universality.
As mentioned above this shirt offers suitable protection, functionality and comfort that'll easily satisfy the overwhelming majority of casual and hobbyist anglers.
For the majority of people this garment will be perfect for general use and it's this feature which needs to be really emphasized when reviewing the Columbia Sportswear Men's Bahama II Long Sleeve Shirt.
I can see this shirt working very well with other accessories such as a catch bag and even angling bandoleers.
This is due to it being a deliberately baggy shirt that even when used in combination with other items isn't going to feel restrictive or uncomfortable to wear.
Yet it should be noted that this short may not be quite sun or water resistant enough for more demanding angling excursions.
By demanding we're talking deep river fishing and day long sessions outside of regular shade for example, hardly the basis of a standard trip for most anglers.
In terms of practicality it's a great shirt. The deep pockets will hold plenty of shrimp, tacks, spare line, trail mix and of course a water flask or two.
Well cared for this shirt could last many years indeed – and once more, at this price point it's representative of seriously impressive value.
Possible Alternatives
As discussed during the intro there's a huge array of fishing shirts out there and finding a style and brand that meets practical needs can seriously enhance the enjoyment of a trip.
In regards to the price point there aren't many other shirts out there that come close to matching the universal qualities of this garment.
Check out the Colombia Bonehead shirt should you be looking for a slightly more 'dressy' angling shirt (at the expense of a little practicality!).
These are still great shirts in their own right and would be perfect for a temperate day out on the lake. The same can also be said for the Colombia Tamiamii II should your budget stretch a little higher.
There are increasingly wider ranges of comfortable high performance fishing wear to be found and if that's an especially important factor remember not to scrimp on protective quality.
Final Verdict
Truth be told most anglers like to have a few shirts at their disposal and there aren't many better alternative angling shirts to be found at such superb value.
This will more than match the practical needs of most fishing enthusiasts and would also represent an excellent option for introducing new anglers to this hobby.
We mentioned at the top of this review that getting set up fishing can be done at pretty much any price point yet the real standout with this shirt is its honesty and universality.
Someone could just as easily be fishing using a $1000 rod while wearing this shirt as they could be with a $50 discount line!
They say you get what you pay for when it comes to outdoor pursuits and in many cases this is in fact the case.
However it's always sensible never to pass up on a good thing when you find it as in terms of value for money this is a great little item to throw into any checkout basket.
It's not just suitable for fishing either it'd make for a good all-around outdoors shirt that you can wear comfortably at camp after a day on the lake as you could picking up a bite to eat in a local restaurant.
A truly universal shirt which is why it comes highly recommended indeed!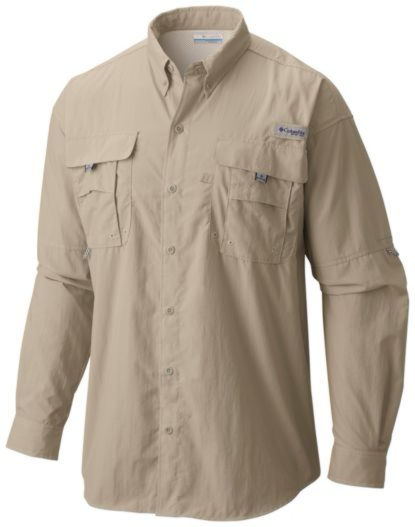 Columbia M's Bahama II Amazon Price