Disclosure:
Just to be open and honest the buttons and links you click on in the website will in most cases take you to another website where you can purchase the products I am reviewing. As an Amazon Associate I earn from qualifying purchases.
October 20, 2023
Do You Wear a Jacket Over or Under Waders?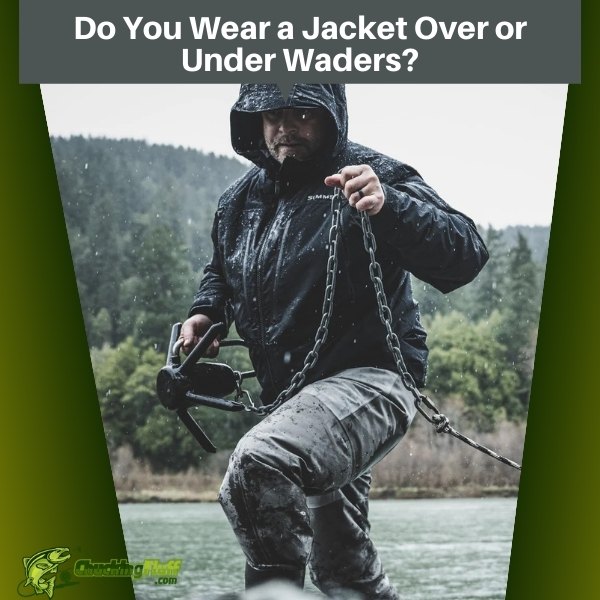 Let me admit that this almost made me question my thinking but I am glad I stayed on track and hope that you too haven't been doing it wrong.
The debate on how you should wear your wading jacket has many different opinions but we shall work with the reason behind the manufacturer's creations to set it right.
So, do you Wear a Jacket Over or Under Waders?
---
You should wear your jacket over your waders because it is one of the last items of outerwear you will need after donning other gear.
A wading jacket forms an outer shell or layer and protects you from light showers, and the wind, as is part of your layering system.
For it to work well, it needs to be breathable because protection from weather elements is crucial for every angler.
Rarely does excellent fishing coincide with the perfect weather hence the need for a windproof, waterproof, and breathable outer shell.
---
Do You Wear a Jacket Over or Under Waders?
---
The same way you'll wear your regular jacket is in the exact manner you would with your wading jacket.
It should be on the outer side and all the times left as is.
However, some anglers confess to tucking their jackets in their waders and securing the outer shell with a wading belt in case they are deep wading.
But pro guides advise wearing warmer underneath your waders and removing your wading jacket in case the water levels will be high above your waist.
Let's learn why you should wear a jacket over and not under your chest waders.
---
Warmth Retention
---
The first feature for warmth retention in wading jackets is the handwarmer pockets that are made with denser insulation than the other shell of the gear.
This insulation helps to keep your hands warm when they aren't engaged, especially when the temperatures are extremely low.
Besides, the jacket being an extra outer layer means it helps contain body heat within your wading shirt and inner layers.
And most come with some level of padding to keep the angler warm.
The lining can be removed depending on the design to help you beef up things slightly on colder days or strip them down if Mother Nature smiles at you.
Your upper body is likely to get more warmth because you can layer as much as you can without compromising comfort, flexibility, and arm mobility.
To maximize warmth, ensure your gear is in pristine condition, it fits well, and you have secured it well with the drawstrings at the hem and cuffs to prevent the entry of cold air and water.
---
Weatherproofness
---
First, a good wader jacket should be made from waterproof and windproof material.
The outer shell of the gear can have more weatherproofing applications and laminations that you should maintain for high performance, especially in mid to high-end designs.
Apart from that, there are cuffs in the wrist areas to prevent icy water from trickling up your wrist when doing the basics of fly casting.
You don't want your sleeves to be drenched since this interferes with comfort and will not dry because of the weather you are fishing in.
If your pair comes with Velcro cuffs, secure them tightly for the same effect.
The general construction of other gear additions like snaps and zippers work to enhance weatherproofness – a good example is sealed drawstrings with a water-repellent coating to prevent making the inner lining of your gear cold.
Your jacket is best with a visor-style hood to confer better protection.
---
The benefit of Extra Storage
---
Your waders come with less than five pockets and these aren't of reasonable size to hold everything you need on the water.
Having all your necessities with you prevents unnecessary trips to and from your spot.
You end up spending more time on the move than casting.
Wading jackets have a wide range and style of pockets to stash fishing items.
Going down to the basic design, a jacket might have two or more large pockets on the outer side excluding handwarmer pockets.
There will be four or more small pockets on the inner side while some have expandable areas for leader material, tools, and fly boxes.
Smaller pockets work well when organizing tiny stuff like licenses, sunscreen, valuables, repellents, and balm.
While extra storage is excellent on a wader jacket, be on the lookout for those littered with pockets because it can be frustrating digging through them and not getting what you expect.
You will be lucky enough to have one or more waterproof pockets on your wading jacket for valuables.
---
FAQs – Do You Wear a Jacket Over or Under Waders?
---
This section gives straightforward answers to common questions related to how you should wear your wading jacket.
---
Q) Does Water Get into Wading Jackets?

A) Water can get into your wading jacket if the drawstring at the hem isn't snugly secured or your Velcro cuffs at the wrist are allowing water to seep through.
Or, damaged central zippers or leaking areas could be potential entry points for water.
Otherwise, well-fitting waders in good condition shouldn't let in water.
---
Q) What Happens if you Wear your Jacket Under your Waders?

A) It beats their purpose for outer layer protection from weather elements.
Besides, tucking your wading jacket in your chest waders means accessing your pockets is difficult because they are hard to reach.
---
Q) Can you Fly Fish Without a Wading Jacket?

A) You can leave your wading jacket on very hot days and if you need to carry more stuff with you, a fishing vest or pack will do.
---
Wrap Up
---
Do you wear a jacket over or under waders?
Your jacket should go over your waders as any purposeful angler should.
Its functions are best seen when the gear is worn correctly.
First, you are sure of weatherproofness because of a well-made outer layer with wind and water-repellent features.
The weatherproofing aspect and the general construction of the gear help to keep the angler warm.
You are safer if you are a heavy packer because the pockets have ample space for storage.