Disclosure:
Just to be open and honest the buttons and links you click on in the website will in most cases take you to another website where you can purchase the products I am reviewing. As an Amazon Associate I earn from qualifying purchases.
October 7, 2013
Fly Fishing Unleashed Review
PRODUCT REVIEW: Fly Fishing Unleashed
COMPANY: Betterflyfishing.com 
PRICE: $29.95
WHO WOULD BUY THIS: Any beginners who are new to fly fishing or looking to learn how to fly fish.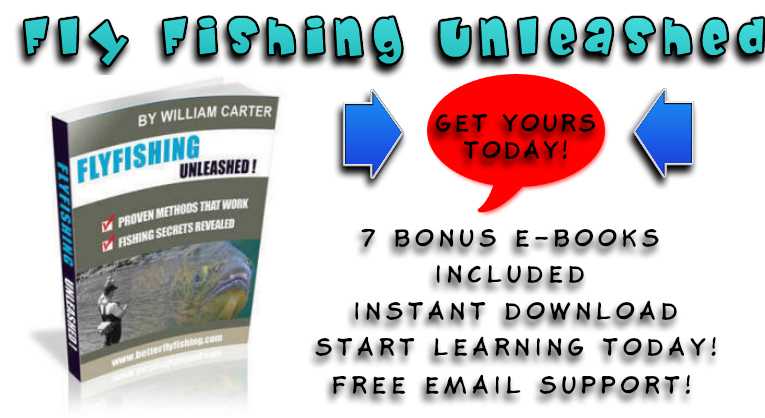 Fly Fishing Unleashed is the work of William Carter, a full-time fly fisherman with many years' experience.  Currently residing in the UK, William learned all his techniques while living and fishing in the United States.  William wrote this book after years of gathering information while fishing alongside his mentor, John.  Although now unable to fly fish, John still sparks excitement in William as they discuss new tactics and fly fishing equipment. Benefit from their experience in these easy-to-read in e-books.
The main e-book is divided into several sections and has an easy to understand everyday language that all fly fishing anglers can understand. There are many insightful tips from knowledge gained and a lot of secrets that will help you catch more fish during the time you spend on the water. These tips are so simple you will wonder why you didn't think of them yourself. The techniques are not difficult and any beginner can learn them in no time and be catching trout and fish like the professionals. This e-book is divided into sub sections on water types, strategies, casting, gear, etiquette, and secrets. This book is full of pages with good advice and all anglers will find something of interest.
But that's not all, as there are SEVEN BONUS e-books that come with the package. With these you are getting topics on fly fishing for trout, bass, panfish, nymphing techniques, knot tying, reel maintenance and emergency tactics. Within these you will find out how to fish different types of water, what gear to purchase, how to cast in difficult places, how to examine the natural food source and decide if the water is fish-able. One of the things beginners often do is fish areas that do not hold fish and waste hours catching nothing. With these tips you will know when to move on and not waste your time and so improve your catch rate and your fun factor.
This e-book package is mainly for fly fishing beginners and those who are already skilled may not find enough to keep them occupied. However for the price of $29.95 you are getting 8 e-books which works out at less than $4 per e-book. The tips and secret section alone is worth the money. I can say a fly fishing lesson from a guide would cost more than $50 and for that money you will NOT LEARN the same amount of information included in these e-books.
PROS
years of experience from professional anglers
useful tips and advice
thinking outside of the box
"special secrets section"
CONS
Aimed at beginner to intermediate anglers
GUARANTEE
There is a full 60 day money back guarantee on these e-books.
Value for money?
The estimated value of this entire e-book package is around $200, which to me seems a bit steep. However, if you consider the bonanza of tips and good practices you will learn, the value is readily apparent.  Amazingly, the package is offered, not for $200, but for $29.95. "That makes this deal a genuine steal".
Where to buy 
Get your copy of this beginner fly fishing e-book course now!