Disclosure:
Just to be open and honest the buttons and links you click on in the website will in most cases take you to another website where you can purchase the products I am reviewing. As an Amazon Associate I earn from qualifying purchases.
May 27, 2023
Should You Go Up a Size in Wading Boots? Comfortability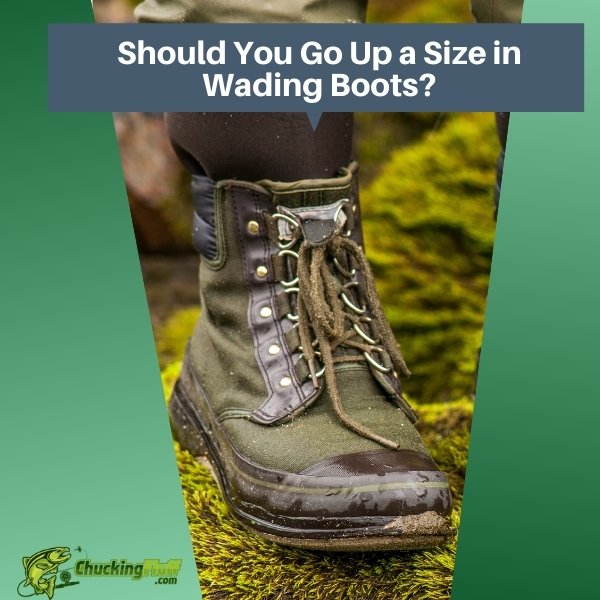 The right size of wading boots has a massive impact on your comfort levels and how much you'll enjoy fishing.
While other features of the footwear add up to the above, size is among the primary factors that most novice anglers don't get right.
So, should you go up a size in wading boots?
Sizing up your wading boots will highly depend on the manufacturer's chart, how the boot fits when you are in waders, and its overall fit after being in them for a while.
There is no definite answer to whether you should size up your fly fishing footwear and we'll explain that in a jiffy.
Remember that this applies to wading boots only and not all types of angling footwear.
Fishing sandals, slippers, and slides have a different way of sizing.
---
Should You Go Up a Size in Wading Boots?
---
The general rule of thumb is that it is crucial to go a size up your usual street shoe or hiking boots.
Once you do this, you'll have the right size for your wading boots.
For instance, if you wear a size 10 shoe regularly, a size 11 wading boot is perfect for comfort, toe wiggle room, or layering in cold weather.
Avoid taking your standard shoe size for your boots because layering will make them feel smaller, tighter, and very uncomfortable to walk and fish in.
Here is how you should know whether to go up a size in wading boots.
Sale
FROGG TOGGS Men's Hellbender Fishing Wading Boot, Cleated, 11
FELT or CLEATED – available with felt or cleated soles to match your fishing environment and provide traction on wet rocks, gravel, mud and debris
WATER DRAINING – durable, lightweight mesh and PVC upper with enhanced toe and heel caps provide protection and comfort for a full day of fishing
COMFORT – polyurethane midsole provides cushioned comfort, wide wading last adds support and stability, padded ankle collar for a comfortable fit, speed laces for fast and secure fit feature locking lace clip
DESIGNED FOR YOU, CREATED FOR THE OUTDOORS - our focus is on providing better performance, technology, features and affordability for our customers
SINCE 1996 - frogg toggs has endeavored to provide the world's best rainwear, waders, cooling products, footwear and accessories at the best possible prices
---
Manufacturer's Sizing Chart
---
Wading boot manufacturers have sizing charts for their online buyers.
You want to be sure about your foot measurements and confirm on the chart to get the standard size and length in centimeters or inches.
Below the chart might be special instructions on whether to take the exact size, a half, or full size up.
Redington advises getting a standard size while Korkers boots need you to size up your street shoe.
Before anything, check the manufacturer's sizing chart and information.
---
Check Buyer Reviews
---
After checking the sizing chart, comb the internet for buyer reviews.
There are dozens of angler communities and forums where fly fishers share anything and everything including wading boots and their issues.
Buyer reviews can easily confirm how such footwear performs, fits, and last.
Quora, Reddit, NC Angler forums, World Sea fishing forums, OzarkAnglers, etc. all have generous information.
Current and previous users won't hesitate to say if the boots run bigger or smaller.
In case you spot several reviews of a pair you are eyeing that read almost the same in size, act accordingly.
---
Test with Waders
---
You might be wondering how to go about this if shopping online.
Assuming you live close to a tackle store or outdoor sportswear shop, you have a chance to test boots with waders on to know the right size to get.
Pop into such stores and request to test your preferred boots with waders.
Fishing waders often have neoprene booties of 3 or 5mm thickness.
With angling, you are on your feet most of the time, either hiking to or from your sport or standing to cast while doing the basics.
Shoe pinches aren't fun – this can quickly ruin what was to be a fantastic fly fishing day.
If anything, you'd rather have the boots oversize than undersize.
But, why should you do guesswork when wader and boot testing is possible?
While you test boots with waders on, double-check how they fit.
Check for instances of toe jamming, ankle support, flexibility for when you'll need to trek longer, and how the lacing system works.
Most anglers prefer BOA cables since they stay intact the whole day.
---
FAQs on Whether You Should Size Up Wading Boots
---
Q) Check out some quick questions and answers to help you know how to size your wading boots for comfort and performance.
A) Are All Wading Boots True to Size?
Wading boots aren't true to size because they run a size bigger than your usual street shoe.
Hence, going a size up your regular shoes allows for enough space for neoprene booties and toe wiggle room.
Overall, always check the manufacturer's sizing chart and buyer reviews.
---
Q) How Do I Size Simms Wading Boots?
A) Simms recommends getting a full size up your regular shoe to get proper fitting and this cuts across felt and rubber sole boots.
---
Q) What Can You Do if Wading Boots Are Oversize?
A) If you are wearing 3mm neoprene waders with such boots, try changing to 5mm booties to see if the extra space will be covered.
You can do this and the difference isn't much – ask the manufacturer if they allow for returns for correct sizing.
Return them for the correct size if their policies allow, or you can sell them to fellow anglers and repurchase the right fit.
Otherwise, never layer excessively with socks as it reduces circulation if they are tight.
---
Conclusion
---
Should you go up a size in wading boots?
Going a size up your street shoe size is the best thing to do to get the right fit for wading boots.
Manufacturers have discovered how to size angling footwear and most of the time, there are more details on how to choose the correct one for kids, women, and men.
Waders are built with thick neoprene booties and these need ample space in the front of the boot hence the need for a bigger size to accommodate them.
Even with that, you still need space for your toes to be free and at least one or two layers of socks for fishing in winter.
You can't have all these in wading boots of your standard size and expect to be comfortable the whole day doing angling activities.
Overall, before deciding to go up a size in wading boots, check the manufacturer's sizing chart and buyer reviews to know what fellow users are saying about the fit.
And if you can, head into a tackle store and fit a pair you intend to buy with waders to know if they will be ideal for your outdoor activities.
Last update on 2023-09-28 / Affiliate links / Images from Amazon Product Advertising API
This product presentation was made with AAWP plugin.