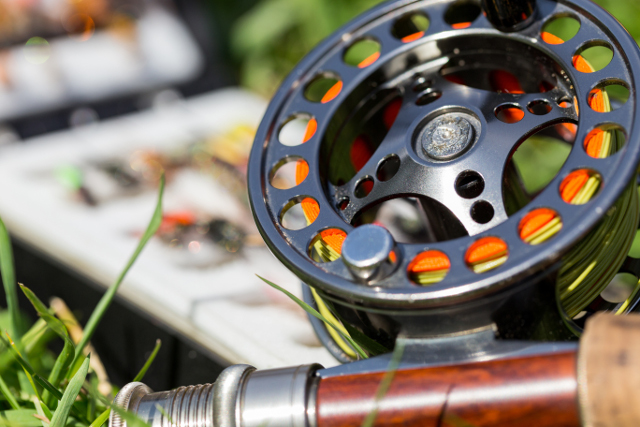 Fly fishing reels explained will show you that the reel is more than a container for your fly line to keep it off the ground when playing a fish. Unlike conventional bait rods the line will have to be retrieved in by hand to entice the trout to take your fly and as this happens the line will be increasingly lying at your feet unless you are using a fly line tray
.
This is not so bad when you are on a sandy beach or clay bank side but if there is a lot of undergrowth then the line will get caught up on the vegetation and when that trout of a lifetime decides to take your fly you don't want to be trying to pull the line free to play it in. Many a prize trout was lost this way believe me.
The reel is therefore to reel up the line before you try to play the trout. This can be done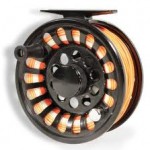 with ease with a bit of practice as you hold the line tight to keep tension on the trout as you reel up the line with your other hand. This may sound difficult but it is not.
You can play a trout without reeling in first but this is only advisable when on a snag-free environment, even sitting in a boat is not the place as oars, bags, your partner can all get tangled up with your fly line very easily.
Once you have the line on the reel you can let the trout fight and take line and reel it back on with the knowledge that you are free to move in any direction it decides to go.