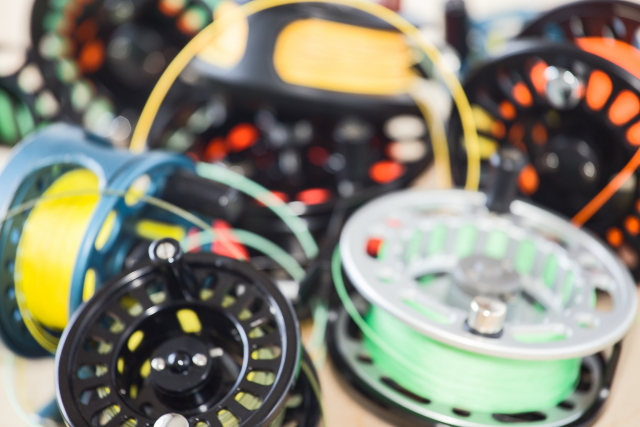 How to Spool a Fly Reel in Steps.
Now that you have hopefully bought your rod, reel and line you will need to know how to set up your fly line and put it all together so you can go fly fishing.
Get Best Fly Fishing Reels Here
Fly fishing is a sport involving many skills, fly casting, river craft, entomology and knot tying among others. To be considered a proficient fly fishing angler you need to be able to be accomplish these with good precision. In this post we will walk through the task of setting up a fly rod so we can go fly fishing. There are several steps to doing this task including;
a) Attaching the backing line to the reel
b) Joining the fly line to the backing
c) Adding the leader to the front taper of the fly line
d) Putting on our flies
e) Add water and go fly fishing.
What materials you will need is;
1 The Fly Reel, either a large arbor or regular spool reel.
2 Fly Fishing Line, in our case a weight forward WF7 floating line.
3 Spool of backing line at least 100ft
4 Braided Loop
5 Optional tube of stormsure or aquasure
6 Leader material
7 Flies
The first thing to do is load the reel with the fly fishing line unless you have purchased a kit with it already spooled on. The backing line is the first to be added to the fly reel. and is used to 1) bulk up the fly reel to keep the fly line even and close to the top of the reel so it can be easily spooled on and off. 2) Its main purpose however is to allow the fish to take you on long runs if it chooses to do so. It's important in your fishing line setup that you have this in place so you don't loose fish.
A fly fishing line is normally 30 yards long and many fish species will want to run further than that so it is advisable to add as much backing line as your reel will allow.
If you are following the recommended start up kit here and purchased a 7-8 weight reel you will be able to spool on about 100ft of regular fly fishing backing.
I say regular as there are with all aspects of fly fishing many variations and these come in different dimensions. As thinner lines are more expensive I would recommend the basic backing line made from woven Dacron or braided monofilament which are more affordable.