Disclosure:
Just to be open and honest the buttons and links you click on in the website will in most cases take you to another website where you can purchase the products I am reviewing. As an Amazon Associate I earn from qualifying purchases.
July 5, 2023
What Is the Best Sealant To Repair Waders? Add Active Years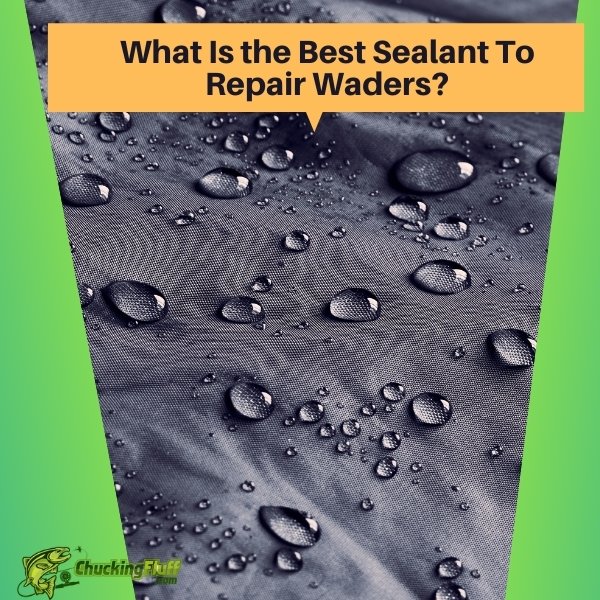 Sealants, glues, and adhesives should be in your angler repair kit because leaks in waders are common.
There could be various reasons for wader leakage, but if the area isn't humongous, it is easy to patch that down, seal it, and get back to fishing as nothing happened.
These aren't like underwear that you can dispose of with the slightest issue and get another for cheap.
Waders, especially good quality ones are costly, and if you can make a few repairs for three or more seasons or longer, why not?
So, what is the best sealant to repair waders?
Seam Grip Waterproof Sealant and Adhesive from Gear Aid is so far the best and most recommended for waders.
Its reviews alone speak volumes of its performance and ease of use.
The fact that you will be in waders and potentially in water during most of the fishing period means getting a waterproof solution to prevent your waders from filling up with water.
Note: The product is designed for all fabric types but anglers and guides have reported having used it for years, thanks to its effectiveness.
---
What Is the Best Sealant To Repair Waders?
---
Gear Aid shines again with the Seam Grip Sealant after discussing its Aquaseal Glue in our previous post.
But there are more brands that match its performance.
There might be a price difference but the outcome is similar as long as you use it correctly on your waders.
Here are some you can add to your wader repair kit.
---
Gear Aid Seam Grip Waterproof Sealant
---
Gear Aid is a reputable brand when it comes to repair products for outdoor lovers and sportsmen.
Their Seam Grip WP Sealant is excellent at locking moisture out since it is permanent and waterproof.
GEAR AID Seam Grip FC Fast Cure Sealant for Nylon and Polyester Tents, Tarps, Awnings, Clear, 2 oz
Seal up to 60 ft of seams on tents, tarps and awnings with this water-based seam sealant; cures in 2 hours at room temperature
Use it on various outdoor fabrics including nylon, polyester, and canvas; previously known as Seam Sure
Apply this long-lasting seal that is nearly invisible and flexes with fabric; available in 2 fl oz bottle
Treat gear using the included applicator brush to make application quick and easy
Packaging may vary
Anglers are outdoor lovers who need to stay dry and comfortable to get the best out of their casts.
The sealant comes in to ensure all patches and holes are completely sealed to achieve the above.
It is a clear glue available in a 1oz tube and anglers swear by its durability.
The manufacturer uses a tough urethane formula for the sealant to bond to your waders regardless of their material and treatment.
There have been no reports of it cracking over time, meaning your angling adventures are warmer and dry as long as all holes and seams are sealed.
The cured sealant is flexible, thanks to the resultant rubber formation that enables your waders to remain high-performing even after repair.
---
3M-Marine 5200 Adhesive Sealant
---
It took me a while to discover this product and I'll share how I landed on it after several attempts of looking for a good sealant when I couldn't get my hands on the Gear Aid.
YouTube videos have tons of information and for genuine content, you'll see dozens of reviews backing up the product being reviewed.
The 3M 5200 isn't an ordinary sealant.
It was built for the harsh marine areas until smart anglers discovered that these work well on waders.
If someone asked what is the best sealant to repair waders in my opinion, it would never miss on the top 3 list.
It cures well within 48 hours to ensure you are good to go get back on your fishing trip soonest.
What interests me more is its fantastic resistance to salt and weathering, especially if you often adventure in the flats or ocean.
But here is the caveat: The 3M 5200 is white in color and despite all the praise it can be bothersome if used on the outer side of your waders.
---
High N Dry 3M 4000UV Adhesive Sealant
---
Before 3M (the original brand) started producing its marine sealant in small portions, it was only available in massive containers which was costly.
High N Dry struck a deal with 3M to use its technology and create wader repair kits with similar glue in smaller amounts.
The company named it the 4000UV which catered to the biggest downside of white discoloration on repaired waders.
It is a black formula with the same power as the above but with a skin-drying duration of 30 minutes.
The sealant cures fully after 24 hours is half the time needed for the original 3M Marine sealant.
The 3oz sealant comes in a repair kit alongside instructions for easy use and application on waders.
CAUTION: The manufacturer warns against using it on wading boots.
---
FAQs on the Best Sealant for Wader Repair
---
Wader repair is a vast topic and so many user queries still don't have concrete answers online.
Here are a few to help you know how to use sealants when repairing your waders.
---
Q) Can I use My Waders Immediately After Repairing Them with a Sealant?
A) No. All sealants need enough time to cure for them to be effective in locking out water and keeping you dry.
Using waders immediately after applying a sealant compromises its function and effectiveness.
Ensure you read your sealant's instructions to confirm how long it will take to fully cure after application.
---
Q) Do Areas You Apply Sealant Leak with Time?
A) First, there is so much that goes into sealant application to ensure the area doesn't allow water to pass through.
Depending on the location of the seam or hole you are sealing, it might take a few trips before you notice wetness.
High-functioning areas like the knees, legs and thighs might need a touch up or to be reworked after a few seasons.
Chest and upper areas aren't a big deal and can survive years without leakage on repaired places.
---
Q) How Long Does a Wader Sealant Take to Cure?
A) Anything between 24 and 48 hours depending on the product.
Check the manufacturer's instructions to be safe on the curing duration.
---
Conclusion
---
I have been angling since I was 10 but started buying waders in my late teens.
What is the best sealant to repair waders? – This question asked to all manufacturers of the product would get all of them praising their merchandise.
But, it takes several experiences to deduce the best sealant that works for angler's waders.
You want to go for Seam Grip from Gear Aid, 3M Marine 5200, or the sister product from High N Dry which is available in a kit for the best results.
Yes, there are other great sealants that might not have made it to the list and we appreciate your recommendations for us to put to test.
Last update on 2023-09-28 / Affiliate links / Images from Amazon Product Advertising API
This product presentation was made with AAWP plugin.