Disclosure:
Just to be open and honest the buttons and links you click on in the website will in most cases take you to another website where you can purchase the products I am reviewing. As an Amazon Associate I earn from qualifying purchases.
April 19, 2023
What Is the Best Glue for Repairing Waders?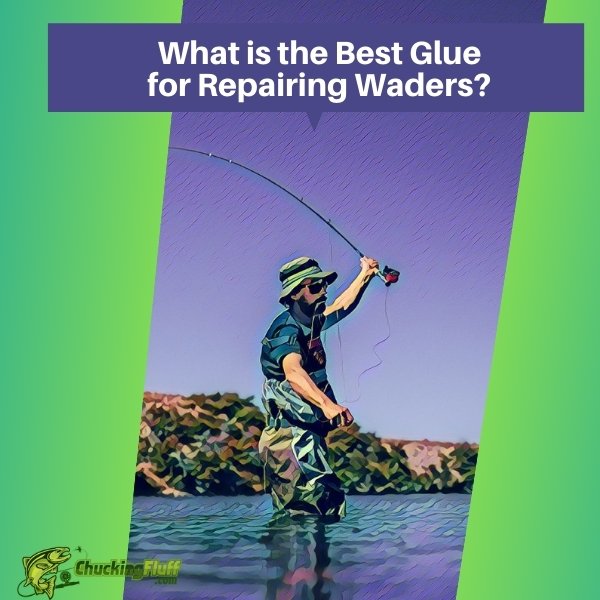 Even the toughest of waders get snagged eventually.
Let no manufacturer convince you that their waders are 100% strong and tear-free (we are used to marketing gimmicks like this).
At some point in time, you need to deal with a puncture, a tear, a gaped seam, or unraveled stitches, which are causes of wader leakage.
Such situations call for a repair for you to continue using your waders until they give up their ghost.
What is the best glue for repairing waders?
Overall, the best glue for repairing waders recommended by most anglers and guides is Aquaseal from Gear Aid.
It works on most waders, but there are other brands with high-performing products that we'll recommend further in the article.
---
What Is the Best Glue for Repairing Waders?
---
Before diving into the post, you need to understand that there are different types of wader materials and each has its recommended glue for repairs.
Thus, we'll discuss the best glue for each wader material, from Gore-Tex and Neoprene to Rubber and Different Material blends.
---
The Best Glue for Repairing Breathable Waders
---
Aquaseal has been recommended the most by avid anglers, wader wearers and guides.
It is made from a rubber-cement like material and most wader manufacturers swear by its performance.
You will love its flexibility and durability.
No products found.
While you can use the glue on its own on areas that hardly come in contact with water, there are areas that need more reinforcement for the glue to work effectively and for longer.
More water-prone areas need you to have the Aquaseal glue alongside a wader repair kit consisting of tape patches.
Using the two on such points ensure permanent and more precise repairs.
Aquaseal sells these kits too and includes Tenacious tape patches in them alongside other repair materials and tools needed for basic and advanced cases.
You can get this kits from other manufacturers like Simms, Orvis, Redington, and Patagonia.
Here's the secret: For Aquaseal to work perfectly on breathable waders, build layers and exercise patience.
Avoid globing it all at a go.
Repair specialists advice building up the glue in light layers.
Start with a tiny amount over the affected area then go larger to cover the area and an extra circumference all round.
Allow the glue to dry overnight and cure.
Add some more the next day and allow to dry.
You can repeat the process for three days straight and the glue will have dried nicely and upon testing, it should hold up well.
---
The Best Glue for Repairing Neoprene Waders
---
Neoprene waders have a slightly different material from breathable Gore-Tex waders and their repair materials and process varies.
Though, guides report Aquaseal to equally perform well on neoprene waders.
But, if you are looking for a neoprene-specific glue for wader repair, go for Aquasure.
It is the best glue for repairing neoprene waders, wetsuits and boots.
The glue is quite messy when used on Gore-Tex waders because of the material but gives no hassles on neoprene.
Use it to work on rips and tears, depending on the position of the affected area.
Manufacturers of Aquasure glue give directions for repairing seams, holes and tears, high wear areas, and general neoprene material.
The glue is clear and guarantees total waterproofness if used correctly.
Manufacturers like Gear Aid make the formulation with adhesion and flexibility in mind.
While at it, they ensure abrasion protection when in water.
---
The Best Glue for Repairing Rubber Waders
---
What is the best glue for repairing waders made from rubber?
Aquaseal features here again and its performance seems to cut through all wader materials.
Someone might ask what you are doing with rubber waders in this age of Gore-Tex, but what do you do when they are keepsakes?
Besides, my meat might be someone else's poison.
Now, Aquaseal is an option for rubber wader repair but GOOP has proven to work best on this material.
The manufacturer describes it as a replacement for glue and paste.
It sticks to rubber and other material, thanks to its superior strength.
GOOP Adhesives come in different variety but the Marine works well on waders to stop leaks.
The waterproofing feature is powerful and boasts UV resistance to protect the glued area from harsh rays that can cause faster aging or more damage.
Users report that it doesn't break down or crack under stress, especially if you are using it in high wear areas.
---
FAQs on the Best Glue for Wader Repair
---
Wader repair might seem complicated, but it isn't.
You only need the right glue, material, tools and procedure and you should be done in minutes until the next glue application day.
Check out some questions and answers on the same.
---
Q) What Is the Best Glue for Repairing Waders With Polyester, Nylon or Canvas?
A) The description is for low price range waders with multiple fabric layers treated with a waterproof coating.
They are breathable but aren't waterproof on their own.
Aquaseal as a versatile glue works well on canvas, nylon, and polyester, but following the repair procedure is the only way the adhesive will be effective.
---
Q) Can You Use Two Types of Glue at Ago on the Same Wader Area?
A) Using more than one glue at the same time isn't recommended.
We advise using the better of the two to glue down the affected area.
But if you mean using two adhesives at a time, some areas allow the use of waterproofing tapes and glue on one place like the knee area.
---
Q) Must I Patch an Area on the Wader Before Gluing It Down?
A) Not necessarily! You can work on tiny tears and holes with several light layers of wader glue without patching the area.
Bigger punctures definitely need patching for the glue to be more effective and reduce the risks of wader leakage.
---
Wrap Up
---
What is the best glue for repairing waders?
Aquaseal has proven to be effective on all wader materials, especially breathable options.
But, other fabric like neoprene and rubber have glues specific to them, though these work on other materials two as second or third options.
Aquasure is the best glue for neoprene waders, while GOOP works best on rubber.
But if you can't reach material-specific adhesives, Aquaseal will do.
Last update on 2023-12-08 / Affiliate links / Images from Amazon Product Advertising API
This product presentation was made with AAWP plugin.