Disclosure:
Just to be open and honest the buttons and links you click on in the website will in most cases take you to another website where you can purchase the products I am reviewing. As an Amazon Associate I earn from qualifying purchases.
January 28, 2023
6 of the Best Fly Fishing Rods on the Market today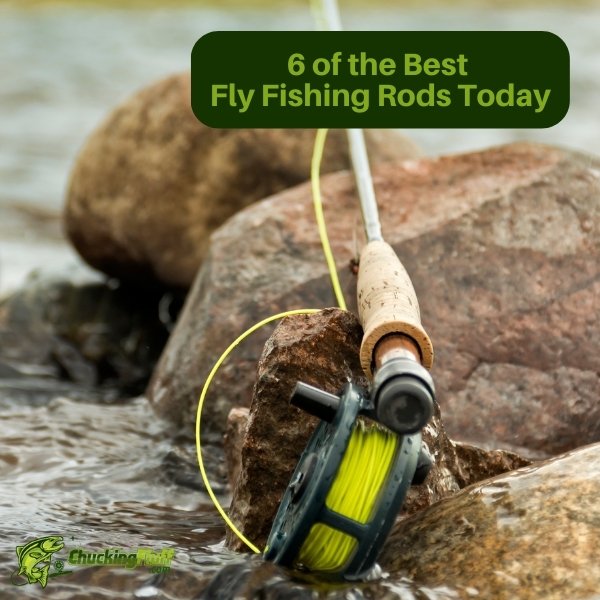 Selecting the best fly fishing rod is among the crucial tasks an angler has whenever they want to buy angling gear.
It can be overwhelming because of the terminologies, styles, designs, and variety today.
I have been fly fishing for decades and sampled countless fly fishing rods, but I will pocket my expertise today.
Today's piece consists of recommendations from casting instructors, professional fly angling guides and adept anglers.
You will learn some top-tier brands that anglers swear by.
Let's dive into our list of the best fly angling rods you can buy for a worthwhile experience testing your flies and adventuring new waters.
---
G. Loomis NRX+: Best Overall Fly Rod
---
Besides being the best overall fly fishing rod on our list, it doubles as the best 7-weight rod as it easily beats the others in the current market.
It isn't just ordinary, and neither is it cheap, but for its quality and warranty cost, I doubt there is any other rod that can beat it.
There have been subsequent releases of the NRXs, and the rods keep getting lighter and sturdier.
The smoothness and dampening get better with every new release.
Most pro anglers agree that the NRX+ casts more accurately than the others and boasts a fantastic blank recovery, something expected of a $900 fly rod.
G. Loomis builds the rod with a new G8 resin, and the blend of graphite, mega modulus, and the multi-taper design reduces the blank's weight by 14% while boosting its overall durability.
The new design embodies more precision than its predecessor.
An angler can present their flies delicately with utmost accuracy.
Thanks to its construction and incredible performance, it stands a good chance as one of the best saltwater fishing rods and the best trout fly rods.
Check Web Price
---
Features at a Glance
---
Fast-action
4 sections
Mega modulus and graphite matrix with GL8 resin blank
Titanium stripping guides
Nickel and titanium single-foot recoil guides
Lifetime limited warranty
Double up-locking with marble insert reel seat
Fighting butt available
Full wells handle
Sizes: 4-8wt
---
Pros of the G. Loomis NRX+ Fly Rod
---
Dependable warranty
Super smooth
Excellent accuracy
Fantastic design
Best for Euro-nymphing, freshwater and advanced anglers
---
Cons of the G. Loomis NRX+ Fly Rod
---
Slightly overpowering if you're throwing small flies
Quite stiff
---
Orvis Clearwater: Best Value Fly Rod
---
There isn't a doubt that Orvis is the legend of all fly fishing tackle manufacturers who have stood their ground to date.
The accuracy and feel of the Encounter rods impress many, but on matters of value for money, the Orvis Clearwater series rods take the crown.
The accuracy is unmatched, and the Clearwater Outfit is the best fly fishing rod combo for anyone who doesn't want the cheapest angling gear but is also hesitant about going overboard with the price.
Orvis includes a fly rod, reel, line, tippet, leader and case in this package, and these are what you need if you hate putting together tackle pieces.
The grip on this fishing rod doesn't hit the spot for many fly fishers because its comfort levels could be better.
A reverse full-wells type of grip would have been magical but wait, for the price, this is a minor complaint, and other casters love the rod's feel the way it is.
---
Orvis Clearwater Fly Rod Outfit - 5,6,8 Weight Fly Fishing Rod and Reel Combo Starter Kit with Large Arbor Reel and Case, 5wt 8'6" 4pc
FULL CLEARWATER FLY ROD AND REEL COMBO includes Clearwater Large Arbor fly reel, Clearwater fly line, backing, leader, and rod/reel case
BLACK CHROME BLANKS with white accents and quick rod identifier
CHROME SNAKE AND STRIPPING GUIDE with a ceramic insert
BEEFED UP FULL BLACK NICKEL ALUMINUM REEL SEATS to handle a variety of fishing grounds and big fish with fight
READY-TO-FISH PACKAGES built around 5-WT 8-foot 6-inch, 5-WT 9-foot, 6-WT 9-foot rods with Size II Clearwater Large Arbor reels; and 8-WT 9-foot rod with Size IV Clearwater Large Arbor reel
---
Features at a Glance
---
4 sections
Medium-action
Black nickel aluminium blank
Chrome snake guides
Chrome stripper guides with ceramic
25 years limited warranty
The down-locking anodized aluminium reel seat
Fighting butt available on Euro-nymphing rods
Full Wells handle
Sizes: 2-12 weight
---
Pros of the Orvis Clearwater Rod
---
Great value for money
Reliable warranty service
Angler-friendly graphite design
Excellent for forgiving casting, intermediate anglers and Euro-nymphers
---
Cons of the Orvis Clearwater Rod
---
Not the best for tinier flies
Slight blank stiffness
---
Sage X Series: Best Saltwater Fly Rod
---
The Sage X rod is a several-times ICAST Show winner, and it is all for a good reason – its excellent all-around nature.
Sage terms the X-series rods as all-water, but higher models from 7-11 weights are best suited for this application.
If you are in the Caribbean chasing bonefish, the 8-weight stick will be ideal, while the 10 or 11-weight rods will not fail when hunting monster deep-sea game.
You will love its build quality, feel and casting accuracy, especially when fishing the 8-weight.
Stiffer blanks don't work well for the 3-weight, and with a few casts, you can tell it feels like a 4-weight.
---
Sage Fly Fishing X Rod
Handcrafted on Bainbridge Island, USA
Graphite IIIe Technology, Fast action
Dark Green thread wraps with Metallic Grey trim wraps
Fuji ceramic stripper guides
Gloss Black anodized aluminum up-locking reel seat, Cork fore grip and rear grip
---
Features at a Glance
---
4 sections
Fast action
Matte black Konnetic HD blank
Hard chrome snake guides
Fuji ceramic guides
Lifetime limited warranty
Aluminum up-locking reel seat with Vera Wood
Fighting butt is available on higher models
Snub nose Half-wells on 3-6 weights and Full-wells on higher models
Sizes: 3-9 weight
---
Pros of the Sage X Series Rod
---
A wind-cutter
Accurate casts at 20-80 feet
Best for distance, accuracy, and the serious angler
---
Cons of the Sage X Series Rod
---
The salt series has a stiffer tip.
---
Echo Trip 8-Piece: Best Travel Fly Rod
---
The best fly fishing rod for travel is uniquely designed for portability and to cater to the needs of a mobile angler.
Echo did well with the Trip pole, and although you will lose a little bit of flex and accuracy with a more segmented fly rod, this one's design counters most of the negative impacts you will encounter in such compact sticks.
Sometimes, you might flex, bend or shake a multi-sectioned fly rod and feel a slight break or creak from a blank, but you will not experience it when casting with this rod.
The Trip rod weighs 4.8 ounces and has an 18'' tube length for storage.
Traveling anglers consider it the most compact fly rod with the highest quality in today's market.
---
Echo Trip Trout Fly Rod, 590-8 (9', 5wt, 8pc)
The ECHO TRIP is our answer to folks looking for an ultra compact rod for backpacking travel or the backseat With a smooth blend of action and power these rods will handle all fishing conditions The TRIP s 8 piece construction fits nicely into a backpack or briefcase for those important meetings you can miss
Action: Med Fast
Tube: Fabric covered rod case sock
Guides: Stainless w low friction ceramic stripper
Reel Seat: Black anodized reel seat
---
Features at a Glance
---
8 sections
Medium-fast action
Blue or green slim-profile graphite blank
Low-friction ceramic stripping guides
Stainless steel snake guides
Lifetime warranty
The up-locking anodized aluminium reel seat
Fighting butt on the 8-weight rod
Reverse half-wells on 5-6wts and Full-wells on 8wt
Sizes: 5-8wt
---
Pros of the Echo Trip 8-Piece Fly Rod
---
Lifetime warranty
Ultra-portable
Stronger build
Best for long trips, bush fishing, backpackers and travelling anglers
---
Cons of the Echo Trip 8-Piece Fly Rod
---
Less accurate because of the extra pieces
---
Redington Classic Trout: Best Beginner Fly Rod
---
Casting is the biggest hurdle most novice fly anglers need to overcome, and that is why they must start with an easy-to-cast fly rod.
Redington Classic takes the prize for the best fly fishing rod in this category as it is an excellent medium action stick offering more forgiveness that a beginner angler needs to master their timing.
The manufacturer had affordability and leniency in mind when building this rod.
It comes close to the Orvis Clearwater, but the Redington Classic Trout won because it is snappy and more accurate.
Beginner anglers have more wiggle room as they learn how to make perfect casts.
It is a better deal if you land on the Classic Trout Combo, as it comes with the essential tackle you will need at a subsidized price.
---
Redington Fly Fishing Rod 586-4 Classic Trout Rod W/Tube 4pc 5WT 8-Foot6
MODERATE ACTION: This freshwater rod's moderate action provides the delicacy needed for technical spring creeks yet packs enough power for big river and boat fishing.
UNMATCHED COMFORT: The lightweight blank and forgiving action reduce fatigue for long days on the water.
CLASSIC DESIGN: You are sure to love the combination of dark clay brown blank with matching rosewood reel seat insert, alongside functional details, such as custom machined reel seat components and titanium oxide stripping guides.
PORTABILITY: The Trout rod comes in 4 pieces, has alignment dots for easy setup, and a divided brown Ballistic nylon tube for easy transport.
LIFETIME WARRANTY: If your Reddington product has a defect in workmanship or materials, we will repair or replace it at once.
---
Features at a Glance
---
 4 and 6 sections
Medium action
High modulus Toray graphite
Titanium Oxide stripping guide
Hardwire snake guide
Lifetime warranty
Aluminum up-locking reel seat with rosewood insert
Reverse half-wells handle
Sizes: 2-6wt
---
Pros of the Redington Classic Trout Rod
---
Affordable
Travel-friendly option available
Durable
Easy-casting
Accurate
Best for anglers on a tight budget and beginners
---
Cons of the Redington Classic Trout Rod
---
Tailing loops on 60-feet casts and further
The reel seat feels cheap
---
Maxcatch Premier: Best Budget Fly Rod
---
Fly angling, like any other sport, has ridiculously priced and inexpensive rods.
When I say ridiculously inexpensive, I don't mean cheap and crappy, at least not with Maxcatch.
The company built Premier Rod for anglers who want a good reel on a tight budget without compromising performance and quality.
Maxcatch also launched the Extreme fly rod, which is much cheaper than the Premier, but all factors considered, the latter is a better kit.
It boasts more feel and accuracy like some best fly rods that cost more, and reviews from anglers who have intermittently used it shows that it shines at durability.
A try in saltwater shows that the fly rod holds up pretty well.
While you can buy the fly rod separately, getting a Premier Kit is more pocket-friendly as it comes with a fly rod, reel, line, case, backing, leader, fly box, flies and a line snipper.
---
M MAXIMUMCATCH Maxcatch 3-12wt Medium-Fast Action Premier Fly Rod-IM8 Carbon Blank for High Performance with AA Cork Grip Hard Chromed Guides and Cordura Tube (V-Premier, 9' 5wt)
DESIGNED for a WORKING HORSE - We want to make a durable rod that can withstand very hard using. a fast but still crisp, middle-to-tip action rod. Used all we can achieve at this price.
EXCLUSIVE MAXLINQ II BLANK TECHNOLOGY – Pure IM8 30T carbon fiber. With mixed 5 layers of carbon including Reinforced Muscle carbon layer for at least 25% increase in strength but 15% lighter in weight. We sacrifice a little weight to make a very much more strong rod
DISTANCE and PRESENTATION – a medium-fast action design rod blank to excel in distance and presentation. Slim taper engineered to be smooth and powerful, high efficiency loading, all for easy long distance casting.
HIGH STANDARD SMOOTH GUIDES – MaxSelect Ceramic insert Stripping Guides and Ultra lightweight Hard Chromed stainless steel snake guides and Over-sized tip loop for smoothest longer casting.PURE CORK HANDLE and REEL SEAT – Pure AA+ Contoured Cork Handle for comfortable gripping and also helpful for casting. High Density machined aluminum reel seat with two up-locking rings with K-Carbon Woven Graphite Spacer for reliable fixing of the reel foot. And will tolerate saltwater environment.
ONE-YEAR-WARRANTY and LifeTime Repairing Warranty - MAXCATCH as a 15 years fishing rod factory, offer "No Hassle" warranty for all our rods for one year. If you are not 100% satisfied with our rod, you can return it in any time. And we also offer lifetime repairing for All Maxcatch rods.
---
Features at a Glance
---
4 sections
Fast action (feels more medium)
Pure IM8 30T carbon fibre blank
Chrome snake and stripper guides with ceramic
3 years limited warranty
Aluminum double up-locking reel seat with carbon fibre
Half wells handle
Sizes: 3-10wt
---
Pros of the Maxcatch Premier Fly Rod
---
For the budget angler
Excellent backup rod
Strong graphite build
---
Cons of the Maxcatch Premier Fly Rod
---
Shorter warranty
Heavier
Slightly stiff
---
Take Home
---
I can list 50+ rods in this article, but does it make any sense?
Now that you know some of the best fly fishing rods and can scheme through their features and specifications, it will be easier to sample out what would work for you.
There are a ton of recommendations on other review posts up on our blog that you can check out and see.
You will probably get the same manufacturers but with different fly fishing rods.
Fishing will never age, and as lovers of the fly, we don't stop testing what works and what doesn't – buy two or three and put them to the test.
That is how you learn if it is the best fly fishing rod or a piece of a factory-made pole to point at a blackboard.
Last update on 2023-09-28 / Affiliate links / Images from Amazon Product Advertising API
This product presentation was made with AAWP plugin.