Disclosure:
Just to be open and honest the buttons and links you click on in the website will in most cases take you to another website where you can purchase the products I am reviewing. As an Amazon Associate I earn from qualifying purchases.
January 10, 2019
Hardy Zephrus FWS Fly Rod Review – Delicate, Powerful and Accurate
Not so many businesses last long but Hardy has set itself apart from the competition and hit a century since its existence. Not an easy thing but this company solely bases on manufacturing premium fly fishing products that have and are still worthy of the Royal Appointment. If you have a keen eye for detail you will notice that the Hardy Zephrus FWS Fly Rod feels and looks high-quality from top to bottom. Still, from a British icon, this rod is an excellent performer. It is a top contender for the angler looking for value for money.
The Zephrus Freshwater Series Rod is lighter compared to the Zenith Series and is more responsive. All these results in excellent fly line recovery time and quick line pick up and allow you to cast almost everything. Technically, the rod undergoes the Sintrix 440 process during manufacture which is one of Hardy's special techniques of making the Zephrus rods. In entirety, the resulting rod is stronger and lighter than its predecessor Zenith. As a Freshwater Series rod, it is perfectly tuned to work well with any discipline when it comes to trout fishing. There are several lengths and weights available that are suitable for large lakes, rivers, tailwaters and brushy creeks. While it is aimed at trout fishing, it is the closest in function to the Zephrus AWS Fly Rods. The AWS is heavier and have fittings that make them usable in either saltwater or freshwater.
It is not surprising that this rod handles fish excellently. What do you expect of a brand that gets a Royal Appointment anyway? You will catch lots of trout in good sizes even up to 8 pounds. The feeling of being in control never fails the avid angler. During the fight, you will notice a slight feeling through the Zephrus rod and it is very light.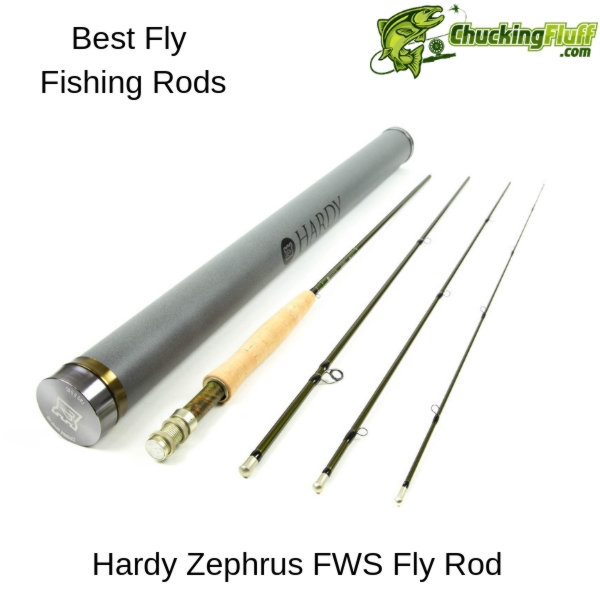 [button link="https://amzn.to/2vRDfHY" type="big" color="green"] Zephrus Amazon Reviews and Price[/button]

---
Main Features of the Zephrus FWS Fly Rod
Rod Specifications – Quite a range to select from. There are different models of this rod with varying rod lengths, weights, and line rating. If selecting from line rating, they range from 3wt to 6wt and rod lengths from 8 feet to 10 feet. Rod weight ranges from 2.5 oz. as the lightest to 3.98 as the heaviest in the Freshwater Series.
Rod Action – A fast action rod and has very low swing weight. The line speed generated is high and the rod casts pretty well in the wind. The action makes it possible to cast longer distances effortlessly. It is easier to get more fly line out of the fly rod tip very fast for quick casting. The rod is excellent for precise and pinpoints casting to the targets.
Materials – The Sintrix technology uses carbon fibers incorporated with 3M Nano silica resin to provide a good matrix of strength in the entire rod and be sturdy enough to resist all the compression and pressure from all angles. The result is a stronger and lighter fly rod.
Guides – There is a stripping guide on the rod's butt section which is made from Fuji titanium SIC. The others are thin REC Recoil black single leg guides.
Number of Sections – Zephrus is a four piece rod and obviously, it beats most when it comes to portability. Also, they don't give up anything to the two piece rods and are great at stiffness, strength, storage.
Handle – The handle is made from Half Wells high-density cork which translates to exceptional quality handles unlike in most rods by other brands. Great to the hands and the comfort the material offers allows an angler to cast long hours.
Reel Seat – Zephrus FWS rods have an anodized aluminum up-locking reel seat which fits on the rod easily. Its spacer is made from wood. Some anglers would prefer something more subtle but functionality is the same. Anodizing strengthens the aluminum and gives it durability amidst exposure to agents of corrosion and rust.
Tube – This one comes with a stylish rod tube in matt grey metal. The Hardy logo can be seen on one side and tube has good looking aluminum end caps and rod specs etched with a laser at the very end. In the rod tube is a rod sock which is sectioned in the inside for good rod storage. The rod bag has a small pocket on the top.
Warranty – Hardy issues a lifetime warranty to the original owner in case of need for any repairs, servicing or replacement. However, it is important to check with the manufacturer for all details concerning the terms and conditions.
---
Consumer Thoughts on the Zephrus FWS Fly Rod
The skeletonized label looks great and the fact that it allows you to see how well the rod is constructed in the inside makes it look neat.
Changes on the rod tube make it look nicer. The rod cloth with partitions has made rod storage and transportation to the fishing spot easier and safer.
Generally, the Zephrus FWS rod is lighter and very fine. It becomes effortless to make casts and you can cast for long hours.
Accuracy is not a gamble and you can naturally feet targets of up to 60'. Its softness at the tip can't be compared to other fly rods by other brands.
As a fast rod, the recovery is fast. The quickness can be spotted in the mid and the butt sections. Loading is easier and you can toss a lot of fly line too.
Short casts are not very good considering the rod isn't designed for this. It casts well for mid-length and long distances.
The guides produce some noise which might be an irritation to anglers who love silence but if you don't find it fussy, head on and cast more.
The loops get tighter as you cast longer distances and still remain intact and durable. No instances of them breaking.
Stiff rods with fast action are good for fishing in the wind which could be difficult using other fly rods. Windy times are the most productive and with a good rod like this one from Hardy, you can take advantage of the condition.
The line moves through the guide on the Hardy Zephrus FWS Fly Rod with ease making it an awesome rod which is worth its price tag.
Confidence on the river is guaranteed by the Sintrix technology and if you are known to break all rods you buy, this one is undoubtedly one of the strongest that still stands the tests of all times.
The spacer is beautiful and the handle grips so nicely. A lot of fly line can be put out attractively. It casts the small dries with good precision and putting a fly down is a smooth affair.
---
Pros

– Things that shine on the Zephrus FWS Rod
Great accuracy
Faster recovery
Lightweight rod
Strong and durable construction
Lifetime warranty on repairs and replacements
Casts well for distance
Corrosion and rust resistant anodized aluminum reel seat
Quality cork handle
Durable rod tube and rod cloth
Fast action rod
Cons

– Things that are not so cool!
The guides produce some noise as the line goes through. This is irritating to some anglers who love silence while in session.
Doesn't make great short casts
Beginners will find the fast action a little difficult to manage so it is recommended for the intermediate and advanced anglers.
---
FAQ's – Questions about the Zephrus FWS Fly Rod
Q) How many types of guides does this fly rod have?
A) The rod has two types of guides-stripper guides and recoil guides.
Q) The reel seat as per a certain review say it is anodized. How comes it combines wood? Can it be reliable in terms of durability?
A) The spacers are made from a specific hardwood and triaxial carbon but the fittings and other areas of the reel are made of anodized aluminum. The entire reel seat and rod is durable.
Q) What is the design of the blank?
A) The blank takes a fast action design to allow for consistently longer casts.
Q) What is the weight of an 8 feet rod? Is it heavy like the All Weather Series still under Zephrus?
A) There are two models that measure 8 feet. The 3wt line rating measures 2.5 oz. while the 4wt weighs 2.50 oz.
Q) Is there any difference between the AWS and the FWS rod?
A) While all of them are in the Zephrus category they differ in conditions to be used in. AWS-All Weather Series means the rod is usable in both saltwater and freshwater while the FWS, the one discussed in this review is limited to freshwater environs only.
Q) Do all the models have hook keepers?
A) All models have hook keepers for easy mounting on the rod blank. You can trust it to maintain the same hook until you can use the rod in the next session.
Q) How are all the weight aspects of this Hardy Zephrus FWS Fly Rod?
A) Generally, the rod is lightweight with the 'heaviest' weighing 3.98 oz. In terms of swing weight, it is low to allow for effortless and quick casting.
Q) How many feet is the rod that suits a 3wt line?
A) Of the eleven rods in the range, three models are compatible with the 3wt line they are 8 feet, 9 feet and 10 feet.
Q) Can it be classified as an all-round fly rod?
A) If you are thinking in the direction of what you can use to fish then yes, it is an all-round and you can use nymphs, dry flies or throw the medium-sized streamers.
---

Final Verdict on the Hardy Zephrus FWS Fly Rod

Quality in a fly rod is more felt than seen. Hardy is famous for its most attractive and durable rods. Quality blends in when it comes to its exemplary performance when on water. Quite a good match for the tag price and even more. You will love its strength which is among the best and most reliable from the Hardy rods. From its construction, the Sintrix 440 technology combined with the hardwood and carbon fiber spacer in the reel seat makes you get the best out of this rod. It combines beauty and function at the same time.
Zephrus FWS was designed for making tight and long casts. Accuracy is top notch and distance is well on point. So if you intend to have this rod for shorter casts you are in for disappointments. Intermediate and expert anglers will love how fast this rod is and the ability to generate more fly line effortlessly. Starters might lag behind because of inability to make good timings. Still, if you are a beginner but have interest in sharpening your skills, it will work as a good rod.
Too much love for this fly rod just like the Zenith had a good reception after its launch. For a reason, many anglers are out to grab a few pieces. Check out with your nearest store to purchase. If you can't pre-order because of depleted stock, there are alternatives to choose from. G Loomis NRX Trout Fly Fishing Rods, Orvis Helios 2 Series Fly Fishing Rod, Scott Radian R905/4 Fly Rod, Sage Bolt Series Fly Fishing Rod, Hardy Fly Fishing Demon Single Hand Fly Rod and the G Loomis IMX-PRO FW Fly Rod are at par with Hardy Zephrus FWS Fly Rod in performance and durability. They all fall under the same price range and you don't have to spend more out of your budget. All of them use top range materials in construction, have great flex and power and have well-finished blanks.
[button link="https://amzn.to/2vRDfHY" type="big" color="green"] Zephrus Amazon Reviews and Price[/button]
[button link="https://chuckingfluff.com/best-fly-fishing-rods-comparison-and-beginners-guide/" type="big" color="teal"] Check Our Rod List Here![/button]