Disclosure:
Just to be open and honest the buttons and links you click on in the website will in most cases take you to another website where you can purchase the products I am reviewing. As an Amazon Associate I earn from qualifying purchases.
December 20, 2018
G Loomis NRX Trout Fly Fishing Rod Review – Powerful Accurate and Speed
There is no doubt that the G Loomis NRX Trout Fly Fishing Rods are undoubtedly among the best trout fly fishing rods. Too many goodies to smile about here especially when it comes to its construction and performance. It is a very lightweight rod that gives exceptionally accurate casts while generating incredible fly line speed at the same time. You can say it takes the right direction towards sharpening the skills of intermediate anglers to scale up to perfection.
Since its establishment in 1982, business has been booming for G.LOOMIS. Currently, this company manufactures almost all types of fishing rods. While purposing to provide quality, safety, health and environmental concern, serious anglers all over the world can get to use some of the finest fly fishing tools from this manufacturer.
The G LOOMIS NRX Trout fly rod is light, meant for fishing trout and works well with small dry flies when at high speed. For larger rivers where you need really long casts, nymphs will do it. All in all, accuracy remains the most crucial factor. When it comes to the rod's construction, the uniqueness identifies it from the rest. A combination of two materials- graphite and Nano Silica gives the rod the required positivity to see it function to its best. Quite a thing to take home. It is very sensitive and durable. You can't doubt its stiffness too. The on water sensitivity you get when using this rod through its blank is incredible. Not comparable to any other rod whether from G.LOOMIS or other brands.
Beginners will find it a little difficult-not unless your favorite is fast action rods. Otherwise, this fly rod suits advanced anglers or those with intentions to reach the advanced level. The rod comes with a very durable rod tube for storage purposes.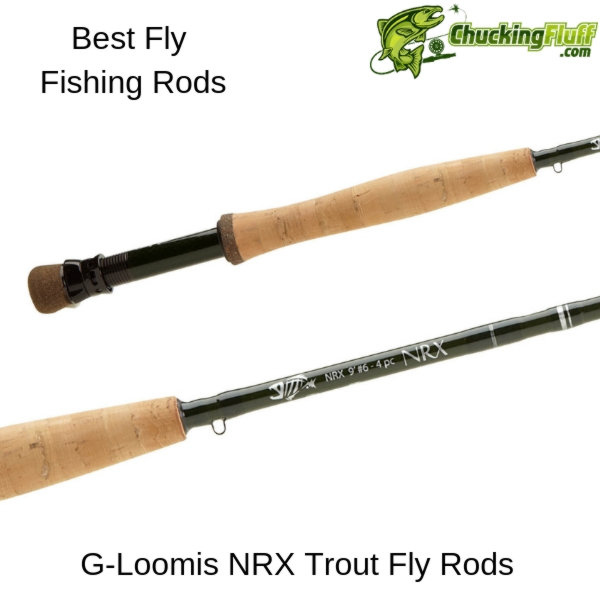 [button link="https://amzn.to/2HWVXQx" type="big" color="green"] NRX Amazon Reviews and Price[/button]
Main Features of the NRX Trout Fly Rod
Experienced anglers will tell you that you are good just like your rod. If the rod is a fail, then you are doomed too. Fineness is an understatement. From its meticulous crafting, be sure that it brings out the best of your skills. Excellence in all areas of your game, it doesn't matter if you are aiming to catch trout using nymphs, dry flies or streamers, it does its job regardless. Let's get deeper into its features.
Rod Specifications – NRX Trout fly fishing rods come in four different models with regards to line weight. The similarity in specification lies in the rod length which is the standard 9 feet and the rod pieces number of sections- 4 in total. To differentiate the models, the rod that matches the 3wt line has a moderate-fast taper action while the rest have a fast action. The rod line weights range from 3wt to 6wt. with a rod weight of 2.9 oz.
Rod Action – The rods have medium-stiff blanks that give a moderate-fast action on one model and a fast action on the remaining three models. Fast action rods like the G Loomis NRX Trout Fly Fishing Rods load faster than the medium and slow action rods and give tight loops with very high line speeds. This in many anglers results in longer casts and a greater ability to break the wind. You can make several casts faster if you are casting off the tip. This tells the popularity of fast action rods on bonefish flats. Novices will find timing with stiff rods a problem.
Materials – This rods is made from a combination of high-modulus graphite and the GL7 Nano Silica super resin system to give it the extreme sensitivity levels in the fly rod. The two materials make the fly rod light yet very strong. Their recovery time is quick.
Guides – REC black ion RECOIL guides are designed from a different material unlike other fly rods. The nickel titanium alloy called Aluminum titanium carbonitride which makes the guides sturdy yet flexible. The guides are non-corrosive regardless of the environment. In case of any deformations, it returns to its previous shape.
Sections – The rod has four sections hence the name 4-piece. This attribute is excellent when it comes to storing the rod in the rod tube and transporting it to your fishing spot. Quite a good thing that the disintegration can allow for carrying in a backpack.
Handle – G.LOOMIS used Half Wells High density cork handles two models with 6.75'', one with 7'' and the other with 7.25' grip length.  The overall handle lengths range from 10.25'' to 11.75 inches and have a fighting butt of 1''-1.25''. The cork handles undergo a filling and treatment proprietary process which cuts down on the chances of void fill dropping out.
Real Seat – The reel seat is customized to suit the rod's performance in all types of water- whether salt or fresh. G.LOOMIS knows the secret behind this construction but there are no threads that hand out to ensure that the reel locks to the reel seat with ease and securely.
Tube – Its travel tube is made from aluminum to give the rod maximum protection against physical damage even if you enclose it in the rod tube.
G.LOOMIS issues a lifetime warranty on this fly rod. In case of need for any repairs or replacement, you can reach their office line or mail. However, there will be need to go as per the terms and conditions on the warranty.
---
Consumer Thoughts on the NRX Trout Fly Fishing Rod
Quite a fantastic rod because of the tons of power during casting. Its swing weight is really light and the accuracy is impeccable at any distance. The excitement when the rod is able to beat the wind is real.
Its color is pleasing to start with and the reel seat is of very high quality. Considering the fact that it is usable in all kinds of water, salt water areas might not be such a problem to its performance and durability.
The dark green metal rod tube is a rare accessory that G.LOOMIS adds to the G Loomis NRX Trout Fly Fishing Rods. It blends well with the rods color and its protective purpose is worth reliance.
Generally, the rod is well-finished but there had to be a better cork. Considering its price, the cork had to be flora or the AAAA but not cork filler.
The rod has some of the most recent state of art components and this makes it fully functional and something long-lasting.
This rod feels very light than most of the other fly rods-lighter than the GLX series rods by G.LOOMIS. As you cast, the rod is crisp and it does not bobble when you apply more power as you cast. For instance, in very long casts or when you punch a fly in the wind.
Hooping the rods severally to test their durability, be sure it fights fish very well and there is no sacrifice when it comes to power. The rod maintains strength throughout.
Its loops are very tight and you use very little effort. You can deliver your flies to the fish regardless of the condition. It has performs flawlessly.
The rod is excellent for casting nymphs and dry flies. The accuracy of the rod is greater, way better than any other rod.
---
Pros

– Things that shine on the NRX Trout Fly Rod
Very lightweight
Durable construction
Responsive
Good backbone
Super sensitive
Accurate casts
Greater line control
Can handle larger fish with ease
An all-water fly rod
Durable rod sock and rod tube
Casts well with speed
Medium-stiff action
Quick recovery rate
Manageable in the wind
Cons

– Things that are not so cool!
The price is a turn off especially for anglers on a budget. But with regards to performance and durability it is worth it and you can spend more on this rod if you don't mind.
Not recommended for anglers who are just starting their fly fishing journey because of the fast action. Starters be unable to feel the loading and unloading process of the rod making timing difficult for them.
Snaps very light tippets due to the fast recovery rate resulting in a high number of broken-off fish.
---
FAQ's – Questions about the NRX Trout Fly Rod
Q) Does the reel come with a Cordura rod tube or a case?
A) This rod comes with a rod sock and a rod tube made of aluminum.
Q) Is there a warranty for this rod in case of replacement needs?
A) Yes, G.Loomis issues a warranty to the original owner of the fly rod to be used in case of repairs and replacements. It lasts a lifetime.
Q) Can it be used in freshwater or are there any specifications with regards to environment?
A) No specification. G.Loomis says his is an all-water fly rod meaning it functions well in both fresh and salt water environs.
Q) Can a beginner find the G Loomis NRX Trout Fly Fishing Rods useful?
A) No definite answer here. It depends on how comfortable the starter is with handling fast action rods and how well they can notice the rod loading and unloading. Otherwise, it is recommended for advanced anglers but starters can give it a try if they own one already.
Q) Are handles on the NRX rods durable and comfortable?
A) Yes, the handles are made of half wells high density cork material which is durable and gentle on your palms. The finish on the cork is pleasing as well.
Q) Does the rod have a fighting butt?
A) Yes, all NRX Trout fly fishing rods have fighting butts although each model of the same has its different fighting butt length.
Q) Is it true that the rod has some components made outside USA? Is quality control assured?
A) Only the blanks are made in Japan but the entire rod is manufactured in USA and you can be assured of quality control put in check before release for sale.
Q) Are the guides easily affected by rust?
A) The guides are made from an alloy of nickel titanium which is resistant to any form of corrosion or rust.
Q) How light enough is the rod. Can you give a precise weight?
A) The rod weighs 2.9 oz. making it very light compared to other rods.
---
Final Verdict on The G-Loomis NRX Trout Fly Fishing Rod
Every aspect of the NRX Trout fly fishing rod will marvel you with the rod getting venerations as one of the finest from many anglers who have used it. Its preciseness in casting nymphs and dry flies at an incredibly good speed helps an angler to fool trout with ease. Speed aside. When certain conditions need unimaginable accuracy when making long casts, your answer is this trout rod.
You will love its efficiency as it beats most rods from renowned brands like Sage. We aren't undermining Sage products but is a rod stands out, it does. The tip is excellent and has a very good butt. The mid-section makes this rod an exceptional performer no matter the distance. What makes it the master of accuracy is the power, casting ability and weight. Uniqueness is in its craftsmanship. The combination of two different material to ensure all is to the benefit of the angler makes G.LOOMIS a brand to highly consider. Nano Silica resins and graphite add to the stiffness and lightweight nature of the fly rod.
Now that everything about the rod is welcoming, there will be need to purchase the rod to have a feel of its goodness and action. However if you miss out on the G Loomis NRX Trout Fly Fishing Rods from your store, Hardy Zephrus FWS Fly Rod, Orvis Helios 2 Series Fly Fishing Rod, Scott Radian R905/4 Fly Rod, Sage Bolt Series Fly Fishing Rod, Hardy Fly Fishing Demon Single Hand Fly Rod and the G Loomis IMX-PRO FW Fly Rod will still serve the same purpose as the one in this review.
 [button link="https://amzn.to/2HWVXQx" type="big" color="green"] NRX Amazon Reviews and Price[/button]
[button link="https://chuckingfluff.com/best-fly-fishing-rods-comparison-and-beginners-guide/" type="big" color="purple"] Check Out our Full List of Rods[/button]