Disclosure:
Just to be open and honest the buttons and links you click on in the website will in most cases take you to another website where you can purchase the products I am reviewing. As an Amazon Associate I earn from qualifying purchases.
April 26, 2022
Best Fly Fishing Rods for Bass – Buyers Guide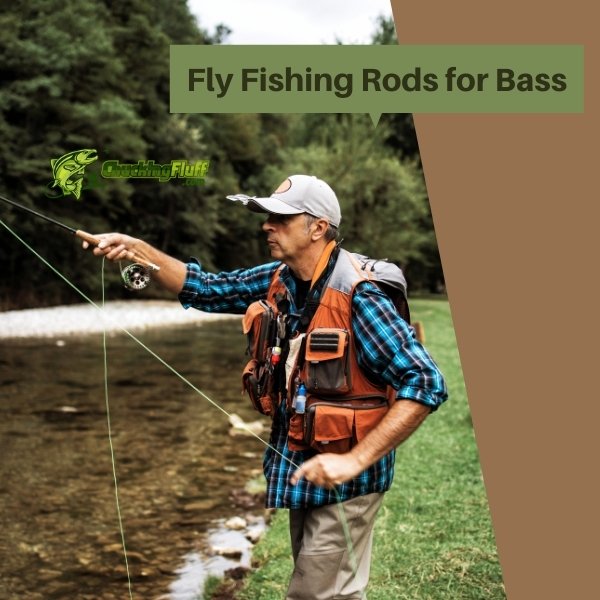 Bass fly rods throw larger flies than your usual trout rods while maintaining the backbone to battle bigger small, and largemouth bass.
Bass fishing needs you to use heavier fly lines, and you need to match that to a heavier rod equally.
The balance between the equal weights allows the angler to accurately and consistently cast any bass fly to a hidden spot around rivers and lakes.
There are various methods of catching bass so lets look at the best fly fishing rods for bass.
Anglers can opt to go subsurface using crawfish flies or minnow imitations or throw floating lures like poppers or frogs.
Topwater flies like poppers are excellent for summer, especially at dawn or late afternoon.
It is enjoyable to see bass blowing up on flies on top.
If there aren't as many cicadas in your place, cicada flies should be a top choice for summer dog days.
Cast them underneath bushes and trees where cicadas will likely fall in the water.
Another method of catching bass on fly rods is through bottom feeding.
Crawfish are among the most significant diet sources for small and largemouth bass even though they might take other food.
Try your luck with crawfish if throwing streamers or topwater isn't yielding as bass can be picky eaters.
You can fish them almost anywhere you throw them.
Most anglers cast crawfish into river currents and allow them to drift freely with an occasional twitch for some action that bass love.
Streamers are excellent for fall and during the pre and post-spawning period.
By this time, the bass are hungry and can willingly chase a meal.
Remember to match your fly colors to that of local forage.
If you have felt the sudden bass pulls on a streamer's end, you understand how high your heart palpitations can get.
It is one of the most effective methods of catching bass.
Here's something to note while reading through the guide: I understand that there are different weights of fly rods that apply to bass.
However, not all perform as best as any angler would love.
Six-weight rods are fantastic all-rounders for trout and bass, while eight-weight fly rods are perfect for monsters.
Rods in this guide are seven-weight fly rods because they are the best and strike a perfect balance in strength to haul a big bass and the ease of throwing bigger flies.
Seven weight bass rods can also throw medium and small flies when casting in skinny waters and ponds.
---
G. Loomis IMX Pro 7 Weight Fly Rod
---
When asked what they prioritize when purchasing fly rods, most anglers will say durability, affordability, and capability (or something along these lines).
G. Loomis wrapped the three words into a well-engineered and purpose-built rod – the IMX Pro.
The stiff tip and midsections add power to this bass beast, and the USA-crafted blank and pole offer durability.
Being one of the company's mid-priced models, you are sure of value for money without compromising quality and performance.
It is the joy and pride of Loomis's affordability.
The brand new IMX Pro 7-weight is priority achieved and built with a double up-locking reel seat and has a wooden spacer.
Its functional seat combined with the full-wells cork handle for a more high-quality bottom end to Loomis's IMX Pro.
As one of the top-tier finger guys, I love the full-wells more on heavier rods and wouldn't mind the cigar-style on lighter ones (choose your poison).
Moving upwards, the rod adds a stylish, USA-made quality olive blank, and since the Pro is a middle-priced pole, top-of-the-line componentry is not present in its chrome stripping guide and single-foot guides.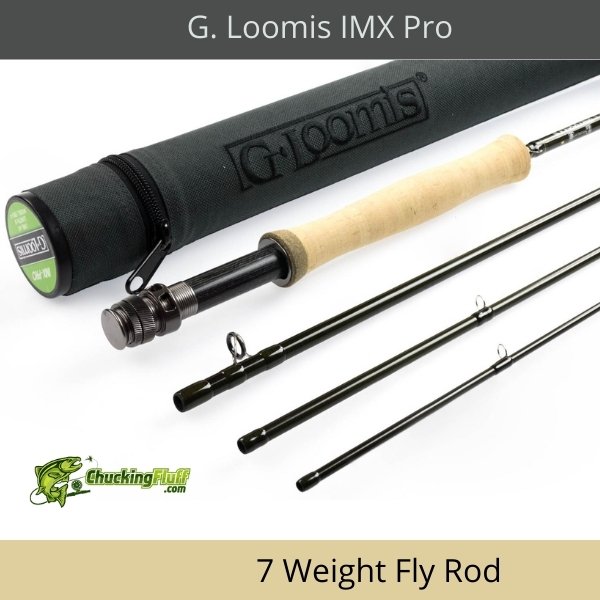 Here, G. Loomis thought more about purpose and functionality, not expensive fine art.
There is some swing weight though slightly noticeable as you cast the rod past 45 feet.
The IMX Pro might not be the lightest bass rod on the market, but a swing weight of 73-74 gm2 is within the range of most mid-priced rods.
You will be impressed at the amount of power the rod provides at 60 feet, even though it leaves a little to be desired when it comes to accuracy as you cast farther.
Having a stiff tip and mid-section means you can attain the distance through power, but you need slightly more work.
Not too fast, it gives enough feedback at 45 feet and does an excellent job.
The rod oozes dependable quality, accuracy, and performance at 60 feet and farther as you continue using it.
The stiff tip and midsections determine the feel and flex.
Capability and power are evident as you cast the IMX Pro.
There is so much to love about the G. Loomis IMX Pro as it is difficult to beat in its category and price range.
The bass fly rod might be heavier but produces more quality casts at seven weight distances.
---
Orvis Helios 3D 7-wt Fly Rod
---
Anyone looking for a high-grade bass rod that boasts greater power, distance and casting accuracy should quickly get the Helios 3D.
Casting accuracy is the hallmark of this rod without compromising distance.
It is a rare piece because most bass rods have a stronger trade-off between accuracy and distance.
As a long-distance casting rod, it handles challenging bass fishing conditions like wind gusts, strong and fast currents, longer demanding tasks, playing and hooking large small and largemouth bass.
The D in the product name stands for distance.
Orvis designed it as a fast-action fly rod with greater power, making it a versatile pole.
It supports elite bass angling experiences and passes for a high-end rod.
Built for strength, its proprietary high-tensile blank is made from graphite and makes it break-resistant and more durable than most rods in its category.
It is specifically designed for heavy-duty casting in large lakes and to handle medium to large bass.
If you have fished its predecessor, the Helios 2, the three comes with considerable improvements.
For the heavier tasks it is built for, the rod is lightweight.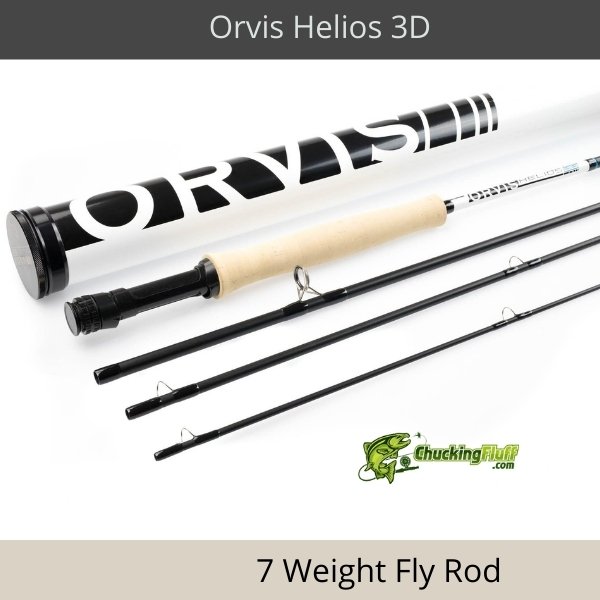 Pursuing trophy-sized bass can take long days of casting; the rod's weight aids in taking the edge of hours and days of casting.
Bass can be stubborn and almost kill your snake guides.
Worry not since the Helios 3D ones are recoil and will rise to their shape even if they are crushed.
Orvis eliminated the hook keeper, which some anglers think is the evilest deed.
But most anglers aren't as concerned since there are more places to store your fly temporarily while walking or transporting the rod.
Of course, to counter incidental breakage, the manufacturer provides a designer-graphic high-grade aluminium tube.
Despite its fast action, it is buttery smooth to use.
Its excellent construction makes it a steady opponent to strong current and heavy wind fishing conditions.
Compared to its mates targeting similar angling conditions, it has slightly less power, but I feel this aspect is overshadowed by the higher feel, touch, accuracy, and lighter weight.
You will hardly appreciate the Helios 3D until you try it on the water to gauge its versatility.
Hands down, it is the best versatile bass fly rod in its class since you can use it to catch a wide range of fish and in almost any condition.
Buying this rod means paying top dollar for it, and a good warranty or guarantee would be the perfect reward.
Orvis backs the Helios 3D with a 25-year guarantee coupled with low-cost replacement or repair fees for any accidental breakage.
You will never regret purchasing this rod because it adds to your experiences and helps you improve casting.
It mitigates most if not all variables affecting casting precision and excels from 40 to 60 feet; however, it won't hold you back if you intend to cast farther.
The Helios 3D isn't your regular bass rod for tiny catches, but it is an excellent addition to your arsenal if you hope to raise your accuracy, proficiency, and casting range.
---
Temple Fork BVK 7-wt Fly Rod
---
Bigger performance at the price of a pack of fries is what I would describe the TF BVK 7wt Fly Rod.
This and the rest of the BVK rods share the same look of sophisticated beauty.
Its blank comes in glossy forest green with a matching wrap and lettering in gold.
TF swapped the old recoil stripping guides with their new tactical series that boast a minimalistic appearance.
On the hand, the BVK has a lightweight feel and weighs 3.1 ounces.
You will love the cork grip's correct size and quality.
It is a pleasant bass rod to cast using several fly line types; the most typical among anglers who fish this rod is the Airflo Ridge WF7F line and the 250 to 350 grains sinking lines.
This rod's fast action and light feel combine to give a very satisfying casting pole.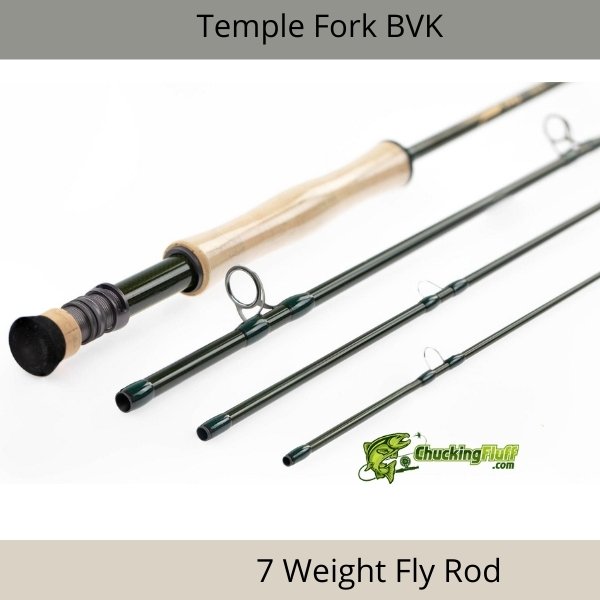 For most styles, the blank's action fits perfectly regardless of the situation.
Even though its tip is lighter, it has plenty of reserve power to allow confident angling at any distance.
The 7-weight bass rod is super tight to 20 feet and feels slightly stiff but remains very accurate while retaining some feel.
The 30 to 60 feet realm is the sweetest spot for this bass rod as its blank loads exceptionally, making casting effortless.
It takes modest strokes and hauls, and the BVK will execute the rest and is among the best at mid-range.
When you begin pushing into the 75-foot range and farther, you need to work slightly harder, and you will only feel the fly rod shutting down when you are almost exhausting the line out of your reel.
Temple Fork: BVK Series Fly Rod, TF 07 90-4B
Lighter weight for aggressive power and strength
Translucent blank with carbon fiber reel seat
Ultra hard-chromium impregnated anodized steel stripping guides
Contoured, comfortable Flor grade handle grips
Better-than-excellent presentation in a lightweight rod
Shouting out 110 feet on this rod is surprisingly consistent.
The BVK handles sinking lines equally well and has enough gusto if shooting a 350-grain line at a respectable distance.
Casting power in this rod is everything as it can hook small to large bass effortlessly without heavily taxing it.
Anglers who have used the BVK say it doesn't exhibit severe issues, but no angling tackle is perfect.
A user experienced minor gripes with the new tactical stripping guides that seem to have an excessive diameter.
If you are an OG in fly fishing and have been using recoil stripping guides, you can agree that they are the real deal.
The reel seat's up-locking function works well but is relatively small, making it harder to loosen and tighten because of the diminutive size.
It is sad that all you get is a protective sock for the BVK and most TF fly rods and not a rod tube, but it isn't a big bother to many at the price point.
The flor grade cork is questionable regardless of the excellent quality from a distance.
An up-close inspection revealed what looked to be liberal filler use.
Considering its performance, the rod is a bargain and astounding enough; it costs so little yet exhibiting better overall castability and feel than some high-end pieces.
Yippee! TF gives you a lifetime warranty on the rod, which is a banger for me.
---
Echo EPR Fly Rod
---
Let's be honest: The EPR outfished most rods twice its price!
ER – Extreme Performance Rod is what it is; case closed!
If you read the pole's catalogue description, you'd easily conclude it is a harsh and stiff fly rod to cast.
Most speciality saline rods almost feel this way until you cast them, then positivity checks in.
A phrase that interested me the most was Echo describing how the EPR got a super-fast tip that loads quickly at short distances.
The pole is an extra-fast action, and ECHO piqued my attention, having mentioned excellent performance in close.
My first impression of this rod was that it meant SERIOUS business!
No glamour or additional glitz, no outrageous tube, and it looked like it could kick ass any day, any time.
The blank is smooth to touch because of the glossy finish.
Features like the large snake guides and dual oversized stripping guides have fantastic constructions and finishes.
And if you want it up in a jiffy, alignment dots are at the ferrules, but there isn't a hook keeper.
It is built with a full-wells grip and has composite cork at the top and bottom to counter chipping and offer a more visual accent.
The grip has a fine palm swell for a rather chunkier feel while maintaining comfort.
Despite the visible filler, the quality is fantastic.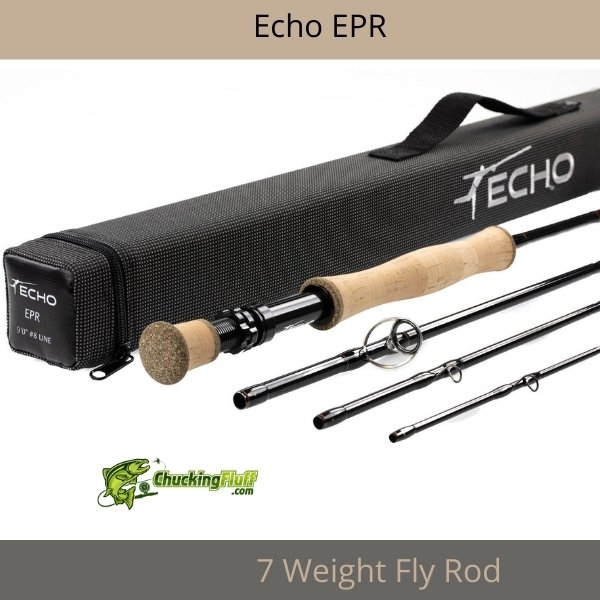 The reel seat has alignment dots which I find incredible and uncommon in most poles.
You will spot them on the seat and the slide band to help the reel foot fit perfectly.
Double up-locking rings smoothly spin and tighten with a progressive, positive feel when securing the reel.
It is built with a fighting butt with a flared end that offers ample surface area to cushion the gut properly when battling large bass.
Pro anglers recommend pairing it with the Airflo Super-Dri Bonefish line for the EPR.
The rod has a lot of guts and delivers big flies with utmost authority, even in wind gusts of 20+.
It gives ample feedback in in-close casting, and the stupid fast description by the manufacturer instantly made sense to me.
The pole looks pretty heavy compared to its contenders, but I can't say it feels light.
For the 7-weight, you won't be put off by its feel when casting.
If you are into large flies and battle big winds often, the Echo EPR is better tailor-made for such anti-finesse times.
The manufacturer is generous enough to include a rod sock and square rod tube for ease of transportation, storage and safety.
---
Sage Payload 7-weight Fly Rod
---
Sage launched a rod built to cast larger flies and fight bigger fish.
The Payload boasts an extra-large componentry and rugged design to handle heavier lines and wrangle freshwater beasts.
It equally does well in the saline, and its efficiency and high functionality emanate from the company's classic Konnetic Mechanism, powerful tip and strong mid-section when casting heavier rigs.
I was surprised at the softer butt section that increases the rod's leverage capabilities.
It is a forgiving butt to allow you to use the powerful mid-section and tip while maintaining great casting strokes.
If anything, I would briefly describe it as a rod with incredible capabilities, power and performance.
Blanks are tannin with bronze and burgundy trim and thread wraps.
It is finished with the extra-large chrome snake guides and the classic torzite-style tangle-free Fuji ceramic stripping guides.
Sage designed the reel seat with heavy-duty laser-engraved aluminium to stand up to the brutality if you try out the salt flats.
The double up-locking component anchors the reel large enough for hard-fighting predators the Payload is meant to target.
These rods also have the super plus full-wells handle and an efficient fighting butt to battle large bass effectively.
The rod's performance at a distance isn't a surprise.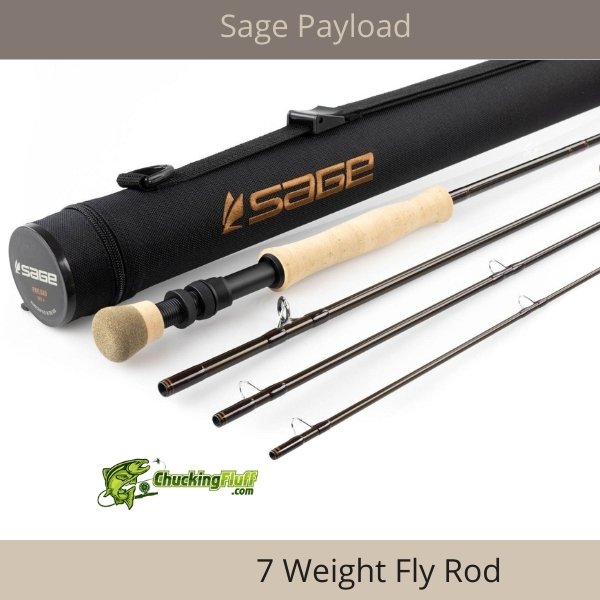 It takes a short while to harness the long-distance performance of this pole; however, it is primarily because of the choice of the fly line.
If you want to unload a lot of line quickly at a distance, pair it with the Rio InTouch Outbound Short.
The Payload loads better and is more accurate is used with the Scientific Anglers Slam.
The Scientific Anglers Slam has a longer head that allows the rod to load deeper, especially at long distances maximizing accuracy and performance.
It carries line in the air exceptionally and delivers streamers on target.
The Payload is accurate at 40 feet with short-headed fly lines, and aggressive front tapers like the Outbound.
Since it is built to cast bigger flies and battle larger fish, it is sensible to need a front-heavy fly line to gain more short distance accuracy.
It is a fast-action fly rod and takes heavier lines to capitalize on its powerful butt.
Over lining the rod maximizes its performance and flex.
The powerful tip allows it to cast well at short distances too.
It might not provide plenty of feel on the water because it is bigger and heavier to be sensitive, like poles built with sensitivity as the top aspect.
But if paired with the right fly line, it performs as excellently as a high-end rod.
Sage backs the Payload with a lifetime warranty with reasonable repair and replacement costs in case of other personally caused damages.
If you are looking for a solid bass fly rod that can start and complete the job and use it for other predatory species as well without exceeding the mid-price range, you have it!
It is an accurate fly rod at all distances if lined properly and delivers large flies on target even in gusts of wind.
Despite being slightly heavier, it has plenty of power and is a stellar option for medium to large bass.
---
Orvis Clearwater 7-wt Fly Rod
---
The Clearwater seven-weight deserves an angling book worth of compliments; however, if nothing else, it proves one surprising truth:
Orvis has at least dove to the front of them all in the race of manufacturing excellent fly angling tackle.
The offerings on the Clearwater match or outdo some of the market's fiercest contenders, and the updated version is the best example of such a resurgence.
The rod is affordable and a fantastic all-rounder.
It excels in the 30 to 60 feet casting range.
The pole isn't built in the USA but comes with the Orvis 25-year guarantee.
Imagine being covered for a quarter a century!
The Clearwater can never be mistaken for a De Walt or Milwaukee; however, it comes close than anything in the realm offers.
It is not terribly light but feels fantastic in hand.
As a medium-fast rod, it is rather crisp than relaxed and has a forgiving nature that novice and amateur anglers will appreciate.
I have fished this buddy, and its tip is softer – something unexpected – and does a fantastic ask in protecting your tippet.
It is available in a combo that you can purchase at a subsidized price, and I appreciate that the manufacturer did not overweight the fly line excessively.
If paired with the Clearwater line, the pole loads exceptionally at the middle range while maintaining enough delicateness when casting at times when bass are weary.
Remember that everything is relative because of its price point, but the build quality is pretty impressive.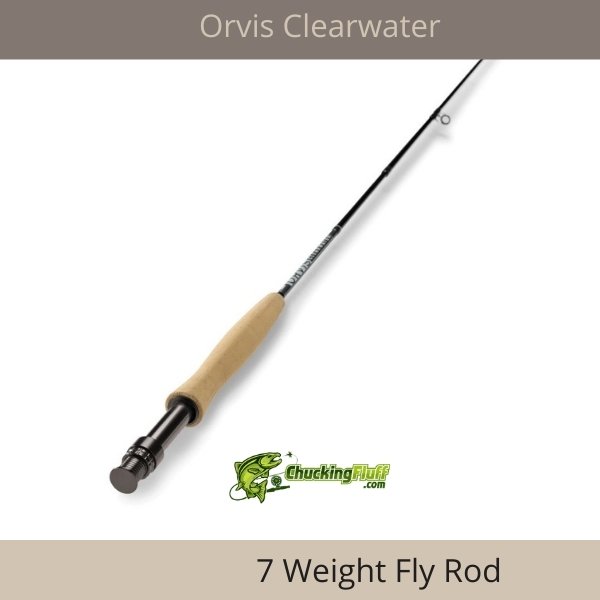 In the overhaul, Orvis gave it an H3-themed sticker right above the cork and dark grey thread wraps to hold its chrome snake guides intact.
The cork might not be top-tier stuff by all means, but it is far better than what is on most recent budget-friendly poles.
Its black chrome blank looks awesome in the sun and doesn't absorb scratches like finishes on most entry-level fly rods.
While it does almost everything, it isn't an excellent one for casting inside 30 feet.
It is a stiffer rod that needs at least 30 feet of fly line to load it properly.
The Clearwater's cork grip is a slightly improved version of the basic full-wells and is a grip style you will love.
Most manufacturers are gravitating towards it nowadays, but it might seem slightly overkill if you aren't used to it.
Orvis has also removed the hook keeper from the Clearwater.
Orvis Clearwater Fly Rod Outfit - 5,6,8 Weight Fly Fishing Rod and Reel Combo Starter Kit with Large Arbor Reel and Case, 5wt 9'0" 4pc
FULL CLEARWATER FLY ROD AND REEL COMBO includes Clearwater Large Arbor fly reel, Clearwater fly line, backing, leader, and rod/reel case
BLACK CHROME BLANKS with white accents and quick rod identifier
CHROME SNAKE AND STRIPPING GUIDE with a ceramic insert
BEEFED UP FULL BLACK NICKEL ALUMINUM REEL SEATS to handle a variety of fishing grounds and big fish with fight
READY-TO-FISH PACKAGES built around 5-WT 8-foot 6-inch, 5-WT 9-foot, 6-WT 9-foot rods with Size II Clearwater Large Arbor reels; and 8-WT 9-foot rod with Size IV Clearwater Large Arbor reel
The Clearwater is ultimately the best entry-level and bargain-buy bass rod.
In its category, I didn't expect to like anything beyond the Fenwick Aetos; however, Orvis surprised me.
The Aetos is fast enough, and novices will love it, but the Clearwater's soft tip protects lighter tippets and throws your streamers pretty well.
Its build quality surpasses what I expect on entry-level fly rods.
Even without the hook keeper, the somewhat cork grip, and its average performance in-close, it is a top scorer in the beginner-level rod market.
The Clearwater is an affordable, blue-collar and fun bass rod that has carved its place in the quiver of old and new anglers alike.
---
Fenwick Aetos 7-wt Fly Rod
---
Fenwick rods have been rooted in tradition since the days of fibreglass rods in 1950.
If you come from a lineage that fly fished, perhaps your grandpa used a Fenwick fibreglass pole in the heart of the 20th century.
Like many fly rod companies, Fenwick held on to graphite and has been crafting top-tier rods since then.
Among them is the Aetos, a budget-friendly entry-level rod designed for purpose and functionality.
I think that the Aetos pays homage to Fenwick's tradition as it continues to drive the contemporary rod innovation.
The manufacturer's primary goal in the fit and finish is functionality and not high-end componentry.
It sports an anodized aluminium double up-locking reel seat but has no burled wood insert like those on high-end poles.
The Aetos has a basic reversed half-wells grip and boasts the practical AAA grade cork.
It is a blue blank with black trim wraps and carbon flake accents.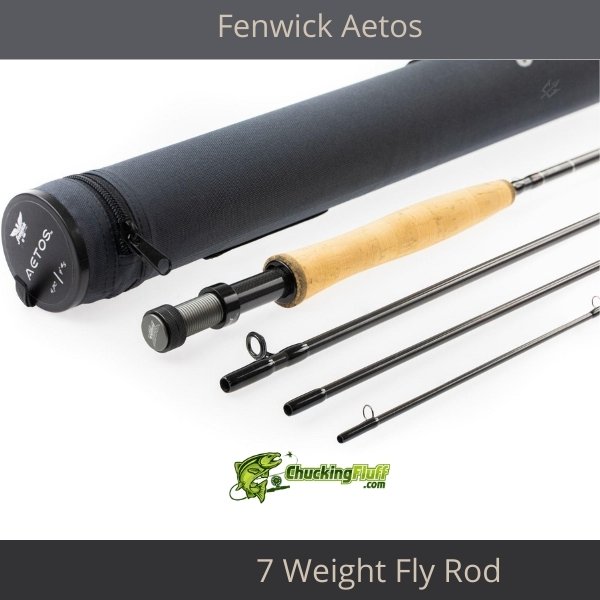 Another addition is alignment dots, standard snake and stripping guides that add to the quiet composition of the rod.
The swing weight is comparable to other seven weight rods in the market, though its overall weight isn't as heavy.
For its price point, it holds itself against the competition.
Usually, low or mid-priced rods do not have the backbone to execute the job at a distance.
The Aetos has proven to be different, and its efficient taper gives it a lot of strength and power.
Most anglers who have tried it would hesitate to make it their only distance rod, mainly because it is heavier than other poles proficient at casting for distance.
If you can spend the whole day casting the Aetos at 60 feet, good for you, but if you are looking for a perfect rod for occasional hero casts to bubbly bass, bag it!
The rod thrives at close to middle distances and is superbly accurate.
It casts easily at closer distances, especially when making quick casting strokes.
If casting at 45 feet, the pole maintains its feel and accuracy.
Fenwick AETOS Fly Fishing Rod Grey, 9' - 7wt - 4pc
Nano Composite Technology used in blank construction
Fast Action
Two tone anodised aluminium reel seat with woven carbon spacer
AAA grade cork grips with composite cork tippings
Stealthy black satin blank finish
The Aetos is a fast-action rod that promotes accuracy at long distances, and it gets an A++ at it regardless of the price.
Its soft tip gives tight loops at closer distances and has a forgiving build for rookie and pro anglers alike.
Masters recommend lining this rod with a slightly heavy line to help load the Aetos and give better performance.
Here's yet another one with a limited lifetime warranty to cater for defects in material and craftsmanship.
The Aetos is quickly becoming a favourite among anglers and is ideal for the value-driven fisherman/woman.
As a low-priced entry rod into fly angling, it encourages superb feel, performance and accuracy.
I feel that the rod outperforms most mid-priced options and a few high-end rods.
Fenwick's way of wrapping modern performance and timeless tradition into a fly rod is evident in the Aetos.
---
Redington Crosswater Fly Rod
---
Redington Crosswater Fly Rods fit into the mould of quality gear at competitive prices.
It is built with a graphite medium-fast action applicable for novices and pro anglers.
The manufacturer doesn't compromise quality considering its entry-level price tag.
You can visibly see the consistent and excellent performance in the high-grade material of the anodized aluminium reel seat.
The fly rod is well-finished with attention to detail and care, from the wraps to the seat.
For a bass rod, the 8-weight does it for the Crosswater since the manufacturer didn't have a 7-weight on this one.
This one is for anglers who want a pole from a reputable brand for night fishing for giant smallmouth bass without being tough or expensive.
I know of buddies who use the same for chuck and duck fishing for steelhead, salmon and carp.
If you are looking for a match in durability and handling all manner of brutality, try the Crosswater.
I have broken many rods in the past but can't seem to hack this one (not intentionally, but some environments and situations I fish in have damaged many of mine).
The medium action is top-notch since you aren't looking for a highly aggressive rod.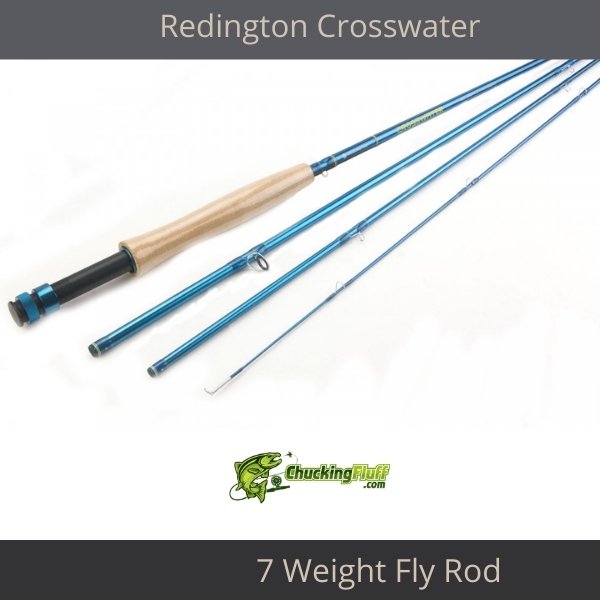 It is responsive and telegraphs the bottom to the angler with precision.
The Crosswater shines in battles; try breaking a tippet with it, lean back, relax and hang on.
Among the most incredible distinguishing aspects of the Crosswater is the striking blue blank.
It looks spectacular in the sun and is unique since most poles are in muted colours.
An appreciable aspect is the alignment dots on every section; they are tiny painted dots to help you assemble your rod and have the sections lined up perfectly.
Most fly rods in the Crosswater price range cover the whole blank and threads with a generous resin layer, and this one doesn't go contrary.
Compared to high-end rods, it is slightly thicker but well done compared to most cheap options.
And for beginners, a little more coating is a good thing since they often bang rods on trees, rocks and any obstacle during back casts.
The extra resin adds to the longevity of the bass rod.
Redington Crosswater Fly Fishing Rod with Bag, 4 Pieces, 4 WT 7-Foot 6
MEDIUM-FAST ACTION: It is a smooth-casting, medium-fast action graphite fly rod, offering classic performance for all levels of anglers and suitable for both fresh and saltwater fishing.
VERSATILE USE: The anodized machined aluminum reel seat makes this gear piece ideal for both salt and freshwater angling.
EASY TO ASSEMBLE: The rod comes in 4 pieces that have alignment dots for easy setup.
PORTABLE: A durable cotton rod sock case is included with this piece of gear.
REDINGTON WARRANTY: If your Redington product has a defect in workmanship or materials, we will repair or replace it at once - you have 1 year from the moment of purchase to make a claim.
It casts surprisingly well, is comfortable and has excellent power to satisfy every novice fly angler.
You can't compare it to poles going for double or triple its price, but its action is fishable.
It is not its fault if you can't land a bass or any species with the Crosswater.
The rod loads well as you backcast or false cast and delivers excellent distance with minimal to no trouble.
You will be impressed with its feel, but if you are comparing it to high-end rods, it doesn't dampen quickly, which will impact your overall accuracy.
The most crucial takeaway here is you can fish the Crosswater rod for bass all day and have a good time.
---
Douglas DXF Fly Rod
---
Legends in the fly tackle manufacturing sector have swept the market, but recent times have seen new companies doing the most, and we are here for it.
Douglas is one of the relatively new brands in New York run by buddies with decades of rod-building expertise and experience.
Evident in the DXF, their expertise is coupled with an incredible state-of-the-art craft and technology.
It is a new middle-priced pole exemplifying affordability and quality.
The rod combines a fast-action blank with the manufacturer's componentry to offer a regal and classic fit and finish.
Douglas builds the DXF with a double up-locking reel seat leading to a wood insert for functionality and quality.
The cork is made from high-grade cork and has a reversed half-wells grip.
Its green/teal blank adds style, and the alignment dots, hard chrome snake guides and stripping guides are for functionality.
The fit and finish of this rod promote a bass rod-style most anglers appreciate.
It is a relatively light rod, and the decreased weight improves its versatility and castability.
Though not a distance champion, the progressive taper and fast-action blank give it strength and power when casting farther but loses some accuracy past 70 feet.
This, however, doesn't mean that you can't make hero casts once or twice a day.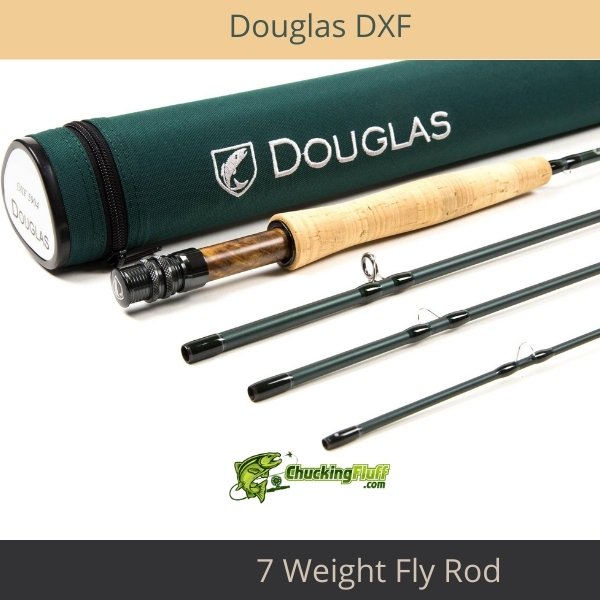 Shockingly it is more impressive at about 45 feet.
It might not be the most accurate at 30 feet, but it isn't the least either.
The pole carries its average accuracy to the 70 feet mark and will still get a fly in front of a small or largemouth bass at most distances.
Douglas constructed the DXF as a high-performance pole and does fine at 30 feet.
Because of its fast action, there is not much feedback at close range, but what it lacks at closer distances, it makes up for from 45 feet.
The line speed of the DXF is apparent at 45 feet, and its performance is unmatched.
Moving it to 60 feet maintains the feel and feedback, though with reduced power compared to high-end rods.
The Scientific Anglers Mastery MPX pairs well with the rod.
The original owner gets a lifetime warranty to cater to defects in material and craftsmanship.
---
Thomas and Thomas Zone Fly Rod
---
The Zone by Thomas and Thomas was the first middle-price saltwater rod to be manufactured by the company, and it made waves.
Some years back, it was the best new rod at the IFTD in the saline category.
It dethroned the perennial powerhouse of saline fly rods – Sage, and it became a big deal, especially at its affordable price point.
The fit and finish aren't as executive as expensive T and T rods, but it is better than most poles manufactured today.
It features an aluminum double up-locking reel seat and clear anodized hardware to promote functionality.
The blue blank is un-sanded and a departure from the manufacturer's norm, giving it an appearance similar to Scott rods.
Zone rod blanks promote the new and advanced Strato Therm resin developed for the famous Exocett and Avantt rods.
It boasts premier quality and meticulous craftsmanship.
Zone Thomas & Thomas Fly Rod (9' 6wt)
3wt-4wt Medium/fast action 5wt-10wt fast action.
Natural finish carbon appearance.
Clear anodized premium aluminum hardware.
Blue fiber reel seat hand rolled at T&T.
Titanium frame stripping guides with Zirconium inserts.
The Zone upholds the classic Thomas and Thomas artistry in the blank, blue wraps, composite cork grip, and the top-notch inclusion of titanium torzite stripping guides.
Its swing weight is slightly heavier than some rods, and the entire rod's touch is heavier but slightly below 4.5 oz.
The Zone might not win all casting competitions but is an excellent bass tool.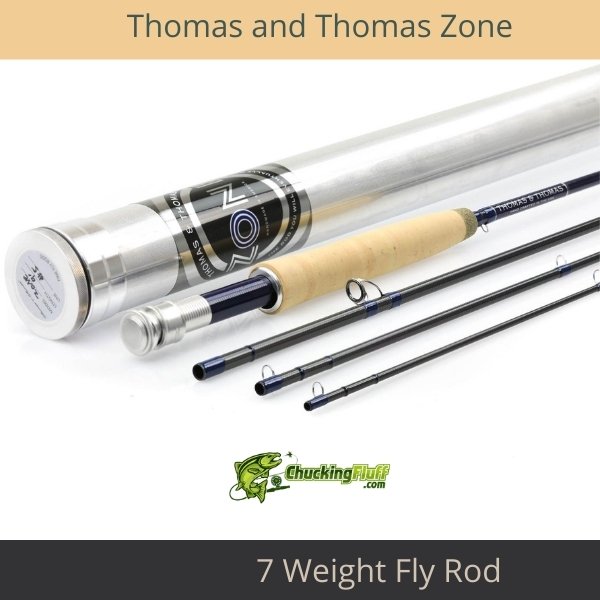 If you love long-distance casts, don't expect it to fire 100-foot casts easily unless you are a pro at it, but it performs exemplarily at 80-90 feet.
It excels in the 40 to 60 feet range and is superb at 60 feet.
The rod feels like most modern fast action saline rods and is definitely as expected but offers more feedback at 40 feet.
Its finish and fit might not be perfect for impressing buddies at the banks, but it gets the job done.
---
Orvis Recon Fly Rod
---
For many reasons – good and bad, the fly angling industry isn't ready to stand pat with things that work.
Rod builders are churning out new poles yearly, and most models don't hang around long.
One that has bucked this trend over the years is the Orvis Recon.
It was heralded as the best middle-priced stick in the fly fishing industry during its debut.
In a shootout by a popular angling site in 2016, the Recon outranked most expensive rods and punched above its weight while going for less than $450.
When the manufacturer opted to redesign the rod, many were anxious, I included.
Why did they bother to tweak an already fantastic stick?
I thought they could possibly improve the original model and still release a more affordable rod.
The updated Recon fly rod is incredibly lightweight, and Orvis claims it is the lightest in its category.
If you have fished the Recon 1 (older version) and tried the Recon 2, you will notice a considerable difference in the new version.
Obviously, the lighter Recon makes it pleasant to carry and fish all day.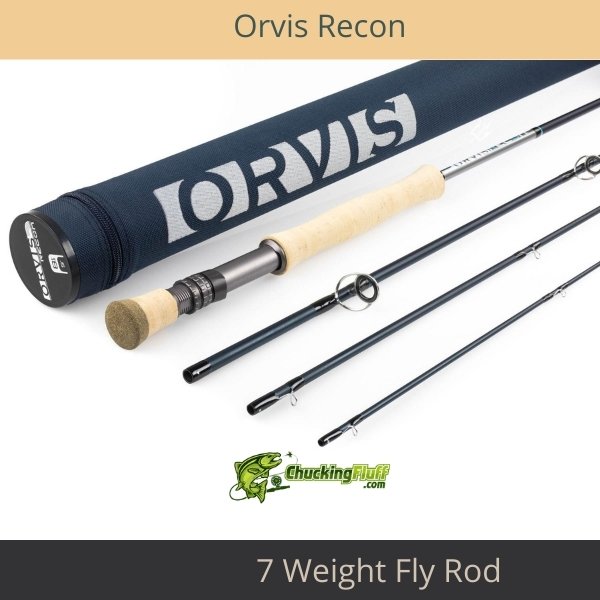 Buddies who live in areas with crystal clear waters whose bass can spot you from miles understand the importance of fine tippets.
The tippet protection is fantastic, and the break-offs you have might be your fault; despite the fast rod action, the tips are slow and soft that a broken tippet is likely not the pole's fault.
Orvis maintained the fast action in the updated rod but is more user-friendly compared to the older version.
It recovers pretty fast, dampens well and launches line as needed.
The rod has a lot of reserve power to throw small to large bass flies and turn them over without plenty of work.
If you fish a lot for medium to large bass, I highly suggest getting the Recon since it has all the guts.
The revamped Recon has a gorgeous cork that I am sure the manufacturer procures through deals with the devil.
Since I started fly fishing, I have used hundreds of rods and have never seen cork this good.
The burled wood insert in its reel seat and muted hardware colours are lovable, while the rest of it is standard fare like the rubber winding check and snake guides.
The new rod is an understated stick appreciated by most anglers.
Orvis backs the Recon with its 25 years guarantee like most of its poles.
The manufacturer omitted the hook keep, and Tom Rosenbauer, in an interview, once said that he didn't want it to be in the way of the angler's shooting line.
Most anglers love hooking their flies on the stripping guide foot – call me old-school, but I love the keep.
So far, the real gripe I can say about the Recon considering its performance, is the swing weight (the hook keep doesn't affect the rod's performance on the water).
Guessing the compromises Orvis made to keep the remodelled Recon still in the middle price range; I would say its swing weight.
It isn't a significant deal-breaker or out of line with its immediate contenders, but you will notice it if fishing longer.
The new Recon is lighter, faster and more fantastic to cast than the mother rod.
I was surprised that Orvis managed to save the most outstanding aspect of this rod and incorporated it into a rather finely-tuned package.
The tippet protection still exists, the reserve power to throw big flies and fight massive bass remains, and the general feel of the stick is the same.
Overall, it is a fantastic pole for the entry-level angler or as a backup stick for when your servant becomes unfaithful.
It will not break the bank, and I guess most fly casters will enjoy its many virtues and features as much or more than the price tag.
---
Sage Sonic Fly Rod
---
Middle-priced rods are becoming an afterthought in this industry, and manufacturers are prioritizing promoting premium flagship rods and are trying to tap into the entry-level market with better prices.
Sage has reversed this trend, and the Bainbridge Island manufacturer based in Washington is famous for its expensive premium fly fishing rods but has recently proven to deliver high-grade rods at more affordable prices.
Its Payload – one of the best bass and saltwater rods was greeted with universal praise.
The company returned with the Sonic, designed with affordability and performance in mind and marketed to the bass angler.
Did Sage deliver a second hit with its Sonic release?
Yes, its componentry is expected of a build from Sage and features a snob-nose half-wells grip with solid cork like that on Sage's premium rods like the X.
The anodized up-locking reel seat and the burled wood insert are both functional and durable.
Its blank has a juniper finish to give it a bold and distinct look.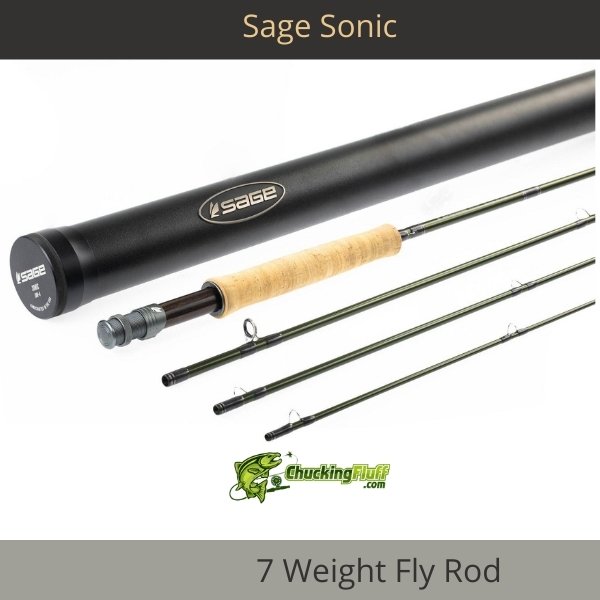 Regardless of the price, it is daunting to find a significant flaw with its build quality since it boasts the classic old-fashioned Sage look most anglers love.
Sage is famous for building more powerful fly fishing rods, and the Sonic doesn't break the trend.
The rod generates high lines speeds, meaning the pro angler will experience fewer issues casting to peripheries of bass fishing distances.
The Sonic makes for a great bass rod when you need longer casts to reach rising bass.
It is among the fast action and most accurate rods at shorter ranges; while perhaps not as precise as some softer options in the market, it is difficult to find faults in its close-range game.
The Sonic boasts a near-perfect rating for mid-range performance and accuracy and flats out where it is needed most.
Its timing window is narrow, but it is definitely game on if the angler gets the perfect timing!
Sale
Sage Sonic Fly Rod 7wt. 9'0"
Konnetic Technology
Fuji ceramic stripper guides
Hard chromed snake guides and tip-top
Premium Blank and Components
More Accuracy and Lighter Weight
The stick loses some accuracy points at longer distances, and even though it mightn't drop any dime into the teacup at 60 or 70 feet, there isn't a genuine concern.
Its blank is quite stiff and aids in giving the pole a faster than fast action.
If you loved the power in the One but found the X rather soft, you will appreciate the taper on the Sonic.
You shouldn't have problems casting streamers or turning bulky rigs.
The Sonic fits in Sage's catalogue excellently between the medium-fast action X and the extremely fast Igniter.
---
Buying Guide for the Best Bass Fly Rods
---
Small and largemouth bass have been popular game species among anglers in the West for the longest time.
The fish's geographical diversity, sporty runs, ambush-driven feeding character and voracious eats are among bass' fishing allure.
Even though these buddies feed with the most reckless abandon, they are challenging to lure, which is another attractive aspect fueling angler humility and persistence.
Fly angling for bass is mad fun, but selecting the right rod can be daunting.
Here are a few considerations when buying bass-specific rods, but you can often catch other species with them.
---
Weight
For enthusiasts and tournament anglers alike, shorter eight weight fly rods offer more pinpoint accuracy and uplifting power when casting into tougher covers.
Eight weight rods have been predominant setups for bass, but the common fly fisher has gained more interest in this fish.
Seven weight rods are becoming the real deal among most bass anglers though there are situations where a five or six weight has done well.
A true to size 7 WF line allows the angler to cast larger wind-resistant flies such as streamers and poppers while providing the right amount of flexibility to absorb explosive tugs common among bass.
Bass will hit your flies like the titanic.
They will take streamers and dries and boldly fight for their dear lives.
Seven-weight fly rods aren't commonly used in fly fishing, and trout anglers prefer more finesse rigs, while steelhead, salmon and monster hunters will have eight-weight rods.
However, if you are a fervent bass angler, you need the 7-weight fly rod.
It is the ideal pole that you can operate with quite a bit of finesse but maintain enough power to tackle more aggressive monsters.
Bass are finicky, and there are days when you will need softer fly presentations and use smaller movements to get strikes.
As earlier said, you can use 7-weight rods for bass and other fishing scenarios and species.
---
Action
Choosing fly rods that match your fishing style isn't easy all the time as it is tempting to get the latest and flashiest options.
Don't fall for the trap of going all out if you want to make big investments.
Experienced anglers know their abilities and understand what action they want in a rod.
There are three types of rod actions when it comes to bass fishing but more exist that cut across the larger realm of fly fishing.
Fast Action – These are the real blast to cast, but ensure you are capable.
If you are confident and experienced in fly angling, fast actions work well.
Aggressive and strong casters thrive with these rods because of their minimal flex and increased power.
You will fight fish quicker with fast rods than you would with slow ones.
Settling on fast rods means you have perfected your technique and timing skills.
If used well, you can cast farther, fight beasts and thrive in wind gusts.
Improper use of these rods leads to weaker casts, missing spots and struggling to find the perfect timing.
Most rookie anglers buy fast action rods and hope to grow into them.
While this could work, you will likely spend more time on the water, feeling frustrated and struggling hard to catch fish.
Moderate-Fast/Medium-Fast – Names vary depending on the brands, but they are the same!
Medium-fast rods are the most versatile rods in the market, and you can use a wide range of techniques with them.
There is slightly more bend in the blank, and you can throw streamers, nymphs and dry flies, but for bass angling, your primary flies are streamers and dries.
Moderate-fast action rods don't have as much power as fast-action rods, but you will cut through winds and fight powerful fish.
An angler can use more flex to their advantage and easily fight larger fish; they might take longer to tire out fish.
The solution is to allow more time to recover their energy before releasing it.
Moderate-fast action rods are the perfect poles if you are a newbie at fly fishing or bass angling.
Most pro anglers still use them because of their extra sensitivity, and they are the best bets for anglers looking for do-it-all sticks.
Moderate/Medium Action – True beginners will appreciate medium-action rods more because they are more forgiving and versatile than moderate-fast action rods.
Half the rod bends while casting and the lower half remains stiff.
They are versatile and will throw various kinds of flies.
Go with medium-action fly rods if you are looking for affordable yet usable options for new learners.
---
Rod Power
Rookies confuse a rod's power with its action.
The rod's power is listed on the pole for easier differentiation, while its action is how the rod flexes.
Rod power is the amount of pressure needed to flex a rod.
To choose a rod power, select a rod built to cast the fishing line and lure weight you use often.
For instance, fishing bass in cover and weeds needs a stronger power pole and heavier line.
Historically, graphite sticks are more sensitive and lighter than fibreglass rods, while the latter is more flexible and tougher.
However, modern technology has narrowed the gap between fibreglass and graphite rods, and manufacturers are designing composite rods that deliver the flexibility of glass and sensitivity of graphite.
---
Length
Different lengths of fly rods serve different purposes.
Six to eight-foot fly rods are ideal for tighter fishing scenarios and smaller streams, while eight to ten-foot are common in rivers.
A 10-foot fly rod is the best for bass despite presenting challenges when fishing in tighter conditions.
These are excellent for boat angling.
Boat angling for bass with a 10-foot rod gives you more power to cast into vegetation or structure and fight several pound bass.
You will need some time to get used to it, but a smooth casting 7-weight 10-foot fly rod is tougher to beat.
Landing fish with it isn't too challenging.
A 9-foot fly rod does the trick if bank fishing in tighter conditions.
It might seem like much, but these will softly present your dries and get streamers to your desired location.
Despite everything, understanding your angling conditions to make informed decisions on the perfect bass rod length is crucial before buying any.
---
Overall Rod Weight
Here, I mean the actual weight, and while we recommend 7-weight fly rods for bass, the overall weight has to be lighter.
Four or five-ounce fly rods make angling easier with minimal to no shoulder and hand fatigue, especially when targeting bass where casting and retrieving take the better part of the day.
It would be best if you had a rod that offers more relief, and the rule of thumb when all factors are constant is the lighter your rod, the more the relief.
A fly fishing stick is considered heavy if it is above seven ounces.
Swinging such an amount of weight for four or more hours will beat you up; thus, it is crucial to consider the rod's mass before buying.
---
Fish Size
Fish size is a primary determinant when buying a fly rod.
If you are after giant largemouth, bring a rod with a stouter butt section and a fighting butt.
These are vital when playing heavier bass and getting them out of the cover pretty fast.
For instance, the Sage Payload is a bass-specific rod with essential rod design elements that make catching larger bass easier, as the Thomas and Thomas Exocett SS.
Anglers targeting smaller-sized bass should carry small rods.
A seven weight makes smaller bass entertained and sporty also; most anglers love the feel and style of fibreglass sticks.
---
Material
Fibreglass rods are worth considering if you want to make the best out of your day.
If you are looking for a decent, durable, sensitive, lighter bass rod based on the material, graphite works well for first-timers.
However, Nano-silica rods are far much better, more powerful than the traditional graphite poles.
---
Price
When acquiring new fly rods or gear, the departure point for most anglers is the price.
Most get fly rods with the price that has the greatest significant influence.
From the reviewed rods, you can agree that it is unnecessary and extravagant to cash out $1000+ to get an excellent bass fly rod.
All fly fishing poles have a compromise; however, knowing the compromises one can live with, and those that are unlivable is vital.
---
FAQs – Questions about Bass Fly Fishing Rods
---
Q) Can a 9-weight rod fish for bass?
A) It can, though, that is where you cross the line to heavy-duty rods.
Nine weight fly rods are ideal weapons for casting longer baitfish streamers, heavily-weighted patterns and beefy bass bugs or fishing in highly windy conditions.
They sometimes work when casting around thick cover and topwater frogs in pads because of their solid power to put heat on monster bass.
However, catching small or medium bass on a nine weight rod isn't exciting.
Q) What happens if I own a 5-weight rod only and badly need to try out bass fishing?
A) If you aren't in a position to buy or borrow a seven-weight fly rod, you can use the five-weight rod.
Though considered the ideal weight for catching trout, it can do for small-sized bass in some conditions.
For instance, it can cast in areas with minimal to no cover, small ponds, rivers, barren reservoirs and residential lakes.
I have seen some anglers using five weight rods in my local lake when chasing largemouth and peacock bass because they don't have to deal with a lot of weeds and the streamers they throw are smaller.
However, fast-action five-weight fly rods paired with the perfect line can surprisingly throw fair-sized streamers and pull good bass from thick junk, but it is never the first go-to rod for most anglers in more demanding situations like this.
Q) What rods would you recommend specifically for fishing monster largemouth bass?
A) The best entry-level rod for largemouth bass and casting in large water is the Sage Payload, while a middle-priced option with top tier features is the Orvis Recon II.
Q) I have a bass rod with a broken stripping guide. Can I use it as it is?
A) Using a rod with a broken stripping guide is very difficult.
If it came broken, this could be repaired or replaced if you are the original owner of the rod and it is still within the warranty period.
Depending on the warranty info, it could be done for free, but if it broke during use, this could still be repaired by the manufacturer at a reasonable fee.
---
Conclusion
---
Bass aren't the biggest species around or the hardest to pull, but one of the primary things that makes it exceedingly fun to catch them is their variety.
Whether spotted, large or smallmouth bass, these fish constantly adjust to various conditions, show a distinct liking to certain forage types and are available anywhere from thick cover to open water.
Bass also hold in different depths, and such variables make it an intriguing species to catch.
Fishing bass on fly rods is like putting together a puzzle hence why they are a favourite for competition angling.
Like most species, one rod can never be perfect for all kinds of bass angling in all spots, but some boast more versatility regardless of where you are targeting the fish.
Despite all the key factors to consider when buying a bass rod, the constant remains a 7-weight fly rod.
It is the most ideal because of its versatility, combination of strength and power and ability to cast small and big flies alike to a reasonable bass distance.
But if you can't get a 7-weight fly rod but have a five, six, or eight weight, these could work but not in all scenarios.
You can save some more to get a perfect stick if you are hoping to be an avid bass angler in the near future.
Last update on 2023-12-08 / Affiliate links / Images from Amazon Product Advertising API
This product presentation was made with AAWP plugin.