Disclosure:
Just to be open and honest the buttons and links you click on in the website will in most cases take you to another website where you can purchase the products I am reviewing. As an Amazon Associate I earn from qualifying purchases.
September 28, 2013
Fishing Knots Illustrated
How good of a fishing angler are you? You have the gear, the rod, the reel, the flies the lures, and the rest of the tackle to complete your setup. You are able to setup your fly line and attach the leader or can you? This is where so many anglers fail.
The process of tying knots becomes difficult and when tested under proper fishing conditions the gear fails and you loose fish. Not a great thing to happen especially if its a fish of a lifetime. This is where fishing knots illustrated comes in. Here we have a simple waterproof card system with the most important knots included.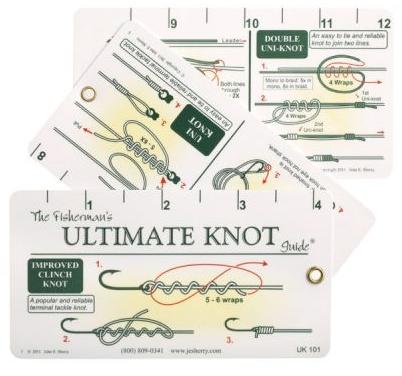 COMPANY: Pro-Knot, makers of waterproof knot guides for outdoor activities.
PRICE RANGE: EX $5.95 – $10.95
WHO WOULD BUY THIS: Anyone looking for fishing knots illustrated can buy this they also have a knots section for other outdoor activities.
PROS
The pro knot illustrated fishing knot cards are great in that they are waterproof, tough and easy to use. They are also small and can be carried in a pocket, wallet, fly vest or wading jacket. The Ultimate fishing version also folds out into a 12 inch ruler so you can measure fish before you release them again and includes knots for building leaders and making terminal tackle rigs.
Knots included are the Improved clinch knot, Polomar knot, Uni knot, Surgeons knot, Double uni knot, Perfection knot, Dropper knot, Surgeons loop, Nail knot and Blood knot. That's ten knots in total and will cover most of what you need.
The cards themselves are made from robust plastic with clear and concise descriptive knots which can be easily followed by any angler from beginner to advanced.
Now there is also a mobile app for the knots and can be used on most phones. Most phones are covered on this page, just download the app and your good to go. The new Pro knot app comes with 102 knots, 50 rope and 52 fishing. That should keep you tied up for a while. 🙂 If however you are like me and afraid to carry your phone to the river then by all means use the index card system.
CONS
A small problem of the pro-knot fishing knot illustrated guide cards is there are only a few knots. Although these cover the main scenarios of fishing and will cover all rig making however there are hundreds of knots out there and a more complete knot guide may be required. If you buy the complete series rope knots, ultimate fishing and sea knot guides you will have more than forty knots to cover you for most situations.
GUARANTEE
The product is tough and durable and should last a lifetime if however you are dissatisfied in any way just return for a full refund.
Value for money?
For only a few dollars the pro-knot fishing knots illustrated index cards are a real time saver. If like us you cannot remember which way the tag goes after trying to tie a knot several times you will be glad you have the index cards in your vest pocket.
Where to buy 
Click Here To Buy: Pro-Knot Fishing Knots Illustrated
Click Here To Read Reviews: Customer Reviews