Disclosure:
Just to be open and honest the buttons and links you click on in the website will in most cases take you to another website where you can purchase the products I am reviewing. As an Amazon Associate I earn from qualifying purchases.
January 10, 2014
Flambeau Fishing Tackle Boxes
Flambeau Outdoors is a subsidiary of Flambeau Inc who first started out in 1947 when they built the Halik Frog a fishing lure that has been used throughout the world.
After WWII the owners bought new plastic injection equipment and went on to form one of the best plastic molding companies in the United States and their Flambeau fishing tackle boxes are simply well made and a pleasure to own.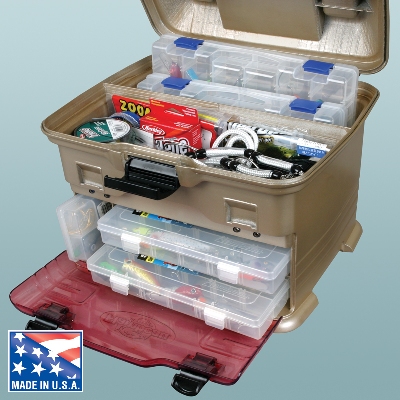 There are many products to the Flambeau inventory including a good range for the shooting enthusiast but we will only be concerned with their fishing tackle boxes for this article.
Of the many types of tackle box their top loading and front loading stations are a real must for any serious angler.
Flambeau Fishing tackle boxes are great for organizing your tackle.
Ever open your fishing bag to discover your fishing line has got tangled up with your flies and lures? I have and its a pain having to undo the tangle.
Not so with tackle boxes. Easily movable department boxes make the compartments larger or smaller as required so you can fit large or small items easily.
Great for dividing lure types, floating, sub-surface and deep divers no need to hoke through a large collection trying to find that condition-specific lure.
Flambeau Outdoors 6383TB 3-Tray - Classic Tray Tackle Box - Red/Gray
TRUSTED CLASSIC TRAY BOX DESIGN: Iconic cantilever 3-tray design provides easy access to securely organized tackle and tools.
CAPACITY: 32 tackle compartments with 13 removable dividers. Flip-top lid accessory compartment and increased base storage volume for bulk tool storage.
FEATURES: Draw Tite latch for secure closure, Tip-Guard tray support posts prop and balance the trays when open, and proprietary all-weather, oil-resistant resin construction.
PROUDLY MADE IN THE U.S.A.: Since 1947, Flambeau Outdoors' tackle storage solutions have been trusted by America's anglers as the tackle systems that are BUILT TO FISH. BUILT TO LAST.
SPECIFICATIONS: Measures 16" L x 9" W x 8.25" D.
You can buy extra compartment boxes to fit the tackle box leaving in the jeep any ones you don't need at the river bank.
Easily slip in and out required items rather than carrying a lot of unneeded tackle to your destination.
Great for organizing other everyday items. Use them for crafts, great for separating buttons, threads and needles for a sewing enthusiast.
What about a medicine cabinet easily organizes a first aid kit for office or home.
A mechanic may want to organize nuts and bolts. A joiner may need to organize screws and nails.
These tackle boxes have so many uses you will never be stuck with one.
Even if down the line you give up fishing for one reason or another you can always reuse the tackle boxes for other things.
Additionally, tackle boxes with the Zerust anti-corrosion protection system not only are tough but will keep your lures and tackle safe from rust corrosion for up to 5 years.
As the Flambeau motto says these boxes are, "Built to Last" Why spend loads of money on lures to have the rust on you in damp sweaty fishing bags.
These Flambeau fishing tackle boxes will keep your lures in tip top condition for years.
Other design features like those with the tackle cubes allow lures to be stacked vertically keeping all the hooks safely out of the way and easily removed.
Last update on 2023-10-03 / Affiliate links / Images from Amazon Product Advertising API
This product presentation was made with AAWP plugin.