Disclosure:
Just to be open and honest the buttons and links you click on in the website will in most cases take you to another website where you can purchase the products I am reviewing. As an Amazon Associate I earn from qualifying purchases.
January 3, 2019
Fishpond Products Win at 2018 International Fly Tackle Dealer Awards
FishPond USA is a recognizable brand in the fly fishing industry for its commitment to environmental concern and safety. This company is the maker of some of the award-winning vests, accessories, and fishing bags. Since its establishment by John LeCoq in 1999, who to date focuses on product quality, performance, durability and customer satisfaction.
In 2018, FishPond USA was awarded the Fly Fishers Conservation Award. LeCoq and his staff are conscious when it comes to environmental protection. They warp the whole idea in a notion that when consumers value something, it is normal that they will protect it. FishPond has worked to make this concern public to all consumers of their products through branding. It is on their website, tagged on every product and this has made it iconic.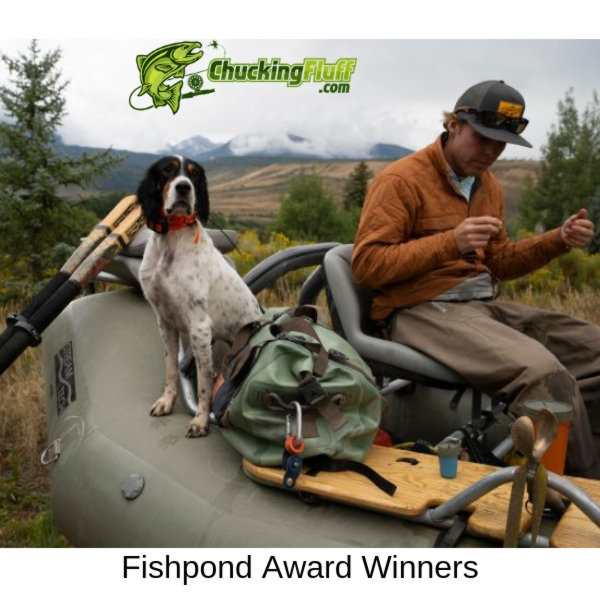 This company also scooped several awards in the IFTD- International Fly Tackle Dealer in 2018. This was a product showcase for one of the largest international gathering of enthusiastic fly fishing companies, manufacturers, retailers, sales representatives, the media and fly fishing organizations worldwide. FishPond uses recycled material to manufacture most of its products. This is dedicated to species and habitat protection.
To date, this company is the first ever fly fishing manufacturing and supplies business to be a certified B Corporation. Through business, the company solves environmental and social problems. FishPond minds the future and has a goal of making a difference positively on the planet by manufacturing innovative products for outdoor recreation. Through consumption, it relays the prudence of healthy water, species, and habitat. It will be beneficial if consumers reciprocate towards achieving this goal.
FishPond Westbank Wader Belt won the Accessories under $100. The Eco-Friendly Gear award went to FishPond Thunderhead Chest Pack. FishPond Thunderhead Roll Top won the Luggage-Bags and Backpacks Gear category. Chest Pack/Vest Award went to the FishPond Switchpack Belt System.
---

FishPond Thunderhead Chest Pack
Having essential gear each time you plan for a fly fishing session is important but where you store them should be the most important concern. Chest packs will serve this purpose well. You can find them in different sizes and styles to match your carrying needs. The high-quality rock-solid FishPond Thunderhead Chest Pack gets this job done.
This pack is worn with a wading belt or you can strap it to your boat using the webbing pass-through right at the back of the pack. The chest pack by FishPond offers a good and adjustable fit. Thanks to the many webbing points for adjustment. Points that aren't really needed are at the back of the pack to avoid the whole thing looking too busy. Buckles are detachable from the back straps and are attachable to any backpacks from FishPond.
The chest pack is designed to be fully waterproof meaning it gets wet with your decision. Its TIZIP submersible zipper that allows for accessing the main compartment is waterproof and you can wade deeper or fish in the rain without your gear getting soaked.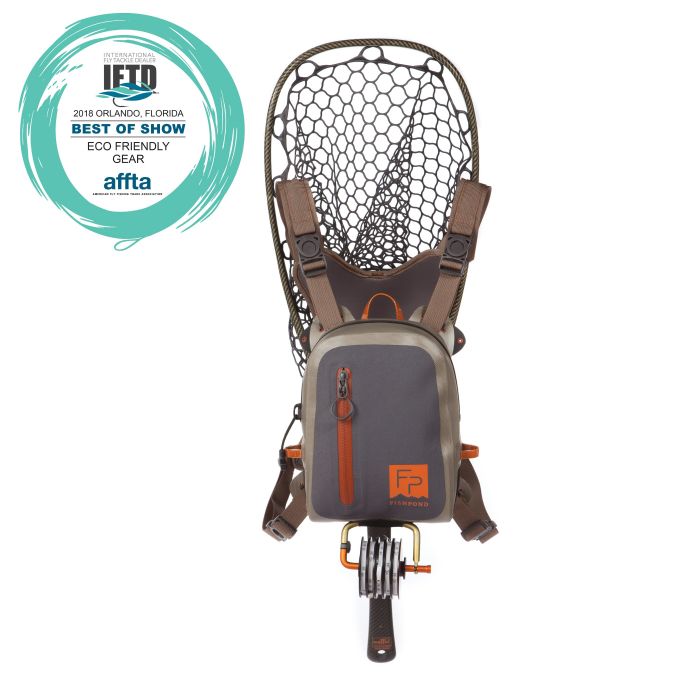 Check Amazon Thunderhead Price
Such a light pack and at 16.8 oz., it doesn't add much weight on your shoulders. The shoulder harness for support gives the chest pack the lightest feel even if it is packed to the fullest. The molded back panel and the hip belt are lightweight and avid anglers who spend more hours on water will confirm how crucial comfort is.
Fully functional, the Thunderhead chest pack doesn't have unnecessary features that will make it bulky. Normally, chest packs that are extremely padded result in overheating and sweating. The fabric absorbs the perspiration making the bag stink and need frequent washing. This chest pack uses less material and doesn't fully cover the back area.
You can wear it snug as per your desire. Like most chest packs, this one is adjustable vertically to your desired length to prevent any movement that can inhibit proper angling. Frontal straps are removable to avoid tangling especially during agile episodes of angling. It has a removable hip belt that you can do away with when not in use.
The main compartment can fit most gear and you can store in a few medium size fly boxes. A hanging sleeve in the inside of the main pocket holds leaders and other thin accessories. A stretch mesh pocket has a zipper closure on the front side of the chest pack to store small fly boxes and dry shakes or indicators.
A D-ring and well-coated daisy chain on the front side for attaching accessories and tools make accessibility easier and are timesaving. The Hypalon tabs as storage options for tools and retractors make it a handy pack.
---
Check Trident Thunderhead Price
---
FishPond Thunderhead Roll-Top Duffel
Nothing is pleasurable like braving the wet conditions, feeling dapper and maximizing time set for an angling session at the same time. The FishPond Thunderhead Roll-Top Duffel prevents your gear from getting soggy when you don't want to. Its quality is outstanding and the practically-oriented design makes it worth more than its price tag. Count on its durability considering the material used during manufacturing.
The 1680D recycled nylon has a TPU coating and is abrasion resistant. It remains as intact as new even in the worst paths and encounters with thorny thickets and bushes. This duffel lives up to an excellent reputation in the most challenging periods of angling but this hardly surprising. FishPond is a legendary name when it comes to quality while matching the needs of fly fishers.
Recycled nylon is 100% waterproof and the coating makes the water slide off speedily making it comfortable for gear transportation. You can trust it for protection and dryness during a cloudburst.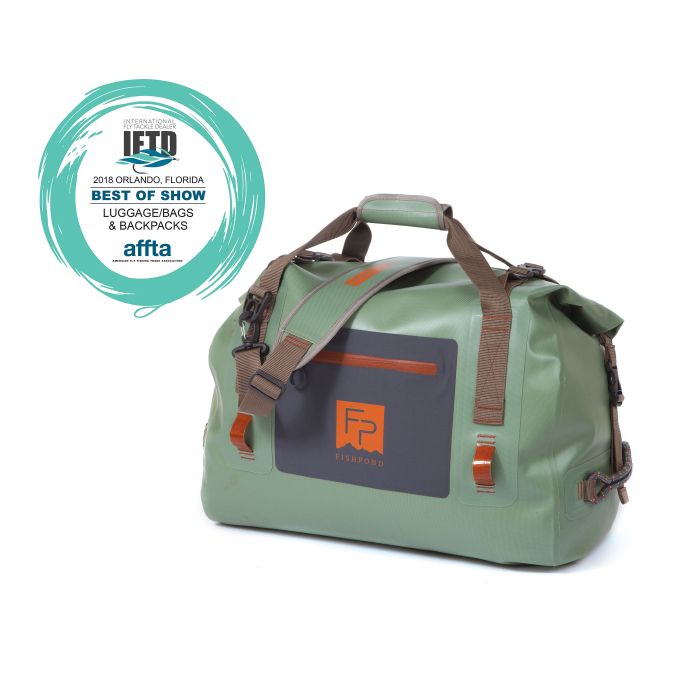 Check Amazon Roll Top Price
The main compartment has a roll-top closure. From afar it may look small but this duffel has a capacity of 45L. Quite big and spacious to accommodate all the gear you need outdoors. On the exterior are small stretch pockets accessed via durable weatherproof zippers that you can use to store small sized accessories.
Roll Top Pricing on Amazon[/button] Comfort and mobility are vital considerations especially if you have to trek to your fly fishing spot. Carrying handles found on each side of the duffel bag is comfortable. The manufacturer added a padded shoulder strap for convenient carrying. It is removable if you feel like it isn't in use at the moment. The padding is not excess to add weight to the bag or make it a source of thermal discomfort.
It can basically carry all your gear without needing extra storage items. There are loops for attaching your rod tubes.
The back side has traps but gear straps are excluded. The roll top closure can be cinched down if you want it to look compact and easy to carry. Two webbing straps can do this. If you choose to travel using your truck, there are for big sized loops that you can use for tying the bag onto the vehicle or mount on extra accessories.
The bag weighs 1360 grams when empty making it very light in weight and when filled with fly fishing gear, it doesn't scale up so high to a point that it becomes strenuous to carry to your spot.
This is one of the bomber duffels you can put to test and never get disappointed. On matters durability, you can search for scratches without finding any. Storage and protection against wet elements as its core purposes score highly.
---
---
FishPond Switchback Wading Belt System
Full of insightful features, the FishPond Switchback Wading Belt System is a great investment for anglers. It has a 5L which slides on its own from the front to the back. Designed to be heavy duty, it still offers enough comfort. The wading belt is supportive and to add on comfort, the shoulder straps distribute the entire weight of the pack giving you a lighter feel even when full.
The wading belt is durable and offers utmost comfort on your waist area. The thermoformed foam has the best compressive strength, one of the lowest water absorption rate, and the best flexural strength. The inbuilt net slot can hold a net handle of any size.
The pack is built on a rail-like belt which can be accessorized as per your needs and preferences. There is a holder that secures your water bottle and other bags and smaller packs.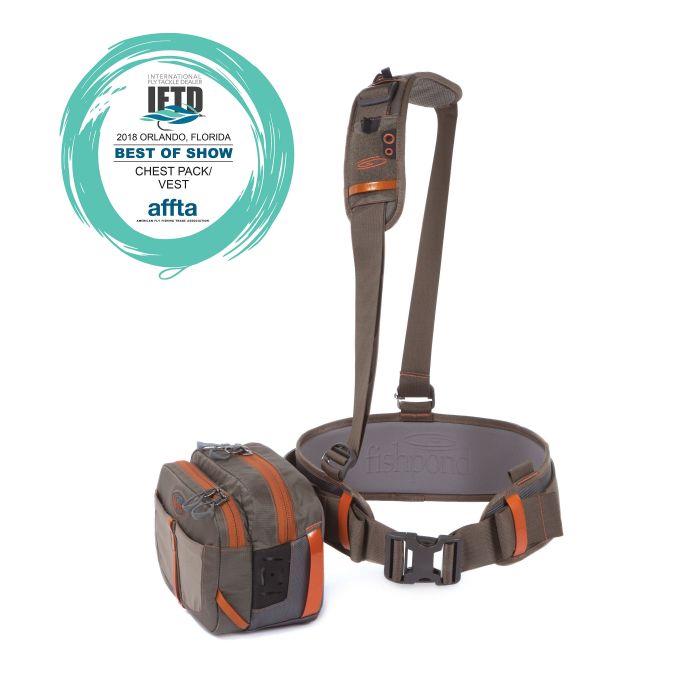 A movable pack makes it easy to access and move it away when you need to swing into action. It can easily slide from the front to the back while still on the belt.
The inbuilt molded net holder can hold long handle nets easily. This feature is very important especially when on a drift boat and you are leaning in a chair. It folds to take a flat look to give you maximum comfort on your abdomen area.
While you can completely take off the shoulder strap and the pack when need be, you can have it either on the right side or on the left. On the shoulder strap are Hypalon tool attachment points for your nets, zingers and other accessories. A durable Velcro loop can be used to attach wet flies to dry or fly patches. Some belt systems often slip and get in contact with water if you are active in the session. This one has silicon printing placed under the shoulder strap to prevent the belt from slipping.
Its storage function is made possible with the spacious main pockets with zipper closures. All YKK zippers are weatherproof and come in size 8 and 10. You can carry in between 4 and 6 small fly boxes and 2 or 3 large fly boxes. If you do not have a wading jacket on or have one with no pockets, this FishPond Switchback Wading Belt System will have you sorted.
The front side has two stretch pockets which you can throw in a few small items and accessories to grab quickly and keep you longer in the water. Behind the stretch pockets are forceps sheath.
---
Check Trident Switchback Price
---
FishPond West Bank Wading Belt
FishPond has taken innovation to another level with the FishPond West Bank Wading Belt. It combines usefulness, performance, and worth at the same time. The wading belt has proven to be a game changer and will turn around the minds of users. Some could be wondering if it is a belt or a pack. It is all in one thus a system that every fly fisher needs to have. Crowning functionality, there is nothing off about this belt. It will not give you a reason to think otherwise.
As an excellent wading belt, it offers more benefits and not only protection. The design was well thought out with several mounting options that save you the stress of carrying many storage bags. This can be a great relief especially if you are a light packer. It fully caters for extensive loading. If you are looking for a great solution for the utmost lightweight fishing this is the right way to go.
Its versatility is incomparable. You can accessorize it with fly fishing rod holders other packs from FishPond and other handy things. The belt is compatible with Quikshot rod holders. You can switch it to any side of your choice by holding the rod and slowly moving it to your preferred side. You can attach submersible chest packs and wading stuff from the same manufacturer. The ease of moving it to either side allows you to get it off your workspace and move it close when you need to remove an accessory.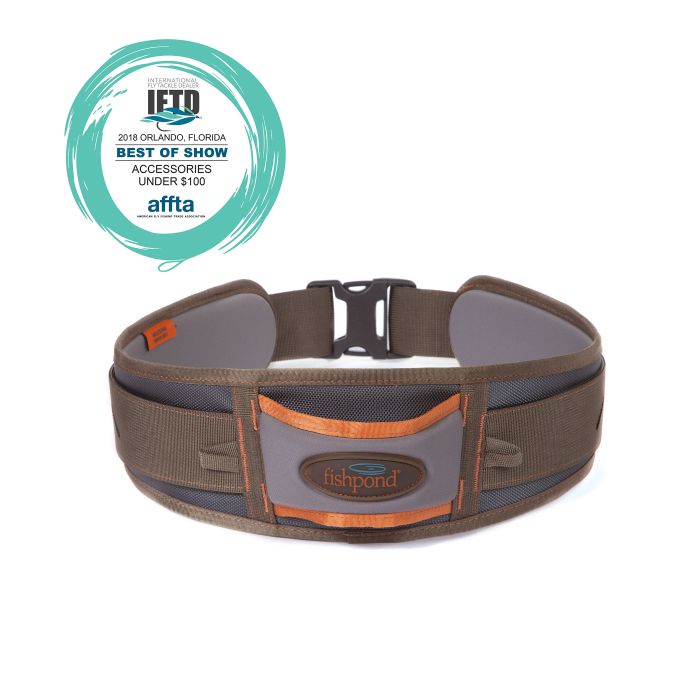 Check Amazon Westbank Price
Thermoformed foam around the waist area is very comfortable and dimensionally stable. It highly maintains stiffness even when it is subjected to extreme moisture and doesn't get soaked with water to make it heavy. The good thing is that it is resistant to harsh chemicals and high temperatures. This thermal control feature makes it comfortable to use in summer when perspiration levels are very high.
The modular system allows you to add as many accessories as you would like as long as you mind your comfort and safety. The net carry system is positioned on the back area is a new innovation by the manufacturer and the ability to use a variety of nuts used on the long handle nets. You can put it on your back with ease and carry it comfortably it lies on the lower back. It keeps your line away from the net while you cast.
The strap has a maximum length of about 160cm and is adjustable. Adjustability makes it fit anglers of any size. This allows you to get the right tension that makes you comfortable and allows for easy stretching to cast your fly lines. Its material too is durable and doesn't tear at the attached section like others from lesser brands do.
There are loops on the sides of the thermofoam net holster that can be used for magnetic net releases and for hand nets where you need a coil o to be used at the back of the floating rail. You can stick the net's handle into the holster and it will be held securely. It is easily reachable to land your fish. The net bag is well held against the back and it can never get in your way while walking. The holster can fit most of the net handles.
There is no need to worry about the belt falling off. The belt is strongly held to your body and cannot fall open. The durable buckle does its locking and unlocking job perfectly. All features rounded up, this belt is worth going for if you need something exclusive and functional yet very lightweight.
---