Disclosure:
Just to be open and honest the buttons and links you click on in the website will in most cases take you to another website where you can purchase the products I am reviewing. As an Amazon Associate I earn from qualifying purchases.
December 16, 2019
Simms Dry Creek Z Fly Fishing Sling Pack Review – ICAST Winner
Many anglers spend a lot of timeon the water. Several hours specifically on foot in challenging terrain. Well, this characteristically requires a lightweight, balanced sling pack as storage configuration for extra tackle and a few personal items.
Simms have you covered with its Simms Dry Creek Z Fly Fishing Sling Pack. We are talking of an award-winning product here. Do you know what it means to feature in the hotly contested ICAST Best of Show competition, get vetted and voted for and sweep the board? As an honoree in the Best of Category Fly Fishing Accessory, it was another shining year for Simms in the ICAST 2019.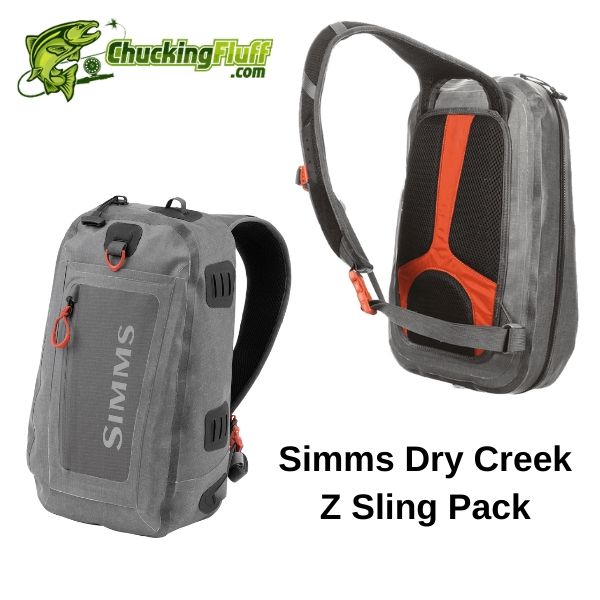 ---
Check Simms Dry Creek Web Price
---
Simms has refined its designs over the past decade or thereabout. There are new advancements and improvements in build, weight, comfort, and their features are not to resist. More than 10 years later, the types of sling packs that anglers get to buy are much better than what Simms had before.
The manufacturer makes the Dry Creek Z durable and very capable of serving several mission types exceptionally. It is a true single-hand operation. You can pull it around at your convenience and get it back to the one hand fashion. As you flip over the rocks or bend over to land your catch, it stays put.
It is possible to handle and move about with it without a secondary strap. The secondary strap is available and attaches the main strap mid-way. There is no need for fumbling with the straps. Simply clasp to keep the sling pack rightfully in place as you fish then make any adjustments if needs be.
The ride is immaculate and so far, we cannot complain that it humps. The Dry Creek team designed the pack to lay flat against the wearer's back, stays in place, and totally out of the way of your combo. It doesn't get entanglements as you cast. It is hard to tell that it is there especially when it is not overloaded.
The main compartment holds everything you need from small size fly boxes, apparel, and gear for layering, and more odds and ends. Fill it only until its 733 cubic inch limitation. Actually, it has a larger capacity than most of the sling packs from Simms like the Vedavoo Beast Sling Pack.
And if you are constantly in use of your 10 pockets…How? Of course, even more, because you probably have a T-shirt, wading pants, or light vests all with storage areas. Save your sling pack for a water bottle, lunch pack, a light jacket, first aid kit, and personals. The rest can go in the apparel pockets.
Can we call it a security pocket? The stretchy mesh pockets inside the main compartment can hold your wallet, ID, key, phone, and other valuables. We wish that Simms would have made this pocket waterproof or with a plastic lining as more protective addition. Well, you can separately purchase waterproof pouches or aquapacs if your pocket allows.
Other gear and equipment attachment points are welcome and well-placed. Talk of the external lash points and stretch cording that comes in handy for wet gear. We haven't talked about a major aspect-the TIZIP Zipper which is waterproof and submersible. YKK Aquaguard and Aquaseal zippers are what are used in most of Simms gear and apparel. Like Redington, Simms uses a new option that is fully function and such a big deal towards gear protection.
It doesn't have a bunch of whistles and bells since all the time, it remains a minimalist yet very functional. The waterproof TPU coating is a crucial inclusion to ensure that regardless of how much you plunge in the water it remains unshaken. Well done.
---
Main Features of the Simms Dry Creek Z Sling Pack
Material – Simms uses a fabric technology that gives the whole pack a five-star rating when it comes to ruggedness, puncture, and scratch resistance. 500 double-sided nylon with a TPU coating renders the fabric completely waterproof. Nylon has exemplary features like heat dissipation and great resistance to mildew. Sometimes anglers tire and forget they owned tackle that needs care. Never worry, the sling pack can take good care of itself in this case.
---
Pockets – The main compartment is spacious enough to accommodate a few fly boxes, a small to medium size hydration pack, a light wading jacket, and a few more items. There are inner stretch pockets made from high-quality mesh for your devices and valuables. However, if you are skeptical about waterproofness, good aquapacs will serve as additional protection. The outer side has a pocket that you access via a zipper for more organization. If you have wet gear that you need to pack up, the stretch cording will serve this purpose as it avoids wetting other tackle
---
Closure – Accessing the main pocket is via a submersible TIZIP zipper which is welded and fully waterproof to lock out any moisture and keep your tackle dry and safe. All zippers have durable tabs for easy pulling and smooth operation even with one hand. There is no Velcro on this sling pack. However, that doesn't make it ineffective.
---
Straps – Shoulder straps are of good size and come with plush cushioning to ensure comfort all day. The strap is adjustable making the sling pack of a universal size allowing it to fit anglers of all ages and sizes. The strap retainer or secondary strap ensures that the sling pack stays put on your back, lays flat, and prevents attachment of the fly line to the straps.
---
Capacity – If you compare this sling pack with many by Simms and other reputable manufacturers, you will agree that it carries more and is spacious enough. Accepting a capacity of 12 L or 733 cubic inches, there is no doubt that you can carry in more tackle gear, equipment and a few personal stuff that will make you comfortable on your fly fishing trips.
---
Attachment Points – There are durable plastic D-rings as additional external storage. If you have lighter pouches or bags with hooks or holders, you can attach them there. Otherwise, use them for attaching nets. There are extra lash points which aren't just for decoration but are used for carrying ice ax, a hydration pack, and more stuff that you will find resourceful for your trip.
---
Ventilation – The back panel though waterproof is very breathable to ensure that you remain cool and dry at all times. It doesn't matter whether you are trekking on the dry land or wading through deeper waters. Body perspirations due to increased external temperatures or heat from layering can cause so much discomfort and make the sling pack slide back and forth.
---
Recommended Use – The manufacturer recommends the Simms Dry Creek Z Fly Fishing Sling Pack for anglers. Well, if you are a climber, duck hunter, or adventurous outdoors person, this is the right sling pack for you. As long as you are packing and traveling light, pick it if it suits your needs.
---
Weight – If you are constantly on the move or are an angler who needs to spend the rest of the day on your feet, you need it lighter though very effective. The Dry Creek Z Fly Fishing Sling Pack sticks true to its description. With a weight of 17oz, you are sure to have it full and with it on your back all day without feeling fatigued.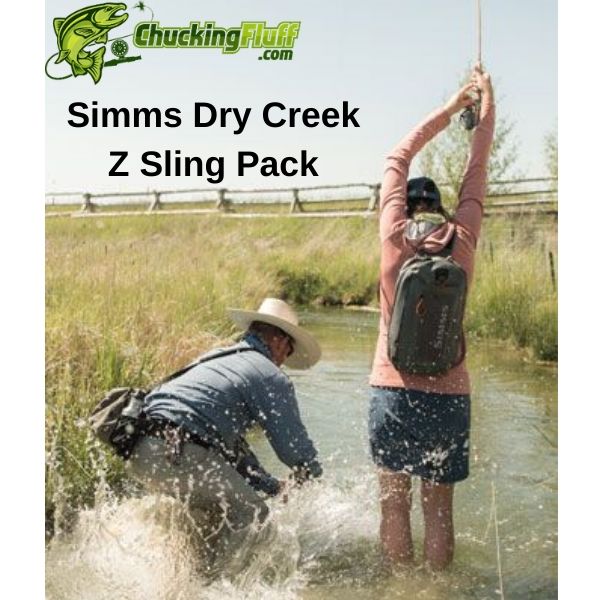 ---
Customer Thoughts on the Dry Creek Z Fly Fishing Sling Pack
As a waterproof pack, it keeps all your tackle gear and personal valuables safe when you are on the water. Sometimes you can get knocked over and fear for your phone but with this one, you can even swim at will.
The large compartment can fit large fly boxes, extra spools, and other important equipment that without, you have nothing to do than watch the raging waves.
There are attachment points in plenty and for this reason, you have no excuse for leaving out some items with claims that you have nowhere you place them.
Even with prolonged use, you still feel comfortable because it is generally lightweight, the weight is evenly distributed on the strap and allows your back to be easy off any unnecessary burden.
If you are more considerate about the price tag, wait until you hit the roughest of terrains, saline waters, and other harsh environments, then you'll not think about what you spent.
---
---
Pros

– Things that shine on the Dry Creek Z Fly Fishing Sling Pack​
Lightweight
Minimalistic design yet very spacious
No line catchers
Extra attachment points
Breathable back construction
Cushioned straps for comfort
Spacious pockets
Waterproof fabric construction
Durable and smooth-operating zippers
Wet storage compartment
Universal size
Cons

– Things that are not so cool!
The sling pack is uncomfortable to wear on the left shoulder. In fact, not practical at all.
---
FAQ's – Questions about the Simms Dry Creek Z Sling Pack

Q) What are the lash points for?
A) Quite a question. They can hold almost anything that can pass through them without over stretching like ice axes, knives, fishing rods, and hydration packs among others.
Q) Do you wear the pack over the left or right shoulder?
A) It should be worn over the right-hand shoulder
Q) What size of hydration bottle can it hold?
A) The pack can hold a hydration bottle of about 1 to 2L if you intend to fill the pack with other gear. Remember to always go by the recommended capacity.
Q) Does it have any dry pouches?
A) No, there are stretch mesh pockets for your personals but you can separately purchase waterproof pouches or aquapacs.
Q) Is the hardware on the sling pack saltwater safe?
A) Yes. The zippers and rings are made from high-quality and durable polyester that are resistant to corrosion and rust.
Q) Is the main compartment zipper a one or two way?
A) The submersible TIZIP is one-way.
---
Final Verdict on the Dry Creek Z Sling Pack
If you are just getting into sling packs or looking for a new one, try out the Dry Creek Z Fly Fishing Sling Pack. It solves the problem of waist fly fishing packs which you carry at dunkable levels. It moves storage higher up on your back.
Another incredible feature is that it keeps the mass of stuff closer to your body so that you can carry it easily and not feel fatigued throughout the day. Overall, the pack is a great improvement of its predecessors and for it to take the crown in the ICAST 2019 Best of Category Fly Fishing Accessory, it deserves all hats off.
Did we mention that it holds lots and lots of stuff? About six fly boxes, numerous gadgets, spare spool, supplies like strike indicators, leaders, spare tippets, split shots, a rain jacket, beef jerky, half sandwich, Snickers bars, a flask, cigar case, GoPro, and there will be room to spare.
In the olden days, packs were nothing but large sacks. Can you imagine the organization back then? This one is a problem solver with storage options as pockets and attachment points. While others would prefer it with an outside hydration pocket, others love it as simple as it is since you can as well drop a water bottle in the main compartment.
You will love its ease of use, light weight, simplistic and minimalistic design, and generally, its performance. It doesn't swivel around the body and for this reason, you need to get this keeper. We will appreciate feedback from you once you hit the waters.
---
Check Simms Dry Creek Web Price