Disclosure:
Just to be open and honest the buttons and links you click on in the website will in most cases take you to another website where you can purchase the products I am reviewing. As an Amazon Associate I earn from qualifying purchases.
November 15, 2021
Loon Complete Fly Tying Tool Kit Review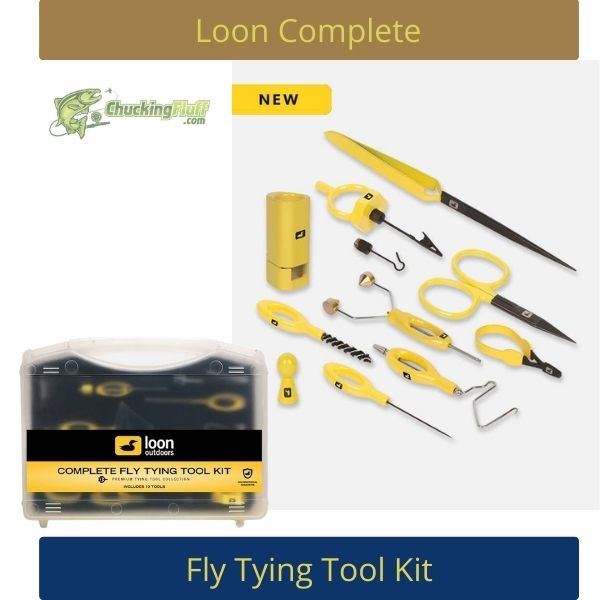 Ask the legends in the fly fishing industry and they will tell you that running a successful angling business isn't as easy as most people think.
Since 1991, Loon Outdoors has been tying flies and every small step the company has made has added up to what it is now.
Besides believing in great products, the manufacturer has a mission of helping those who live around them.
Environmental conservation is part of its agenda as without a proper and habitable surrounding, fly tying would be useless. Where will the fish be?
The Loon Complete Fly Tying Tool Kit is one of the company's best sellers and made by tyers for fellow tyers, you can use the kit regardless of your level of skill.
Before releasing any kit, tool, or tackle into the market, the tyers in this company rigorously test them on the waters of Oregon for performance and durability.
$120.00
Buy on Amazon
You don't have to break the bank!
Loon Outdoors is a regular innovator but doesn't run under product schedules. The family-owned business strives to offer quality products without the buyer breaking the bank.
The tool selection in this kit is excellent as it includes several basics that a starter requires to learn fly tying.
Even if you are an advanced tyer, it is a good asset as the tools don't completely change as your skill level advances.
For instance, it comes with different types of scissors – an all-purpose and an arrow point.
It might not make sense to a novice but a seasoned tyer knows that they need different tips on different scissors to work on different areas.
We understand that so many brands use marketing gimmicks to attract sales. This has been different for Loon Outdoors.
On the back of the Loon Outdoors Complete Fly Tying Tool Kit is a guarantee to the original buyer. This has proven to be one of the best customer reward methods.
The company assures you of guaranteeing your fly tying kit regardless of how hard you use it. Also, if you aren't fully satisfied with this product, the manufacturer asks you to reach out.
The travel case is among the highlights of this fly tying kit. It doubles as a perfect storage area because of how sturdy the material is.
Also, it is easy to clean when it accumulates dust in the garage or your craft room.
Loon Outdoors was cautious of your safety when handling and transporting the tools as they can cause accidents and injuries.
It makes tool organization fun.
Trying to find a tool you urgently need in a full box of material and stuff jostled everywhere isn't a favorite for many tyers. This came as a very massive helper.
You will appreciate the foam insert in the travel case. However, some tyers have mentioned not liking this feature especially when they need to get tools in the foam or out of it.
For tyers who are always in their working areas, they need some getting used to. But seasoned tyers won't find it a nuisance.
Most recreational and commercial fly tyers can agree that the Loon Complete Fly Tying Tool Kit is a solid one to own.
Key Features of the Loon Outdoors Complete Fly Tying Tool Kit
Kit Contents – It might not be comprehensive but what is in the kit is enough to get you started. Loon packs a vise pawn, a medium zippy hair stacker, an Ergo dubbing brush, D-loop tweezers, a Gator-Grip dubbing spinner, an Ergo Hackle plier, an Ergo whip finisher, an Ergo bobbin, and Ergo all-purpose scissors.
---
Vise Pawn – The vise pawn will keep materials out of the way till they are needed. It prevents the tyer from fighting with pieces of tinsel or hackle. The vise has a strong magnetic surface and is compatible with numerous vises. Its handle has been powder-coated.
---
Zippy Hair Stacker – When evening the wings, tips, and tails of your flies that are made from hair, use the stacker for them to look right. They help you create a full and more even hair wing. It is built with a hinged design to easily load hair, stack, and remove it cleanly. The magnets will keep it closed while using it. The base area has a window to allow the tyer to see how aligned the tips are. This k8it comes with a medium-size stacker having a 5/8'' opening.
---
Ergo Dubbing Brush – You will love how great the ergonomic powder-coated handle of the brush feels in the hands. Its helix spine is made from stainless steel and together with the nylon bristles, is tough to handle any material that needs good crushing.
---
D-loop Tweezers – The tweezers are oversized and are versatile from holding any material for the dubbing brush, retaining materials for the dubbing loops or composite loops to picking up beads and hooks. It measures 7.25'' full length.
---
Gator-Grip Dubbing Spinner – Loon Outdoors partnered with Fly Fish Food to develop this spinner. It has two tips to allow you to work on any spinning task a tyer has like dubbing loops or complex twists. The manufacturers build it with an octagonal technology that prevents rolling and ensures that your tool remains intact on your desk. The ring shape ensures a smooth consistent tension as you palmer.
---
Ergo Hackle Plier – The hackle plier underwent an overhaul from the previous one that was in the complete tying kit. It has well-sized smooth jaws to be versatile enough. Designed with a round shape, palmering remains smooth. The full length of the plier is 2.5''.
---
Ergo Whip Finisher – This whip finisher is ergonomic and powder-coated for durability. Its base is sharp enough to finish flies and clip thread without changing to a different tool.
---
Ergo Bodkin – As an indispensable bodkin, it was revamped and has a strong needle crafted from high-grade steel strength for performance and longevity.
---
Ergo All-purpose Scissors – The all-purpose scissors are ergonomically designed for precision. Its blades are made from stainless steel and are extra sharp for precision. The finger and thumb holes are enlarged to allow for quick and stress-free handling.
---
Guarantee – The Loon Complete Fly Tying Tool Kit has been backed by the company's guarantee in case of dissatisfaction or defects in material, craftsmanship, or quality. In case of any defects, return the kit to the store you purchased from, and returns through the manufacturer are allowed for Canada and USA residents only.
---
Travel Case – All tools come packed and enclosed in the Loon Outdoor travel case. It is a clear-ish to a whitish case with a foam insert well cut out to fit each tool. The organizational style allows you easily spot and access the tool you need. Its cut-out handle allows for easy handling of the kit and for portability from one spot to another.
---
---
Customer Thoughts on the Loon Outdoor Complete Fly Tying Tool Kit
The quality of the fly tying kit is top-notch but the tools can sometimes get out of their designated spots, especially when tossed around vigorously during travel. This, however, doesn't bend or damage them.
Aesthetically, Loon Outdoor outdid itself. With the yellow brand color and maintaining it with a powdery coating on all the tool handles, it is everything for a stylish tyer.
Grips on all the handles are ergonomically designed and are comfortable. There haven't been any reports of blisters when holding any regardless of the time.
The carrying pack and how well its interior is sectioned allows you to get to everything pretty fast.
Organization after use might take some time placing each tool where it should be but it is to your advantage when next you need to use the tools.
There have been tyers complaining of missing one or two tools when their kits arrive but upon reaching the dealer or manufacturer, they got help.
We find this an act of great customer care and service that other brands should emulate.
---
Pros – What Shines on the Loon Outdoor Complete Fly Tying Tool Kit
Comes with 10 tools
Handles are easy to grip
Sharper scissors for precision
Rust-free components and parts
Aesthetically designed
For both novices and pro tyers
Comes in a good-quality carrying case
A well-sectioned case for good tool organization and accessibility
Backed by a lifetime product guarantee
Cons – Concerns but not Deal-breakers
We have noted complaints by some buyers who get their kits with some tools missing. However, when reaching the seller, this was well-resolved and in due time.
---
FAQ's – Questions about the Loon Outdoor Complete Fly Tying Tool Kit
Q) How big is the large zippy hair stacker?
A) While this kit comes with a medium-size stacker that measures 5/8'' on the opening, the large one is 7/8''.
Q) Does the magnetic field of the vise pawn fail after some time?
A) We aren't sure if this has happened to any consumer in the past after purchasing this kit since we haven't come across such a critic. This means its magnetic field is very strong.
Q) Can I use this fly tying tool kit when tying wet flies?
A) The Loon Complete Fly Tying Tool Kit has tools to help you start tying any fly patterns of your choice from dry flies, soft hackles, and streamers to wet flies and nymphs.
Q) How can you rate the control aspect of the tools in general?
A) The tool control is excellent thanks to the larger and functional powder-coated handles and grips that feel great in the hands and can be properly gripped even with wet hands.
Q) Does this come with a threader?
A) Unfortunately, this doesn't come with a bobbin threader. It will cost you about $15 or less to get one from the same company.
Alternative smaller kit from Loons

$60.00
Buy on Amazon
---
Take-Home
Nothing beats a package that has been well-designed and packed. How well the tools are laid in the firm foam-fitted insert will impress you even before feeling the quality of each tool.
Everything has its designated slot for easy identification, placement, and removal.
When feeling the quality, all the tools are powder-coated for aesthetics, performance, and durability.
The ergonomics are top-notch and until now, we haven't spotted complaints of blisters from prolonged use.
The quality is the same for each tool and this assures the user of excellent performance and durability.
You will appreciate the versatility of the bobbin and how smoothly it runs. It can work on any hook size and is very easy to hold.
Whether you are using light or heavy thread, it will reel out properly. If you were to select only one bobbin for use throughout your fly tying table, this one should feature in the list.
The vise pawn was a thoughtful addition to the fly tying kit to help you remove rubber legs, hackles, or bunny strips out of your way when trying to tie in.
The magnetic field is strong and those extra materials can be held out of the way as they wait for when their need arises. The vise pawn might not match with all vises but is compatible with most of them.
Whether you are a novice or an advanced tyer who has landed a new good addiction or obsession, the Loon Outdoors Complete Fly Tying Tool Kit is one that you should consider adding to your cart.
Its performance and durability are commendable and the kit can be used from season to season as long as you properly take care of your tools.
If you purchase this kit and it comes without a tool that should have been in, reach the dealer for help.
Loon Outdoors guarantees you satisfaction and help in case your kit comes with defects in material, quality, or craftsmanship.
There are a few critics of the Loon Complete Fly Tying Tool Kit but these can be resolved by the seller or manufacturer.
They aren't deal-breakers. There is no limitation to the flies you should tie once you purchase this kit. Until then, tight threads!
Last update on 2023-12-08 / Affiliate links / Images from Amazon Product Advertising API
This product presentation was made with AAWP plugin.
About Author
admin