Disclosure:
Just to be open and honest the buttons and links you click on in the website will in most cases take you to another website where you can purchase the products I am reviewing. As an Amazon Associate I earn from qualifying purchases.
April 13, 2021
Orvis Fly Tying Work Center Review – Portable Fly Tying
Any fly tyer who is also a fervent angler will agree that tying the traps is as fulfilling as getting them to hook a fish.
There is nothing as rewarding as knowing that a fly you tied from scratch landed you a fish.
Regardless of the size you catch, the joy and content are unmeasurable. When the angling season elapses, we all need to find something to do.
Pro tyers will tell you that what they love most is spending time on their desks and work centers.
A good one should be like the Orvis Fly Tying Work Center.
A fly tying working center is a very essential addition to your tying arsenal.
It is a great way to organize your supplies and have working space within the same area.
Generic work centers exist but one or two only could match the quality and features of the Orvis one.
You can think that you are saving a few bucks by purchasing any that you come across.
Literally, you will save some coins but you aren't sure about the duration that your work center will serve you.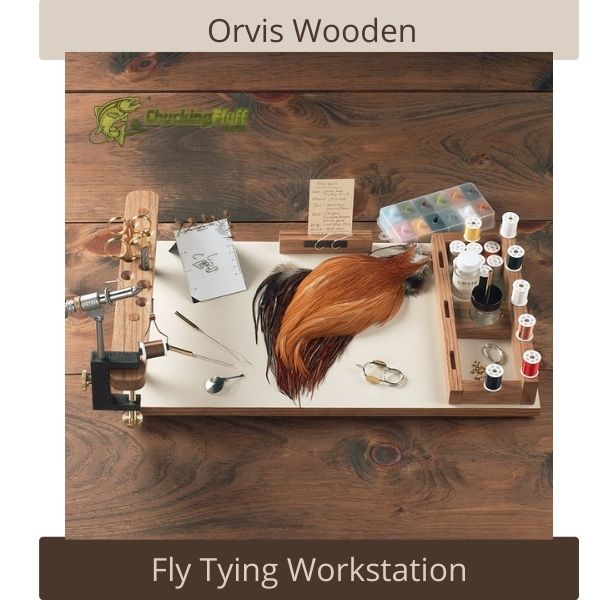 The Orvis fly tying working center is far from your standard desk as it comes with specific features for convenience.
If you begin to have more interest in the skill and feel like you need a work center, this one will not frustrate you.
The surface left for tying your flies is enough.
We know that tyers love more than enough spaces to work from but if you are a tyer on transit, you need a reasonable package to suit your needs without increasing your freight.
You will need space for mounting your vise and an area to set your lamp in case you need more illumination.
The Orvis center offers this and much more. A working center isn't like a tying desk but both can do the same thing.
Only that a desk is bigger with more storage space. In this case, the storage aspect hasn't been neglected.
Although mostly considered as a portable center, it still comes with partitions to allow for tool and material storage and organization.
You won't store as much as you would on a desk but if you are looking for a reasonably light and compact solution, the work center is perfect.
Even with somewhere to store and organize your threads, furs, feathers, beads, hooks, and other materials, you want them to be easily reachable.
The work center makes it even better as you can scan through everything in seconds.
Unlike desks with drawers and compartments that can trigger dumping, this one is the best solution for tidiness.
A good fly tying work center should last generations if well handled.
Orvis is a legendary manufacturer and its products are known for quality, function, and durability.
Even though the base is made from hardwood, take more care of the laminate arms to prolong the life of the center.
Stability might not be a primary consideration to most starters because of the assumption that they will have to put the work center on a desk, floor, or bench.
We think it is important to get a stable work center.
Especially if it has supported arms like the Orvis one, you don't want to carry it by the arms and it drops.
Stability will flow in the same veins as the quality of the build.
You will love that adjustability isn't affected by the work center in any way.
It is a fly tying tidy that can be placed on any surface of a desired height to suit the tyer's needs.
Whether you love to sit on tall or short chairs, all you need to do is get a suitable base.
The choice of the material is mostly about taste and preference.
But what the working center has been made of should matter to anyone looking to achieve aesthetics or durability.
For the Orvis Fly-Tying Work Center, it offers both. A cheaper plastic work center might not last long as the material is prone to scratches.
The hardwood choice of the base makes the center sturdy and aesthetically pleasing.
It might puncture your pocket but don't fret.
Check Amazon Workstation Availability
---
Key Features of the Fly Tying Work Center from Orvis
Material and Construction – Red Oak is a common flooring material and is loved because of its weight, sturdiness, stiffness, and higher shock resistance.
Orvis might have chosen to design the work center's base using this material for four reasons.
The work center's base also makes the overall thing durable and more long-lasting.
If you are a sucker for aesthetics, class, and style, you will love how elegant the wood grain looks.
As a portable work surface, you might be moving with it to your fishing spots or comfortable tying places.
This could be outdoors where you need more light to tie flies and the sun to cure resins if you will be using them.
Don't worry about the warping of the base with exposure to sunlight. This makes it one of the best additions to your fly tying collection.
You will appreciate its water-resistance properties. Even if your coffee or beer spills on it and you don't notice early, there will be no damage on the red oak base.
It boasts high wear and tear resistance. If you'd like to spruce it up, there is no need to be scared as it polishes and stains well.
Arms are made from laminate that is stain resistant and non-allergenic.
However, it can be susceptible to damage by moisture. Avoid leaving the work center in wet places to prolong its lifespan.
Size – Overall, the working center measures 12 by 21 inches. It might seem smaller but you don't need an entire king-size surface to tie flies.
Also, for portability issues, Orvis made it sizeable to allow you to tie your flies anywhere comfortably without losing your tools or materials.
After the organization areas have been added, you remain with a tying surface of 12 by 15 inches.
The space is enough for a fly tying vise, a torchlight, and enough for actual fly tying.
Organization – The Orvis Fly Tying Work Center has been well sectioned to have organization spaces at the furthest ends of the width area.
One arm has ten holes that have been properly drilled and sanded to hold your tools.
You can have your tweezers, scissors, and other small tools in them for easy reach.
There is a cement jar hole for your head cement to prevent it from damage.
To hold your feathers, wires, fur, and threads, use the seven pegs. They might not be enough for all your materials but you can use them for those that you frequently use.
The C-clamp can be adjusted to either the left or right-hand side to accommodate the needs of anglers of all tying abilities.
Orvis fixes the cardholder on the center's length to allow have your tying recipes closer and easy to follow.
Metallic tools and materials can be safety hazards. You have to properly organize and store them to prevent accidents.
Orvis was thoughtful enough to include a magnetic strip to hold such items. The strip can also come in handy when organizing your hooks and flies.
Feet – Rubber feet are common on furniture. In this case, they protect the base of the work center from being in contact with surfaces you place it on.
They also offer maximum grip levels for stability as you work from a car boot, desk, table, or bench.
---
Check out some of our other Buying Guides
---
Pros – The Good about the Orvis Workstation
Lightweight
Compact design
Portable
Great for tyers of all levels
Easy to clean and maintain
Doesn't warp
Wear-resistant
Cons – The Concerns though not Deal-breakers
The magnetic strip needs more care as it would easily bend.
---
Customer Thoughts on the Orvis Fly Tying Working Center​
There has been a concern about the shape of the cement hole. The work center has been built with a round one. Unless you will be purchasing the cements from a different brand, those from Orvis don't fit as they come in square bottles.
You have to be very careful with the magnetic strip. Mishandling it can get it bent ad adhering could be a problem. Overall, its layout is very excellent.
The portability aspect is everything you need in a good work station if you don't have a designated fly tying space or craft room. You can move with it to wherever you please and get the job done.
Having to mount your vise on the work center and add extra essentials to the working space makes it enough for any tyer who desperately needs their craft together in one place as they work.
Tyers who have used this have found it very easy to assemble their necessary materials and tools without forgetting the recipes. So far, so good.
For those who love gifting tyers and don't know what to get them, this makes an excellent piece. The workmanship and aesthetics are on point.
If you have plenty of fly tying material and tools or are a frequent tyer but loves to be on the move most of the time, the Orvis Fly Tying Work Center will be a great pick to pack on your journeys. It is lightweight, compact, and highly portable.
---
FAQ's – Questions about the Orvis Fly Tying Working Center
​Q) Does the fly tying working center come with any tools and materials?
A) Unfortunately, this comes as the work center only. It doesn't include the vise or any other tools. Neither does it include any materials. These should be purchased separately.
Q) Must it be used with a mounted vise only?
A) No, this can be used with both a mounted and a free-standing vise.
Q) Can I change it to suit my left-hand tying needs?
A) Yes. This is possible to convert to the left-hand side. There are videos on YouTube to help you go through the process and return it to the right-hand side if you share the work center with someone else.
Q) There is no information online on how to care for this tidy. Can you help?
A) It is simple. Wipe it with a damp cloth to remove any dust, dirt, and stains. You should take care of it the same way you would your red oak coffee or dining table. Polish it once in a while when you feel it needs a facelift.
Q) Does this come apart easily? Is it fragile?
A) No, it doesn't fall apart unless you are out to permanently destroy it. The work center isn't fragile as its primary materials are the red oak base and laminate arms.
---
Wrap up on the Orvis Fly-Tying Workstation
If you tie flies on your dining room table, study desk, or coffee table, your vise is usually precariously balancing on the same surface or elsewhere.
We wouldn't want to term this as a shameful inadequacy as to each their own, but there are better ways to go about your fly tying hobby.
Fly tying builds very intimate connections to fly fishing and will expand your opportunity of finding joy in the task.
How you do this will determine your progress and success. Orvis is one of the world's renowned tackle manufacturers and it didn't disappoint on this one.
Manufacturing the portable work center was an excellent way to keep you enjoying what you do regardless of where you are.
If you are a fly tyer on a budget but looking for a high-quality, durable, and functional piece, chances are that you will love this one.
From the choice of materials to the build, and performance, it is everything you need for convenience, to save time, and tie more flies without losing materials and tools.
The Orvis Fly-Tying Work Center serves both novices and pro-tyers as long as the functionality is a primary consideration.
If you are interested in other tidies, kits, and packs, feel free to browse our site for best fly tying kits both mini and full reviews.
About Author
admin