Disclosure:
Just to be open and honest the buttons and links you click on in the website will in most cases take you to another website where you can purchase the products I am reviewing. As an Amazon Associate I earn from qualifying purchases.
September 25, 2014
Fly Fishing Kits for Beginners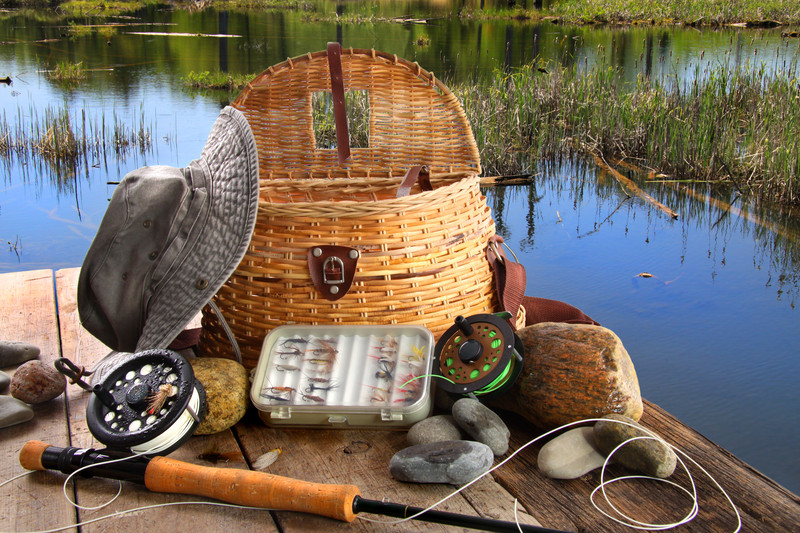 So you are new to fly fishing or thinking about taking up fly fishing. You have looked at magazines and seen the mountain of gear available and are completely baffled by what you should get. After all you don't want to spent a lot of money on equipment only to find out you are not cut out to fly fish and want to give up.
Well you are in luck as we will check out what you need to start fly fishing and show the bare minimum to get you started and not break the bank. One option in starting is to look at fly fishing kits for beginners These kits have all of the equipment that is required to get you started. Before exploring what kits are available lets look at the equipment you will need.
A fly fishing outfit comprises of a fly rod, a fly reel, a fly line, backing line, leader material and flies. This is the bare minimum required, on top of that a cap or hat and a pair of sunglasses or eye protection is essential for your safety. Items of clothing and waders I would forget about for now as these are not essential and can be purchased when you feel you are prepared to take the sport to the next level.
[button link="https://chuckingfluff.com/best-fly-fishing-combos/" type="big" color="teal"] "Best Fly Fishing Combos"[/button]
So the fly rod, as a beginner I would recommend a 9-10ft rod which is rated 6-7 weight. The weight is a measurement that fly fishing equipment manufacturers have put together to make choosing equipment correctly. For this set we will require a 6-7 weight line and reel to match. The rod can be from a 2, 3 or 4 piece set up this makes it easier to carry in vehicles etc. I would suggest a medium actioned rod which allows for reasonable timing to perform the casts.
The reel is next and the lighter the better it should be able to hold the fly line and about 100ft of backing line. This allows hooked fish to be able to run and fight over a fair distance. The best options are now large arbor reels so the line can lie in loose turns to reduce line memory which causes the line to sit in coils on the water and will slow down your casting. Straight line on the water allows better control of your flies and will let you feel the takes much easier too.
The line should be a weight forward floating line, there are loads of options in sink density but for learning a full floating line is best as it allows easy pickups and the task of learning easier. The weight forward option will allow the rod to load and flex easier to allow the beginner to cast easier and not get frustrated easily.
As a newbie I would recommend buying one of the beginner fly fishing kits as these have been put together by manufacturers so they fully match and are perfectly balanced. There are some which have loads of extra equipment too for not much money so you can get into the sport fairly cheaply with a set up that works. Some of these fly fishing kits come fully made up too which means you can get started right from the start and not be worried about tying knots and setting up your gear.
[button link="http://www.amazon.com/s/?_encoding=UTF8&camp=1789&creative=390957&field-keywords=fly%20fishing%20kits&linkCode=ur2&tag=whacanigetf0a-20&url=search-alias%3Daps&linkId=LAYR2GOJBV7U2GA7″ type="big" color="red"] Check out Beginner Kits on Amazon[/button]