Disclosure:
Just to be open and honest the buttons and links you click on in the website will in most cases take you to another website where you can purchase the products I am reviewing. As an Amazon Associate I earn from qualifying purchases.
December 10, 2021
Orvis Clearwater Cassette Fly Reel Review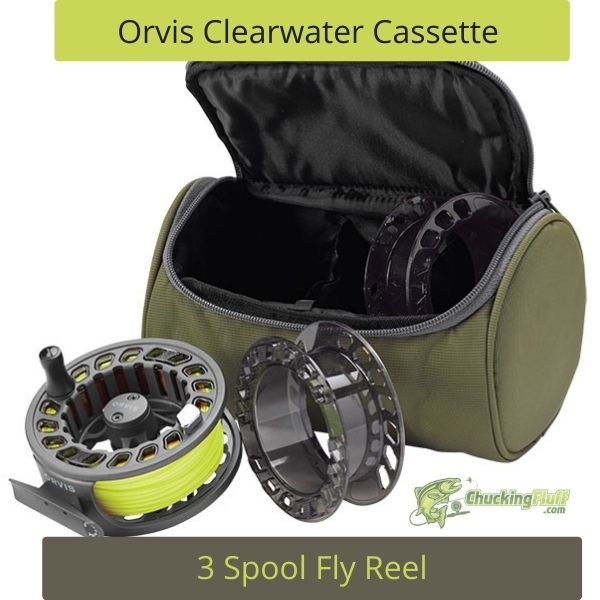 The Orvis Clearwater Cassette Fly Reel deserves accolades. It has proven so many surprising truths-from being the ultimate choice for competition anglers to boasting high versatility.
In the fly fishing tackle industry, Orvis has leaped to the farthest front.
From the top to the bottom, the Clearwater cassette fly reel's offerings have outdone some high-end options and matched some of its stiffest competitors.
The Cassette in and out,
Because of the budget range, it is expected for the reel to be made from die-cast aluminum.
What covers up for the low cost of production is the stealthy powder-coated finish leaving the reel matte gray.
Regardless of the section you touch, the surface's texture ranges from smooth to textured.
The overall finish is great but you shouldn't expect as much refinement as that of a machined fly reel.
It might lack all the elegance and bling but strikes us as a utility reel that will hold your interest if you are looking to spend less while getting a functional piece.
The design is open yet airy and clean edges are in plenty.
If you compare this entry-level cassette reel with others in its category and beyond, you will notice that it shares a drag mechanism, cosmetic details, and design with a number of them.
The difference could be in the body and spools as some are from polycarbonate.
When handling the cassette reel and trying a little bit to flex its body or pulling its spool to test the end float, you will notice that there is a tighter link between the spools.
You also won't experience any end float. After casting this reel, it has been made from die-cast aluminum and coated. Its edges, corners, and angles are well-rounded and smoothed.
What strikes us as a thoughtful idea is the Carbon to Stainless disc drag system that isn't sealed but properly hidden.
It is pretty simple to change direction by pulling off a couple of parts. You won't need any tools or a working surface.
The drag is tucked inside the frame and its surfaces are small yet enough for basic fishing.
Whether in an incoming or outgoing motion, the drag clicks well but isn't cheesy-sounding. The click is to notify you that the spool is moving.
You will love the smooth drag and the wide range of tensions. Testing it on and out of the water didn't record any startup inertia and the drag is pretty smooth.
The rear of the frame has a tall drag knob that is easy to use.
You will love the grip it offers with or without wet hands. It will take more than a single turn to move the drag from zero to the maximum.
To aid in gauging the adjustment, there is a nice audible detent as you turn the knob. The handle has a well-done and comfortable taper that you can easily grasp.
Die-cast fly reels usually lack slightly in the durability sector when you compare them to machined fly reels.
This reel isn't different as it is made in the same design and style. If you are a cautious angler, your reel will hardly receive scuffs. Ensure that the inside of the reel is untouched.
Poking it creates scratches easily. Your cassette fly reel because of its material and manufacturing process, will need a little more TLC.
Its chances of cracking or breaking when exposed to extreme brutality.
Check Clearwater Cassette Web Price
---
Key Features of the Orvis Clearwater Cassette Fly Reel
Material and Construction – Orvis designs the Large Arbor Cassette Fly Reel from die-cast aluminum to provide an affordable yet functional reel to all anglers.
The manufacturing process and choice of material are what lower the cost of the reel. Die-cast reels are slightly delicate and mishandling can lead to cracking or breakage.
They easily get scratched and scuffed and should be handled carefully. The reel is finished with a stealthy powdery coating that makes the reel matte gray.
---
Drag System – You will spot a carbon to stainless steel drag system on this fly reel. It is a reliable centerline drag mechanism.
You have to turn the drag knob clockwise to adjust the drag. Remember that the minimal drag setting shouldn't be lesser than the pressure needed.
This will prevent your lines from overrunning when in a fast run. If you need to apply additional drag, palm the spool rim using your palm or fingers.
The drag is properly hidden in the frame and heat is evenly distributed on the surfaces to counter stick-slip problems.
---
Spool – Spools are made from high-quality plastic hence their price. Orvis packs two extra spools for every cassette fly reel you buy.
This totals to three spools for one reel. To find the spool release when you want to remove your spool, check the center of your reel spool.
Depress your spool release latch at the same time lifting your spool outside the body of the reel.
---
Conversions – The designers programmed the reel for the left hand retrieve. However, you can change it to the right and back to the left with ease.
To convert the reel to the right-hand, remove your spool and pull the assembled bush and clicker off your spindle. Flip your clutch bearing then reassemble the system.
---
Arbor Size – You will not take much time reeling in a fly line with a large arbor reel. As you will be spending less time reeling, bigger chunks of the line will be coming off the reel.
Your chances of experiencing line knots and tangles are very minimal.
Large arbor reels have wide and oversized spools. They hold up more backing.
A bass or trout angler won't need a lot of backing but having more is always on the safer side.
Saltwater anglers know that extra backing is necessary for confidence when landing fast-running fish. The drag on large arbor reels is more consistent.
---
Customer Thoughts of the Orvis Clearwater Cassette Fly Reel
The reel costs way less than most cassette fly reels but does the job pretty well.
You might think that it is of poor quality because of the price point but its design and features make it an option when you are new to these types of reel and need to decide whether they might be your thing or not.
Being made from die-cast aluminum makes it quite delicate.
You can't manhandle it like the machined reels as they could easily chip, crack, or break.
Those who have taken the reel on a saltwater fishing trip have registered good results in terms of the reel's condition after the session.
We love that the spare spools cost very little.
If you were to purchase a conventional fly reel, the spool could be a third or half the price of the fly reel.
Also, two spare spools at no added cost is a bonus to the purchase.
Orvis does a good thing to add a case that can fit your reel and the three spools.
Cassette spools are very lightweight and will be useful for making limits on your baggage weight.
They can be easily changed and fit with positive clicks.
The cassette reel's spool and outer handle section will perfectly fit in the standard Clearwater fly reel.
It becomes a relief if you have one reel and need spare parts for the other.
It is easy to adjust the reel's drag even with wet hands or gloves on. As you wind in, you will notice slight side play.
It is very minimal and doesn't affect the reel's performance.
Several anglers have complained of the cassette being fixed too tight right from the package.
It needs a little more effort and time to pop it off but with time, one gets used to securing it well and popping it with ease.
---
Pros

– The Good about Clearwater Cassette Fly Reels
Comes with two spare spools
Comes with a reel case
Retrieves are quicker with the large arbor
The drag is consistent
Conversions can be made on either side
Powerful drag system
The spool and outer handle is compatible with the standard Clearwater fly reel
Affordable entry-level reel
Cons

– What we didn't like
Some anglers complained about the cassette being fixed too tightly and needed more time and effort to release before you can change your spool.
---
FAQ's – Questions about the Orvis Clearwater Cassette Fly Fishing Reel
Q) How do I remove the cassette on this fly reel?
A) To remove the cassette you have to first remove your spool and using the thumb, depress both knurled areas. This pushes the spool out of your reel.
Q) Do I need to lubricate this fly reel for drag efficiency?
A) For the first use right out of the box, you don't need to lubricate the reel. It comes well-lubricated. However, after prolonged use, Orvis's advice is that you should. You should also lubricate it after it has been in contact with grit and sand.
Q) How often should an angler clean and maintain their cassette fly reel?
A) The reel isn't so demanding and doing cleaning and maintenance twice a year will be just fine. During the maintenance schedules, lubricate all moving parts and components lightly-the center spindle, handle, and the gear shaft. If you are skeptical of doing this alone, you can send your reel to Orvis as it has cleaning and reconditioning services.
Q) Which is the best lubricant to use, unlike the traditional oil and grease?
A) You can purchase the Penn reel lube available in most tackle stores or online.
Q) Can the fly reel be put away when wet?
A) Unfortunately, this isn't right. You need to completely dry it and neither should you put it in a wet reel case or box as its components could corrode. If you would want to store it for a long time, remove the backing and line then loosen the drag.
Q) What is the capacity of the lines for this fly reel?
A) The size V Orvis Clearwater Cassette Fly Reel has a capacity of 125 for a WF6 line, 100 for a WF7 line, and 75 for a WF8 line. All the capacities are on a 20lbs Dacron and backing.
Q) How heavy is this fly reel?
A) The cassette fly reel weighs 6.9oz and has a diameter of 3.5''.
Q) Is there a warranty when you purchase this fly reel?
A) Orvis guarantees your large arbor cassette fly reel against all defects in material, design, and craftsmanship. You will get an unquestionable refund or a replacement. In case your reel incurs damages from wear and tear or mishandling, the team at Vermont can repair it at a small fee.
---
Wrap Up
The Orvis Clearwater Cassette Reel as an entry-level reel will be very useful to a novice trying different designs.
For intermediate and pro anglers, it won't disappoint as a backup fly reel.
Most high-performing cassette fly reels cost an arm and a leg but Orvis brings it down on the Clearwater by using a cheaper processing method and keeping the design simple.
If you have been in the angling industry you know that the Clearwater line has been in the market for so long and its reception by anglers was in favor of value.
It might not be a fancy fly reel but it will do what it has to do.
Though delicate, reel cleaning and maintenance isn't as hectic as it could be on other models.
A little lubricating twice a year will do good to the moving parts.
Ensure to use a good-quality lubricant like the Penn. Dry your fly reels completely before storage.
In case of any defects, Orvis will repair, replace the reel, or refund all your money.
However, all terms and conditions will apply.
The Orvis Clearwater Cassette Fly Reel might not be every angler's cup of tea.
Those who'd like to check out other cassette fly reels or standard fly reels can browse our site for a buyer's guide on the same.
Check Clearwater Cassette Web Price