Disclosure:
Just to be open and honest the buttons and links you click on in the website will in most cases take you to another website where you can purchase the products I am reviewing. As an Amazon Associate I earn from qualifying purchases.
April 10, 2018
Okuma SLV Diecast Aluminum Fly Reel Review
Okuma SLV Diecast Aluminum Fly Fishing Reel Intro
The Okuma SLV Diecast Aluminum Fly Reel is made of stainless steel drag washers and a multi-disk cork. While in operation the roller bearing will cause drag in one direction. It is made with a durable precision machined brass bushing drive system.
It has a nice sleek Die-cast aluminum super large arbor spool design. It works smoothly with precision machined stainless steel spool shafts. The Okuma brand is one of the bestsellers on the market today and they deliver the best high-quality tackle to all types of anglers.
The Okuma SLV Diecast Aluminum Fly Reel is built with an alumilite die-cast aluminum frame. It also has a non-slip positive grip with rubberized handle knobs. This fly reel will make it very easy for you to change left to right-hand retrieval conversions.
It weighs just 5.5 oz which is still very light considering the price tag that comes with it. This fly reel has been ranked as a bestseller in the following categories: sporting, fitness, hunting, reels, fishing and fly fishing. If you are a professional fisherman, or just love to fly fish, then this is an excellent choice for you.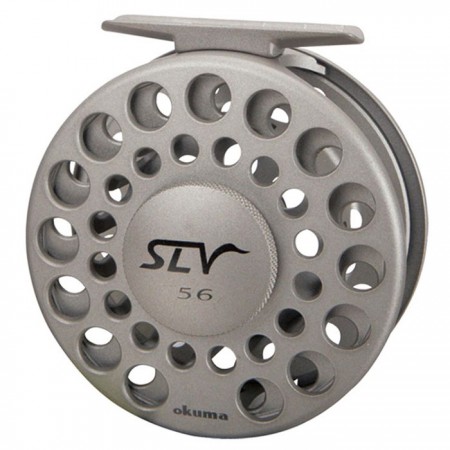 [button link="http://amzn.to/2E6Z4n6″ type="big" color="green"] Check Amazon Reviews and Price[/button]
---
SLV Series Fly Reels Features
Large arbor spool design
Blazing fast line retrieval
Die cast aluminum frame
Precision machined stainless steel spool shaft
One-way roller bearing
Multi-disc cork
Stainless steel drag system
Spare spools
---
SLV Series Fly Reels Pros
The stainless steel drag washers will not rust or erode when wet. The drag will engage in one direction only which is standard. Spool shaft will not rust because it is stainless steel. The non-slip positive grip rubberized handle knobs allow for easy control.
It is light enough and holds a lot of backing. The drag operates silently it offers no clicking noise which may put off a few although others love this option. Excellent for large fish that are big runners.
This SLV Series Fly Reel can deliver a smooth operation every time. For custom rod builders this is absolutely one of the best reels. It has a lovely matte finish and is inexpensive despite being a bestseller. It comes with a nice one-year guarantee and can be shipped in just one day.
The quality you get when you purchase this reel will be well worth the price. This Okuma SLV Diecast Aluminum Fly Reel is attracting fisherman from all across the world for it's dependability, durability, and reliability in every fishing adventure.
---
SLV Series Fly Reels Cons
A few customers thought it didn't hold enough line however 140 yards of backing with a weight 7 seems OK to me. Some felt it was difficult to adjust the drag while playing a fish but most fisherman will set it for the fish they are targeting anyway.
---

Okuma SLV Diecast Aluminum Fly Reel Summary
This reel has gained five star ratings from nearly 200 customers who have purchased and used it. It is a beautifully crafted piece and for a reel that is die-cast there is no burring on the edges that would normally pinch the fly line in this type of manufacturing process. Okuma have added a step or two to make sure this does not happen. It is excellent for fishing both trout, large and small mouth bass and carp too. It delivers an outstanding performance.
It will come with complete instructions for use, care and maintenance. The drag is very simple to adjust if you need to ease up or put the brakes on a big fish. When compared to the fancier and more expensive reels this one still comes close although it's a fraction of the cost. It is heavier, doesn't have a sealed drag and no sound on the drag. If you have the budget go for a reel within the other two categories. If a newbie then this could be just what you need.
It is an excellent product for a great price. It is excellent for steel-head fishing too and even works well in freezing temperatures. People have even used it for sockeye fishing in Alaska.
Some fishermen prefer to purchase more than one so they can share with friends on fishing trips. If you decide to purchase this reel then you will certainly be making a fine investment for all future fishing trips.
---
Some Alternatives
There are a few nice possible alternatives and they include the Orvis Battenkill Fly Fishing Reel, Pflueger Trion Fly Reel, Sage 2200 Fly Fishing Reel and Piscifun Platte Fly Fishing Reel are others in our list.
Know that you can't go wrong with the Okuma SLV Die-cast Aluminum Fly Reel because it is considered one of the best and has been rated a top seller by those who have used it for their fishing trips. It has provided many positive experiences and is guaranteed to do so.
The only reason you might decide to go with an alternative is that there is none left in stock to purchase, so you should place an order while they are in supply.
---
Verdict
Online fly reel retailers are waiting to help you place your order for your brand new Okuma SLV Diecast Aluminum Fly Reel and you may choose to have it shipped out overnight directly to your home or business. It comes packaged safe and secure and free from damage when shipped.
It can be used in both saltwater and fresh water. It is a reel that functions in all climate conditions. If you own a fishing business then it is recommended that you purchase this one to help your business prosper.
If you have been searching for a high quality fly reel then you have come to the right place. OKUMA is highly committed to providing the highest quality products and they stand behind their name. You can't go wrong in choosing this excellent fishing fly reel that is made to provide you with years of lasting use.
Spec: Size 7-8 •  5.5oz •  145yds 20lbs backing •  Not sealed drag
[button link="http://amzn.to/2E6Z4n6″ type="big" color="green"] Check Amazon Reviews and Price[/button]
[button link="https://chuckingfluff.com/best-fly-fishing-reels/" type="big" color="teal"]Full Reel List[/button]