Disclosure:
Just to be open and honest the buttons and links you click on in the website will in most cases take you to another website where you can purchase the products I am reviewing. As an Amazon Associate I earn from qualifying purchases.
April 1, 2020
Best Saltwater Fly Reel for the Money – Value for your Buck
Forget the rainbows and brookies a little bit. How about trying your luck in the salt flats for monster tarpon or bonefish? If you feel salty, you need to have a saltwater reel with a very strong drag.
Fish in the saline environs usually pull harder than those in freshwater. If you are hoping to tie a good one on with snook, permit, or bonefish, a traditional freshwater reel will leave you regretting. You require a reel with more backbone.
Considering their operating mechanisms, the differences aren't so significant. However, one vital difference is longevity. Fly reels for salty areas are tactfully designed with specialized materials that are resistant to corrosion and rust when exposed to saltwater.
Fly fishing in saltwater is very intense and the rewards are very bountiful. Their respective reels are often larger, sturdier, and meaner. They take this description and have to be this way to ace the brutal environments anglers take them to.
Do you need to break the bank to own one? Well, this will depend on your choosing criteria. There are numerous brands of these products in the current market.
Like any fishing tackle, there are those in the high-end category and quite a plethora of budget-friendly options. Costlier samples have sophisticated retrieval systems and the highest grades of building material that boost durability.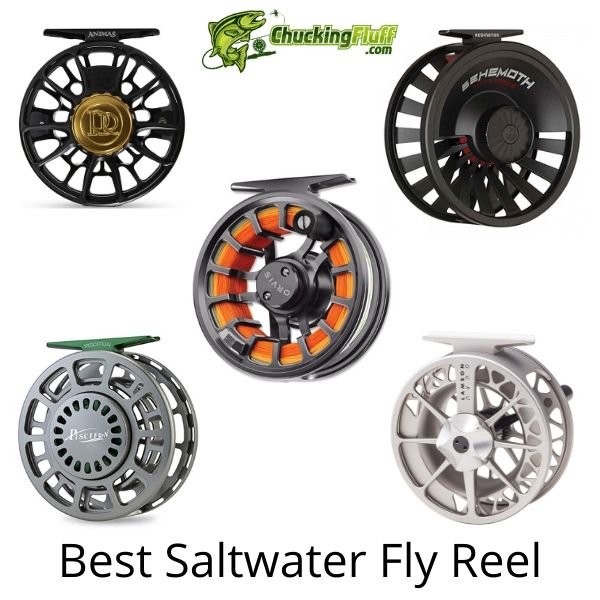 Choosing the Best Saltwater Fly Reel for the Money
Settling on the best fly reel for saltwater 2021 use can be a daunting task. There are so many dynamics that influence the purchase of a spectacular solid saline fly reel.
Let us see what key aspects you need to have in mind to ensure that you aren't bagging crap.
---
Corrosion and Rust Resistance
Unlike freshwater fly reels that are strictly designed for freshwater use, saltwater reels are versatile because of the effective processing that makes them rust and corrosion-resistant.
Chemistry explains that salt is an agent of corrosion and when moisture, salt, and oxygen come in contact with some metals, they easily corrode and wear out.
To good quality metals like aluminum that is used in the manufacturing of saltwater fly reels, they have to undergo anodization.
Hence you will see on most saltwater fly reels description a phrase like anodized 6061 T6 Aluminum. Some descriptions indicate the specific type of anodization process used.
So what is anodizing? This is a chemical reaction resulting in a coating on a metal's surface. The coating enhances durability by making the reel resistant to dings, scratches, corrosion, and rust.
The commonest anodization process involves immersing the aluminum in pure sulfuric acid and passing an electrical current.
The reaction between the aluminum, acid, and electric current forms an aluminum oxide on the metal's surface. The oxide doesn't is harder than pure aluminum and doesn't flake.
Most saltwater fly reels are available in Type II. However, that are a few new versions that are made in the USA and come in Type III anodization.
This is common in the Mirage Reels. Type III is also called hard anodizing. When we say ''Type'' we refer to the hardness and thickness of the coating.
While Type II anodization has a coating lesser than .001 inches, Type III ones have it ranging from .001 and .004.
Drag System
First things first, you require a drag system that is fully sealed. This is to ensure that as you cast in saltwater environs, the inner parts remain free from corrosion and the entry of sand and dirt.
These parts and components are the most crucial for excellent reel operation and are more vulnerable to destruction if exposed.
Another vital aspect is the maximum amount of drag. The amounts differ as the amount can range from 2 to way above 40 pounds.
The main determinant will be the sizes of fish you intend to chase. We advise setting the drag higher.
The drag system should be adjustable. Adjusting components are mostly simple knobs. Adjust the reel's drag to match your needs.
While there are few drag types, we recommend choosing disc drag reels for saltwater use. They are the commonest in modern reels. These reels have greater fish stopping power than their counterparts.
The stopping power is essential to ensure that the monsters don't run until you exhaust your fly line and backing.
They start up very smoothly and protect your light tippets from damage maintaining consistent pressure amounts as you battle fish.
Meeting all the conditions is possible because of versatile adjustment points. A few reals feature the carbon fiber drag systems.
Size of the Arbor
We all agree that a reel with a large arbor will be ideal for saltwater fishing. One of its major benefits is high retrieval rates.
This is vital because anglers strip off longer lengths of the fishing line to cast. They then keep reeling it up when changing fishing spots or playing a catch.
This task used to be aggravating with the small size arbors. Can you feel some sense of relief?
More upsides are larger coils of the line that get off the fly reel to ensure that you cast easily with fewer to no tangles.
You will love how consistent the drags are since as fish pull out the fly line, the spool diameter keeps constant.
Weight
The lighter the fly reel, the better it is. Most novices might think that light is less durable. On the contrary, there are so many factors that influence the weight of a fly reel during construction.
Sometimes, their worries end up being realities because there are so many imitations and counterfeits in the current market.
We advise that you stick to reputable manufacturers whose products' genuineness you can identify and prove.
How do you know that a fly reel is lightweight without feeling it? First, a saltwater fly reel that has undergone CNC machining will have less weight than one that hasn't.
You will save more energy especially if you will be spending more time on the water. Arm fatigue isn't pleasant and that's what CNC machining is for.
This doesn't mean that a saltwater fly reel that is extremely lightweight won't effectively balance your rod.
Frame Construction
Your reel should have a well-made and sturdy frame. Most manufacturers create this from CNC machining anodized aluminum which makes the saltwater reel 10 times stronger to ensure that it withstands all the brutality that it is exposed to.
Most reels made this way are abrasion and scratch-resistant. Such strength ensures that the reel remains fully functional and adds to its durability and longevity.
Ergonomics
How well is your saltwater fly reel designed from the human interaction perspective?
An angler interacts with their fly reel at three major points which are the handle, the drag knob, and at the spool change. At the handle is where you have most of the contact.
It should be fairly long to ensure that your knuckles are far away from your spool. It should be wide to ensure comfort as you hold it.
You will not use the drag knob frequently. Even with this, it needs to easy and quick to access. The obvious one is the spool change which is a quick change in all the modern reels.
Sound
A crucial feature yet very underappreciated is the sound that the reel produces as you set and adjust the drag. Drag sounds are vital as they relay feedback as you fight fish.
Besides this functionality, they add to the fun of catching fish that make great runs. We recommend having a reel with an incoming sound as you reel in and an outgoing sound as the fish takes the drag.
Price
Should you spend $800 on a good quality saltwater fly reel? Not necessarily. We advise that you cut your coat according to your cloth if you need a fly reel ASAP.
What if you are looking for a perfect one for the next fishing season? Then save for the best.
There are good reels that don't require you to break the bank. They are in the budget-friendly category and will serve you as good as a $500 reel.
Let us leave the price issue to you to deliberate about. Other aspects like the look, feel, and finish will be minors as we are deep into a reel's functionality and durability than the aesthetics.
---
Waterworks Lamson Guru II Series Fly Reel
It fits the Guru title, especially when compared to other reels in its category.
As indicated above you can agree that any reel for saltwater use should be sturdier and more withstanding to the brutality of the environment it is exposed to.
Lamson doesn't slip any bit during designing and manufacturing the GURU. From its drag to the weight and functionality, we give it a thumbs up. Here is a brief description of its features:
The kind of material that the manufacturer uses translates to the reel's effectiveness and durability. Machined 6061 aluminum is tougher yet lighter.
Anodizing the metal is a boost to its operation and aesthetics. As it remains stronger to withstand frequent dropping, you do not doubt its abrasion resistance.
It indeed is a stress-free reel. The resulting weight from the material and reel construction is lesser than you can imagine. Lamson wants you to fish longer minus fatigued arms.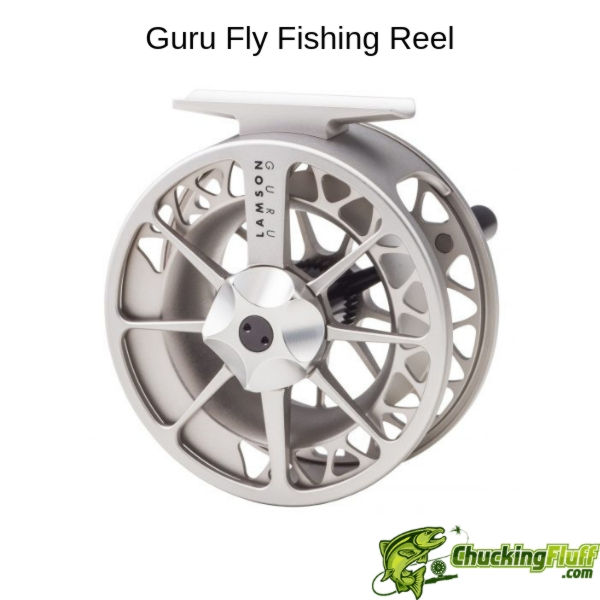 To date, the Guru II Series fly reels are available in 6 models. Each has its diameter, width, weight, rod weight, line weight, and backing capacity.
Having such a range ensures that you can pick a GURU that suits your needs perfectly. Generally, the reel weights range between 3.87 oz. and 7.08 oz.
Another aspect that led to greater weight reduction is the open porting on the sides near the spool.
We love the reception gotten by new and improved reels. This is what Lamson did to the older version of the Guru.
If you have seen the previous reel, you can agree that there was a complete overhaul to create the MR. PERFECT that we have now.
See it in the spool construction which is striking, appealing, and fully functional. The retrieval rates are higher and you will experience the benefits of less reeling.
A tweak to the arbor is the curved cross-section to increase the reel's stability and strength. You will appreciate the conical drag system which is completely sealed to protect the inner components.
Spec: Size 7-8 • 5.08oz • 150yds 20lb backing • Sealed drag
Check our Indepth Review
Check Guru Amazon Availability
---
Orvis Hydros SL Fly Fishing Reel
A little about how the SL was birthed. Somewhere around 2014 to 2015, the solid Hydros LA had Orvis receiving complaints of the reel is too costly and not offering full advantages over the then Access Mid Arbor reel.
The legendary Orvis welcomed the feedback positively and the Hydros SL was released a couple of years later. You wouldn't want to know how bomb it has been since its release.
Orvis worked on all the critics to make it what it is now.
Its drag is top-notch and beats its sister the Mirage (which is great) and other big names like Nautilus, Abel, and Hatch. The drag amount is massive at 14lbs in the top end.
Taking it to a quarter turn has it at 12lbs. Its linear drag is super. You are free to make adjustments to suit your needs. Orvis ensures that you don't free spool with about 0.2lbs.
Reel sounds are excellent feedback. You can compare the sound on the SL to that of the Mirage. Adjusting in either direction gives a fairly muted sound.
The spool on this fly reel is superb with a retrieve of more than 10 inches in every turn. This is possible with a well-made narrow spool below 1 inch.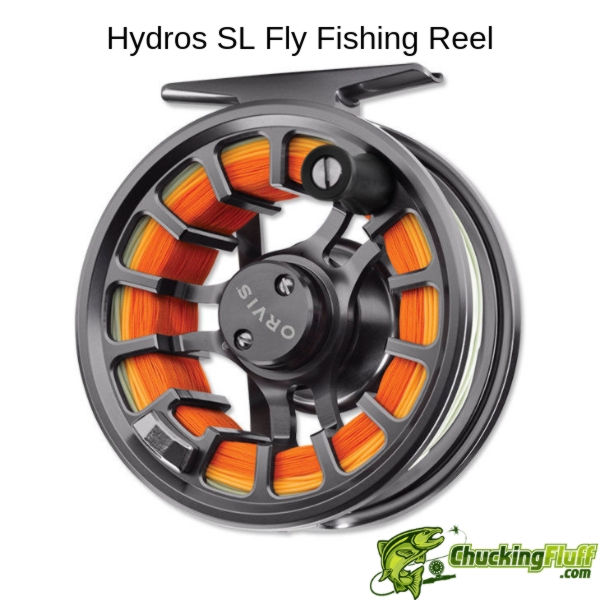 What you should know though not a deal-breaker is its capacity. It is plenty for the basic 8-weight fly lines. If you intend to use it with thicker lines, opt for gel-spun.
The drag knob is what Orvis should look into in case it plans on an upgrade (we know that it already was changed from the obtrusive size to a low profile and ergonomic design).
It is smaller and will be stressful gripping it especially if you have bigger palms. The Delrin handle is more epic and well-machined.
Looking at the drag system's construction, it is an improvement of that in the Orvis Hydros Fly Reel. While its predecessor had a long yet sealed drag, it failed to retain the seal.
Also, the clutch bearing wasn't sealed. What we have now is a fully sealed clutch bearing. The interior parts of the spool are strengthened to increase support.
More benefits of this upgrade are minimal occurrences of spool wobbling because of better shaft engagement and greater tolerances that counter shifting of the line away from the spool. Available sizes are from size II to V to match line sizes from 3 to 10.
Spec: Size 7-8 • 5.9oz • 100yds 20lb backing •  Sealed drag
Check Hydros SL Amazon Availability
Check Our Hydros SL Review
---
Ross Reels Animas Series Fly Reel
2019 has seen so many manufacturers revamp their older reels into new workhorses. Ross Reels was in the boat too with its new 2019 Ross Reels Animas.
The company has resolved to embrace modernity by shedding bulk and improving individual reel features without compromising functionality.
Some of its improvements are seen in the phenolic handle, the larger diameter spool, time-proven drag design, aluminum accents, and effortless spool release.
What gladdens us most is the drastic weight reduction. For instance, this one is 30% less heavy than its forefathers.
A fervent angler will pair this Animas series reel with a cutting-edge yet lightweight fly rod. It is a perfect blend between class and boldness.
This is one of the saltwater fly reels with an ultra-large arbor. The majority of anglers are familiar with the large arbor reel designs.
The good news is that the Ultra-large arbor reel takes the benefits of the large arbor reel designs to the extreme levels and will perfectly hold all the backing that an angler requires.
Taking a bell shape which is the signature of Ross Reels, it adds more strength while aiding you to self-level your line across the spool's face as it gets retrieved.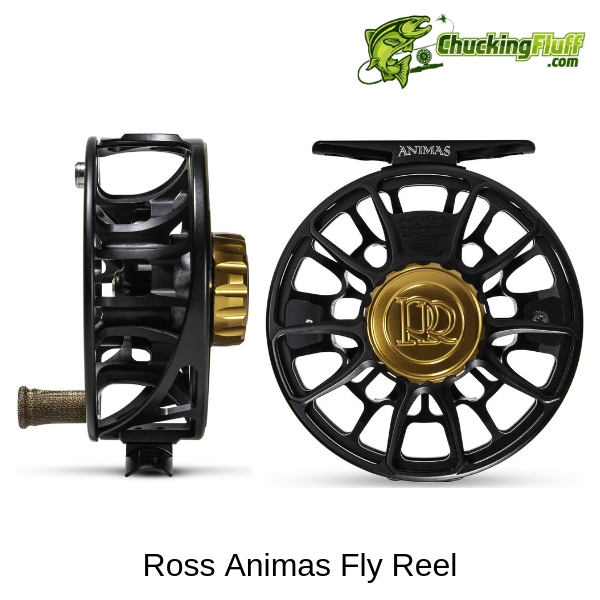 Holding it, you will notice a difference in the frame. It is redesigned with sophisticated machined details. This is not a reel with the usual handles you are used to.
The master of innovations has this one with a handle that is made from well-machined canvas phenol. Its size is excellent to ensure that you get the right grip and comfort.
Anglers looking to fish for an extended period will have it to their advantage.
Not every manufacturer is as generous as Ross Reels. Though limited, the warranty is for a lifetime. I want to imagine an avid angler who is on the water for the better part of their lives.
They need such a bonus to purchase. Get to know the limitations of the warranty from the Ross Reels website.
The Animas Series Reel is available in platinum and matte black finishes. Sizes are 4/5, 5/6, and 7/8. Weights are 4.1, 4.43, and 4.74oz. respectively.
Check Ross Animas Web Availability
---
Redington Behemoth Fly Reel
Redington decided to make a full-force attack on the grounds where not so many saltwater fly reels are excellent value-based.
The number of superb reels for such environs is less than those for freshwater use. The Behemoth came with a drag strength that is worth commending.
It was designed to increase functionality. By this, it has managed to outrank most of the reels in its category.
The drag is on point with greater stopping power than you can imagine. We can sum it up as a well-rounded saltwater fly reel.
Upon release into the market, Redington praised this monster because of the drag. It didn't fail. Stretching to over 16lbs, you can agree that is it a workhorse when matched with its price.
You can use the 9lbs of the drag and turning it completely down, this piece experiences free spooling at about 0.02lbs. It sounds pretty well on both the outgoing and incoming turns.
The spool takes a triangle shape and its major advantage is the ability to pick up the fly line pretty fast than a basic spool.
This means that the volume near the reel's arbor is very minimal and the backing fills your reel quicker.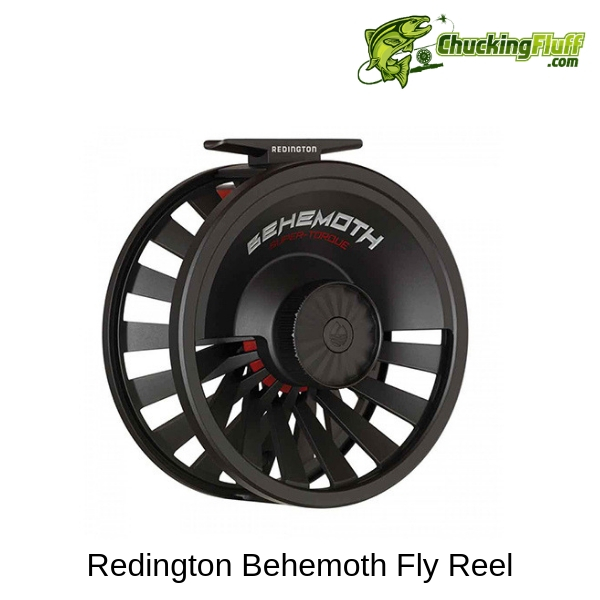 Its construction as a die-cast reel can pose a challenge to anglers who aren't cautious during transit, fishing, and when storing their fishing gear.
The machining process of the die-cast reel makes it delicate and a good drop from a higher altitude means it either will crack or break. This is just another goose egg.
Featuring a carbon fiber drag, it boasts a unique blend in weight and strength. Carbon fiber reels are gaining popularity rapidly because of their higher rate of heat dissipation.
They are better at the maintenance of drag smoothness for longer periods.
More ups are having more strength to the weight ratio to ensure longevity, durability, and that the angler uses minimal effort during casting.
Reels with such drag types are excellent for fishing in low temperatures as carbon fiber maintains stability regardless of the temperatures.
You must know that the drag isn't sealed. This means that extra care and maintenance will be required to ensure that you don't lose this beauty to corrosion, rust, and damage by sand, silt, grit, and scum.
Check Behemoth Web Availability
---
Piscifun Platte Fully Sealed Drag with Large Arbor Fly Fishing Reel
Aspiring anglers are often scared by how much fly fishing gear goes for. Especially the reels and rods.
Piscifun has a perfect entry-level fly reel for saltwater anglers who are looking to reasonably spend while getting more than what they pay for.
Its value is tremendous and if you are kick-starting the rod and reel game, it will be a faithful servant.
Piscifun Platte is fully machined and this downs to its durability and strength. You can't compare these two aspects to a plastic or die-cast reel.
It boldly passes the construction test. How well the frame and spool fit and operate will leave you doubting its price.
It works better than most high-end fly reels. What will move you is its ability to fully function in freshwater. Piscifun has done what legends don't do.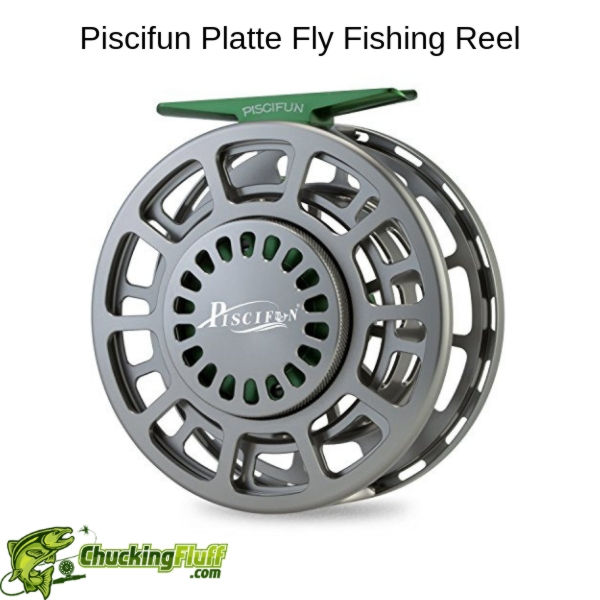 As usual, large arbors are what we advocate for when going out in the salts and flats. You can imagine the retrieval rates and how effortlessly you will reel in a fish.
The spool too is CNC machined and together with the reel ensure that your fly line and backing are exposed to more air to ensure faster drying.
Portings are sufficient resulting in an extremely lightweight fly reel that will balance well with lighter modern fly rods.
Try pulling off the fly line and you will notice that the start-up inertia is remarkably minimal. The drag is superb and releases the fly line smoothly with a clicking sound.
Feedback is vital, you know! Carbon to stainless steel drag systems are becoming the in-thing. This one is completely sealed for functionality, durability, and low maintenance.
A quick rinse will do after every use.
Use the large knob to quickly adjust the drag of the reel. The edges of the drag knob are knurled to offer more grip.
The knurling doesn't affect comfort or safety. Worry not about blisters and every other mark on your hands.
Spec: Size 7-8 • 7.9oz •  125yds 20lb backing • Sealed drag
Check Platte Amazon Availability
---
Verdict of the Best Saltwater Fly Reel for the Money
A car without a drop of oil in its engine; that is what a reel encrusted with salt is like. You need to properly take care of your reel when on the trip and upon returning home.
Otherwise, you will have to pay the price the next time you hit the waters. Did you know that old dried salt is as tough as varnish? You wouldn't want an experience with this at all.
What should you do to ensure that you maintain its quality? After each day of fishing, completely rinse the reel. You can choose to soak it in the sink or with a hose.
Pull sixty or seventy feet of the fly line and use a clean rag to wipe it down. If you cannot drip-dry your fly reel, use an absorbent cotton rag to wipe it dry.
Use a very light oil to spray the spool and the chassis. A good example of such an oil is WD40. You can proceed to store it in a clean and dry zip-lock bag.
Seal the bag completely until the next use. If you have enough time, you can pull off the whole fly line and wipe it down cautiously.
If you have Amor All or Orvis Line Dressing Glide, you can use it on the fly line. When cleaning the entire line, apply a light film of the glide on the reel.
Have a reel cloth, bag, or case if you'd like to achieve longevity. Enclosing your reel prevents it from exposure to dust, agents of rust, and other particles that could lead to malfunctioning.
There are a plethora of these reels in the market. We advise that you do due diligence to ensure that you get value for money if you love some salt.
"Check out some of our other Buying Guides"