Disclosure:
Just to be open and honest the buttons and links you click on in the website will in most cases take you to another website where you can purchase the products I am reviewing. As an Amazon Associate I earn from qualifying purchases.
August 24, 2018
Orvis Hydros SL Fly Fishing Reel Review- Fly Fish in Style
Orvis has steadily maintained its top position in the retail industry. Dealing with a variety of high-end sporting, hunting and fly fishing goods, you are guaranteed quality and durability on any purchase you make. The Orvis business is owned by the Charles Orvis family and was started in 1856. Fly reels produced by this company are to die for because they are reliable originals and timeless. In comparison with the previous hydros by this line, there is a noticeable improvement in the way the Orvis Hydros SL Fly Fishing Reel works.
The upgraded clutch and drag are now fully sealed to prevent the interior of the system from contacting moisture, sand or grit. Newly designed handle and drag knob to facilitate a shrink tolerance and fully increasing its feel and strength. Orvis Hydros reel has an ultra large arbor that greatly increases the reel retrieval rate by a whopping 12%. You need a fly fishing experience with this reel to manifest its awesomeness.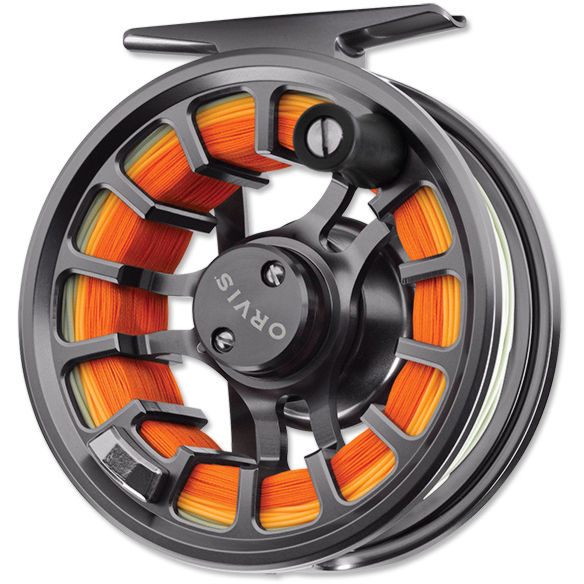 [button link="http://amzn.to/2E656EH" type="big" color="green" newwindow="yes"]SL Hydros Amazon Pricing[/button]
Key features of the Hydros SL
• Design and aesthetics – Call it a beauty. The neutral color and finish marvel your heart translating to an executive feel. Well engineered and fully functional, it holds the line on a fly rod firmly. Orvis cares for your hands with the easy drag adjustments that can be done without having gloves on.
• Durability – Value for money is what you get after purchase. The redesigning process has seen this reel take up a fully sealed drag system that makes it last longer and work efficiently. The seal prevents the interior of the drag system from contacting any sand, grit or moisture that will interfere with the creation of pressure in the system. Aluminum, the main metal used in manufacturing is high grade and doesn't rust or corrode easily. Its spool edge is thicker enough reducing the chances of bending or warping when subjected to stress.
• Retrieve power – In every second, this reel winds up 8.2 inches just as the standard trout size. The reel's width is of a reasonable size and allows a faster and smoother lay of the fishing line without any incidences of bunching or line stacking.
• Unique Drag system – The drag system is fully sealed increasing its durability. Orvis Hydros' drag is massive at 14lb. Its linear drag is top of the top and the greatest thing is it can be adjusted to your specifications. The retention drag is almost at 50% translating to 7lbs at the half-way mark. It also has a small amount at the bottom end so the chances of birds nests are minimal when you forget its slackened off.
• Sound – Clicking in between the reel's ridges doesn't produce much sound. The sound is fairly muted as the reel clicks in both directions maybe not everyones cup of Joe but not a deal breaker.
• Epic spool – Incomparable to any reel brands in the market, Orvis' has the best spool. The spool is nice and narrow and creates a retrieve of 10 inches per turn on the (IV). If using a thicker line on the reel, invest go for a good gel spun and it will hold at least 250yds along with the skagit head.
---
Distinct features of the Hydros SL
Material and treatment – Aluminum is the main metal used to manufacture this reel and the finish is anodized for a better glaze effect. The drag system is fully sealed with carbon.
Weight – Orvis Hydros SL Fly Fishing Reel has the lightest weight compared to any other reel with power like it.
3-5 (II) 5.6oz
5-7(III) 5.9oz
7-9(IV) 7.4oz
Capacity – The backing capacity is good with the v shaped spool extra line can be added with minimal line stacking making for fewer tangles and problems.
(V) WF9 250 yards
(IV) WF7 225 yards
(III) WF5 150 yards
(II) WF3 150 yards
Handles – Orvis handles are long enough to hold on. Smooth to your hands, fish for as long as you want without getting bruises.
Drag system – The drag system is fully sealed with carbon on a stainless disk preventing pressure interruption by sand, grit or moisture. There is no start up inertia and for such a low level price in this category this is immense proving to be better than reels at twice the price.
---
Consumer thoughts of the Hydros SL Reel
– Orvis Hydro SL creates some baseline resistance each time the spool spins in a reverse manner so you can't spin free line onto the reel quickly if you are like me and do this to put the line sitting in your line tray onto the reel quickly when playing a fish then it will bug you until you get used to it.
– Considerably affordable, the prices matches its value. You wouldn't feel conned after purchase.
– The reel is light and is highly portable to allow you easily move with it to any fishing destination.
– Durability is a plus with the fully sealed drag system that prevents entry of moisture, grit or sand that could interfere with pressure build up.
– Cleaning and maintenance are quick and easy. It only needs a rinse with clean water.
– The drag knob is smaller and difficult to drag and adjust.
– A lifetime guarantee is given at a $30 fee.
---
Pros – things we liked
•Light in weight
•Durable
•Rust free material
•Thin yet powerful spool
•Lifetime warranty at a lesser charge
•High retrieval power
•The minimal sound produced as the reel clicks back and forth is not to worry about
•Price is relatively cheaper
•Easy to clean and maintain
Cons – things not so good
•Drag knob is small posing difficulties in adjusting
•The capacity is too much for weight lines of standard 8
---
FAQ's – Questions about the Orvis Hydros SL Fly Fishing Reel
Q) I would like to buy this reel. Is it anodized?
A) Yes, the reel is anodized to make it highly corrosion and abrasion resistance.
Q) Does the reel have a functioning retrieve clicker?
A) A retrieve clicker is present and fully functional.
Q) Is the drag on the reel adjustable?
A) The reel is ultra-light and the sealed carbon drag system is fully adjustable and a great one for catching trout.
Q) Does the reel have a spool? What about a spare one?
A) Only one spool is inclusive when you buy this reel. If you want a spare spoon, you can make a separate purchase for it.
Q) Is a fly line inclusive of the reel?
A) No. You need to make a separate purchase for it.
Q) Can the reel last long even when used in saltwater?
A) Yes, the reel is anodized to make it withstand all environmental weather conditions.
Q) What is the width of the spool?
A) The spool is 1.25''
Q) Is the reel a left hand retrieve or a right hand retrieve?
A) The reel can be retrieved smoothly on either sides-the left hand or the right hand.
Q) Can I know the ratio of the line before purchasing?
A) The line ratio of the Orvis Hydros SL reel is 7-9wt and has 20lb backing at 200 yards.
Q) Are there any wobbles when using this reel?
A) No, there are no wobbles because the disc drag is very smooth.
Q) Is a reel case available upon purchasing this reel?
A) The manufacturer includes a reel pouch and makes reel storage a very easy thing to do.
Q) Which type of warranty do I get for this reel?
A) A lifetime warranty is available for this reel and is at a very low charge.
---
Final Verdict on the Hydros SL
Fly fishing is adventurous, thrilling and gives a memorable experience for a lifetime. With the Orvis Hydros, SL Fly Fishing Reel feel fry to hit the waters countless times like a Samurai. Its retrieval force is powerful and a feature that will surprise you with each throw. If you are worried about spending without breaking the bank, other reels within the price range of Orvis Hydros exist. Orvis Hydros SL Fly Fishing Reels can be purchased if your budget is within range. You don't need to miss fly fishing this weekend.
A lifetime warranty to original buyers and owners is something to smile about. Knowing that all your repairs and replacements are covered by Orvis relieves you of unnecessary costs, strain and stress. 5.9 ounces for the medium trout version is super light to carry to any fly fishing point. Its portability aspect allows you do to fly fish for a longer time without getting exhausted. Despite the drag knob being small, the handles are long and broad enough to make lifting easier, the smoothness on it prevents occurrences of bruises during longer hours of fly fishing.
There is every reason you need to try out this reel. From its affordability, durability, efficiency and general performance, purchasing it means you get value for your money and more. Tired from the river bank? Worry not. Simply give your friend a quick yet proper rinse with clean water to remove debris, sand, and grit before keeping him away until the next fly fishing session.
[button link="http://amzn.to/2E656EH" type="big" color="green" newwindow="yes"] Hydros SL Amazon Reviews and Price[/button]
[button link="https://chuckingfluff.com/best-fly-fishing-reels/" type="big" color="purple"] Check more Reels Here![/button]