Disclosure:
Just to be open and honest the buttons and links you click on in the website will in most cases take you to another website where you can purchase the products I am reviewing. As an Amazon Associate I earn from qualifying purchases.
December 12, 2018
Waterworks-Lamson Liquid Fly Reel Review – High Quality Low Price
Waterworks-Lamson is an innovative reel designer and it is evident in the Waterworks-Lamson Liquid Fly Reel. The reel depicts high-quality craftsmanship and performance especially to the pressure-cast reel. This manufacturer is known for its large arbor reels with lightweight strength, very smooth drags and some of the high-tech features that give an angler a recurring memorable experience. The reel is not limited to entry level anglers even pros find it amazing. It beats all conditions and its durability is worth counting on.
The liquid design is responsible for the reel's exemplary features. The curves are compound and the corners have zero radius. Its precise fit and excellent finish is a rare thing you wouldn't find in many Die-cast reels. There is a range of sizes you can choose from depending on the fly fishing application you have in mind. No matter how brutal you test this reel, its functionality still beats most of the high-end reels. This reel incorporated a conical drag system that has been tested and proven to work. It comes fully sealed protecting your reel from dirt, grit, sand, water and snow that can affect its operation. If you like to go out in style, customize your reel's drag canister by adding to it a Lamson sleeve
. The sleeves are very colorful but are sold separately.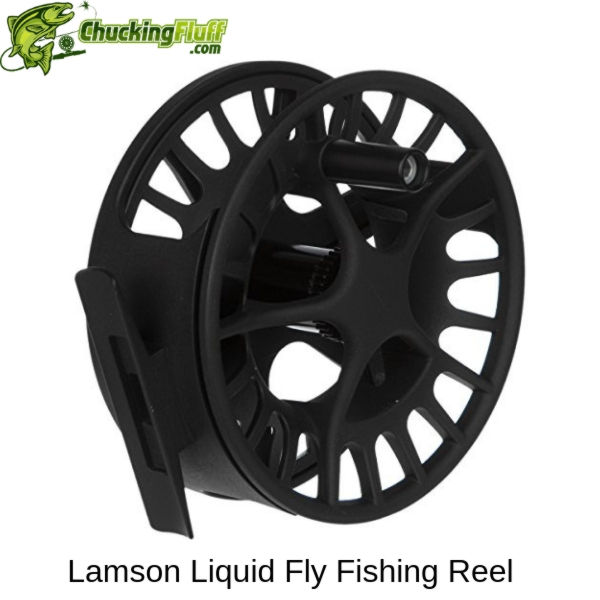 [button link="http://amzn.to/2DHLFEf" type="big" color="green" newwindow="yes"] Liquid Amazon Reviews and Price[/button]
Main Features of the Lamson Liquid Fly Reel
Most people with interest in fly fishing are hesitant to take on the journey because of how pricey many of these reels are. Do you really have to spend $600 on a fly reel as a starter? Yes and No. If you feel like spending more isn't such an issue, do it. What if you are on a budget and need a reel that can help you hone your skills? This is it. Waterworks Lamson Liquid reel is the ideal fly reel you need to get.
Dig deeper into its features here:
Large Arbor – Large arbor designs are now taking charge of fly fishing. This one is wide and has an oversized spool. The spool holds the line a position far from the center and your spindle. It offers less time reeling in the line, and thicker lines and more backing. The large arbor is easy on your line by coiling in very big loops around your spool greatly reducing tension on the fly line preventing line memory. An improved drag is another benefit.
Pressure Cast Aluminum Construction – The liquid design sees this reel with compound curves and corners with no radius in the inside. The benefit is an excellent finish and fit unlike other reels made of Die-cast aluminum. The one-piece frame adds to the reels rigidity. The spool is curved in a concave and holds the line with more backing capacity.
Drag System Components – Fly reels with CNC machined drag system components are lightweight, strong and can take more during transit and in the river. With great care and proper maintenance, they should last longer.
Drag – Waterworks-Lamson Liquid Fly Reel has a conical drag system that is lightweight and will keep the total weight of the reel to the minimum levels. The drag is sealed to keep it consistent throughout regardless of the conditions. The disc surface is large enough for greater stopping power when need be. Its drag elements are centrally positioned and give very low start up inertia. All rounded up, it is maintenance free.
---
Other Aspects of the Lamson Liquid Fly Reel
Main Materials – The reel and spool are made of pressure cast aluminum and the case and spool have a polyurethane finish.
Handles – Its handle is of good quality, comfortable, soft to touch and retrieves the fly line back onto the reel with ease. It cranks the fly reel in motion.
Drag System – Waterworks uses its conical drag system on this reel. The drag system is sealed to ensure sand, water, snow, dirt and all other inhibitors are locked out for a smooth operation. By this it makes maintenance stress free.
Capacity – The Liquid fly reel has different models each with their backing. Liquid 1.5 and Liquid 2 have a backing capacity of 100 yards 20lbs. Liquid 3.5 has a backing capacity of 200 yards 20lbs while Liquid 4 has 250 yards 30lbs backing capacity.
Weight – Like the capacity, each model weighs differently. Liquid 1.5 weighs 4.29 oz., Liquid 2 weighs 4.54 oz., Liquid 3.5 weighs 5.49 oz. while Liquid 4 weighs 7.07 oz.
---
Consumer Thoughts on Lamson Liquid Fly Reel
One of the best reels for trout fishing. It is among the fully functional, rigid and best value for money reels outside there.
This reel is lovable. The size is great and its weight too. Quite a good drag and did not experience high startup inertia compared to other reels.
Quite an easy reel to use and care for. Maintenance has been made easy with the sealed drag and you can give it a rinse if you feel you should.
Its three pack version
is such a great deal especially on the extra spools. This is very much cost saving and the fact that it comes with a case makes storage and transportation very easy.
The reel is light in weight and on your wallet too. So many high end reels by big brands cannot compare to this one.
Specific for the freshwater areas. After trying it in salt water, there were areas affected by corrosion by a good rust spray cleared it. Advice to anyone thinking of trying it is salt water areas, DO NOT! For durability purposes.
One of the best freshwater reels you can get on a tight budget. It qualifies for a five star rating because fishing with this reel over 200 times and still performing like it was brand new. Waterworks deserves a pat on the back.
The color sleeve that can be put on the Waterworks-Lamson Liquid Fly Reel though not improving performance, is something anyone proud of style and color would take up.
---
Pros

– Things that shine on the Lamson Liquid Fly Reel
Very lightweight
Excellent quality control
Easy to use
Fully sealed drag system
Less maintenance needed
Durable construction
Cons

– Things that are not so cool!
The clicker produces a loud noise and can be annoying to some users
---
FAQ's – Questions about the Lamson Liquid Fly Reel
Q) Do you get a colored Lamson sleeve for this fly reel when you purchase the Liquid reel?
A) No, sleeves are sold as separate items. If you need one, just make sure you purchase the right size of sleeve. There are only two sizes of these sleeves. One for 1.5 and 2 reel and the other one is for the 3.5 and 4 size.
Q) Is the drag on the reel adjustable?
A) Yes, the drag is adjustable.
Q) Can the reel be changed from the left to the right hand side and the other way round?
A) The reel, in fact all reels from Waterworks can be changed from the left to the right hand retrieve and vice versa. You can find detailed instructions on how to on the box. You do not need any tools and takes seconds to change.
Q) Can I use this reel in salt water areas?
A) Unfortunately, this reel is designed for use in freshwater only. The reel only undergoes pressure casting on the aluminum. If it had an anodized finish or components made of stainless steel, you could give it a chance.
Q) What size of Waterworks-Lamson Liquid Fly Reel should I choose if I want to use a WF 4 fly line?
A) The Liquid 1.5 will be perfect for that size of fly line.
Q) What are the diameters and widths of the different models of the Liquid fly reel?
A) Liquid 1.5 has a diameter of 3.34'' and 0.99'' width. Liquid 2 diameter is 1.00'' is 3.61'' and 1.00'' width. Liquid 3.5 diameter 3.85'' and 1.14'' width. Liquid 4 diameter is 4.65 and width is 1.37''.
Q) What does Lamson mean by a 3 PACK Liquid fly reel?
A) The 3 pack option means you get one full reel, two extra spools and a well-padded carrying case where you can store all the three items.
Q) Are the spools interchangeable?
A) Liquid spools can be interchanges with the Remix and the Remix HD spool.
Q) Are the sleeves made of plastic? I do not want something crappy
A) No, the sleeves are made from anodized aluminum. They are strong and durable.
Q) What is the maximum weight rod that the Liquid can accommodate without ruining or under performing?
A) The maximum is a 10 weight rod and a rod this weight can work well with the Liquid 4 Fly reel.
Q) How is the drag cassette like?
A) The drag cassette is CNC machined and takes a similar design like most high-end fly reels.
---
Final Verdict on the Waterworks-Lamson Liquid Fly Reel
Waterworks-Lamson is not a stranger when it comes to the fly fishing game. This manufacturer has done a terrific job year in year out. At the moment, it is a household name. This Liquid reel is geared towards the novice anglers and has reset the bar for a fully sealed conical drag. You will love its durability and performance considering it is made in USA where matters quality control are prioritized. This might be a point of worry to individuals who want to import these reels and are prudent on quality. No worries.
Let me address the cool part- an area most anglers would have interest in-the color sleeve. The sleeves serve no function and do not come in the way of performance. It is purely aesthetics and cosmetics. You can find them in Burnt orange, Salsa Green and coral blue. There are two different sizes. One for the first two models and the other for the last two. Nothing serious here but I thought you should know in case you want to add style to your reel. The sleeves are made from anodized aluminum which is corrosion and rust resistant and is usable in both fresh and salt water environs.
Down to ordering. You know how much Waterworks reels are selling like hotcake. This Liquid reel is on high demand. Many starters and intermediate anglers are making orders to ensure they have this masterpiece the next time they hit the shores. Pre-ordering will save you stress and the hassle of looking for a reel when urgency strikes. What if you find it out of stock on your online shop or nearest fly fishing shop? Orvis Hydros SL reel, Redington Rise Fly reel, Ross Evolution LT reel, HARDY Ultralite MA reel and Waterworks-Lamson Guru reel are good alternatives and within the price range of the Waterworks-Lamson Liquid Fly Reel.
[button link="http://amzn.to/2DHLFEf" type="big" color="green" newwindow="yes"] Liquid Amazon Reviews and Price[/button]
[button link="https://chuckingfluff.com/best-fly-fishing-reels/" type="big"] Check our Reel List for more Options![/button]