Disclosure:
Just to be open and honest the buttons and links you click on in the website will in most cases take you to another website where you can purchase the products I am reviewing. As an Amazon Associate I earn from qualifying purchases.
May 27, 2019
Waterworks-Lamson Liquid vs. Redington Rise Fly Reel Review
Fly fishing is a very gear-intensive endeavor. If you are an average individual looking to take on the angling journey, the situation can be somehow intimidating.
Especially with the variety of reels, rods, lines, flies and high-tech polarized sunglasses you need to select from.
We make this easier for you by sampling the best gear from each category and giving a detailed review.
For instance, this Waterworks-Lamson Liquid Fly Reel vs. Redington Rise Fly Reel Comparison Review covers the construction, durability, and performance aspects.
What's left is for you to choose one that suits your fly fishing needs.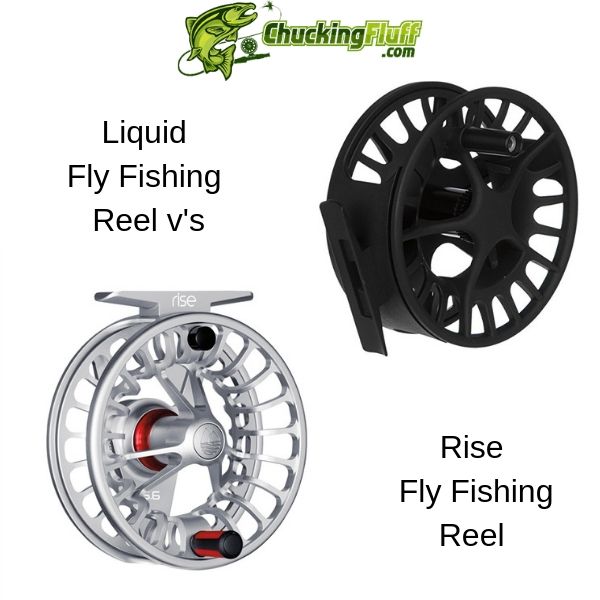 Redington's commitment to quality, affordability, and versatility has seen the company rise to greatness in the fly fishing industry.
Just like its brother Sage, its mission of conscious reel construction and very intelligent designs at entry and mid-level price points.
Starting off as a bike pedal and accessories manufacturer, Waterworks turned to produce simple and lightweight fly fishing reels.
Sprouting wings in the niche reel design, very innovative production and extremely sensible architectural modernization, Waterworks has been able to stand the test of time.
Lamson Liquid reels is a distinguished series of value-packed reels.
Unlike its predecessor the Guru series, the Liquid is made from pressure-cast aluminum.
Those in the sport will confess that pressure-cast reels aren't as durable as machined reels.
Lamson Liquid is able to put up the elements very well.
The upside of such reels is their lightweight construction.
As an entry-level reel, just like most of the others, the cast technology is popular and the Liquid doesn't depart from this tradition.
You will be amazed that most of the components of this reel are manufactured in the USA.
Matters quality aren't compromised. Assembling takes place in Boise, Idaho.
The Rise is a high-quality fly reel that comes in saltwater and freshwater sizes.
Just like the Lamson Liquid, the Redington Rise is lightweight and comes fully machined. Here is no gamble on durability.
The reel is impact-resistant and is a good choice for the consistent avid angler.
With a large arbor, you are cock-sure of quick line pickup. It's fish fighting power is among the leading in the industry.
The drag system is powerful and what Redington uses as its trademark. Rise is smooth in functionality, appearance, and design.
It doesn't matter if you are navigating a big river or working in the salt. Its performance is unparalleled.
---
Waterworks-Lamson Liquid Reel Review
Lamson reels are solid and of good value. Whether you are pairing it with a small or big rod.
As you hunt for a reel to take along on your freshwater fishing trips, keep in mind a decent drag.
Consider that there is very high potential of you catching large trout. There is more that you need to look for. Stick here to find out.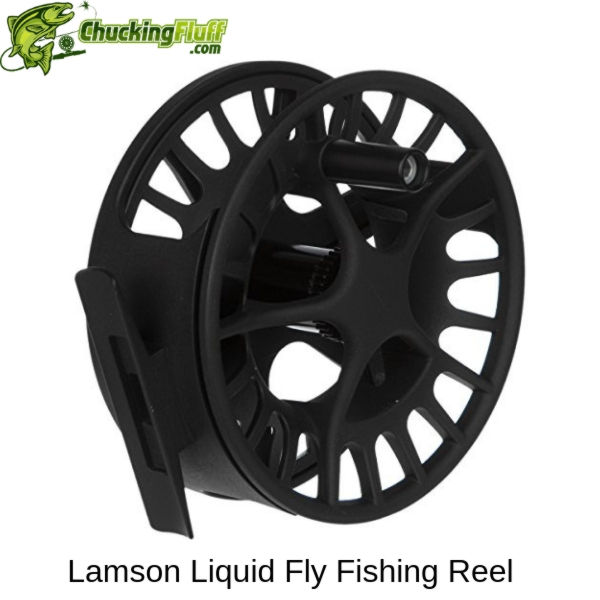 Check Amazon Liquid Availability
---
Key Features of the Lamson Liquid Fly Reel
A pressure Cast Frame and Spool. Lamson focuses on the advantages of the pressure-cast process.
The double or compound curves and an exemplary radius inside the corners to give a precise fit together with ensuring that the reel is made in the USA guarantees you quality.
When you compare information in this Waterworks-Lamson Liquid Fly Reel vs. Redington Rise Fly Reel Comparison Review you will make up your mind whether or not to settle for this one.
You will discover that the pressure-casting process was keenly done, unlike most pressure-cast reels that easily break or crack with a single fall.
While novice anglers shouldn't get migraines over large arbor reels, they are worth considering.
Especially this Lamson Liquid that is at a good price, it is worth buying. Large arbors increase the overall line retrieve rate of your fly line.
The line gets off the reel in big coils which is more advantageous than the lower tangles.
Most of the reel's components are made in the USA. Well-crafted and finished to ensure that they can allow the reel to take more abuse in the water without affecting functionality.
For your freshwater reel, give it a quick rinse after a good day in the water to enhance durability.
Lamson set out to design the sealed conical drag system which has a smooth operation, zero startup torque, and maintenance-free, light, compact and technically simple.
The company uses its proprietary friction material to ensure that the startup is on point.
Not related to functionality but style lovers could find this interesting. Redington manufactures color sleeves for use with the Lamson Liquid reel.
They are beautifiers and don't affect your reel's performance in any way. These sleeves come in very bright colors and can be tied on your reel to add color and for identification purposes.
They are made from anodized aluminum and can be used in both fresh and saltwater environments. They come in two different sizes.
---
---
Application of the Lamson Liquid Fly Reel
Lamson Liquid fly reels are perfect for both big and small fish in small rivers, streams and lakes.
From its construction and the manufacturer's recommendation, it is meant for freshwater fishing.
---
Pros – What we like about the Liquid Reel
Maintenance-free

Zero startup inertia

Fully sealed conical drag system

Large arbor

Lightweight
Cons – What we don't like about the Lamson Liquid Reel
Limited to freshwater use only

The noise produced by the clicker is loud
---
Redington Rise Reel Review
A few years after Redington broke into the angling scene, the Rise was manufactured and it has gained notoriety very fast.
Fly fishing is known for being an expensive sport but Redington through the Rise Reel, allows you to spend less for the best.
The standard attempt is at a decent price point. Here are very many striking aspects of the Redington Rise beginning from is overall weight.
The older version had a smaller arbor design. After tweaking, we have seen the manufacturer improving most of the reel's features.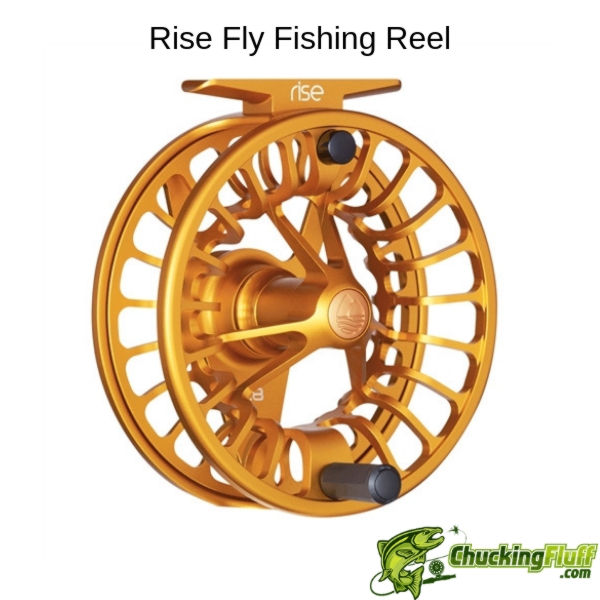 Check Amazon Rise Availability
---
Key Features of the Redington Rise Reel
Straight to the cosmetics department, this reel is a looker. It has very clean lines and its quality of machining gives it a high-end appeal its beauty will complement a rod of any price.
Well, no one will want to be spotted with an ugly-looking reel, anyway.
The retrieving action is drama-free. It has the correct amount of click unlike other reels that are either too quiet or too noisy.
The resistance while retrieving is light and you can easily smack the spool to put the line back very fast.
The handle knob has a very smooth surface but lacks a lot of contours which can be a disadvantage to some anglers.
Its drag is excellent in all aspects. It generates a reasonable amount of drag pressure.
Cork and Teflon have been combined to make the drag. Despite the small size of the reel, it has a smooth drag.
This one takes a semi-sealed design that protects the internal parts of the drag system from damage by water, sand, grit and scum.
The drag stays consistent in a wide range of settings. There is some startup inertia whether dry or wet.
Not like your small, medium or large arbors. This one is ultra-large. Its ultra-large arbor takes all the benefits of a large size arbor to an extreme level and ensures it holds all backing that you need.
Don't doubt if it can work well with trout.
---
---
Application of the Redington Rise Reel
The Redington Rise fly reel is ideal for very many species of fish. Reels in this series come in freshwater and saltwater sizes.
The saltwater application is light though. Depending on the reel size, many can handle strippers, Snook, bonefish, and steelhead.
---
Pros – What we like about the Redington Rise Reel
Large arbor

Lightweight

Available in freshwater and saltwater sizes

Semi-sealed drag system

Lifetime warranty

Comes with a nylon reel case

Interchangeable retrieve

Cosmetics on point
Cons – What we don't like about the Rise Fly Reel
Spool needs redesigning

There is some inertia as you start the reel

The handle knob needs a lot of contours to prevent slipping
---
Similarities of the Lamson Liquid Fly Reel and Redington Rise Reel
Both fly reels have arbors with quick-release spools.
In both the Liquid and Rise series fly reels, there are sizes for freshwater use
It is possible to reel the reel in either side you choose. The conversions are easy to make and a learner can quickly master the process.
Considering the average weight recommended for fly reels, both reels in this review pass the test of being lightweight.
The Redington Rise and Lamson Liquid have ergonomics that are on point with the Liquid facing an upgrade from its previous version.
Both reels come with a lifetime warranty from the manufacturer to cover any defects in workmanship and repairs stated in the warranty section.
---
Differences between the Waterworks-Lamson Liquid Fly Reel and Redington Rise Fly Reel
From the sections above, you will agree that the Redington Rise and Lamson Liquid Fly reel go hand in hand in performance.
There could be slight differences but they are reliable from customer thoughts on the individual reviews of these reels on our buyer's guide section.
We have tabulated the differences picked in the features and performance below:
---
| | | |
| --- | --- | --- |
| ASPECT | REDINGTON RISE REEL | LIQUID LAMSON FLY REEL |
| Reel Weight | 4 – 6.3oz | 4.29 – 7.07oz. |
| Reel Diameter | 3.2 – 4'' | 3.34 – 4.65'' |
| Handle Knob | Twin molded ergonomic handles    | High Grade Cork |
| Reel material | CNC Machined anodized aluminum | Pressure-cast aluminum |
| Accessories | Nylon reel case | No case |
| Drag System | Cork and Teflon Carbon fiber (semi-sealed) | Conical drag (full sealed) |
| Warranty | Lifetime Warranty | Lifetime warranty |
| Arbor   | Ultra-large   | Large |
| Backing   | 75yds 20lbs – 200yrds 30lbs | 100yds 20lbs – 250yds 30lbs |
| Application | Freshwater   | Freshwater and Saltwater |
---
Final Verdict
Whether you are an amateur or an occasional angler, the Lamson Liquid and Redington Rise are good picks for your angling sessions.
Most in their specific series recommended for freshwater fishing, you can be sure to have the best out of any reel you choose.
Well, fishing days are busy days just like office days. The two manufacturers are aware of the exhaustion and fatigue that comes with an active fishing season.
No time to clean your reel. This is the reason for sealing the drag systems. The Redington Rise is semi-sealed but will need rinsing and drying after use.
If anyone was to take very keen interest in aesthetics, you will discover that the Rise shines more than the Liquid.
It should not always be boring. Redington separately sells color sleeves that you can tie on the reel to add color to it.
This doesn't come in the way of the reel's performance. Only for cosmetic purposes.
The sleeves are anodized to ensure they are rust-free and usable in any environment.
Not so many manufacturers give lifetime warranties on their fly reels. I must commend Waterworks and Redington for this.
Just like taking your car to the garage, it doesn't cost little money to repair a reel. You have to dig deep into your pocket.
He lifetime warranties come at a very small fee and are life-saving.
They cover defects in craftsmanship and material and any other repairs not flagged by the manufacturer in the terms and conditions for use or the warranty section.
With proper care and maintenance, these reels are supposed to last longer.
For storage purposes, Redington gives a nylon reel case to protect your reel. You will have to buy a hard reel case if you don't have any spare ones.
Reel covers and case protect the drag system area from contacting dust water, sand, grit and any other substances that will affect the drag.
All in all, the two in this Waterworks-Lamson Liquid Fly Reel vs. Redington Rise Fly Reel Comparison Review are excellent options you need not ignore.
Still unsure check out our full list of fly reels
Check Amazon Liquid Availability
Check Amazon Rise Availability