Disclosure:
Just to be open and honest the buttons and links you click on in the website will in most cases take you to another website where you can purchase the products I am reviewing. As an Amazon Associate I earn from qualifying purchases.
November 5, 2019
Snowbee Geo-S Fly Reel Review – Saltwater Safe
We follow up on the outstanding Snowbee Geo-S Fly Reel which is a salmon and saltwater reel. Snowbee launched this masterpiece for incredibly lighter fly lines.
For a reel that had been designed, launched, and had excellent reception years back, the manufacturer keeps making adjustments to ensure that it still outdoes many high-end saltwater fly reels in its category. Snowbee won two awards in the 2019 EFTTEX awards.
This is specific for the fly fishing department. While it took the top position in the Best Accessory of the year with the Snowbee Ultralite Chest Pack, the Geo-S fly reel was the runner-up in the Best Fly Reel category which is a plus for this brand.
Similar to selecting the best fly rod, having the best saltwater reel will enhance the chances of an angler's success. True to say, salmon species are diverse.
There are commonalities that exist across all the salmon species. But, they are all strong, powerful and lots of fun and excitement to catch on your rod.
First things first, you need to match your size of reel to the right rod size. This is a basic that seems intuitive but is worth sensitizing.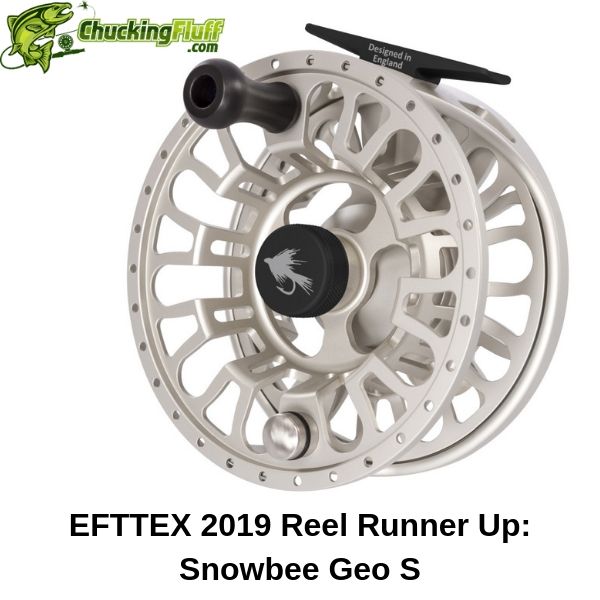 ---
For bigger fish like salmon, you require a fly reel with a stronger drag system. The Geo-S features a multi-disc stacked disc drag system which is very powerful.
Salmon are well known for fly reel screaming runs and very enthusiastic acrobatics. In this case, the center reel in this Geo-S fly reel comes with good drag to turn these guys around and bring them closer to hand.
You are better with a salmon reel with higher retrieval rates. A fly reel that is good at picking coils of line faster maximizes the chances of landing a good salmon. An optimal choice is a reel with a large arbor design like what the Geo-S has. If you are wrangling very large salmon, a single-handed rod of 10wt will take you through this effortlessly.
One more pertinent consideration that Snowbee takes in the manufacture of this reel is line capacity. Rarely will you see a salmon running a fisherman downstream into their backing.
A salmon reel that takes a healthy chunk of backing is mandatory. The Geo-S fly reel has two models each with its capacity.
The 810 reel has a capacity of WF10+200yds at 30lb while size 1012 has it at 2D 11/12+300yds at 30lb. 200 yards of line and thereabout is plenty enough to easily battle and land bigger salmon and with a large arbor that provides stellar retrieval rates, you need not worry.
It is worthwhile for a salmon and saltwater fly reel to be able to stand up to abuse, dings, and scrapes. Salmon in most regions are targeted in remote areas. Usually, remote areas come with very rugged landscapes and there is a very high potential for your reel to incur damage.
Stay away from the Die-Cast reels if looking to go saltwater or salmon fishing. Embracing the CNC machined reels is the right thing to do.
Snowbee designs this one with aircraft-grade A6061-T60 aluminum that is CNC machined. Anodization gives the fly reel more durability.
The finish is scrape and scratch-resistant. The coating on the Snowbee Geo-S Fly Reel enhances the reel's corrosion and rust-resistance in saline environs.
This is a vital aspect when hunting salmon in the tidal and brackish rivers.
It is crucial to balance your reel and rod setup. Don't fish a lightweight rod and pair it with a heavy reel. The result is a butt-heavy fly rod which makes it very difficult to initiate a cast and you end up overshooting your target.
On the contrary, if you fish a stout-butt rod which is heavier ad pair it with a very lightweight reel, you get a tip-heavy fly rod.
Lifting the line off the water and presenting the fly accurately becomes a problem. If you intend to use a Spey rod for salmon fishing, for instance, 6 weight Spey rod, get a 7 to 8 weight salmon reel for these rods.
---
Main Features of the Geo-S Salmon and Saltwater Fly Reel​

Arbor Design – Designed with a large arbor, the reel results in faster line retrieval. It makes the fly line come off the fly reel more relaxed than it would in a small or mid-sized arbor, and creates a significant impact on the dry backing and drag difference. Some simple physics here.
Line Retrieval – Due to the larger size of the reel's arbor, the result is a faster retrieval rate and allows for effortless reeling in of fish. The fly reel allows for conversions from the left-hand side to the right-hand side and vice versa.
Frame – The aircraft-grade A6061-T6 aluminum undergoes CNC machining like what is done in most high-end fly reels. Machined frames undergo hard anodization to ensure that they remain scratch, scrape, and corrosion-resistant with exposure to saltwater and hard abuse.
The manufacturing process results in a lightweight, strong, and saltwater applicable reel. Although the manufacturing process and choice of materials make the reels costly, with great care and proper maintenance, they last a lifetime.
Drag System – Its multi-disc stacked drag unit has a blend of carbon fiber, cork, and stainless steel materials to ensure a butter-smooth drag performance with almost no startup inertia. The entire unit is sealed to ensure effectiveness in saline environments.
This type of drag system almost resembles what the original XS has. The only difference is that the Geo-S has some discs in a locked position while others can rotate freely at their speeds allowing for a drag surface area of about 46.5 square centimeters which is top in class.
Drag Knob – The knob is fine and detented and allows for a slight increase in the drag pressure from 0 to about 14lbs of maximum drag.
Weight – Considering the choice of material and mechanization, the two-reel models are very lightweight. The 810 model weighs 10.4oz while the 1012 weighs 11.5oz. The drop in weight allows for comfortable prolonged use.
Spool – With a quick-release spool, it is easier and simpler to open and remove the spool that holds your line to change to another of your choice depending on the situation.
Capacity – The capacity is dependable and for the length of the line at the specified backing, there is not much to worry about. The 810 model has a capacity of WF10+200yds at 30lbs while size 1012 has a capacity of 2D 11/12+300yds at 30lbs.
Internal Parts – All internal parts of the Snowbee Geo-S Fly Reel are made from high-quality stainless steel material for high performance, resistance to rust and corrosion, and low maintenance.
O-ring – The tippet retaining ring on the spool counterbalance ensures that a slightly lighter fly reel to your rod isn't superior to ensure that you don't experience difficulty casting and presenting flies.
---
Customer Thoughts on the Geo-S Fly Reel
The choice of drag system is superb with the inner components made from stainless steel, cork, and carbon fiber, it allows for flawless adjustments and zero startup energy.
Its design works and with the drag being incredibly stable and responsive, it doesn't have any drift as you work salmons which are reasonably large and more powerful than most saltwater species.
Great weight reduction is a good factor. This is as a result of the choice of material and craftsmanship that also improves the reel's strength and durability.
The only downside is that unlike other saltwater reels like the Orvis Mirage LT that comes in four sizes to cover line sizes from 1 weight to 9 weight, this one has only two sizes.
If Snowbee can look into creating other models of the same reel, it will be fun to explore.
The bigger reel size has greater line capacity which can comfortably deal with powerful species of fish on the fast-moving rivers and in fact, for the amount of maximum drag that it can reach, any pro angler would appreciate Snowbee for such an outstanding design.
Wider spools keep the weight of the reel down and result in faster retrieval rate. In as much as it comes at a price each time you reel in the line to avoid piling up, its performance is a guarantee that you won't leave your spot minus a catch.
---
Pros

– Things that shine on the Geo-S Fly Reel​
Stronger frame and spool construction
Lightweight reels for prolonged use
Quicker line retrieve rate
Consistent drag performance
Corrosion and rust-resistant
Sealed and low-maintenance drag system
Easy side to side conversions
Rust-free internal parts
Interchangeable spools
Saltwater applicable
Cons

– Things that are not so cool!
There are only two sizes available for this reel unlike other reels in its category that have 3 or 4.
Doesn't come with a reel case so you incur an extra cost if you don't have one that fits.
---
FAQ's – Questions about the Snowbee Geo-S Saltwater and Salmon Fly Reel
Q) What is the 810 Geo-S fly reel for?
A) This one will work well for sea trout or lighter salmon and pairs well with switch rods or smaller Spey rods. For other saltwater species like jacks, bonefish, smaller tarpon, and permit, it serves the purpose well.
Q) What is the diameter of the 1012 Snowbee Geo-S Fly Reel?
A) The diameter measures 114mm or 4.5''.
Q) What is the diameter of the 810 fly reel model?
A) The diameter is 105mm or 4.1''.
Q) Why should one choose the 1012 fly reel model?
A) The 1012 is ideal for long-bellied Spey lines with good backing since it boasts of great line capacity. You can use it on the fastest rivers, oceans, or tropical mangroves for its good drag that can deliver a maximum of 14lbs of drag.
Q) Does Snowbee sell spare spools for these fly reels?
A) Yes. Snowbee has spare spools for each model at a good price.
---
Final Verdict on the Geo-S Fly Reel
Any angler who explores fishing holes in saline environs will appreciate what Snowbee did with the new Geo-S fly reel for 2019.
As Snowbee says on its website that it was as a result of popular demand that they had to give in, we can say that it is all worth it.
Slightly an upgrade of the Snowbee Geo Fly Reel, the new design boasts of greatly reduced weight, more strength, and impeccable performance.
It hasn't been long since the release of the first batch. But until now, there are no major critics on material, workmanship, and performance. Isn't this quite impressive for a start?
We love to put upgrades to test and see if they deserve recognition or not. What is more stunning about the reel is the amount of capacity backing and the type of drag system that Snowbee uses.
The ability to lock a few discs and leave others as freebies is exemplary and shows how much it is reigniting a few aspects in its history.
The drag resign takes after the Original XS fly reels which was the work of the British Fly Reels many years back. Quite a good way to remember history it is!
Despite there being only two models of this fly reel, they still outdo most in their category. Although other top brands like Orvis have saltwater reels with over two models, we can't compare their aspects to what Snowbee has done with the new Snowbee Geo-S Fly Reel.
We are looking forward to hearing from you about your experience with this salmon reel.
---