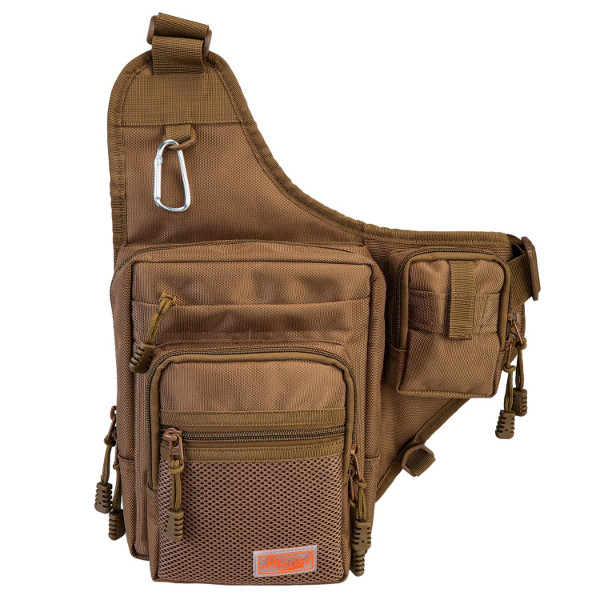 Performance
---
Ergonomic single strap for comfort
Super 420D PVC Canvas Material that is light weight and easy to carry around
Designed with a variety of different purposes in mind.
Build Quality
---
Tough design
8 Multi-pockets
The large main pocket is 8.27″ x 8.27″ x 2.95″.
Multiple colors to choose from.
Value
---
Sells anywhere from $20 -$40 depending on which color and offer that is on. For that money is a great bag.
Satisfaction
---
Ratings on Amazon tell the story many happy customers. The multi-function option and versatility of the bag make it a winner.
A fly bag, a shoulder bag?
People fish for all kinds of different reasons. Some people may catch fish for a living while others may go fishing simply as a hobby or to relax from all of the hustle and bustle of life's stressful everyday activities.
Regardless of the reason fishing can be a great way to spend time away with friends and family whenever an individual or a group needs a break.
Even though some people are professional fishers and know exactly how to prepare for a fishing trip in advance others may be newbies at this sport so they may need a little guidance before heading out to the water.
So for those of you who really want to know what to carry with you on your first fishing excursion you may want to look online and talk to others about this sport so you can have a great experience first time out.
---
With that said there are a number of different things that a fisherman must take with them. Some of the most common items are the tools and equipment needed for that day or weekend.
So when an individual is getting ready for the event they may start their shopping trip by purchasing a tackle bag. Fortunately, there are a lot of different sizes, shapes, styles, colors and models online and in retail stores today that people can choose from.
In some cases these selections may become a little overwhelming especially when the person really does not know what to look for. To assist with making this choice here's a tackle bag that newbies and seasoned fisherman alike may want to consider for their next trip.
---
As stated previously, both newbies and veteran fisherman will need to pack the right tools and equipment prior to heading out. Since there are a number of different items that must be brought people will need a bag to carry all of the little odds and ends they will need.
This is one of the main reasons why people should make sure that they have a good tackle bag that they can take with them. Since the type of tackle bag can make packing a little easier it is essential that the buyer reviews how it is made, how it is designed and what they can use it for.
Meaning that when an individual is reviewing the Piscifun® Sports Shoulder Bag Fishing Tackle Bag Crossbody Messenger Sling Bags there are some key features that they may want to consider: