Disclosure:
Just to be open and honest the buttons and links you click on in the website will in most cases take you to another website where you can purchase the products I am reviewing. As an Amazon Associate I earn from qualifying purchases.
October 13, 2016
Piscifun Sports Shoulder Bag Fishing Tackle Bag Review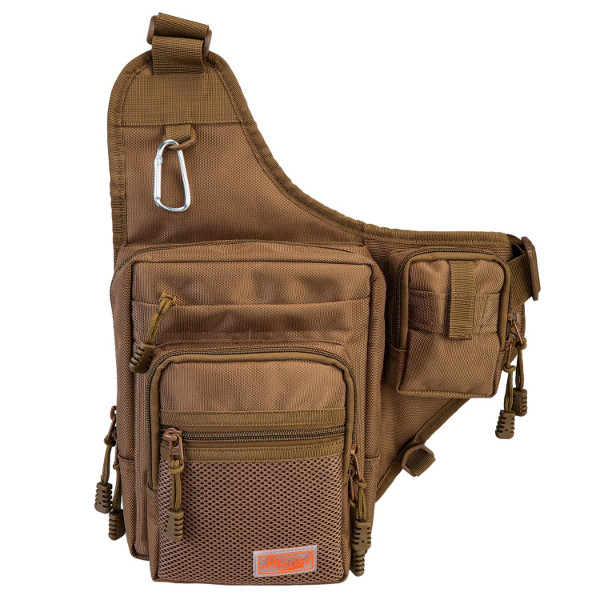 ---
Ergonomic single strap for comfort
Super 420D PVC Canvas Material that is light weight and easy to carry around
Designed with a variety of different purposes in mind.
---
Tough design
8 Multi-pockets
The large main pocket is 8.27″ x 8.27″ x 2.95″.
Multiple colors to choose from.
---
Sells anywhere from $20 -$40 depending on which color and offer that is on. For that money is a great bag.
---
Ratings on Amazon tell the story many happy customers. The multi-function option and versatility of the bag make it a winner.
A fly bag, a shoulder bag?
People fish for all kinds of different reasons. Some people may catch fish for a living while others may go fishing simply as a hobby or to relax from all of the hustle and bustle of life's stressful everyday activities.
Regardless of the reason fishing can be a great way to spend time away with friends and family whenever an individual or a group needs a break.
Even though some people are professional fishers and know exactly how to prepare for a fishing trip in advance others may be newbies at this sport so they may need a little guidance before heading out to the water.
So for those of you who really want to know what to carry with you on your first fishing excursion you may want to look online and talk to others about this sport so you can have a great experience first time out.
---
With that said there are a number of different things that a fisherman must take with them. Some of the most common items are the tools and equipment needed for that day or weekend.
So when an individual is getting ready for the event they may start their shopping trip by purchasing a tackle bag. Fortunately, there are a lot of different sizes, shapes, styles, colors and models online and in retail stores today that people can choose from.
In some cases these selections may become a little overwhelming especially when the person really does not know what to look for. To assist with making this choice here's a tackle bag that newbies and seasoned fisherman alike may want to consider for their next trip.
---
As stated previously, both newbies and veteran fisherman will need to pack the right tools and equipment prior to heading out. Since there are a number of different items that must be brought people will need a bag to carry all of the little odds and ends they will need.
This is one of the main reasons why people should make sure that they have a good tackle bag that they can take with them. Since the type of tackle bag can make packing a little easier it is essential that the buyer reviews how it is made, how it is designed and what they can use it for.
Meaning that when an individual is reviewing the Piscifun® Sports Shoulder Bag Fishing Tackle Bag Crossbody Messenger Sling Bags there are some key features that they may want to consider:
This tackle bag comes with a variety of different features including an ergonomic single strap that is made with the fisherman's comfort in mind. 
It is made of Super 420D PVC Canvas Material that is light weight and easy to carry around.
Because both men and women like to pack all kinds of different items to carry with them, it has different compartments that can keep the individual organized.
The makers of this product have also made this bag super-sized so that it can be used for many different types of outdoor sports (i.e. hiking, camping, cycling, mountaineering and fishing).
The front of the bag has several different compartments that allows people to take their mobile phones, photos, money, mp3 players, keys, make-up, credentials and a host of others things.
The primary objective of this manufacturer is to allow people to travel with virtually everything that they want and need to enjoy their outdoor experience.
Even though this bag is supersized for all kinds of different outdoor excursions, it is still Ultra lightweight so it is not a burden to carry around and travel with.
This bag is not only convenient and easy to transport from one place to another it has its own unique design that makes it attractive to carry around.
The manufacturers have also considered a number of different factors when producing this version. Specifically, because it is not only great for using as a tackle bag but also as a messenger bag and sports backpack. Meaning it is designed with a variety of different purposes in mind. 
Large main pocket great for holding fly boxes, spare reels or lines.
Lightweight easy to carry, as I always say traveling light when fly fishing adds to the distance you can go.
Can be strapped around the waist or hung over the shoulder.
Canvas material is lightweight and tough means many years of use.
Comes in many colors to suit many situations. 
Not only a fly fishing game bag can be used hiking, cycling, shopping, even going on a night out, a fully unisex bag.
Final Verdict

This bag comes highly recommended by consumers who have made this purchase since most people love it when they get it at home and bring it on their travels.
In fact, one of the primary reasons for such a warm reception is that it allows the individual to pack at least a couple of hours' worth of special gear.
Also, because people can take their mobile phones, keys, make-up and other personal things with them it is a one stop shop for all kinds of events and situations, sports and the like.
From traveling with a group of people on a fishing trip to carrying everything that is needed for a camping trip the makers of this product have done a good job factoring in a wide variety of important accessories.
At the same time, the bag is rugged so both women and men can benefit greatly from its overall durability and sturdy materials.