Disclosure:
Just to be open and honest the buttons and links you click on in the website will in most cases take you to another website where you can purchase the products I am reviewing. As an Amazon Associate I earn from qualifying purchases.
February 4, 2020
Caddis Systems Attractive Teal Deluxe Waders for Women Review
Sometimes, you don't have to cough over $300 on waders only. Are you paying for a mortgage? Well, we have manufacturers that are considerate enough to avail great waders for less. Take a look at the popular Caddis Systems Attractive Teal Deluxe Waders for Women. You wouldn't believe until you behold it. Caddis has been in the business of producing tackle gear for a long time now. Its ability to dwell more on affordable fly fishing and hunting stuff is what makes it gain favor from most consumers.
Is cheap expensive?
Yes, and No depending on the circumstances. However, in this case, we give it a big shout out. A no for the Attractive Teal Deluxe for women. Usually, when you think fishing, you always think of breathable materials. This one isn't out of the sequence.
The promise by Caddis Waders is that this women's design won't let in water while still allowing the exit of body perspirations from the interior to the outer surface. Thanks to the permeable membrane, the possibility is very high. Theoretically, you sweat less because it counters the building of dampness inside. This is especially true in summer and warm areas.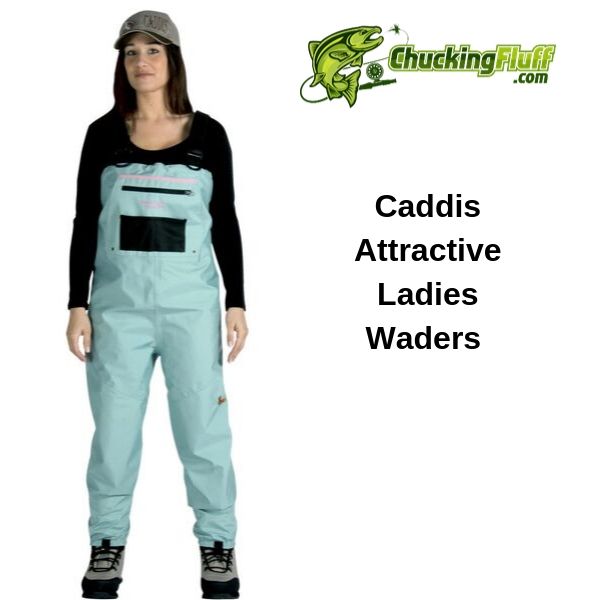 ---
Check Caddis Attractive Price on Amazon
---
Is the deluxe upgrade worth the tag?
Sure. Unlike the standard version, the deluxe employs the use of high-grade material. At a glance, the fabric construction is thinner than many waders in the market. They have an athletic cut in the calf areas, which is right for women. No extra material and space in the wrong areas. It still allows you to wear heavier pants underneath for cold-weather fishing.
The material feels extremely durable for the usual average angling trips. Its reinforced knees ensure that kneeling on rocks ad stones is possible minus a bad conscience. These are among the top features that aren't in the standard version of the Attractive Deluxe Waders for Women. All vital seams are well-taped, properly stitched, and glued. It might sound pretty much normal in the angling industry but how durable the resulting waders are is what is essential.
They may not match neoprene waders but for the amount they go for, this one from Caddis Systems is a real catch. Robbing through thickets and forests will be a gamble because the material isn't as heavy-duty as purported. The polyester material still exhibits its benefits like it should.
Does it pass the performance test on water?
It ranks way above average. This means that it passes the water test. Its insulation works well and when taken out for half to a full day in the local streams, you remain warm. The water there is chilly and with the thin breathables and a little layering, the temperature feels right. You can choose wader pants and thermals if you feel like you need more warmth.
The fitting is one of its kind. Unlike many waders, the crotch is in its rightful place and offers more comfort when squatting, bending, and making other movements. Forget about the baggy look that is common at the river banks and shores. The choice of material boasts decent flexibility, and the cut ensures that you are very comfortable throughout the fishing session.
A rarity in most waders even in the middle and top category. For budget waders, Caddis Systems Attractive Teal Deluxe Women's Waders are a sure choice of more value for the less amount.
There is more to these waders than what you see in the picture. Scrutinizing it in and out is what we major in. We have a feature assessment below. We'd like to hear from you how the Teal Deluxe performs and if you can recommend it.
---
Key Features of the Caddis Systems Attractive Teal Deluxe Waders for Women
Material – Caddis Waders terms the material used in the Attractive Teal Deluxe Women's Waders as 'heavy-duty' polyester. It performs very well, but abrasion resistance is the questionable aspect in this area. Incorporating the CaddisDry fabric technology, we can see three layers: the outer fabric, breathable layer, and the inner lining.
The technology is responsible for waterproofness and high breathability levels. By all means, the mechanism prevents the build-up of moisture within these waders keeping you dry and comfortable in all fishing seasons.
Fit – The cut is superb giving you a great fit. There is room in the deserving area to allow for proper underneath layering. The feet are slimmer to ensure that there is no hindrance in movement and prevent any swooshing that can spook fish.
Application – These waders work well in all weather conditions. However, you will need more layering when temperatures drastically drop. The three-layer polyester construction isn't really worth having on alone especially when wading in deeper waters. For summer and warm weather, the waders will serve you even better.
Zippers – Caddis uses good-quality zippers on the waders to bar any risks of zipper and hardware rust and corrosion. You will love how easy they are to operate. Once in a while, when you need to go saltwater fishing and don't have saline-specific waders, they can handle the brutality. However, give them a proper rinse under tap water to maintain quality and function.
Belt – The manufacturer has a detachable wading belt on these waders. You can choose to have them on or remove them when you want to feel free. Caddis includes a free repair kit in the package and for the price of these waders, it is a big bonus. However, there are no belt loops for the belt to pass through for more security.
Suspender System – The suspender systems on these waders are among the most admirable in the wader system. It takes an H-shape at the back and drops singularly to the frontal area. There are adjustment clips and buckles on the straps to ensure you get a good fit. Still, at the front, part of the rings that the suspenders pass through lie over the bib and can be great for attaching light gear and equipment.
Pockets – Caddis Systems Attractive Teal Deluxe Waders for Women has a newly-designed quad pocket that you can use to store a fly box, a few personals, and your license. The pocket is accessed via a functional zipper.
Gravel Guards – Caddis attaches good-quality gravel guards on these waders. They easily go over the boot laces to ensure that they lock out all the sand, grit, and gravel. This prolongs the life of your wading system.
Booties – Stocking feet are thick and keep you warm on those cool mornings. You will need some underneath layers like wool or neoprene fishing socks to ensure that you beat the cold temperatures and spend more time on the water.
Knee Caps – Not necessarily caps but the knee areas are reinforced with an extra layer of fabric. Caddis does this to offer more protection when you get on your knees to accomplish the basics of fly fishing. This counters the chances of injuries while maintaining wader durability since these areas are among the high wear and tear zones.
Size – Caddis Systems has these waders from small to double extra-large. There are two variations that are queen and short stout in the sizes. According to this manufacturer, the Attractive Teal Deluxe Wader boasts more adult sizes than the rest of the wader series.
Seams – Critical seams and those in the feet are double taped, glued together, and well-stitched to ensure that it counters any risks of seam bursts. In the feet, the construction is for sensitized dryness and warmth.
---
Customer Thoughts on the Caddis Systems Attractive Teal Deluxe Women's Waders
The new waders are very attractive and lovable. They have an excellent fit. An only wish was if the seat area had a good reinforcement though it is not a deal-breaker.
For more warmth in the feet, a good pair of wool socks will be perfect in the cold weather. The booties aren't quite dependable on their own for such seasons. However, you need not wrestle while tying or releasing them.
The pocket system is sophisticated. In fact, the quad design matches the waders perfectly. There is lots of space for your gear storage. You can carry some more on the water/ the teal color looks cuter.
There are very few game-changer waders with the same price as the Caddis Systems Attractive Teal Deluxe Waders. Adjustable straps ensure that you achieve a great.
Caddis makes these waders with materials that are easy to clean. They hardly retain stains and take a shorter time to dry after a wash. You will love how lightweight they are their packability. They are another perfect option for travelling anglers after the Orvis Ultralight Convertible Women's Waders.
The manufacturer is generous enough to include a free repair kit and a net stuff bag for wader storage. If you were to make separate purchases for the two, it would cost you some more.
---
Pros

– Things that shine on the Caddis Systems Attractive Teal Deluxe Waders for Women​

Features the CaddisDry Breathable technology
Very affordable
Reliable wader construction
New Quad pocket
Taped, glued, and stitched seams
Comes with a free repair kit
Reinforced knees
Detachable wading belt
Durable and adjustable suspender system
Quality gravel guards
Cons

– Things that are not so cool!
Available in teal only
Questionable abrasion resistance
---
FAQ's – Questions about the Caddis Systems Attractive Teal Deluxe Women's Waders

Q) Will these waders guarantee warmth in mud fishing?
A) For dryness, yes. Warmth is dependent on the under layers that you choose.
Q) Does the wader belt have a stretch mechanism?
A) Yes. It comes with a quick-release buckle to make it easy to wear and remove the belt.
Q) Do the waders have a rubber material or layer?
A) No, the main material is polyester which is more breathable than insulating. The feet are from thick neoprene. You will need wading boots over them for more feet safety.
Q) Can the neoprene booties fit in the regular hiking boots?
A) Yes, they fit in these boots well. If you wear a slightly larger size, the better.
Q) Is the material construction really waterproof?
A) Yes, the waders are highly waterproof unless you have burst seams to let in water.
Q) Are the handwarmer pockets lined with fleece?
A) No. These are very basic probably because of the amount that they are going for. Fleece will make them cost slightly higher.
---
Final Verdict on the Ladies Caddis Deluxe Fishing Waders
If Caddis didn't have breathable waders for women and men at a low price, we'd see fewer combos, lures, and everything that works towards making anyone's day perfect on the water.
The usual question is how Caddis Systems is able to include all the goodies, high-quality, and impeccable features in these waders minus hiking the price. It is obvious that the manufacturer dwells more on simplicity while achieving the purpose of these waders. This, in turn, doesn't compromise functionality and comfort.
Caddis Waders are becoming a popular choice among waders who are budget conscious. It is one of the reasons why the manufacturer is able to produce in bulk at a low cost and still sell lowly. Since it maintains a simplistic design, the users still benefit from the standard features.
What results is a good wader for a handful. If you'd like to sample other budget-friendly waders, the Redington Willow River Waders for Women, Compass 360 Ledges Wader for Women, and Lone Cone Deluxe Breathable Women's Waders. Caddis Systems Attractive Teal Deluxe Waders for Women is a true example of spending less while getting pretty more.
---
Check Caddis Attractive Price on Amazon