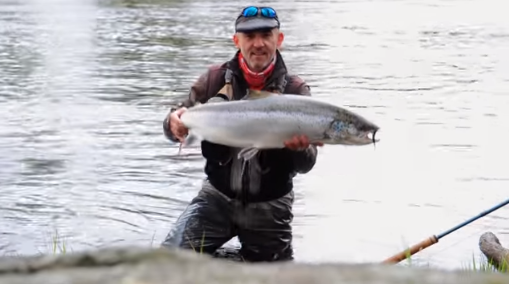 Mikael Frodin a top fly tyer, salmon angler, guide and instructor has done a series of knots for fly fishing. Mikael if you are not familiar with works for Guideline Fly Fishing testing and helping to design products. A master shooting head caster Mikael has helped develop the Double and Triple density fly lines in the Guideline range.
As part of his experience in fly fishing Mikael has tested and worked with many knots and has decided on these 6 to teach you. If you have spent any time on the river fishing you will have no doubt lost fish to weak knots. With this series of knots you should have any situation covered with knots that are easy to tie and strong. 
The Perfection Loop
A great knot to tie leader material to the loop at the end of your fly line when it doesn't have build in loops.
Can also be used to tie flies to the end of your leader to give them more movement.
The Improved Albright
Second in the series a knot to attached [easyazon_link keywords="leader material" locale="US" tag="chuckingflu0b-20″]leader material[/easyazon_link] to your fly line.
A bit fiddly to do on the bank side but a strong knot that shouldn't let you down.
The Double Eight
A good knot for forming loops on the end of your hand made leader.
Great for joining loop to loop connections ad keeping it simple.
The Leader Knot
When building your own leaders attaching different strengths of material together makes them turn over better in the cast.
This knot makes it simple without getting tangled up when casting.
The Clinch Knot
Fishing tube flies is more and more common and this knot is great for attaching the hook to the [easyazon_link identifier="B00M50P4QS" locale="US" tag="chuckingflu0b-20″]leader material[/easyazon_link].
The extra tucking of the tag end means it should not slip and loose you a fish.
The Steering Knot
A common problem with hook flies is most knots allow them to slip on the [easyazon_link identifier="B0007PJQUS" locale="US" tag="chuckingflu0b-20″]leader material[/easyazon_link] so they don't fish correctly.
This knot eliminates that problem and keeps the fly swimming properly throughout the cast.