Disclosure:
Just to be open and honest the buttons and links you click on in the website will in most cases take you to another website where you can purchase the products I am reviewing. As an Amazon Associate I earn from qualifying purchases.
August 8, 2019
Redington Minnow Fly Fishing Outfit Review – Child Friendly Combo
Do you tag your kids along when going fly fishing? These little champs can make excellent anglers if well nurtured. Redington allows kids, teens and young anglers have a memorable first experience with the Redington Minnow Fly Fishing Outfit (580-4) – 5 Weight, 8′ Fly Fishing Rod w/Crosswater Fly Reel. If you are a professional angler, the first look at the Redington Minnow is impressive but its performance might not move you that much.
However, it is considered one of the best fly rod outfits for kids. With a slightly shorter rod, length, the Minnow rod has been fine-tuned for the young anglers. There are several offerings you can consider with different price ranges but this one is reasonable in all aspects.
Eight feet is pretty long enough for young anglers to cast efficiently. At the same time, it is short enough to avoid being overly cumbersome in their little hands. The four-piece rod makes sense for teens and there's not much to worry about. The real thing, children aren't detail-oriented and getting to align and secure the four rod sections is a great way to learn.
Rarely do the ferrules come apart when casting. It was thoughtful of Redington to include alignment dots on the Minnow. The cork grip is short and it is a great feature to make the rod easier to hold for those with small hands. Minnows have a reasonable weight to handle good-sized fish but light to feel the tug of a smaller quarry.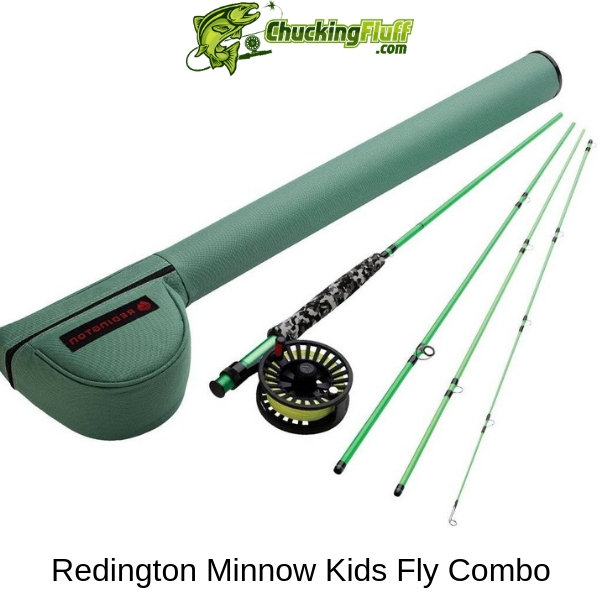 ---
Check Minnow Combo Amazon Price
---
The Redington Crosswater fly reel is tough and unfussy. With a large arbor, it quickens and makes retrieves easier. It allows for either right or left-hand reeling. Its disc drag system is stronger and if your small fry hooks up with a big catch, it doesn't worry you.
The reel comes pre-spooled with a RIO weight-forward fly line with backing. It includes a knotless leader. Simply unpack the outfit and your child can tie on a fly of their choice and hit the water. The Minnow shines as a value-added package especially if you had thoughts of purchasing the line and reel separately.
This Redington Minnow package is geared towards making learning to throw casts fun and effortless. Built as a medium-action rod, it is the best outfit for starters of any age. Novices are able to feel the rod loading and it is effortless to develop the right casting stroke.
Minnow comes with a Cordura rod tube but you might consider getting another hard case to protect the entire setup if your child hardly has things in place. It is important to remind the kids to inspect their reel seats before going out each time to ensure they are locked securely.
---
---
Main Features of the Redington Minnow Combo
This one is a complete outfit and a 'un-box and use package'.
Upon opening the package, you get an 8-foot graphite Redington Minnow fly rod, a Redington Crosswater fly reel that has been pre-spooled with a RIO Mainstream weight forward fly line with leader and backing, and a Cordura rod tube.
All these make the Redington Minnow Fly Fishing Outfit (580-4) – 5 Weight, 8′ Fly Fishing Rod w/Crosswater Fly Reel a complete package.
Let us sample each content and see what Redington has to offer in terms of craftsmanship.
---
Redington Minnow Youth Fly Rod Key Features
Moderate Action – Medium action rods are very versatile and very forgiving that moderate-fast and fast action rods.
They are flexible and offer enough stiffness for stiffness. More benefits are improved accuracy and line control and are suitable for a wide range of fishing conditions.
Alignment Dots – These ferrule dots are a good feature on multi-piece rods like the minnow. They make assembling the rod and lining the guides easy and simple.
Cork Grip – Redington designed the Minnow Youth rod with a shorter cork grip than other fly rods. Since it is geared towards young anglers, their hands are smaller and it is easy to hold the rod for a long time without feeling fatigued.
4-Piece Construction – The Minnow Youth fly rod disintegrates into four pieces for easy storage in the Cordura rod tube and for safe transportation to your fly fishing spot. Assembling is easy especially with the presence of attachment dots.
---
Redington Crosswater Fly Reel Key Features
Large Arbor – Wider arbors increase the retrieve ratio and create a higher consistent drag pressure. This is important for fighting large fish or fish that have power like Tarpon or Bonefish.
Reversible Retrieve – You can reel from either side of the frame. One of the commonest feature of good fly reels and allows you to change your mind regarding the hand you want to use to reel your reel. Children might take time to learn this.
Disc Drag – Disc Drag systems use a compression mechanism to assist in slow outgoing line. This type of drag is helpful for kinds of fish that will regularly need you to get in a fight from the reel. The stopping power is immense because of the strength of the drag system.
Pre-spooled – The Crosswater fly reel comes pre-spooled with the RIO Mainstream weight forward fly line. This saves the kids the hustle of spooling and allows them to spend more time on the water.
---
RIO Mainstream Weight Forward Fly Line Key Features
The RIO Mainstream line empowers starters to cast. It is meant to optimize the performance of the fly rod at the normal casting ranges.
The fly line has a self-lubricating coating that is supple that allows it to be free from memory in cold water. It has a front welded loop for quicker and easier leader attachment.
---
Other Aspects of the Redington Minnow Fly Fishing Outfit.
Main Materials – The Minnow fly rod is made from high-grade graphite for more strength and durability. The Crosswater fly reel is made from durable composite polymer.
Handles – The handles on the reel are of a reasonable length and excellent thickness. It has very little tapper. The handle surface has no texture and the rubber material is soft to touch making the Redington Minnow Fly Fishing Outfit (580-4) – 5 Weight, 8′ Fly Fishing Rod w/Crosswater Fly Reel safe for their hands. The cork grip is shorter to allow fit the rod fit in the hands of the little anglers.
Rod Length – Redington Minnow Youth Fly Rod is designed to be shorter. There are no longer models than the 8 feet one. It is advantageous to young and beginning anglers to prevent them from feeling the cumbersomeness that could come with handling a 9 feet rod at their tender age.
Reel Seat – Alongside the silicon carbide stripping guides and AA cork grip, the fly rod features an aluminum reel seat that clicks well when fitted to the reel.
Drag System – Most manufacturers use the disc drag system in most fly reels. The system allows for greater stopping power and can handle the widest range of fish species than reels with the click and pawl drag systems.
Capacity – For the Redington Minnow Fly Fishing Combo (580-4) – 5 Weight, 8′ Fly Fishing Rod w/Crosswater Fly Reel, the backing and capacity are 100 yards 20 lbs.
Weight – The Youth Minnow fly rod weighs 3.6 oz. and the Crosswater reel weighs 5.1 oz. Generally, the combo is lightweight and comfortable for use making the best fly rod outfit young anglers
Warranty – Redington issues a one-year warranty on the Youth Minnow fly outfit. In case of need of any repairs within the stated period, as long as all terms and conditions are followed, the manufacturer will repair your outfit. There is more information on the manufacturer's warranty page.
---
Customer Thoughts on the Youth Minnow Fly Fishing Outfit
This is the best fly fishing combo for children and young beginners who are looking to start off and hone their skills in fly fishing. For the price, it is worth it without a second thought.
The rod though shorter, it is lighter and allows for the user to spend more hours on water unlike when using longer rods. The flexibility is not an issue so far.
Assembling dots are an excellent feature. Kids can assemble the rods quickly and easily without the help of parents or older anglers. As they learn independence in the course of the sport, it prepares them for more challenges in water
The Cordura rod tube is high-quality and when kids can be rough when walking to the fishing spots, they don't tear easily when rubbed against a very hard surface. The zipper too is durable even with several washings.
---
Pros

– Things that shine on the Youth Minnow Fly Fishing Outfit​
Shorter cork grip for easy grip
Shorter rod length translating to the lightness
Highly affordable
Comes with a Cordura rod tube
Generally a lightweight combo
Medium action rod
Rod comes with assembling dots
Cons

– Things that are not so cool!
The combo might not be appealing to intermediate and professional anglers who have tested and used other fly outfits from Redington and other brands.
---
FAQ'S – Questions about the Redington Minnow Fly Fishing Outfit
Q) Does the rod float?
A) The handle is designed to be buoyant and it doesn't keep the rod from sinking. The fly line will sit on water while the reel will not
Q) What protective or storage features does the rod come with?
A) The rod comes with a Cordura rod and reel tube
Q) What is the diameter of the 4/5/6 line size reel?
A) The diameter is 3.5 inches.
Q) Does the reel allow for a Right or Left conversion?
A) Yes, the user can change the sides to their convenience.
Q) Does the fly rod come with a fighting butt?
A) No, the Youth Minnow fly rod doesn't have a fighting butt
Q) Can the outfit be used for fishing Tarpon?
A) Yes, the arbor size in the reel allows for handling tarpons very well even if they fight more.
---
Final Verdict – Best Choice for Young Anglers

The Redington Minnow is the ultimate fly fishing combo for young anglers. The kid-friendly cosmetics, modest and forgiving action, the Youth Minnow is ready for action anytime. From reviews online, it is one of the best fly fishing outfits for kids and beginners.
They will love how lightweight the combo is from carrying to the shores to unpacking and throwing flies. If you've not cast the Minnow but have cast other rods from Redington, they all feel great in their different ways.
Style and function are depicted from the new Redington Crosswater reel with a large arbor that is necessary for quicker line retrieval. This one takes a new design since it is constructed from a durable composite that is a good material especially for kids to use. It adds to the lightness of the combo.
Its disc drag system will leave heads turning and the aesthetics will draw young anglers closer.it doesn't matter whether your child is left or right handed, the spool is easy to change and converts to either left or right hand retrieve. RIO fly lines are not crappy like other brands and its self-lubricating mechanism allows it to remain memory-free during cold days.
Time to put it to test. Preorder this Minnow and they'll love it like Minions. There are several alternatives for beginner packages from our Best Buyer's Guide Combos 2019. While most of them are not 8 feet rods like the one in the Redington Minnow Fly Fishing Outfit (580-4) – 5 Weight, 8′ Fly Fishing Rod w/Crosswater Fly Reel, they are excellent for beginners of all ages.
The Fenwick/Pflueger Nighthawk Fly Kit, Wild Water 7/8 9' Rod Saltwater Fly Fishing Complete Starter Package, Wild Waters Freshwater Fly Fishing Combo Sets, K&E Outfitters Drift Series 8 Weight Fly Combo, Redington Crosswater 4 Piece 9ft 5-6, and Wild Water Deluxe Combo are options you can settle for in the absence of the Minnow Combo.
---
Check Minnow Combo Amazon Price
---