Disclosure:
Just to be open and honest the buttons and links you click on in the website will in most cases take you to another website where you can purchase the products I am reviewing. As an Amazon Associate I earn from qualifying purchases.
January 10, 2023
What is an Antique Bamboo Fly Rod Worth? Old Time Bargains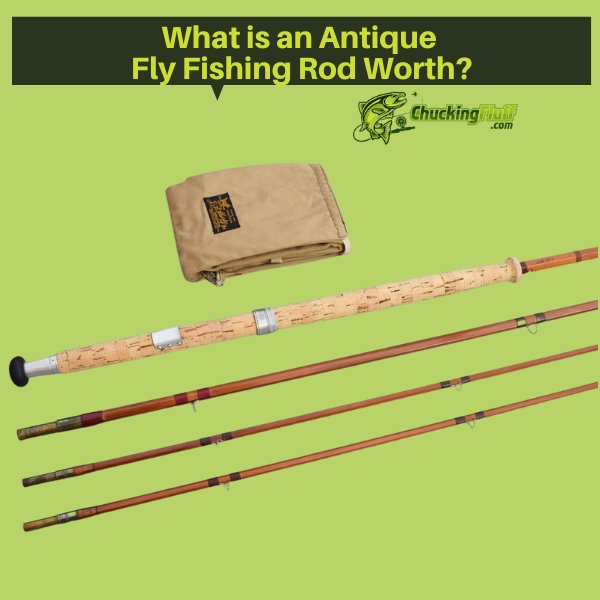 Did you know that a selection of antique fly fishing rods costs up to $2000?
Yes, that much for a fishing rod you would have bought today at a sixteenth of the price.
You must be wondering what is unique about them for anyone to have such a fat price tag on them.
Could it be the aesthetics? The accessories? Or the looks?
Regardless of the reason, it isn't tricky to encounter flashy buddies whose passion is collecting ancient precious angling rods.
So, if you have an antique fly fishing rod gathering dust in your garage or attic, grab it and let an expert assess it.
You could sell it for a fortune or keep it as part of your treasured items.
If you are a collector of classic old angling rods, you must be sure to pay for a precious piece.
---
Why do some Anglers collect Antique Fly Fishing Rods?
---
First, fly angling has tons of equipment and tackle associated with it compared to any other sport.
You can't count the number of rods if you were to list all that have been made since the discovery of fly fishing to date.
Fly fishing rods have a long, fascinating history of innovation and craftsmanship as old as the 18th century.
Like any other collectors, fly anglers have an intimate attachment to these fishing sticks.
Most of them are imprinted with fond experiences and memories of good times spent combing their favourite and new spots.
Some anglers perhaps shared some moments with their folks or grandparents who might be long gone, and only such things can be symbolic to them.
The memories live on in the form of a passion or obsession to own these antique fly rods to remind them of great times outdoors pursuing the sport.
Rod collectors preserve the spot's history through fishing poles that would have otherwise gotten lost.
They delight in telling each other stories and sharing about their latest rod possessions.
The wide range of online research tools, social media networks, and online bidding has turbo-changed what was like an obscure hobby.
These antique angling rods have levelled the field so that anyone who possesses them can participate in an activity initially reserved for the affluent and elite.
---
Some Antique Fly Fishing Rod Collectors
---
Anyone who collects antique angling rods or tackle is a unique breed.
While they are motivated by the excitement of a chase and passion for this spot, the diehards compete and search for years to get objects of desire.
They help preserve the history and craft of fly fishing a rod at a time, and others have gained fame in angling communities.
Some call them the elders of the tribe, and I will share a few I have read and heard about in my few years of fishing.
---
Hoagy Carmichael
---
Hoagy grew up angling and apprenticed to the renowned bamboo fly rod crafter Everett Garrison.
He made hundreds of fine fly fishing rods, which are now pieces of interest among collectors selling for thousands of bucks per piece.
---
Jerry Girard
---
Here's another collector of the old American fly fishing rods.
Most people call him The Norris Hoarder as he owns most of the rods made by the legendary Norris Thaddeus compared to anyone else.
Having lived many years in Philadelphia, Jerry collected many unique early fly rods from Pennsylvania rodsmiths like John Krider.
Most of these rodsmiths were also gunsmiths, and a good one is Samuel Phillippe, who produced the first-ever entire bamboo spit cane angling rod in the 1850s.
Phillippe's fly rods were made from tapered bamboo and had six pieces.
The rods became American fly fishers' standard outshining the British rods.
---
Features of Antique Fly Rods
---
The composition of antique fly rods differentiates them from the modern designs in the market.
Here are some aspects to look at when identifying these old rods.
---
Rod Material
Old rods were made from a native plant to the Mediterranean region.
It was the Arundo Donax commonly referred to as the Spanish Cane.
You often needed a shorter fly rod for accurate and faster casts but not always.
Other crafters started making shorter ones from the Ferula plant.
More material options were hardwood, juniper and cornel wood.
For rigid and elastic like fly rods, builders used bamboo and other heavy European woods like greenheart and lance in the 17-18th century.
---
What Makes these Rods Valuable?
---
There is so much importance in the world of antique fly rods.
This section addresses the things to remember when determining the worth of your antique fly rod.
---
The Maker
Antiques have excellent reputations.
If a famous or renowned maker built a fly rod, its value rises; it could double or triple.
Expert fishing enthusiast and fly tackle dealer Carmine Lisella says that the most valuable fly rods were made from Everett Garrison.
His works saw him build some of the finest and most study rods famous for their quality and integrity.
Did you know that Garrison Fly Rods have a rich market value of $20,000 today?
But, there is much fish in the sea, and below are some remarkable rod builders you can whose antique collections you can check.
---
---
Rod Type
Out of graphite, fiberglass and bamboo, the latter has the most value when it comes to collectible fly rods, and you will know why in a bit.
Depending on the rod builder, we can term some fiberglass fly rods as collectibles; but it is rare to find valuable graphite fishing rods.
Most offer more aesthetics than value, which antique collectors aren't interested in anymore.
---
Composition
Most people can agree that what is inside is what matters, and for antique fly rods, the inside matters a lot.
Bamboo fly rods are more expensive, and the priciest contemporary one is the Oyster Bamboo Fly Rod.
Here's why bamboo rods hold more value than the others:
They have an organic casting feel that anglers love
Very few raw materials are needed to craft these rods
Excellent performance
Production needs more labour
They appreciate and preserve the world of antique rod builders
---
Construction Time
Len Codella, a reputable rod designer, proprietor, and owner of Len Codella Sporting Collectibles, says that bamboo rods are costlier because they take the longest to build than other rod types.
The more the duration of construction requires, the pricier the rod.
---
Size
Smaller rods with lighter line sizes result in a greater value.
More handy and desirable rods are below 8 feet long because of their excellent control.
---
Condition
Regardless of the value of your fly rod, it has to be in good condition.
Condition is among the prime factors for determining the worth of antique rods.
Any alterations or changes can downgrade it, and the condition could be mint or near mint, excellent, very good, good, fair or poor.
For mint or near mint rods, you should have the original packaging, decals, manufacturer labels, and the body shouldn't have any scratches or signs of air exposure.
Those in excellent condition should have original packaging, good varnish, intact ferrules and hardware, no thread tears or breaks, no repairing signs and unbroken tips.
Antique rods in good condition must not show any marks or signs of abuse, have a rod tube or bag and all its original components.
Good, previously repaired fly rods fall under the good condition category.
It could have minimal signs of wear and tear or broken tips.
Rods in fair or poor condition aren't choices for collectors because they aren't valuable, but people still keep them as memoirs or keepsakes.
---
Looks
Depending on what collectors are looking for, a well-presented antique fly rod could do well in an auction.
One trick to know is engravement because antique rods with initials earn more.
Some antique sellers claim that US fly rods are more valuable because the collection is more advanced.
---
Who can Collect Antique Fly Fishing Rods?
---
Forget the ancient times when ownership of antique fly rods was reserved for the wealthy and elite in society.
Today, anyone armed with the proper knowledge and a little curiosity can enjoy finding rare fly rods.
You can start by collecting small bits of everything for your man cave or room or have them on a cabin wall.
---
Where can you buy Antique Fly Rods?
---
Check online for reputable websites that sell antique fly fishing tackle.
You might be lucky to get a few precious pieces, but do your due diligence because predators won't hesitate to scum you off your hard-earned money.
Walk into any collectible tackle shops to have a one-on-one experience with the seller, scrutinize the rod you want to buy before paying for it.
---
Final Words
---
To wrap up today's exciting piece on antique fly rods, I hope you now know how to identify these old gems and their value.
If you are an aspiring collector, if a rod ticks all the boxes, it is worth the bucks and will increase your collection's quality.
Who doesn't want to own unique collectible antique rods and take their passions notches higher?
But, demand matters a lot since you can have the best antique rod at hand, but its demand is low.
Most often, the demand for the rod is proportional to the cost.
Luckily, trends change, and because it isn't in demand, it isn't useless all its life.